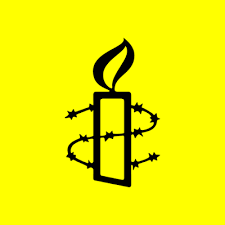 For Immediate Release
April, 25 2013, 03:52pm EDT
Contact:
Tel: +44 (0) 20 7413 5566,After hours: +44 7778 472 126,Email:,press@amnesty.org
Palestinian Academic Given Detention Extension Must Be Released
WASHINGTON
Israel must release a Palestinian activist held without charge for two years, Amnesty International urged today after his administrative detention was extended for the sixth time without justification.
Ahmed Qatamesh, a 63-year-old academic who Amnesty International believes is being detained to deter political activities by other Palestinian left-wing activists, was yesterday told he will be held for at least another four months from 29 April.
"Ahmed Qatamesh is a prisoner of conscience who is being detained solely for expressing non-violent political beliefs," said Amnesty International's Ann Harrison, Deputy Director of the Middle East and North Africa Programme.
"His continued detention is arbitrary and he must be immediately and unconditionally released."
Ahmad Qatamesh is one of about 160 Palestinians currently held by Israel under administrative detention orders.
These allow for indefinite detention on the basis of secret evidence that the military prosecution withholds from the detainee and their lawyer, denying detainees the basic right to defend themselves.
"The cruel nature of administrative detention means detainees and their families live in a constant state of uncertainty. As each order expires their hopes are raised and then dashed as they are handed a fresh order," said Ann Harrison.
Ahmad Qatamesh's wife, a board member of local NGO Addameer, told Amnesty International this week that it "would have been easier" for the family if her husband had been sentenced to three years' imprisonment. Ahmad Qatamesh is a political writer who has called for a one state solution to the Israeli-Palestinian conflict.
There is no apparent reason to hold him, and since his arrest he has not been charged or brought to trial.
Ahmad Qatamesh's ordeal began on 21 April 2011 when he was arrested from his brother's house in Ramallah by Israeli security forces.
His daughter said security forces ordered her at gunpoint to telephone him after they failed to find him at his own home.
Since then, Qatamesh has been questioned for a mere 10 minutes by the Israel Security Agency (ISA).
They claim that he is a member of the political wing of the Popular Front for the Liberation of Palestine (PFLP) and poses a security threat.
He says he has not been involved with PFLP for 14 years, although in the 1990s he was a political and intellectual supporter.
"I am under arrest now and don't know why," he said in June 2011.
Palestinians in the occupied West Bank face huge obstacles in obtaining permits to visit relatives in detention even though the Geneva Convention stipulates that individuals under occupation should be held within the occupied territory.
Ahmad Qatamesh's wife says he has suffered from undiagnosed ailments causing nausea and faintness - but his request to see an independent doctor has been refused by prison authorities.
"The Israeli government must stop the use of administrative detention and release all administrative detainees unless they are promptly charged with internationally recognizable offences and tried in accordance with international fair trial standards," said Ann Harrison.
Ahmad Qatamesh was held without charge for over five years in the 1990s. After his release in 1998, he wrote about his experiences - including being subjected to torture - in a book entitled I Shall Not Wear Your Tarboosh.
Amnesty International is a worldwide movement of people who campaign for internationally recognized human rights for all. Our supporters are outraged by human rights abuses but inspired by hope for a better world - so we work to improve human rights through campaigning and international solidarity. We have more than 2.2 million members and subscribers in more than 150 countries and regions and we coordinate this support to act for justice on a wide range of issues.
LATEST NEWS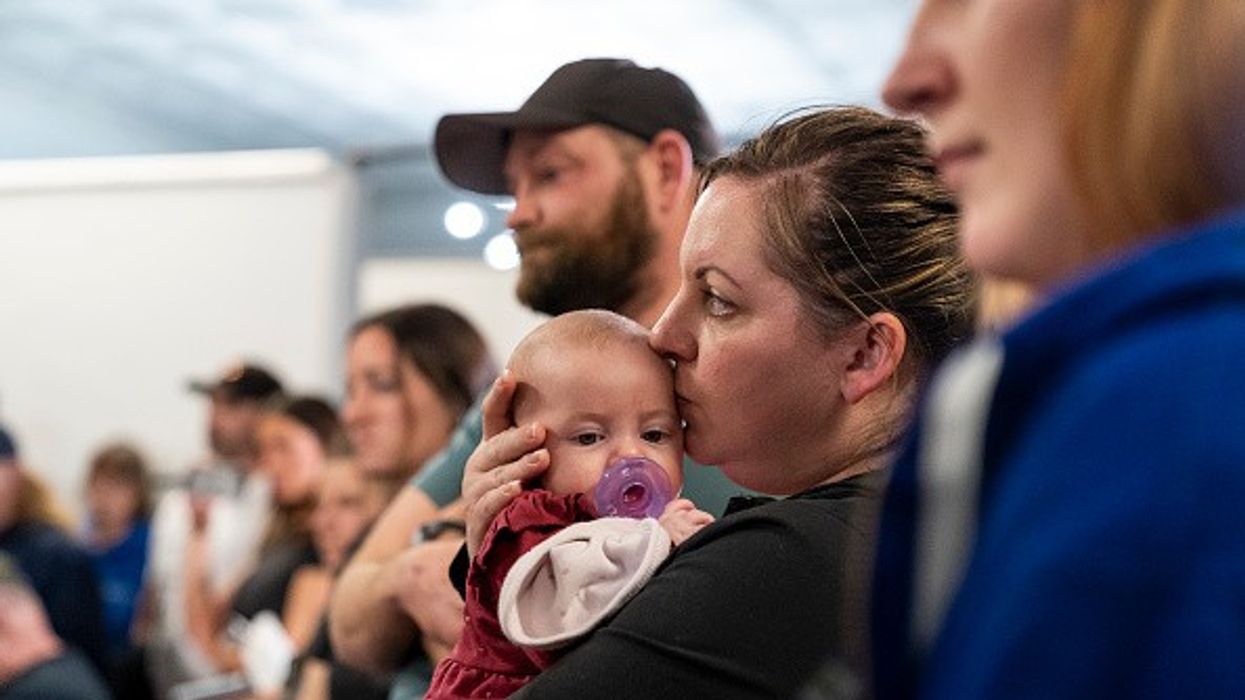 "Voters across party lines are in favor of increased safety measures," according to think tank Data for Progress.
Almost half of U.S. voters surveyed by progressive think tank Data for Progress blame rail company Norfolk Southern for the February 3 train derailment in East Palestine, Ohio which forced 1,500 residents to evacuate, contaminated soil and water, and has been blamed for causing a number of symptoms even as officials claim air and water monitoring hasn't shown dangerous levels of pollution.
Forty-nine percent of the 1,243 people surveyed by Data for Progress from February 17-22 said they believed Norfolk Southern was responsible for the crash, including 50% of Democrats, 52% of Independents, and 47% of Republicans.
Nineteen percent said they didn't know who to blame, while 10% blamed the U.S. Department of Transportation.
\u201cNEW POLL: After the train derailment in East Palestine, Ohio, voters blame train operator Norfolk Southern for the crash and strongly support requiring railroad companies to improve working conditions and upgrade their braking systems.\n\nhttps://t.co/JeTnZ1ugxl\u201d

— Data for Progress (@Data for Progress) 1677251896
The poll was taken as the National Transportation Safety Board (NTSB) released its preliminary assessment of the derailment of the train, which was carrying hazardous materials including vinyl chloride. As Common Dreamsreported Thursday, the report found the crash was likely caused by a wheel bearing failure due to overheating.
Eddie Hall, national president of the Brotherhood of Locomotive Engineers and Trainmen (BLET), pointed out after the report was released that rail companies have aggressively pushed to loosen safety regulations, spending "nearly a half billion dollars lobbying Congress" in the past two decades as they attempt to reduce train crews to just one person and pushed back as the Obama administration sought to require more modern braking systems on trains carrying hazardous materials.
Rail workers have also blamed major rail companies' use of Precision Scheduled Railroading (PSR), which requires train to run on strict schedules and cuts back on equipment and train crews, for the crash and others like it.
NTSB Chair Jennifer Homendy said Thursday the board is now examining Norfolk Southern's use of "wayside defect detectors," which did not alert the train crew quickly enough to the overheated wheel bearing, and said the board could issue safety recommendations to regulators or the rail company.
ProPublicareported on Wednesday that Norfolk Southern has at times instructed train crews "to ignore alerts from train track sensors designed to flag potential mechanical problems"—a policy union leaders say is "emblematic" of PSR. The NTSB did not suggest that was the case with the derailment in East Palestine.

Fifty-eight percent of respondents to the Data for Progress survey said they believe there are not enough safety regulations in place for railroad companies that transport hazardous material.
"Voters across party lines are in favor of increased safety measures, including 89% of voters who support setting higher standards for maintenance on railroads and strengthening safety regulations on railroad cars carrying explosive substances," reported the group. "Eighty-six percent of voters support placing limits on the length and weight of freight trains carrying hazardous materials."
The poll results were released as Rail Workers United (RWU), an inter-union caucus of rail workers, demanded that regulators and lawmakers take action to stop companies like Norfolk Southern from prioritizing speed and profits over safety.
"Every day we go to work, we have serious concerns about preventing accidents like the one that occurred in Ohio," RWU general secretary Jason Doering said. "As locomotive engineers, conductors, signal maintainers, car inspectors, track workers, dispatchers, machinists, and electricians, we experience the reality that our jobs are becoming increasingly dangerous due to insufficient staffing, inadequate maintenance, and a lack of oversight and inspection."
News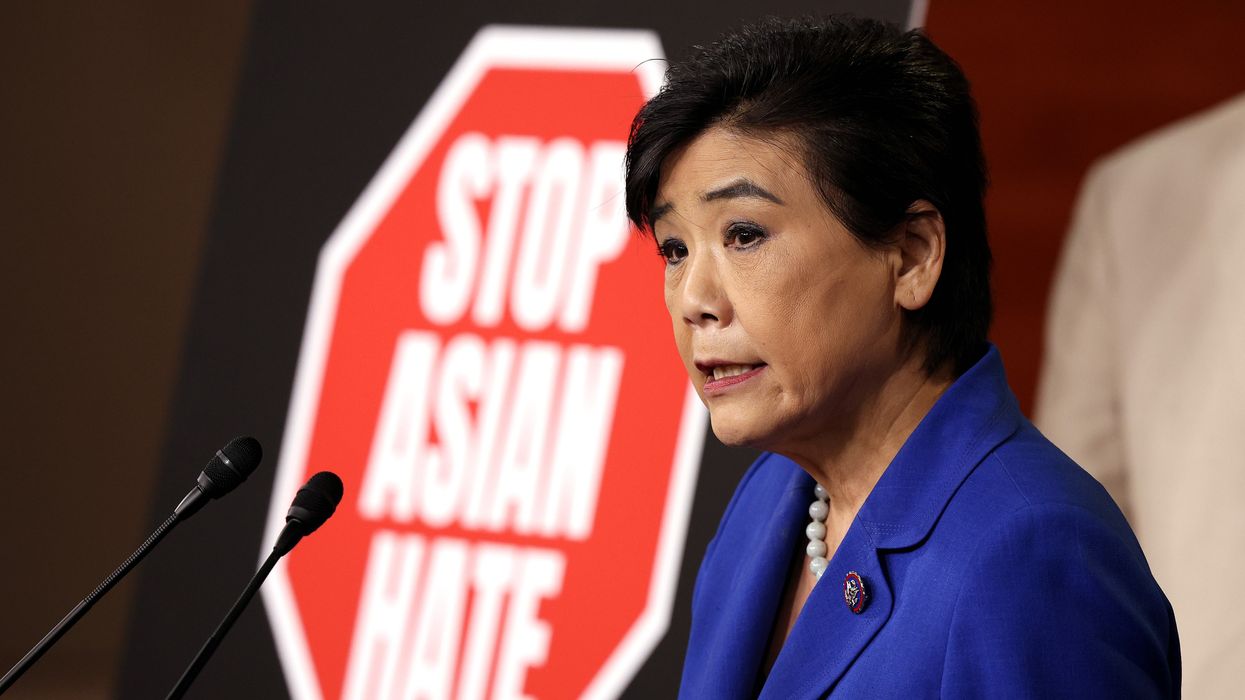 "When we say Republican rhetoric and policies embolden anti-Asian hate and violence, this is what we mean," said Rep. Ayanna Pressley.
Democratic U.S. lawmakers and Asian-American and Pacific Islander advocates joined Rep. Judy Chu in condemning Congressman Lance Gooden on Friday after the MAGA Republican—who took part in an effort to overturn the last presidential election—cast aspersions upon the California Democrat's loyalty to the United States.
Gooden (Texas) appeared Wednesday on FoxNews' "Jesse Watters Primetime" and suggested Chu—who chairs the Congressional Asian Pacific American Caucus—should be kept from seeing certain classified materials and investigated for defending Dominic Ng, a Chinese-American banker appointed by the Biden administration to the Asia-Pacific Economic Cooperation's Business Advisory Council.
"I question her either loyalty or competence," said Gooden. "If she doesn't realize what's going on then she's totally out of touch with one of her core constituencies."
"After centuries of being targeted for not being 'American enough' and viewed with suspicion based on looking 'foreign,' this type of insinuation and fear-mongering only further endangers our communities."
Earlier this month, The Daily Caller—a far-right news site known for platforming xenophobes and white supremacists—published an article in which Gooden is quoted urging the FBI to "immediately launch an investigation" into Ng's alleged links to the Chinese Communist Party.

"Rep. Gooden's comments on Fox News questioning my loyalty to the USA is absolutely outrageous," Chu, the first Chinese-American woman elected to Congress, said in a statement reported by NBC News. "It is based on false information spread by an extreme, right-wing website. Furthermore, it is racist. I very much doubt that he would be spreading these lies were I not of Chinese-American descent."
\u201cDear @Lancegooden: I served in the US military (unlike you) to defend your right to say stupid, racist shit. Attacking the loyalty of Asian Americans like @RepJudyChu is a racist trope that has harmed Asian Americans throughout US history. Stop harming Americans of Asian descent.\u201d

— Ted Lieu (@Ted Lieu) 1677198785
Chu's Democratic colleagues took to Twitter to condemn Goodman's remarks as "racist."

"Insinuating that Chair Chu is disloyal to the United States because she is Chinese-American is categorically wrong," the Congressional Asian Pacific American Caucus (CAPAC) said in a statement. "This type of racist targeting and profiling of Chinese-Americans by right-wing extremists is not only xenophobic, it is incredibly dangerous."
"After centuries of being targeted for not being 'American enough' and viewed with suspicion based on looking 'foreign,' this type of insinuation and fear-mongering only further endangers our communities," the caucus added.
\u201cWhen we say Republican rhetoric and policies embolden anti-Asian hate and violence, this is what we mean.\n\nI'm proud to stand with @RepJudyChu and I condemn these racist and xenophobic comments by Rep. Gooden.\u201d

— Congresswoman Ayanna Pressley(@Congresswoman Ayanna Pressley) 1677258002
Rep. Mark Takano (D-Calif.) tweeted that "baseless, xenophobic, and blatantly racist attacks against Rep. Judy Chu by extreme MAGA Republicans are right out of their anti-American playbook."
"Rep. Chu is an exceptional public servant and leader," he added. "House GOP leadership: It's past time to hold your conference accountable."
Taking aim at Fox News for airing Gooden's "xenophobic and racist" attack, Rep. Adam Schiff (D-Calif.) asserted that "we cannot allow anti-Asian bigotry to go without condemnation."
Some observers noted that Gooden's remarks came just days after the anniversary of President Franklin D. Roosevelt's infamous executive order authorizing the concentration camp imprisonment of Japanese-Americans living on the West Coast—largely due to baseless concerns regarding their loyalty.
"More than 120,000 Japanese Americans were incarcerated because of false claims of disloyalty because of their ethnic origin," tweeted Heart Mountain Wyoming Foundation, an interpretive center at the site of one of the World War II concentration camps. "The U.S. government apologized for it. Now the same kind of false claims are being made again."
\u201cWe will not stand by as racists like this one try to revive one of our ugliest moments in history. \ud83d\ude21 TY @RepJeffries & others for speaking up against ignorant fear mongering. We are American too. \ud83c\uddfa\ud83c\uddf8\u201d

— Grace Meng (@Grace Meng) 1677201536
On Friday, Gooden doubled down on his remarks, accusing both Chu and House Minority Leader Hakeem Jeffries (D-N.Y.)—who published a statement defending the congresswoman—of "playing the race card in a sick display of disloyalty to our nation."
Gooden is a member of the so-called "Sedition Caucus" of nearly 150 Republicans in Congress who attempted to subvert the 2020 U.S. presidential election in service of former President Donald Trump's "Big Lie" that the contest was stolen.

News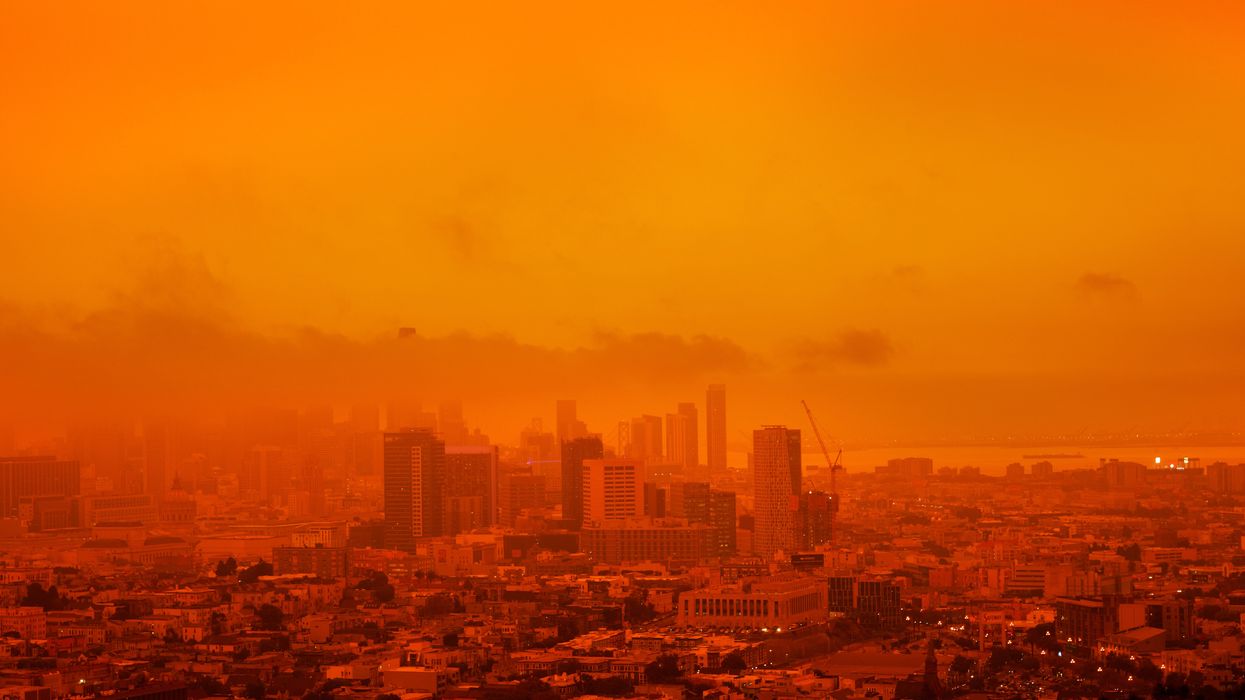 "Our study clearly adds to the evidence that the current regulatory standards are not sufficient to protect the public," the study's lead author says as the EPA considers stricter standars.
Adding to the body of research that highlights the deadly effects of air pollution, a study published Friday in JAMA Network Open connects long-term exposure to fine particulate matter, or PM2.5, to heightened risk of having a heart attack or dying from heart disease.
Conducted by experts at the Kaiser Permanente Division of Research and Harvard T.H. Chan School of Public Health, the study comes as the U.S. Environmental Protection Agency (EPA) is considering tougher air quality standards for PM2.5, which comes from sources including construction sites, fires, power plants, and vehicles.

The researchers focused on over 3.7 million adults who were members of the Kaiser Permanente healthcare consortium in Northern California from 2007-16 and had lived in the state for at least a year. They linked each patient's address to a geographical location to establish annual average exposure, then they identified who experienced heart problems.
"Our work has the potential to play an important role in ongoing national conversations led by the Environmental Protection Agency on whether—and how much—to tighten air quality standards."
"We found that people exposed to fine particulate air pollution have an increased risk of experiencing a heart attack or dying from coronary heart disease—even when those exposure levels are at or below our current U.S. air quality standards," said lead author Stacey E. Alexeeff, a research scientist and biostatistician at the Kaiser Permanente Division of Research.

Specifically, they found that PM2.5 exposure at high concentrations, or between 12 and 13.9 micrograms per cubic meter (μg/m3), was tied to a 16% increased risk of dying from heart disease and a 10% increased risk of experiencing a heart attack—officially known as acute myocardial infarction—compared with exposure to concentrations under 8 μg/m3.

"We found strong evidence that neighborhood matters when it comes to exposures to this type of air pollution," noted study co-author and Kaiser research scientist Stephen Van Den Eeden. "The strongest association between exposure to air pollution and risk of cardiovascular events in our study was seen in people who live in low socioeconomic areas, where there is often more industry, busier streets, and more highways."
According to Alexeeff, "Our work has the potential to play an important role in ongoing national conversations led by the Environmental Protection Agency on whether—and how much—to tighten air quality standards to protect the public from pollution's effects."
\u201cCan you take 2 minutes to help amplify the voice of our @ecomadres_ program and ask the @EPA to strengthen the rules affecting particle pollution? You will find the link at the bottom of this blog post:\nhttps://t.co/1fePVQHTAZ\nPetitions DO matter!\n#CleanAir4Kids #EPA #NAAQS\u201d

— CleanAirMoms_IA #ClimateActionNow (@CleanAirMoms_IA #ClimateActionNow) 1677257326
The EPA in January proposed strengthening the annual public health standard for PM2.5 from 12 μg/m3 to 9-10 μg/m3 but is currently accepting public comment on a range of 8-11 μg/m3. The pending rule notably would not change the PM2.5 standards for exposure over a 24-hour period and for public welfare; it would also keep current standards for larger particles known as PM10.
As Common Dreams reported, in response to the plan, Earthjustice attorney Seth Johnson said last month that "though aspects of EPA's proposal would somewhat strengthen important public health protections, EPA is not living up to the ambitions of this administration to follow the science, protect public health, and advance environmental justice."

Alexeeff said Friday that "our study clearly adds to the evidence that the current regulatory standards are not sufficient to protect the public."
"Our findings support the EPA's analysis that lowering the standard to at least 10 μg/m3 is needed to protect the public," the researcher added. "Our findings also suggest that lowering the standard to 8 μg/m3 may be needed to reduce the risk of heart attacks."

News
SUPPORT OUR WORK.
We are independent, non-profit, advertising-free and 100%
reader supported.