For Immediate Release
Contact:
Nell Greenberg,media@ran.org
Amazonian Tribes Launch Water Project Amidst Legal Battle
Innovative direct relief project to provide drinking water to thousands in Ecuador
SAN FRANCISCO
After decades of health issues and legal battles, indigenous communities in the Ecuadorean Amazon have joined with humanitarian and environmental groups to launch ClearWater, a locally led effort to provide clean water to impacted communities.
Four Amazonian tribes, the Cofan, Siona, Secoya and Quichua, are coordinating the relief effort focusing on the provision of clean water to dozens of indigenous communities around Ecuador's Lago Agrio, a frontier oil town. The absence of readily available clean water has contributed to a health emergency in the Amazon. The contamination of water, the result of decades of oil pollution, has resulted in an epidemic of cancer, miscarriages, birth defects, and other ailments.
"ClearWater is about building immediate solutions to the environmental and public health crisis gripping the communities of the Ecuadorean Amazon," said Mitch Anderson, international Project Director for ClearWater. "We have a strong international team in place to support the communities of the Amazon in their fight for survival, in their fight for clean water."
Since October 2011, ClearWater has assembled a local team of community technicians and installed 70 rainwater-harvesting systemsin the Cofan and Secoya villages along the contaminated Agua Rico River. These systems are relatively easy to install in villages and rural town homes, and, if maintained properly, can last up to 50 years. In addition, specially designed filtered catchment units will enable families, health clinics and schools to have clean water. Every cent donated to ClearWater goes directly to the clean water project on the ground in the Ecuadorian Amazon.
The ClearWater project launches amidst a 19-year legal fight with Chevron, accused of widespread environmental contamination in the Amazon region. After 19 years of litigation there has been no change on the ground for the communities, which was a major impetus for the project.
"For decades, we have been fighting for justice. Our communities need clean water now in order to survive," said Emergildo Criollo, leader of the Cofan people and local Project Coordinator for ClearWater. "We are calling on international civil society to support us in our effort to build solutions to the water crisis in our forest."
Already ClearWater has received strong support from international groups, including the humanitarian group Groundwork Opportunities and Berlin-based child welfare charity Saving an Angel Foundation.
Rainforest Action Network (RAN) is headquartered in San Francisco, California with offices staff in Tokyo, Japan, and Edmonton, Canada, plus thousands of volunteer scientists, teachers, parents, students and other concerned citizens around the world. We believe that a sustainable world can be created in our lifetime and that aggressive action must be taken immediately to leave a safe and secure world for our children.
LATEST NEWS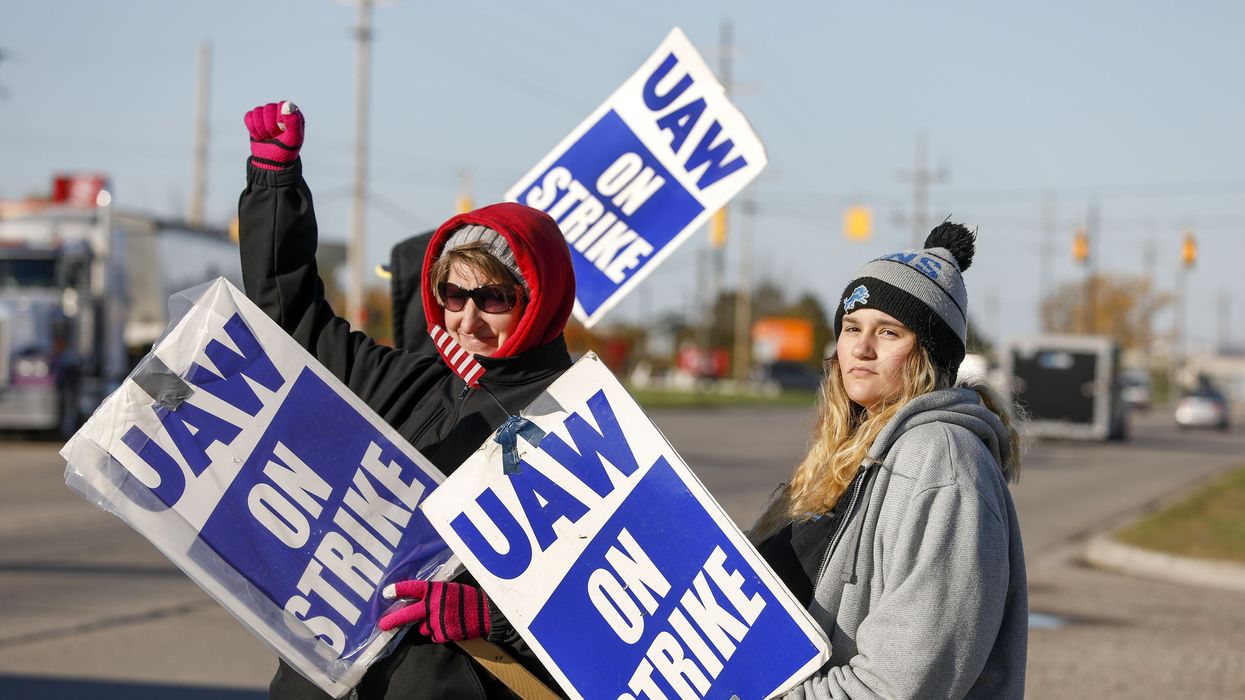 Democratic lawmakers "rejected the harmful pro-corporate, anti-worker policies of the past," said one advocate. "It's a great example of what can happen when voters come together to elect a progressive majority."
Progressives celebrated Thursday after Michigan's Democratic-led House approved legislation that would rescind anti-union "right-to-work" laws imposed by Republican lawmakers in 2012 and restore prevailing wage requirements eliminated by the GOP in 2018.
"Everyone deserves fairness and respect when they're on the job, so seeing House Democrats vote to repeal the anti-union legislation and reinstate prevailing wage is incredible news for Michigan's working families," Progress Michigan executive director Lonnie Scott said in a statement.
"The Legislature stood up yesterday and rejected the harmful pro-corporate, anti-worker policies of the past," said Scott. "It's a great example of what can happen when voters come together to elect a progressive majority."
State Rep. Jim Haadsma (D-44), chair of the House Labor Committee, made the same point Wednesday, saying that "exactly 120 days ago, Michiganders chose new leadership in the Michigan Legislature, and today demonstrates they chose leaders who will stand up for workers."
In party-line 56-53 votes, Democratic lawmakers on Wednesday night passed H.B. 4004 and H.B. 4005. The bills seek to nullify the state's Republican-authored "right-to-work" laws affecting public and private sector workers.
The U.S. Supreme Court's 2018 decision in Janus vs. AFSCME barring public sector unions from collecting "fair share" fees "renders H.B. 4004 unenforceable," Detroit Free Pressreported. "But proponents of the bill want to change Michigan's labor laws for public employees in the event the court overturns the decision."

Contrary to what the misleading name suggests, "right-to-work" laws do not guarantee employment to job-seekers. Instead, they prohibit employers and unions from entering into agreements that require every worker covered by a contract to pay union dues—making it harder for organized labor groups to sustain themselves financially, undermining workers' collective bargaining power, and lowering wages by an average of $11,000 per year.
The GOP's so-called "right-to-work" agenda "has done nothing but hurt hardworking Michiganders," said recently elected state Rep. Regina Weiss (D-27), the lead sponsor of both bills. "It has allowed people who don't pay union dues to take advantage of union benefits."
"House Democrats will always stand in solidarity with working families, and the bills that were passed today restore the power of Michigan workers, give them the freedom to expand their rights, and deliver on our promise to put Michigan workers first," Weiss added. "We are proud to stand with workers across our state and ensure that they have a seat at the bargaining table and their rights are restored."
"The bills passed last night are the first step in restoring the power of working people and unions after a decade of attacks by the DeVos family and Michigan Republicans."
Democrats also approved H.B. 4007 by a margin of 56-53. The bill aims to bring back the prevailing wage law that Republicans axed five years ago. It would require contractors hired for public construction projects to pay workers union-level wages.
"House Democrats promised we would restore prevailing wage, and we have kept our promise. Michigan workers deserve to be treated with dignity and respect, and that starts by ensuring fair wages," said state Rep. Brenda Carter (D-53), the bill's lead sponsor. "We must ensure our hardworking residents receive pay that's in line with the value of their skills and services. We must also offer competitive wages in order to attract and retain a highly trained workforce because we do not want to see critical infrastructure projects built by contractors that cut corners."
Also on Wednesday, the lower chamber approved legislation that would codify LGBTQ+ protections and strengthen background checks for gun purchases. To become law, the bills must be passed by the Democratic-led state Senate and signed by Democratic Michigan Gov. Gretchen Whitmer.
In a statement, Whitmer applauded the House Labor Committee, which led the effort to reverse Republicans' anti-union legislation, for prioritizing Michigan's working class. "Working people," the governor said, "should always have basic freedoms in the workplace without interference from the government."
To date, GOP lawmakers in 28 states have enacted so-called "right-to-work" laws, but Michigan Democrats are now on the verge of reducing that number to 27.
State Rep. Matt Hall (R-63) has attempted to throw a wrench into the works by attaching a $1 million appropriation to H.B. 4004 and H.B. 4005.
"The appropriation means that the legislation is not subject to a public referendum in which voters could reject the law," Detroit Free Press explained. "Whitmer in her first term issued an executive directive promising to veto any legislation 'that circumvents the right to a referendum.'"
Scott, meanwhile, argued Thursday that "Republicans passing right-to-work in 2012 and repealing prevailing wage in 2018 had one goal: to undermine unions and workers' ability to organize in the workplace."
"Those two actions were part of a generational fight by greedy corporate interests to eliminate unions so they can control the workplace and political institutions," he added. "The bills passed last night are the first step in restoring the power of working people and unions after a decade of attacks by the DeVos family and Michigan Republicans."
News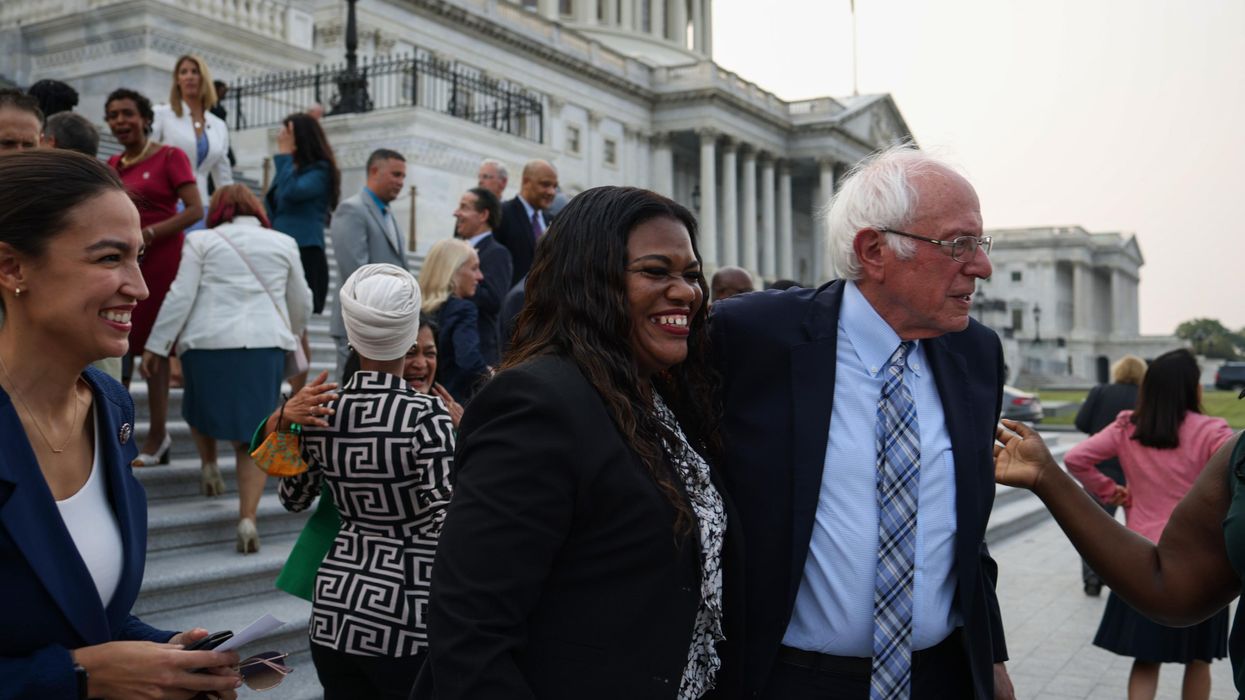 "We can no longer tolerate a rigged healthcare system that forced 1.3 million people with diabetes to ration insulin while the three major insulin manufacturers made $21 billion dollars in profits."
Sen. Bernie Sanders and Rep. Cori Bush on Thursday introduced legislation that would prohibit pharmaceutical companies from charging more than $20 for a vial of insulin, a move that comes a week after Eli Lilly pledged to cap out-of-pocket payments for its insulin products at $35 per month.
"As a nurse, I've seen too many people in our communities struggle to afford their lifesaving insulin medication," Bush (D-Mo.) said in a statement. "People are left choosing between insulin or groceries; insulin or rent; insulin or child care. This is unacceptable."
More than 7 million people across the U.S. use insulin to manage their diabetes, and some have been forced to pay upwards of $1,000 per month for the medicine as pharmaceutical giants have jacked up prices with abandon in recent decades.
According to one study published in October, more than a million people in the U.S. have had to ration insulin due to the high cost.

Sanders (I-Vt.), the chair of the Senate Health, Education, Labor, and Pensions Committee and a longtime advocate of insulin price reform, said Thursday that "there is no reason why Americans should pay the highest prices in the world for insulin—in some cases, ten times as much as people in other countries."

"In 1923, the inventors of insulin sold their patents for $1 to save lives, not to turn pharmaceutical executives into billionaires," said Sanders. "Now, 100 years later, unacceptable corporate greed has caused the price of this lifesaving medication to skyrocket by over 1,000% since 1996. We can no longer tolerate a rigged healthcare system that forced 1.3 million people with diabetes to ration insulin while the three major insulin manufacturers made $21 billion dollars in profits."
"Now is the time for Congress to take on the greed and power of the pharmaceutical industry and substantially lower the price of insulin," the senator added. "In the richest country in the history of the world, no one should die because they cannot afford the medication they need."
If passed, the Insulin for All Act of 2023 would cap the list price of insulin nationwide at "$20 per 1000 units... which may be contained in one or more vials, pens, cartridges, or other forms of delivery."
Original co-sponsors of the legislation include Sen. Ed Markey of Massachusetts, Reps. Jamaal Bowman and Alexandria Ocasio-Cortez of New York, Rep. Rashida Tlaib of Michigan, and Sen. Jeff Merkley of Oregon.
"Big Pharma continues to rake in record profits by gouging patients on insulin prices," Merkley said in a statement. "Unaffordable high prices are forcing patients to ration their insulin, leading to dire health consequences—heart attacks, stroke, blindness, kidney failure, foot disease and amputations, even death. It's tragic, it's unacceptable, and it's time to end this rip-off."
The new bill is also backed by more than 70 advocacy organizations, including T1International, Public Citizen, and Social Security Works.
"This bill being called the Insulin for All Act of 2023 shows the power of grassroots activism," said Elizabeth Pfiester, a patient with Type 1 diabetes and the founder and executive director of T1International, the group behind the #insulin4all campaign.
"We know that Eli Lilly isn't lowering the list price of one of their insulins out of the goodness of their hearts," Pfiester added. "That's why policy change to ensure patients with diabetes can't be exploited anymore is essential."
Eli Lilly's decision earlier this month to slash the prices of its most-prescribed insulin products by 70% was cautiously welcomed by advocates who have been organizing against insulin price gouging for years.
But campaigners stressed that given the serious limitations of Eli Lilly's pledge—and the company's ability to raise prices again whenever it chooses—federal action is still necessary to ensure lower costs for everyone, including those who use products made by the other two giant insulin manufacturers, Sanofi and Novo Nordisk.
The three companies produce more than 90% of the global insulin supply, market dominance that has allowed them to drive up costs massively—drawing legal action from several U.S. states, including California.
Last April, Human Rights Watch released a report showing that Eli Lilly has raised the list price of Humalog by an inflation-adjusted 680% since it first began selling the product in the late 1990s. The company vowed earlier this month to slash the list price of Humalog by 70% starting in the fourth quarter of this year.
News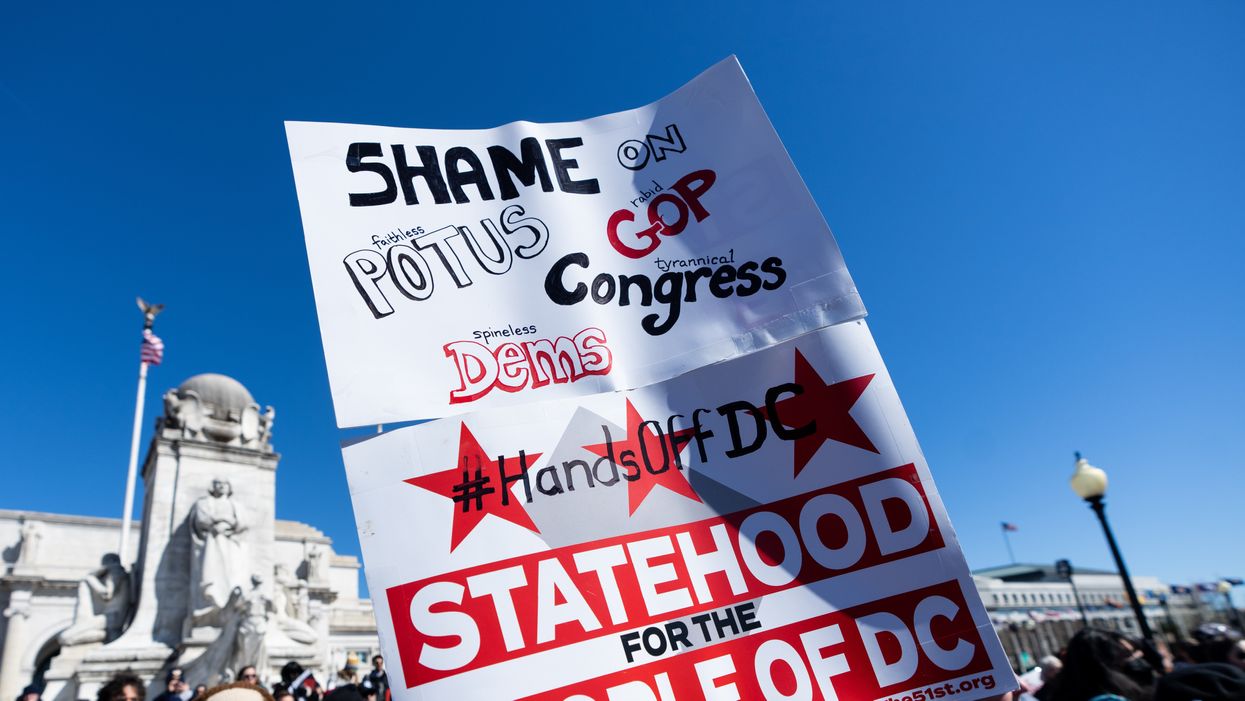 "History will not look kindly on this," said one critic.
Progressives on Thursday lambasted dozens of U.S. Senate Democrats for dealing "a huge blow to commonsense criminal justice reform efforts" by siding with the Republican Party on a resolution to block a criminal code passed by the Council of the District of Columbia—a move that one civil rights lawyer said was transparently made in response to GOP "fear-mongering" about crime, and not in the interest of keeping residents safe.
Thirty-one Democrats and two Independents joined the Republicans in passing a resolution—authored by Republican Sen. Bill Hagerty of Tennessee—to block the Revised Criminal Code Act (RCCA), which was enacted in January and included an elimination of nearly all mandatory minimum sentences and changes to maximum sentences for a number of crimes, making some higher and some lower.
Along with Independent Sens. Kyrsten Sinema of Arizona and Angus King of Maine, the 31 Democrats who joined the Republicans were Sens. Tammy Baldwin of Wisconsin, Michael Bennet of Colorado, Richard Blumenthal of Connecticut, Sherrod Brown of Ohio, Maria Cantwell of Washington, Bob Casey of Pennsylvania, Chris Coons of Delaware, Catherine Cortez Masto of Nevada, Kirsten Gillibrand of New York, Maggie Hassan of New Hampshire, Martin Heinrich of New Mexico, John Hickenlooper of Colorado, Tim Kaine of Virginia, Mark Kelly of Arizona, Amy Klobuchar of Minnesota, Ben Ray Lujan of New Mexico, Joe Manchin of West Virginia, Bob Menendez of New Jersey, Patty Murray of Washington, Jon Ossoff of Georgia, Alex Padilla of California, Gary Peters of Michigan, Jacky Rosen of Nevada, Brian Schatz of Hawaii, Chuck Schumer of New York, Jeanne Shaheen of New Hampshire, Tina Smith of Minnesota, Debbie Stabenow of Michigan, Jon Tester of Montana, Mark Warner of Virginia, and Ron Wyden of Oregon.
Sens. Bernie Sanders of Vermont, Elizabeth Warren of Massachusetts, Cory Booker of New Jersey, and Ed Markey of Massachusetts were among those who opposed the resolution.

Sen. Raphael Warnock of Georgia voted "present" and Sens. John Fetterman of Pennsylvania, Dianne Feinstein of California, and Tom Carper of Delaware were not present for the vote.
President Joe Biden said after the bill was passed by the D.C. Council that he opposed Republican efforts to block the measure, but reversed course last week, telling Democrats that he would not veto Hagerty's resolution if it arrived at his desk.
"The victims of these political fights have been millions of people. More will now suffer."
Since the passage of the RCCA, Republicans have used the law to portray the nation's capital as crime-ridden and Democrats as weak on criminal justice, despite the fact that the updated criminal code increased sentences for gun crimes and sexual assault and created a new felony offense for shooting a firearm in public.
The issue of carjacking took center stage as the new code reduced sentences for the crime. The law would have applied a 24-year maximum sentence for carjacking, reduced from 40 years—the same amount that's applied to second-degree murder, according to the code's author, defense attorney Patrice Sulton.
Civil rights lawyer Udi Ofer demanded to know how a criminal code that still includes harsher penalties for armed carjacking than more than a dozen states qualifies as "soft on crime."
"This vote goes well beyond D.C.," said Ofer. "Mass incarceration was not a product of mass crime. It was a product of mass fear-mongering and fights between party elites on who can be 'tougher.' The victims of these political fights have been millions of people. More will now suffer."

Despite Hagerty's claim that the resolution was necessary to end "the crime spree that is happening in our major cities," carjackings in D.C. this year have been reported at roughly the same level as they were by this point last year. Violent crime is down by 8% in the district compared to March 2022.

"We know that these votes were driven by politics, not by data," said Ofer. "Democrats are terrified that Republicans will portray them as soft on crime, and the Republican Congressional Committee has already announced that it will run ads against House Democrats who voted for [the] D.C. bill."
Soon after the resolution was passed, Republicans promptly released attack ads targeting 14 Democrats who opposed it in the House.
In the U.S. House, progressives and proponents of statehood and self-determination for Washington, D.C.—which Biden has claimed to support—denounced the Senate's first vote in three decades that blocked a law passed by local lawmakers in the district.
"Supporting statehood in words is not sufficient," said Rep. Alexandria Ocasio-Cortez of New York. "We need to support statehood in our governance and in our actions."
Rep. Eleanor Holmes Norton (D-D.C.) said she would work to "convince President Biden that his intention to sign the disapproval resolution is incompatible with his Statement of Administration Policy."

"Even if President Biden signs the resolution and denies D.C. residents the very self-governance that he has claimed to support, this chapter of D.C.'s continuing fight for autonomy is, in itself, a powerful argument for the full rights that can only be provided by D.C. statehood,"
said
Holmes Norton. "I will not stop until the job is done."
News
SUPPORT OUR WORK.
We are independent, non-profit, advertising-free and 100%
reader supported.