For Immediate Release
Contact:
Latoya Veal, 202-628-8669, ext. 116
Roe v. Wade Turns 39, Abortion Rights Still Under Attack
Statement of NOW President Terry O'Neill
WASHINGTON
As we celebrate the 39th anniversary of Roe v. Wade, the landmark 1973 Supreme Court decision that recognized a woman's constitutional right to legal abortion, we can't forget how many times women's lives have been put at risk in the past year. Legislators in 24 states passed 92 anti-abortion provisions in 2011, shattering the previous record of 34 adopted in 2005, according to the Guttmacher Institute.
These new restrictions included waiting-period requirements, onerous and unnecessary clinic regulations and cuts to family planning services and providers because of their connection with abortion. Thanks to a newly energized grassroots coalition, voters defeated the Mississippi Personhood Amendment, a measure that would have legally defined personhood as beginning at fertilization in the state's constitution. But that fight is far from over.
Anti-choice extremists have also continued their push to restrict insurance coverage of abortion. Eight states severely limit insurance coverage of abortion in all private insurance plans written in the state, including those that will be offered through the health insurance exchanges that will be established under the federal health care reform law.
A majority of Americans agree with the Roe v. Wade decision and support a woman's right to safe and legal abortion care. One in three women will have an abortion in their lifetime. Yet the current GOP presidential candidates are so out of touch that Mitt Romney supports overturning Roe, Newt Gingrich wants to defund family planning, and Rick Santorum favors a constitutional ban on abortion.
Reproductive health care is not for some women; it is a fundamental right of all women. We will not let anti-choice groups destroy what we worked so hard for. On this anniversary, and with 289 days left until Election Day 2012, NOW pledges to work tirelessly to elect officials who will support women's access to the full range of reproductive health care services, and defeat those who don't.
The National Organization for Women (NOW) is the largest organization of feminist activists in the United States. NOW has 500,000 contributing members and 550 chapters in all 50 states and the District of Columbia.
LATEST NEWS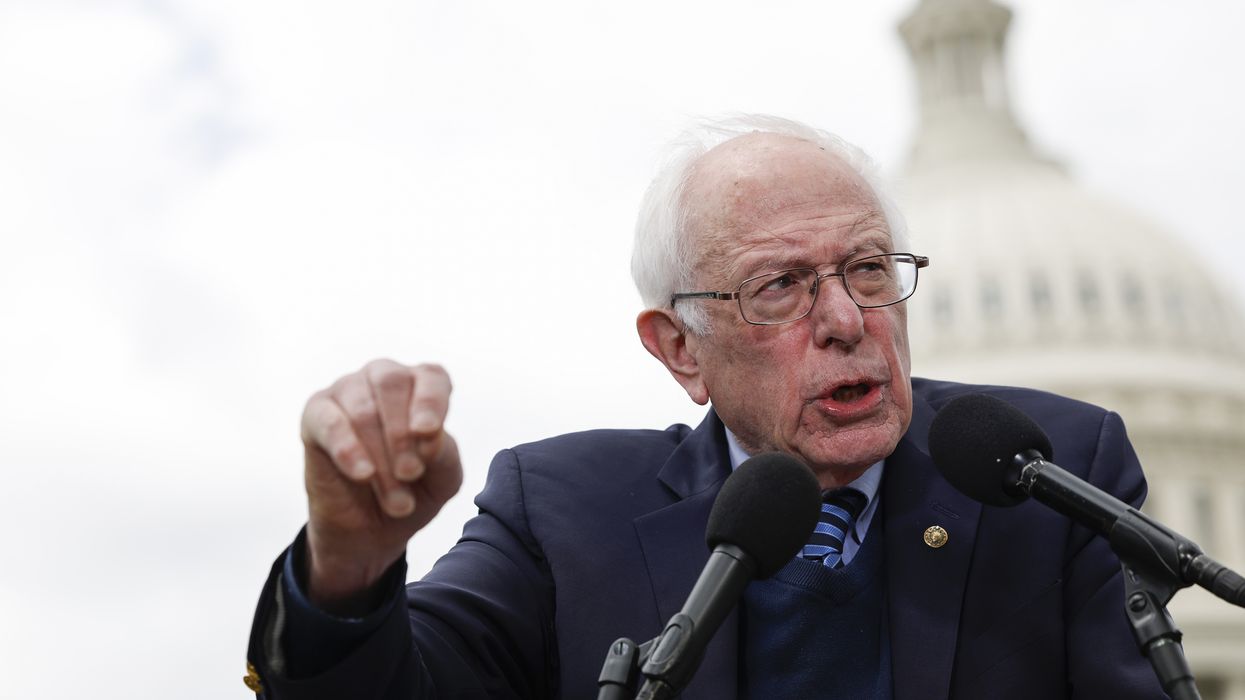 "It is unacceptable that millions of Americans throughout our country do not have access to affordable, high-quality primary care and are unable to get the healthcare they need when they need it."
After weeks of negotiations, Independent Sen. Bernie Sanders of Vermont and Republican Sen. Roger Marshall of Kansas announced Thursday that they have reached an agreement on a bill to confront the United States' primary care crisis, which has left millions of people across the nation without access to critical healthcare.
Sanders, the chair of the Senate Health, Education, Labor, and Pensions (HELP) Committee, said in a statement that the new legislation marks a "historic" effort "to expand primary care and to reduce the massive shortage of nurses and primary care doctors in America."
According to a report released earlier this year by the National Association of Community Health Centers, more than 100 million people in the U.S. face difficulty accessing primary care, which is often the initial point of contact for patients seeking care.
The U.S. underinvests in primary care compared to other wealthy nations, despite spending more on healthcare overall.
"It is unacceptable that millions of Americans throughout our country do not have access to affordable, high-quality primary care and are unable to get the healthcare they need when they need it," the Vermont senator said. "Every major medical organization understands that our investment in primary care is woefully inadequate. They understand that focusing on disease prevention and providing more Americans with a medical home instead of relying on expensive emergency rooms for primary care will not only save lives and human suffering, it will save money."
The new bipartisan legislation includes nearly $6 billion in mandatory annual funding for community health centers over the next three years, according to a summary of the measure. If Congress doesn't act by the end of the month, community health centers—which provide primary care to tens of millions of vulnerable Americans—will face steep funding cuts.
The Sanders-Marshall legislation also includes funding that would support an estimated 2,000 primary care physicians over the next decade.
Additionally, the measure would boost funding for the National Health Service Corps to support scholarships and debt relief for doctors, nurses, and other healthcare professionals.
Recent data suggests the U.S. could see a shortage of up to 124,000 physicians over the next decade. Elisabeth Rosenthal of KFF Health News noted last week that "the percentage of U.S. doctors in adult primary care has been declining for years and is now about 25%—a tipping point beyond which many Americans won't be able to find a family doctor at all."
The nursing shortage is also severe and could soon get much worse. One study released earlier this year estimated that around 100,000 registered nurses in the U.S. left their jobs over the past two years—often due to pandemic-related stress—and more than 610,000 more intend to leave over the next four years.
Sanders and Marshall's legislation, which is set to be marked up in the Senate HELP Committee on September 21, would provide $1.2 billion in grants to state universities and community colleges with the goal of boosting the number of students enrolled in registered nursing programs.
Marshall, the top Republican on HELP's Subcommittee on Primary Health and Retirement Security, said in a statement that the new bill "recognizes and addresses the challenges our healthcare industry is facing, like the shortage of nurses and primary care doctors, and includes programs to bolster the workforce in a fiscally responsible way."
According to Sanders' office, the legislation would be "fully paid for by combating the enormous waste, fraud, and abuse in the healthcare system, making it easier for patients to access low-cost generic drugs, and holding pharmacy benefit managers accountable, among other provisions."
In remarks on the Senate floor on Thursday, Sanders noted that "in Vermont and all over this country, our people often have to wait months in order to get an appointment with a doctor and, in some cases, they have to travel very long distances to get the healthcare they need."
"It is literally insane," said Sanders, "that millions of Americans with nonemergency healthcare needs get their primary care in a hospital emergency room."
News
A coalition called Nevadans for Reproductive Freedom filed a petition to place a proposed constitutional amendment on 2024 ballots.
Reproductive rights groups in Nevada said Thursday that they plan to make the state one of a growing number where voters will make their voices heard on abortion in 2024, in the face of bans that have been passed by Republican-controlled state legislatures since Roe v. Wade was overturned last year by the U.S. Supreme Court.
Nevadans for Reproductive Freedom—a coalition including Planned Parenthood, NARAL Pro-Choice Nevada, and Indivisible Northern Nevada—said it filed a petition with the secretary of state's office to include on 2024 election ballots a referendum that would enshrine abortion access in the state constitution.
Nevada is not among the 22 states that have passed severe restrictions or bans on abortion care since Roe was overturned in June 2022, but advocates want to make it harder to weaken the state law that protects abortion access up to 24 weeks of pregnancy.
The constitutional amendment proposed by the coalition would say the state "may not penalize, prosecute, or take adverse action against any individual based on the outcome of a pregnancy of the individual, or against any licensed healthcare provider who acts consistent with the applicable scope and practice of providing reproductive healthcare services to an individual who has granted their voluntary consent."
It would also ban any abortion restrictions before the point in pregnancy when physicians determine a fetus is viable, generally around 23 to 24 weeks of pregnancy.
"The fallout of the Supreme Court's overturning of Roe v. Wade has shown us that we have already suffered one year too long without the guaranteed right to reproductive freedom, and we simply cannot afford to stand by and allow any further encroachment on the fundamental right of Nevadans to determine their own reproductive lives and care," Lindsey Harmon, the executive director of Planned Parenthood Votes Nevada, toldNBC News.
The coalition has until June 26, 2024 to gather 103,000 signatures from registered voters in support of placing the proposed amendment on ballots. It would need to pass with a simple majority next year to appear again on 2026 ballots, as two separate votes are needed to amend the constitution.

Recent polling by the Pew Research Center found that 62% of adults in Nevada believe abortion care should be legal in most or all cases.
Referendum votes in states including Montana, Kansas, and Kentucky last year showed that voters in states across the country—including those that lean Republican—also back abortion rights. Voters in those states rejected proposals that would have allowed their legislatures to ban or restrict abortion, sparking a new strategy among pro-abortion rights groups.
This November, voters in Ohio will vote on whether to codify the right to abortion care in the state constitution, and residents already demonstrated support last month for pro-choice campaigners who urged them to reject a measure which would have raised the threshold needed for the constitutional amendment to pass. Ohioans decisively voted against the proposal.
Organizers in Arizona, Florida, Missouri, Nebraska, Colorado, Idaho, and South Dakota have also launched campaigns to give voters a say on abortion care by placing referendums on 2024 ballots, with some facing opposition from GOP officials.
The ACLU of Missouri sued Republican Secretary of State Jay Ashcroft last month after he wrote in official ballot language that the proposed constitutional amendment would "allow for dangerous, unregulated, and unrestricted abortions, from conception to live birth."
In Nevada, campaigners said Thursday they aim to "make sure Nevada voters can say for themselves that they support reproductive freedom."
News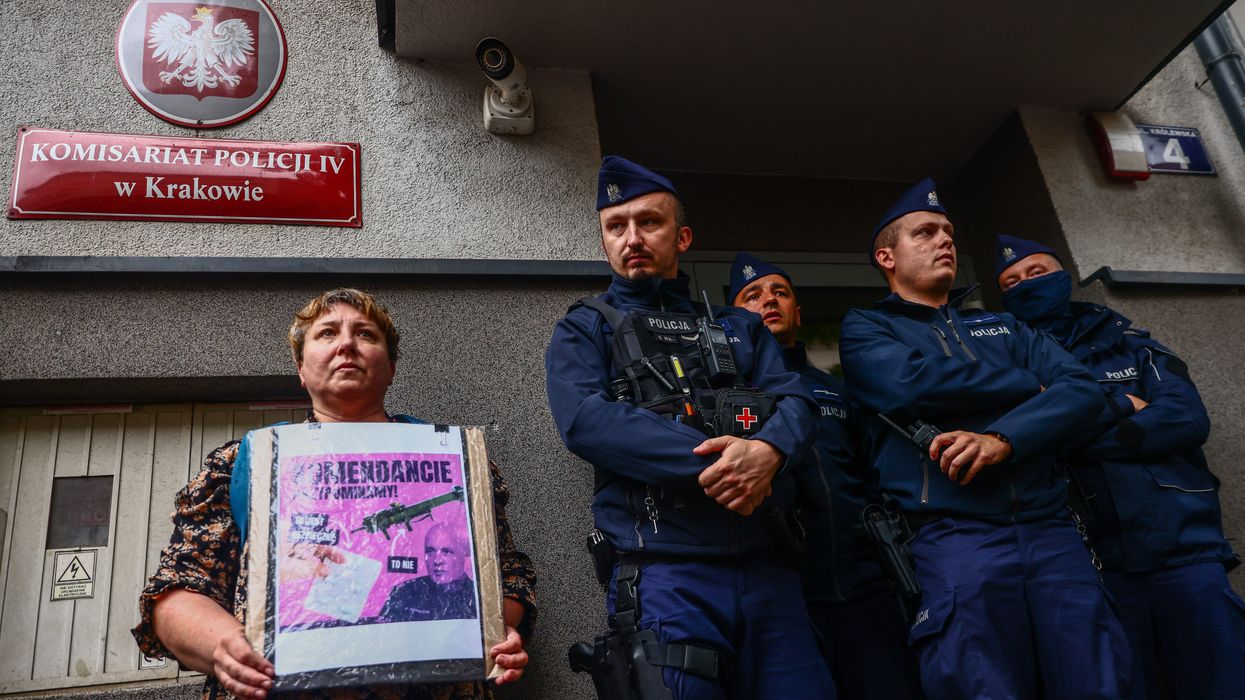 "By going after women and girls who need medical care—and doctors who provide it—Polish authorities are using their powers to terrorize people instead of to protect basic rights," said a Human Rights Watch researcher.
As a leading human rights organization declared Thursday that the Polish government's "dubious use of its powers to chase down alleged abortion-related activity threatens people's rights to privacy, autonomy, and health," a U.S.-based journalist warned similar abuse could happen in the United States, where reproductive freedom is also under attack.

Human Rights Watch (HRW), an international group headquartered in New York City, released details of conversations with patients, doctors, and attorneys about experiences with reproductive healthcare in Poland since January 2021, when a "politically compromised" Constitutional Tribunal's October 2020 decision banning nearly all abortions in the European Union member state took effect.
Abortions are now only permitted in Poland for pregnancies resulting from incest or rape, or to protect the health or life of a pregnant person—but as Common Dreams has reported, multiple Polish women have died over the past two years after doctors declined to provide legal abortion care. Their deaths have sparked nationwide protests and demands for legal reforms.
"Police took the woman's bloody clothing, her used sanitary pads, a pair of scissors with which she had cut the umbilical cord after miscarrying, the placenta, and 'other biological material' as possible evidence of criminal activity."
"Polish authorities' ruthless pursuit of people trying to get or provide basic healthcare can only be described as a witch hunt," said Hillary Margolis, senior women's rights researcher at HRW. "The government is misusing police and courts to advance its anti-rights agenda, taking its abusive policies into private homes, hospital rooms, and doctors' offices."
"By going after women and girls who need medical care—and doctors who provide it—Polish authorities are using their powers to terrorize people instead of to protect basic rights," she added. "As the government ramps up its targeting and harassment of people allegedly linked to abortion, anyone can fall prey to these attempts and have their privacy, dignity, and right to health violated."
As HRW explained, "Polish law does not criminalize having an abortion but rather anyone who provides or assists someone in having an abortion outside of highly restricted grounds."
In April, 32-year-old Joanna had a legal, self-administered medication abortion. After she contacted her psychiatrist over what she believed were anxiety attacks, a paramedic and police officers showed up at her home in Krakow. As the rights group detailed:
The police escorted her to a hospital, where they and two additional police officers surrounded her in an examination area. Later, at a second hospital, two female police officers entered the room where a gynecologist had examined Joanna. They ordered her to strip naked, squat, and cough, without providing a reason. Joanna refused. "They were just repeating, 'take off your clothes, do squats, cough,'" she said.

She removed her shirt and bra but not her underwear. She described feeling like a trapped animal. "I tried to take a step back but there was only a wall behind me. I felt I wasn't a human being anymore. I didn't want to take my panties off because I was wearing a [sanitary] pad and it was dirty. It was too humiliating. Something caused me to scream: 'What do you want from me?!'"

Joanna's attorney, Kamila Ferenc at the Warsaw-based Foundation for Women and Family Planning, also represents a 41-year-old woman who spoke out in July about police interrogating her after she called an ambulance to her Warsaw home in June 2022 because she was experiencing heavy bleeding due to a miscarriage at 19 weeks pregnant.

In addition to pumping and inspecting her septic tank, supposedly on a prosecutor's orders, "police took the woman's bloody clothing, her used sanitary pads, a pair of scissors with which she had cut the umbilical cord after miscarrying, the placenta, and 'other biological material' as possible evidence of criminal activity," according to HRW.
HRW also shared the stories of a 17-year-old interrogated by police after seeking care at a hospital following a self-managed abortion; Dr. Dominik Przeszlakowski, an OB-GYN in Krakow who believes he was fired for speaking out against the Constitutional Tribunal's decision; and Dr. Maria Kubisa, a gynecologist in Szczecin who had armed government agents raid her private practice on a local prosecutor's orders in January.
Kubisa, who said she has not treated pregnancies since the 2020 ruling, told the group that agents took her electronics and patient medical records dating back to 1996, which included sensitive information and images for about 6,000 people. The seizure violated her patients' rights and left her unable to practice for weeks.
One of the doctor's patients told HRW that "it is a matter of control over women and... controlling our reproductive rights. Nothing like that will ever happen to any male patient who goes to a urologist... This is not even in the spectrum of [the government's] interest."
The crackdown on Polish patients and providers is not only part of what HRW called a "broader capture of the justice system and dismantling of democratic checks and balances" under the Law and Justice party, it also bears some resemblance to attacks on reproductive freedom the United States.
Since the U.S. Supreme Court overturned a half-century of national abortion rights last year, right-wing policymakers across the country have worked to further restrict reproductive healthcare and target people who provide or even help others access abortions. American women have also struggled to get legal abortions, including during medical emergencies.
Georgia-based public health journalist Patrick Adams on Thursday connected the Polish and U.S. battles for abortion care in a New York Times opinion piece, writing that "Polish scientists claim they've devised laboratory methods to detect both mifepristone and misoprostol in biological specimens, and a spokeswoman for the regional prosecutor's office in Wroclaw confirmed that these tests have been used in Poland to investigate pregnancy outcomes."
Mifepristone and misoprostol are commonly taken together for both management of early pregnancy loss and medication abortion—and mifepristone is the focus of an ongoing court battle in the United States.
The tests in Poland "are not yet known to be in use anywhere else in the world," Adams noted. "But Americans would be wise to plan for the possibility that the technology could one day be adopted on this side of the Atlantic and used by law enforcement to suss out whether women have taken abortion pills—which are now banned or restricted in more than two dozen states."
"Even the threat of such a test could have dire consequences for reproductive health, deepening distrust of the medical establishment and discouraging people from seeking care," he warned. "Should prosecutors in Poland inspire copycats in American states, no healthcare provider should enable or support such a move."
News
Independent, nonprofit journalism needs your help.
Please Pitch In
Today!