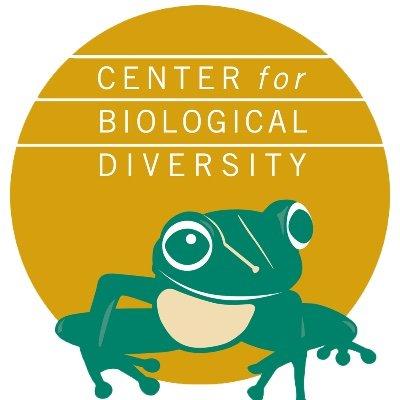 For Immediate Release
Contact:
Mollie Matteson, (802) 318-1487
Scientists Estimate Up to 6.7 Million Bats Dead From Fast-spreading Disease
WASHINGTON
A mysterious, fast-moving disease has now killed as many as 6.7 million bats in North America over the past six years, according to an estimate released today by bat biologists. The new estimate is dramatically higher than the previous one, dating from 2009, that white-nose syndrome had killed 1 million bats on the continent. The disease was first discovered in upstate New York in 2006 and has spread from Nova Scotia to Tennessee, infecting bat colonies in 16 states and four provinces.
"This number confirms what people working on white-nose syndrome have known for a long time -- that bats are dying in frighteningly huge numbers and several species are hurtling toward the black hole of extinction," said Mollie Matteson with the Center for Biological Diversity, which has filed several petitions to save bats and stem the spread of the disease. "We have to move fast if we're going to avoid a complete catastrophe for America's bats."
The new mortality estimate -- which ranges from 5.7 million to 6.7 million -- was agreed upon by biologists who met last week at the Northeast Bat Working Group's annual meeting in Pennsylvania, one of the states hit hardest by the bat die-off. The grim figure follows recent news that a few surviving bats were confirmed in Vermont this past summer -- a discovery that had buoyed hopes that some individuals may have resistance to the devastating disease, meaning they could possibly form the nucleus of a future recovery effort. Overall populations of affected bat species in places like Vermont, New York, Pennsylvania and other parts of the Northeast are down 70 percent to 98 percent since 2006, which also makes the populations more vulnerable to other threats, such as habitat loss, human persecution and environmental contaminants.
The outbreak is the worst wildlife disease epidemic in North America's history. Congress recently directed the Department of the Interior to allot $4 million for research and management of the disease.
"America's bats are in the throes of an unprecedented crisis and some species face the very real prospect of extinction," Matteson said. "While it's heartening to see some money allocated for white-nose syndrome, today's new mortality estimates are a wake-up call that we need to do more, and fast."
White-nose syndrome has affected six bat species so far; it kills them during their hibernation period, when they occupy caves and mines in a state of "suspended animation." The affected bats are insect eaters; their hibernation is a response to a lack of prey available during the winter months. The loss of so many bug-eating bats has likely had an impact on insect populations, including those that are pests on crops. Scientists have estimated that bats save farmers between $3.7 billion and $53 billion per year on pesticides that did not have to be used on crops like corn, cotton, vegetables and fruit because of the help bats give. Since the bat disease has only shown up in the Midwest and South in the last couple of years, the full effects of declining bat numbers on regions more strongly dominated by agriculture than the Northeast may take some time to show up.
The South and Midwest contain some of the largest and most diverse bat colonies in the world. Already one federally endangered bat has been hit by the disease; the Indiana bat has declined by 70 percent in the Northeast since 2006, though it had been on an upward trajectory in that region before the onset of the disease. Scientists fear that as white-nose syndrome spreads in the Midwest, the species' core range, the total population of Indiana bats could plummet. Other bat species are at risk too, and three are currently under review by the U.S. Fish and Wildlife Service for addition to the endangered species list due to the threat posed by white-nose syndrome.
For more information, go to SaveOurBats.org.
At the Center for Biological Diversity, we believe that the welfare of human beings is deeply linked to nature — to the existence in our world of a vast diversity of wild animals and plants. Because diversity has intrinsic value, and because its loss impoverishes society, we work to secure a future for all species, great and small, hovering on the brink of extinction. We do so through science, law and creative media, with a focus on protecting the lands, waters and climate that species need to survive.
(520) 623-5252
LATEST NEWS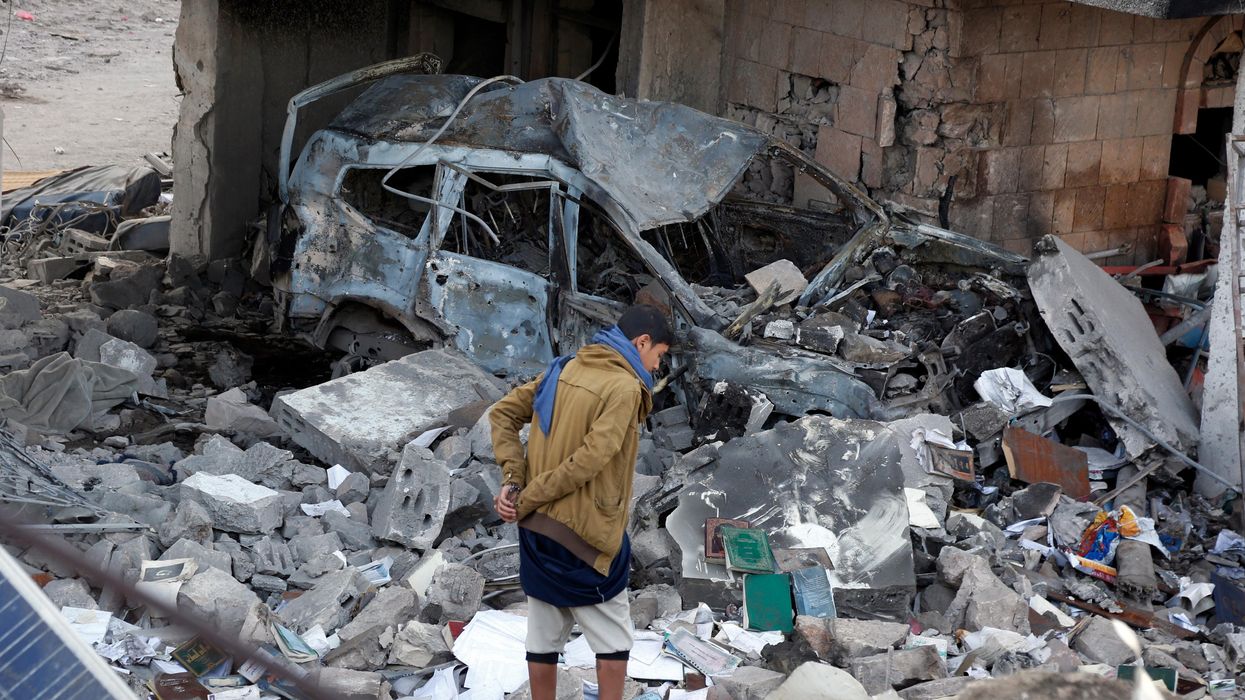 "Of course, its impact will come down to the details of implementation," said one expert.
Human rights advocates and some congressional Democrats on Wednesday cautiously welcomed Washington Postreporting that the Biden administration has created a program to track and investigate allegations of foreign forces harming or killing civilians with weapons provided by the United States.
"The United States clearly has a vested interest in knowing what harm its weapons sales and security assistance cause to civilians," Human Rights Watch (HRW) deputy Washington director Nicole Widdersheim told the newspaper. "Let's see if the Biden administration puts political will behind this good idea."
Annie Shiel, U.S. advocacy director at the Center for Civilians in Conflict (CIVIC), called the initiative "an important step" but added that "of course, its impact will come down to the details of implementation."
The Quaker group Friends Committee on National Legislation noted Shiel's remarks on X—formerly Twitter—while celebrating the "positive news... on accountability for harm caused by U.S.-supplied weapons."
"What will actually happen when U.S. officials find U.S. arms have been used in war crime or human rights violation? Will there be meaningful accountability, or will perpetrators just get a slap on the wrist?"

The U.S. State Department, which is leading the program with the help of "personnel from the Pentagon, intelligence community, and other agencies," announced the Civilian Harm Incident Response Guidance (CHIRG) in an August 23 cable to American embassies and consulates, according to the Post.
A State Department spokesperson told the Middle East Eye on Wednesday that "CHIRG establishes a process to respond to new incidents of civilian harm and prevent them from recurring, and to drive partners to conduct military operations in accordance with international law," but declined to say whether the probes will be made public.

The new initiative resembles a Defense Department effort launched last year that focuses on injuries and deaths of noncombatants caused by American forces—one which Shiel said at the time "offers opportunities to address long-standing structural flaws in U.S. policy and practice, prevent future harm, and provide civilians harmed by U.S. operations with the recognition and response they deserve."
U.S. Senate Foreign Relations Committee Chairman Bob Menendez (D-N.J.) said on social media that he was "pleased to see" the State Department adopting an element of the Safeguarding Human Rights in Arms Exports Act, which he introduced with House Foreign Affairs Committee Ranking Member Gregory Meeks (D-N.Y.).
Passing such legislation, the Post pointed out, "would ensure that the new procedures can't be abolished by a future administration, along with establishing other steps to prioritize rights concerns in arms sales."
U.S. Sen. Elizabeth Warren (D-Mass.) on Wednesday also welcomed the new program while highlighting her related efforts on Capitol Hill. Over the past year, she has joined Sens. Bernie Sanders (I-Vt.) and Mike Lee (R-Utah) in sending letters to the departments of Defense and State about the United States' complicity in civilian harm in Yemen.
CIVIC advocacy and legal fellow John Ramming Chappell stressed on X that the program "comes after years of congressional pressure" and "would not have been developed without demand from the Hill."
"Questions remain, of course," he noted. "What will actually happen when U.S. officials find U.S. arms have been used in war crime or human rights violation? Will there be meaningful accountability, or will perpetrators just get a slap on the wrist? Will close partners get special treatment?"
Former longtime HRW executive director Kenneth Roth also raised a question: "But what about forces armed by the U.S. that use other arms to kill civilians? That's wrong, too."
Brian Finucane, a former State Department lawyer who is now a Crisis Group senior adviser, wrote on social media that the program is "a notable step" in monitoring civilian deaths and injuries but also warned observers to "be wary of relying on U.S. embassies, given 'clientitis.'"
Finucane added that such monitoring "is more likely to be effective" if it is "statutory-mandated" versus administrative policy, is "as independent as possible to insulate from those in bureaucracy with interests in selling arms," and incorporates information from all sources.
News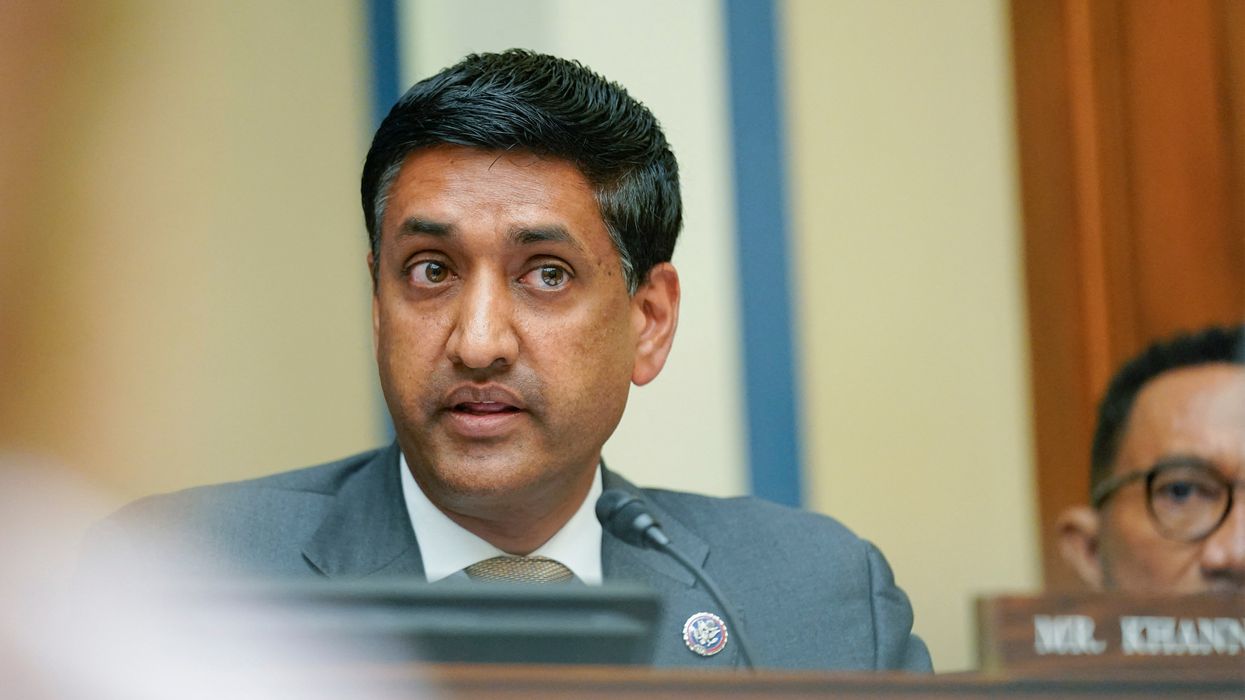 The California Democrat accused Johnson & Johnson—makers of the $160,000-per-year leukemia drug Imbruvica—of floating a "flimsy legal theory" in a "desperate attempt to protect profits."
U.S. Rep. Ro Khanna on Wednesday ripped a senior Johnson & Johnson attorney after she repeatedly dodged questions regarding the legal justification for the pharmaceutical giant's lawsuit alleging government efforts to negotiate lower drug prices are "unjust taking."
At a House Oversight Committee hearing, Khanna (D-Calif.) grilled J&J assistant general counsel Aviva Weis over the company's federal lawsuit, which argues that Medicare drug price negotiations—an overwhelmingly popular provision of the Inflation Reduction Act (IRA)—violate the First and Fifth amendments of the U.S. Constitution.
The J&J suit—and litigation separately initiated by Merck, Bristol Myers Squibb, Astellas, the U.S. Chamber of Commerce, and the industry lobby Pharmaceutical Research and Manufacturers of America (PhRMA)—alleges in part that the IRA mandate runs afoul of the takings clause, which states, "Nor shall private property be taken for public use, without just compensation."

Referring to Imbruvica—one of the first 10 drugs tapped by the Biden administration for Medicare price negotiations—Khanna told Weis that "you've got a pill for leukemia patients, you sell it for $484 per capsule, that's $160,000 a year, you make $22 billion over that over the last 10 years, and you're making $65 billion in profit."
"Now, we have passed, as a Congress, and the president has signed a bill, saying: 'You know what? Let Medicare negotiate to try to bring that price down,'" the congressman continued. "And you, in your department—'cause you're assistant general counsel—have filed a lawsuit saying that negotiation would be an 'unjust taking.'"
When Weis tried to avoid saying whether she believes that federal agencies negotiating drug prices with pharmaceutical companies constitutes "taking," Khanna said:
I guess I don't understand how, being the assistant general counsel, you can come before the United States Congress when you're suing the United States government, saying that we are taking your property. Now, that's a very serious charge... and you don't know whether it's a taking?
Khanna asserted that it's necessary for federal agencies to negotiate drug prices so that pharmaceutical firms "don't make $65 billion in profits every year and so leukemia patients don't pay $160,000" for a year's supply of Imbruvica.
"I think it is shameful what you and the pharmaceutical companies have done in suing the United States government to protect those profits," he added, "and you are totally unprepared to answer a single question about what the takings clause is and the justification for that lawsuit."

News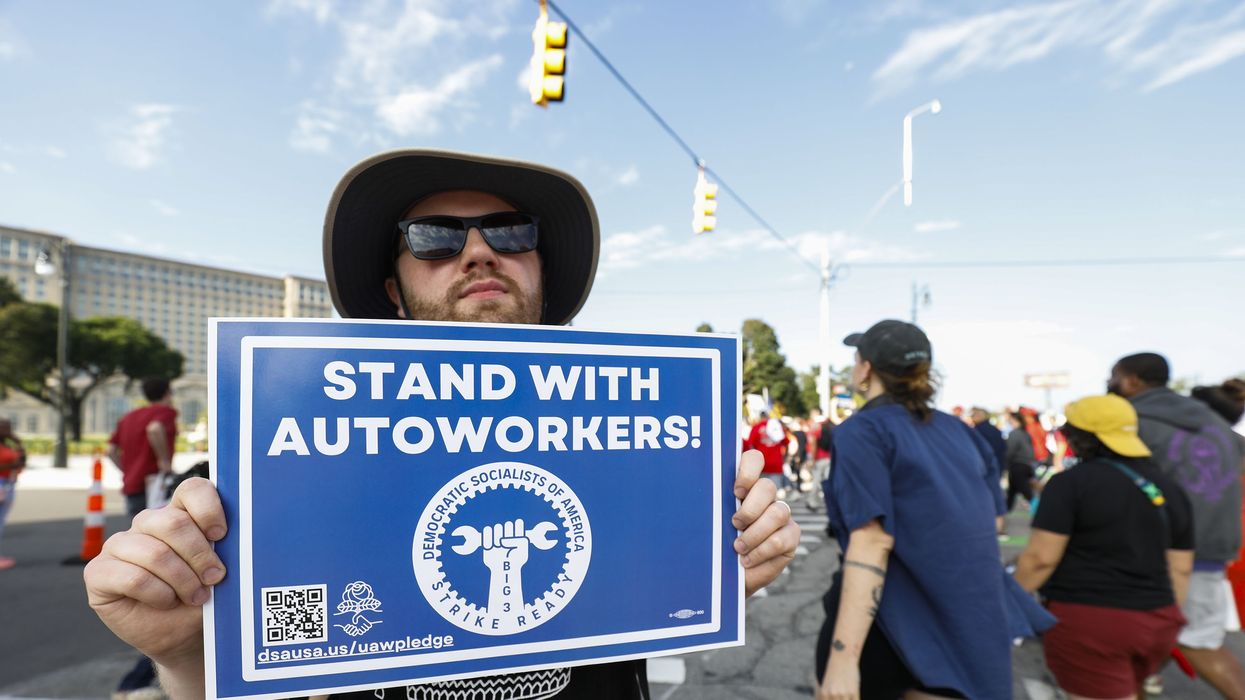 "This transition must center workers and communities," said advocates, "especially those who have powered our economy through the fossil fuel era, and be a vehicle for economic and racial justice."
On the eve of the expiration of the United Auto Workers union's contract and a potential strike Wednesday, climate action groups were among more than 100 civil society organizations on Wednesday calling on the "Big Three" automakers to ensure that a new contract protects workers as the U.S. transitions toward making electric vehicles.
Groups including the Center for Biological Diversity, Public Citizen, Sierra Club, and Earthjustice were among those expressing solidarity with nearly 150,000 union autoworkers who are demanding that employees of electric vehicle battery plants being developed by Stellantis, Ford, and General Motors are paid fairly—reflecting the record profits the automakers have reported in recent years.
"Within the next few years—the span of this next contract—lies humanity's last chance to navigate a transition away from fossil fuels, including away from combustion engines," wrote the groups in an open letter. "With that shift comes an opportunity for workers in the United States to benefit from a revival of new manufacturing, including electric vehicles (EVs) and collective transportation like buses and trains, as a part of the renewable energy revolution."
"This transition must center workers and communities, especially those who have powered our economy through the fossil fuel era, and be a vehicle for economic and racial justice," they added. "We are putting you on notice: Corporate greed and shareholder profits must never again be put before safe, good-paying union jobs, clean air and water, and a livable future."
"Corporate titans will try to split our movement by presenting us with a false choice. They'll try to argue that building more clean cars is more important than supporting workers. But we know better."
With the Biden administration—under the Inflation Reduction Act—poised to invest billions of taxpayer dollars "to boost your companies' transition to electric vehicle manufacturing and component production," the letter reads, the companies must "do right by the workers who have sacrificed to keep your companies profitable."
Without meeting the demands of the UAW, the organizations said, the Big Three will be embarking on a "race to the bottom" that continues to exploit workers.
"We do not have to choose between good jobs and green jobs," Trevor Dolan, industry and workforce policy lead at Everygreen Action, said Wednesday. "Corporate titans will try to split our movement by presenting us with a false choice. They'll try to argue that building more clean cars is more important than supporting workers. But we know better. Our collective movement can only succeed if workers directly benefit from climate action."
The groups highlighted the demands of the union, including:
an end to the industry's unjust tier system for workers, which leaves "tier-two" employees making less than half as much in hourly wages as top-tier employees and with less generous benefits;
just wage and benefit increases that keep in line with the cost of living;
the same pay and safety standards for workers in sustainable battery production as under the national agreements; and
a robust, fair, and just transition into the EV economy with no loss of autoworker livelihood.
The expression of solidarity came ahead of a bargaining update that UAW President Shawn Fain was
expected to give
prior to the contract deadline.
Fain has led the union in demanding a 40% wage increase over four years—noting that compensation for General Motors CEO Mary Barra grew by more than 32% from 2018-22 while the median worker got only a 2.8% raise—cost-of-living increases, and a workweek shortened to 32 hours.

"The revival of domestic manufacturing of electric vehicles must also deliver on the promise of safe, dependable, good-paying UNION jobs across the entire supply chain," said Ben Smith, senior campaigner with Greenpeace USA. "In addition, we call on the Biden administration and all those in government at the federal, state, and local level to use every tool at their disposal to ensure strong labor standards are deployed alongside any support that taxpayers provide for EV automakers."
"It's time for the Big Three CEOs to deliver what these workers have demanded," Smith added, "a fair contract and a just transition now!"
News
Independent, nonprofit journalism needs your help.
Please Pitch In
Today!