25th Anniversary of the Chernobyl Atomic Power Disaster
The World Council for Renewable Energy (WCRE) demands a global ban on new nuclear power, policies to phase out current plants - and a decisive, immediate move to a 100% renewable world
WASHINGTON
This week on April 26 marked the 25th anniversary of the Chernobyl atomic power disaster. The Fukushima catastrophe earlier this year reiterates that level 7 incidents will always threaten the world - it occurred in an advanced industrial country with some of the highest safety standards.
After Harrisburg's Three Mile Island, Chernobyl and Fukushima, it is time to wake up and terminate the reliance on this incredibly dangerous technology. No matter what the likelihood is for a similar event to happen in another country - it can never be excluded!
These disasters, unfortunately, may be witnessed again in the future if reliance on nuclear power is not overcome. In fact, even the World Nuclear Association indicates on their website that "it is estimated that, worldwide, 20% of nuclear reactors are operating in areas of significant seismic activity". Human and technology failures can lead to similar accidents.
The dream of cheap, safe and abundant supply of atomic energy has become a nightmare of accidents, cost overruns, enormous fresh water consumption, excessive decommissioning costs, terrorism risks, uranium shortages, groundwater contamination, disposal risks, mining hazards, shipping security, centralized bureaucracy, etc.
A future based on nuclear energy is impossible. Globally, around 400 atomic power reactors are active. To meet the indispensable goal of the Intergovernmental Panel on Climate Change (IPCC) for reducing global greenhouse gas emissions by 2050 to a level of 40 percent below what they are today, and to rely on nuclear power for achieving that goal, would mean that 2500 additional 1000 MW atomic reactors would be needed. That is equivalent to more than one new reactor each week for the next fifty years!
But what about the inherent dangers of atomic weapon proliferation by such a development? Where should come the tremendous amounts of water required for their operation come from, at a time of a mounting global water crisis? Where would the nuclear waste be stored for thousands of years? Or about the global warming effect because of the added thermal output? Not more than five percent of the world's energy supply is actually met by nuclear power today. These are facilitated with subsidies of more than a trillion Dollars since the 1950s! It is utterly irresponsible to promote the nuclear option in this context.
Renewable energy sources and systems become cheaper all the time, through the mass production of equipment and technical optimizations. Atomic and fossil energy by contrast are becoming constantly more expensive, through increasing extraction costs and environmental damages as well as the increasing technical and safety measures required. Even now the generation of wind power in windy regions is economically cheaper than electricity from new nuclear power plants.
Also, the possible speed of the introduction is pointing towards renewable energies: Solar and wind power systems can normally be installed within few days or weeks, while the erection of a new atomic power plant takes more than ten years - most plants under construction today have been under development for over twenty years.
The WCRE demands from the Parliaments and Governments to:
- initiate a broad introduction of renewable energies in a consequent manner and to increase their use
- empower the International Renewable Energy Agency, IRENA with adequate financial and human resources to enable their vision for a world where renewable energy is accessible in all countries and becomes the primary source of energy
- underline the end of the atomic power pathway through the cancellation of the remaining privileges for nuclear power
- counter the threat of a nuclear renaissance in Europe and globally
To achieve these goals we demand an initiative to terminate the EURATOM agreement, ending the privileged position of nuclear power in the EU. We also urge to re-direct the budget for atomic waste disposal and nuclear fission and fusion for research and development in the field of renewable energies, not least concerning energy efficiency and energy storage technologies.
LATEST NEWS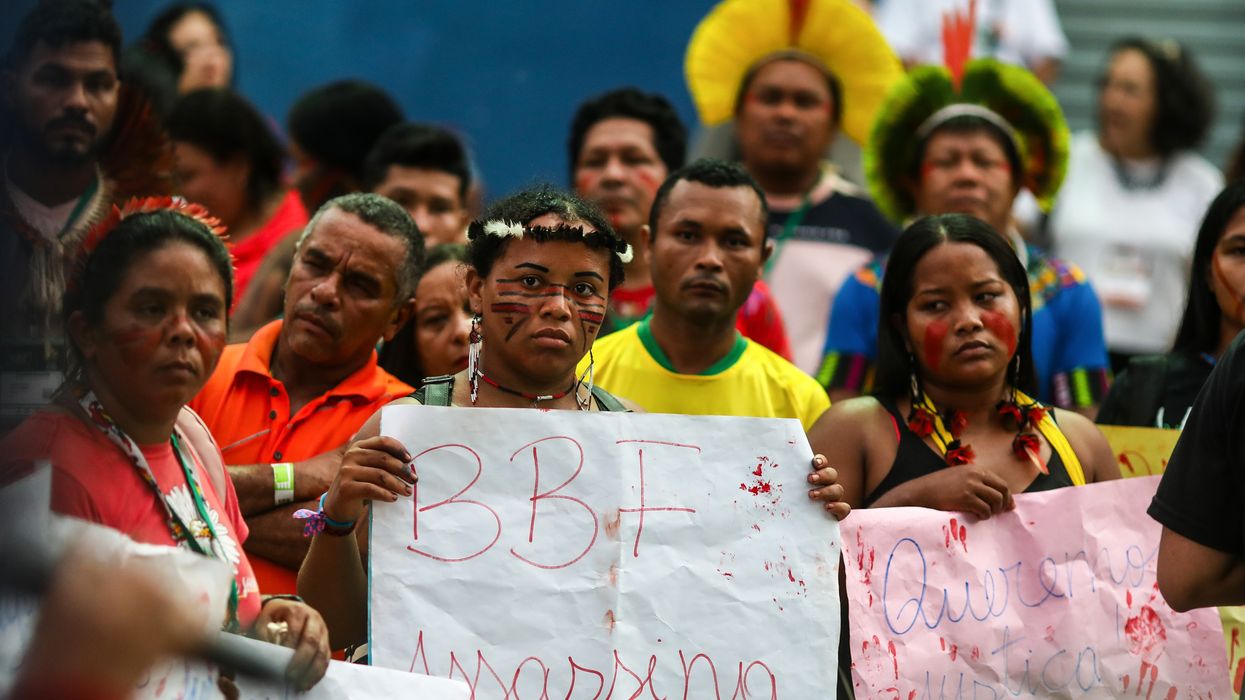 "Governments around the world must urgently address the senseless killings of those who stand up for our planet, including for the protection of its most precious ecosystems."
Nearly 180 environmental defenders were killed around the world last year—around one murder every other day—and more than 1,900 have been killed over the past decade, according to a gruesome new tally released Wednesday by the human rights group Global Witness.
The group published the names of those known to have been killed in 2022 in a report titled Standing Firm, while acknowledging that the "names of many defenders who were killed last year may be missing, and we may never know how many more gave their lives to protect our planet."
The list includes Brazilian Indigenous expert Bruno Pereira and British journalist Dom Phillips, who were shot to death last year in Brazil's imperiled Javari Valley. Brazilian authorities charged several people in connection to the murders, including one individual believed to be the leader of a transnational illegal fishing network.
Brazil was the second-deadliest country for environmental and land defenders last year behind Colombia, where 60 people were murdered in 2022 as they worked to protect their communities and precious ecosystems.
Nearly 90% of the 177 recorded killings in 2022 took place in Latin America.

More than a third of the environmental defenders killed in 2022 were Indigenous, and 39 defenders were killed in the Amazon rainforest, a target of illegal logging, gold mining, and other harmful extraction.
"As guardians of the forest, land and environmental defenders are on the frontline of the Amazon's devastating exploitation," the Global Witness report notes. "They face dangerous companies acting with impunity, ruthless state security forces, and contracted killers. As they stand up against powerful agribusiness, mining, and logging interests, defenders are systematically intimidated, criminalized, attacked, and murdered. Every year, defenders of this priceless biome pay with their lives for protecting their homes, livelihoods, and the health of our planet."
Global Witness found that at least 1,390 environmental defenders have been slain since the adoption of the Paris climate accord in 2015 and very few perpetrators have been brought to justice, signaling a lack of commitment to those fighting against the polluting activities that are wrecking the planet.
"Governments around the world must urgently address the senseless killings of those who stand up for our planet, including for the protection of its most precious ecosystems which have a critical role to play in tackling the climate emergency," said Shruti Suresh, co-director of campaigns at Global Witness. "United action is needed at regional, national, and international levels to end the violence and injustice they face. Far too many lives have already been lost. We cannot afford to lose any more."
"Addressing the escalating climate emergency and upholding human rights must go hand in hand."

The new report emphasizes that the killings "are just the tip of the iceberg."
"Beneath that, and largely unreported, are innumerable attacks that, while not taking a defender's life, do radically transform them. This is the case with criminalization," the report says. "Defenders are being forced to confront the very legal system that should be protecting them. According to the international human rights organization Front Line Defenders, criminalization of human rights defenders—including arrest, detention, and legal action—was the most prominent form of attack in 2022, accounting for more than a third (34%) of the year's recorded violations."
Laura Furones, senior adviser to the Land and Environmental Defenders Campaign at Global Witness, said in a statement that "research has shown again and again that Indigenous peoples are the best guardians of the forests and therefore play a fundamental role in mitigating the climate crisis."
"If we are to keep the forests standing, we must recognize that this relies upon the protection of those who call the forest home," Furones added. "Addressing the escalating climate emergency and upholding human rights must go hand in hand."
News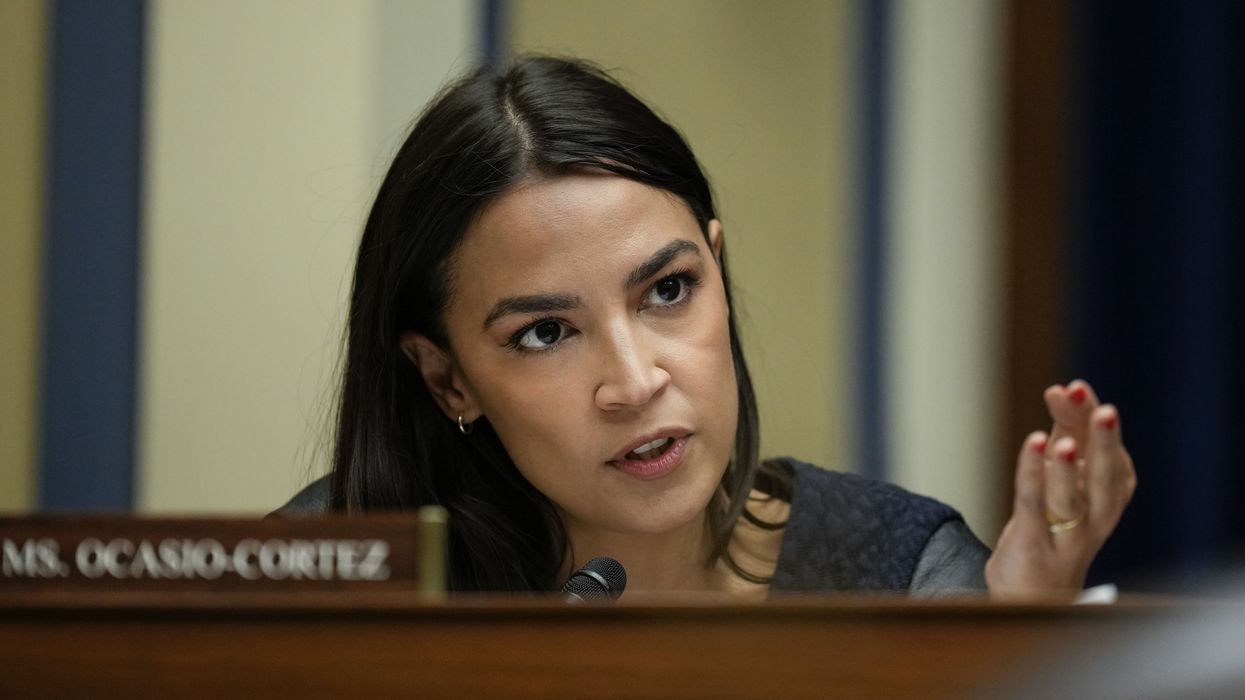 U.S. Rep. Jamaal Bowman told the Republican House speaker that "if you don't stand up to this harmful element of your own party, you will allow them to destroy you and us in the process."
As far-right Congressman Matt Gaetz on Tuesday signaled that he wasn't impressed by House Speaker Kevin McCarthy's bid to appease MAGA Republicans by launching an impeachment inquiry into U.S. President Joe Biden, progressive Rep. Alexandria Ocasio-Cortez suggested that GOP extremist lawmakers appear most interested in causing chaos.
"So let me get this straight: Republicans are threatening to remove their own speaker, impeach the president, and shut down the government on September 30th—disrupting everyday people's paychecks and general public operations," Ocasio-Cortez (D-N.Y.), a member of the House Committee on Oversight and Accountability, said on social media. "For what? I don't think even they know. Chaos vibes."
The congresswoman's comments came alongside a video of Gaetz (R-Fla.), a member of the right-wing House Freedom Caucus, telling McCarthy (R-Calif.) on the House floor: "I rise today to serve notice—Mr. Speaker you are out of compliance with the agreement that allowed you to assume this role. The path forward for the House of Representatives is to either bring you into immediate total compliance or remove you."
It took 15 rounds of voting for McCarthy to be elected speaker—and that only came after he agreed to various far-right demands, including a rule allowing a sole member of the chamber to bring a "motion to vacate" forcing a vote on his removal, which just requires a simple majority.

As USA Todayreported:
Gaetz said on the House floor Tuesday that McCarthy did not put the House in a position to succeed as the government approaches a looming September 30 shutdown date and still needs to pass 11 appropriations bills.

The Florida lawmaker called on McCarthy to hold votes on individual spending bills instead of a continuing resolution, a short-term extension GOP leadership has been considering to avert a shutdown. Gaetz said he will move to oust the speaker if a vote is held on the stopgap measure.

"September 30 is rapidly approaching and you have not put us in a position to succeed. There is no way to pass all the individual appropriations bills now and it's not like we didn't know when September 30 was going to show up on the calendar," he said.
As for the McCarthy kicking off House members' return to Capitol Hill on Tuesday by directing the Oversight, Judiciary, and Ways and Means committees to launch an impeachment inquiry into Biden related to his son's business dealings and legal issues—despite the lack of any proof of wrongdoing by the president—Gaetz said, "This is a baby step following weeks of pressure from House conservatives to do more."
Ocasio-Cortez was not the only progressive to respond on social media to Gaetz's remarks. In a lengthy post on X, formerly Twitter, Rep. Jamaal Bowman (D-N.Y.) said: "Holy cow. All HELL is breaking loose on the floor of the House. Matt Gaetz is threatening to launch a 'mutiny' against Kevin McCarthy and oust him from power. To the speaker of the House: This is what you created."
"You are the worst kind of coward and now you reap what you sow," Bowman told McCarthy. The congressman charged that the speaker has kowtowed to the demands of "the most EXTREMIST zealots" in the Republican Party, who "have lied, intimidated, and strong-armed their dangerous political ends," which has come "at the cost of our institutions and democracy."

"Instead of leadership, you have shown nothing but cowardice," he added in his message to McCarthy. "You care about nothing except your own power. You might be speaker today, but if you don't stand up to this harmful element of your own party, you will allow them to destroy you and us in the process. Mr. Speaker, grow a backbone. Because until then, you do not SPEAK for anyone."
Other members of Congress on Tuesday blasted the impeachment inquiry, which many critics have called an attempt to harm Biden's chances of being reelected next year and help Trump, who is the GOP's 2024 front-runner, despite facing four criminal cases and arguments that inciting the January 6, 2021 insurrection constitutionally disqualifies him from holding office again.
Trump, the first U.S. president to ever be impeached twice, "has been weighing in behind the scenes in support of the House GOP push to impeach" Biden, according toPolitico. In addition to weekly conversations with House GOP Conference Chair Elise Stefanik (R-N.Y.), the first member of Republican leadership to back impeachment, the ex-president "had dinner at his golf club in Bedminster, New Jersey, with Rep. Marjorie Taylor Greene (R-Ga.), an ally of Trump and McCarthy."
Greene, who said last month that "I will not vote to fund the government unless we have passed an impeachment inquiry," welcomed McCarthy's move on Tuesday to launch the Biden probe without holding a vote. She also got into an online spat with Gaetz about which of them has been pushing harder for an impeachment inquiry targeting the president.
In a series of early Tuesday posts on X, Ian Sams, the White House spokesperson for oversight and investigations, said that "McCarthy is being told by Marjorie Taylor Greene to do impeachment, or else she'll shut down the government."
"Opening impeachment despite zero evidence of wrongdoing by POTUS is simply red meat for the extreme right-wing so they can keep baselessly attacking him," Sams added, pointing to previous comments from Gaetz and House Oversight Committee Chair James Comer (R-Ky.). "They admit it."

News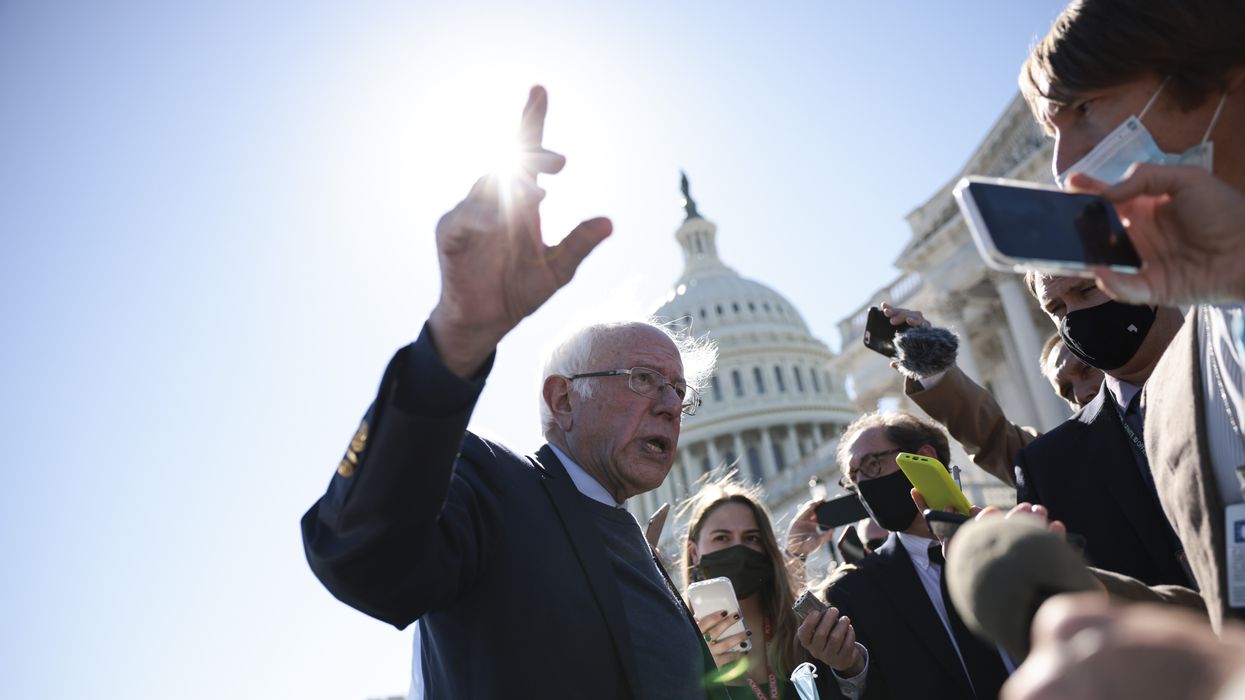 "It is the totally reasonable demand that autoworkers, who have made enormous financial sacrifices over the past 40 years, finally receive a fair share of the record-breaking profits their labor has generated," he said.
U.S. Sen. Bernie Sanders on Tuesday blasted corporate media coverage of United Auto Workers' contract demands and looming strike, echoing a video released last week by the UAW amid negotiations with vehicle manufacturers Ford, General Motors, and Stellantis.
A short list of media conglomerate control the vast majority "of what the American people see, hear, and read," and that is clearly on display with the labor conflict between the union and the "Big Three," Sanders (I-Vt.) argued in a statement, highlighting that "the major reasons as to why autoworkers might go out on strike have been rarely, if ever, the focus of the corporate media's coverage."
"In the first half of 2023, the Big Three automakers made a combined $23 billion in profits—up 80% from the same time period last year," Sanders noted. "But if you've watched any corporate news coverage of the pending strike by 150,000 autoworkers, you've heard more about the strikes' potential negative effects on the economy and a litany of excuses why very well-compensated CEOs just can't make a fair deal."
The chair of the Senate Health, Education, Labor, and Pensions (HELP) Committee continued:
You won't hear that last year the CEO of General Motors raked in about $29 million in total compensation, the CEO of Ford made approximately $21 million, and the CEO of Stellantis pocketed over $25 million. In fact, over the last four years pay for those CEOs has increased by more than 40%.

You won't hear that over the past decade these same companies made some $250 billion in profits in North America alone.

You won't hear that the average starting wage at the Big Three today is around $17 an hour—less than a number of nonunion auto plants around the country—and that the top wage is $32.32 an hour.

You won't hear that, unbelievably, over the last 20 years, the average wage for American autoworkers has decreased by 30% after adjusting for inflation.

You won't hear that autoworkers at the Big Three are earning less today than they did 15 years ago.
"Of course, none of this is new. The corporate media will always side with CEOs and shareholders," he added. "Despite what you might hear in the corporate media in the coming days, what the UAW is fighting for is not radical. It is the totally reasonable demand that autoworkers, who have made enormous financial sacrifices over the past 40 years, finally receive a fair share of the record-breaking profits their labor has generated."
Along with his statement calling out the corporate media, Sanders on Tuesday published an opinion piece in The Guardian urging Americans to "stand in solidarity with the UAW and create an economy that works for all, not just the privileged few."
In the event of a strike later this week, "the UAW members will be fighting not only for themselves but against a corporate culture of arrogance, cruelty, and selfishness causing massive and unnecessary pain for the majority of working families throughout the country," the senator stressed. "Their fight against corporate greed is our fight. Their victory will resonate all across the economy, impact millions of workers from coast to coast and help create a more just and equitable economy."
Sanders' remarks follow a September 7 video in which UAW president Shawn Fain spends about four minutes debunking a recent "NBC Nightly News" story, calling out corporate media coverage more broadly, and sharing some facts about the industry.
"You don't see big, splashy nightly news segments on how consumers will be impacted by companies choosing to spend billions on executive salaries, and stock buybacks, and special dividends," Fein said. "You only hear these concerns when the working class stands up and demands a fair share of the value we produce."
"But the autoworkers and working people of this country know what's really going on. We live it," he explained. "We know firsthand what it's like not to be able to afford the cars we produce. We know what it's like to live paycheck to paycheck while the companies we work for make out like bandits. We know what it's like for our communities to be decimated and our families to be torn apart by plant closures."
The UAW announced last month that 97% of participating members at "Big Three" voted to authorize a strike if a contract deal isn't reached by September 14.

News
Independent, nonprofit journalism needs your help.
Please Pitch In
Today!