For Immediate Release
March, 29 2011, 10:18am EDT
Contact:
Tel: +1-212-216-1832,Email:,hrwpress@hrw.org
Bahrain: Investigate Deaths Linked to Crackdown
Security Forces Implicated in at Least 18 Killings Since Protests Began on February 14
MANAMA, Bahrain
The Bahraini government should urgently investigate the killing of at least 18 people during violent crackdowns since protests began on February 14, 2011, Human Rights Watch said today. Most were killed by security forces using excessive force, namely crowd-control equipment at extremely close range and live gunfire, Human Rights Watch said. Four government security officers were also killed, according to the Interior Ministry.
The authorities admitted holding four missing persons in the Bahrain Defense Force hospital only after they had succumbed to their injuries. This raises serious concerns regarding the missing persons' treatment and whether authorities are holding other people without notifying their families, Human Rights Watch said.
"Bahraini security forces have frequently shown a reckless disregard for human life during crackdowns on protesters," said Joe Stork, deputy Middle East director at Human Rights Watch. "Firing birdshot pellets at close range is not crowd control - it can be murder."
At least 15 people have died since riot police and troops initiated a second round of offensives against anti-government protesters on March 15, Human Rights Watch said. They include Ahmed Farhan, age 24, and Mohammed Eklas, a 50 year-old Bangladeshi citizen, who died in Sitra on March 15. Photographs of Farhan's body show the back of his head blown open and an empty brain cavity, suggesting that he had been shot at close range. According to media reports, Eklas was run over by a vehicle while trying to help some women during the crackdown, but Human Rights Watch could not independently verify this account.
A third Sitra resident, Isa al-Radhi, 46, who had been missing since that day, was declared dead on March 19, when authorities called his family and told them to collect his body.
Security forces killed at least three protesters at the Pearl Roundabout in the capital, Manama, during demonstrations on the morning of March 16. Witnesses told Human Rights Watch that security forces initially used teargas, rubber bullets, and birdshot guns but later shot live ammunition rounds in an effort to regain full control of the areas close to the roundabout.
Jaafar Abd al-Ali Salman, 41, Jaafar Mayoof, 30, and Ahmad al-Arnoot, 22, all died from wounds received on March 16. Media reports indicate that Salman and Mayoof were hit by live ammunition, while al-Arnoot's injuries were from a birdshot gun. Stephan Abraham, an Indian national who worked as a security guard in a nearby building, died later that day after he was apparently struck by a stray bullet at his place of work around 8 p.m.
The security forces fired live ammunition during security sweeps on March 15, 16, and in subsequent days, Human Rights Watch said.
The latest victim of the government crackdown was 71-year-old Isa Mohammed Ali Abdulla, who died of asphyxiation from teargas used against demonstrators in the village of Maameer on March 25, Al-Wasat, an independent daily, reported. Abdulla was at home when teargas used by government security forces entered his house, causing his death, the report said. Instead of properly investigating the death and the security forces' use of teargas, the Interior Ministry issued a statement that evening declaring that Abdulla had died of "natural causes."
Human Rights Watch expressed concern for the government's failure to inform families of injured persons in its custody, four of whom later died in the hospital. On March 19, residents found Hani Abd al-Aziz Jumah, 32, lying in a pool of blood after being shot point-blank by riot police, and took him to a local hospital. Two masked police officers accompanied medics and picked him up in an ambulance several hours later to transfer him to the Bahraini Defense Force (BDF) hospital. Jumah's father called the BDF hospital on March 20 and 21 to inquire about his son's condition, but officials denied he was there. On March 24, Jumah's family received a call from police stating that he had died and that they could pick up his body at Salmaniyya Medical Complex the next day.
Three other families received the bodies of loved ones who had been missing for several days and died under suspicious circumstances.
Isa al-Radhi, 45, had been missing since March 15, when security forces attacked Sitra. On March 19, officials from the BDF hospital called his family and told them to collect his body. A medical forensic expert consulted by Human Rights Watch reviewed photos of al-Radhi's body and concluded that his injuries could have been caused by an "auto-pedestrian collision" but that "assaultive injuries cannot be ruled out." He also had birdshot pellet wounds.
Bahia al-Aradi, 51, had been missing since March 16. Al-Aradi was driving her car when she spoke with her sister on that day. A witness said that al-Aradi told her sister that she was close to al-Qadam village, that she heard gunshots, and tried to get off the road. She was not heard from again. Al-Aradi's family contacted several hospitals, including BDF, but was told that she was not there. On March 19 authorities notified al-Aradi's family that she was on life support at the BDF hospital, and allowed her brother to visit her for a few minutes. On March 20, the hospital announced that she had died of her injuries. At least one bullet had entered al-Aradi's head from behind. There was no exit wound.
Abdul-Rasoul al-Hujairi, a 38-year-old medical professional at the Salmaniyya Medical Complex, was last seen on March 19, when he went out to run some errands. Al-Hujairi's family called several police stations and hospitals but did not find him. On March 19, his body was reported found in a remote area in Awali, according to media reports. The authorities contacted his family on March 20 and told them to pick up his body at Salmaniyya Medical Complex. The exact cause of death is not known, but doctors who spoke to Human Rights Watch said al-Hujairi had contusions and severe bruising on his body, consistent both with beatings and being hit by a car.
The authorities performed autopsies on both al-Radhi and al-Hujairi before releasing their bodies to the families. It is not clear why these autopsies were performed. Family members who spoke to Human Rights Watch said they suspected that al-Aradi and al-Hujair were killed at or close to checkpoints set up by the police, military, or armed gangs.
According to the Interior Ministry, as of March 23, four people affiliated with the government security services were killed during clashes with anti-government protesters. Government records show that Ahmad Rashid al-Moraysi, 30, died as a result of being "run over by an unidentified car" in Sitra on March 15. Mohammed Faruq Abd al-Samad al-Balooshi, and Kashef Ahmad Munthur, 21, also died after being run over by "unidentified" cars in Manama. Jawad Ali Kadhem al-Shamlan, 47, a Shia community officer, was struck by a bullet during the March 16 crackdown on protesters by security forces in Manama, the Interior Ministry said. Human Rights Watch has seen no evidence to indicate that protesters possessed or used firearms, which suggests that Kadhem may have been killed as a result of a stray bullet fired by security forces. Authorities released his body to his family on March 20.
"We are deeply concerned about people going missing and turning up dead in the military hospital, and whether more cases have gone unreported," Stork said. "The authorities should provide all families a full and immediate accounting of those in custody, and not wait until they are dead to inform their families."
Human Rights Watch previously documented the remaining seven reported deaths implicating the security forces, which occurred during attacks on protesters from February 14 to 18. Human Rights Watch found that six of the seven were shot with birdshot guns at very close range. The seventh, Abd al-Ridha Buhameed, was shot in the head with live ammunition on February 18, and died on March 21.
Witnesses also told Human Rights Watch that another two people died of teargas inhalation after security forces attacked protesters at the Pearl Roundabout March 16. Human Rights Watch has not yet been able to confirm the identities of these individuals.
Annex of Confirmed Deaths Linked to Protest-Related Violence Since February 14, 2011 (includes date and cause of death; * indicates Ministry of Interior or community officers):
1. Ali Abd al-Hadi al-Mushaima, 23 (February 14; Birdshot)
2. Fadel Salman Matrook, 32 (February 15; Birdshot)
3. Mahmood Makki Ali Butaaki, 23 (February 17; Birdshot)
4. Ali Mansoor Ahmed Khudair, 52 (February 17; Birdshot)
5. Isa Abd al-Hussein Abu-Nidal, 60 (February 17; Birdshot)
6. Ali Ahmed Abdulla al-Momen, 23 (February 17; Birdshot)
7. Abd al-Redha Mohammed Hasan Buhamid, 33 (February 21; Live Ammunition)
8. Ahmed Farhan Ali Farhan, 24 (March 15; Birdshot or other Anti-Riot Device)
9. Mohammed Eklas (Bangladeshi) (March 15; Possible Auto-Pedestrian Collision)
10. Ahmed Rashid al-Moraysi, 30 (March 15; Auto-Pedestrian Collision)*
11. Jaafar Mohammed Abdul-Ali Salman, 41 (March 16; Live Ammunition)
12. Jaafar Abdulla Mayoof, 30 (March 16; Possible Live Ammunition and Birdshot)
13. Ahmed Abdulla Hasan al-Arnoot, 22 (March 16, Birdshot)
14. Stephan Abraham (Indian) (March 16; Live Ammunition)
15. Mohammed Faruq Abd al-Samad al-Balooshi (Pakistani) (March 16; Auto-Pedestrian Collision)*
16. Kashef Munther, 21 (March 16; Auto-Pedestrian Collision)*
17. Isa Abd al-Radhi, 45 (March 19; Live Ammunition)
18. Jawad Mohammad-Ali Kadhem al-Shamlan, 47 (March 20; Live Ammunition)*
19. Abd al-Rasoul Hasan Ali al-Hujairi, 38 (March 20; Possible Auto-Pedestrian Collision, Beating)
20. Bahia Rasoul al-Aradi, 51 (March 20, Live Ammunition)
21. Hani Abd al-Aziz Jumah, 32 (March 24, Birdshot)
22. Isa Mohammed Ali Abdulla, 71 (March 25, Teargas Inhalation)
Human Rights Watch is one of the world's leading independent organizations dedicated to defending and protecting human rights. By focusing international attention where human rights are violated, we give voice to the oppressed and hold oppressors accountable for their crimes. Our rigorous, objective investigations and strategic, targeted advocacy build intense pressure for action and raise the cost of human rights abuse. For 30 years, Human Rights Watch has worked tenaciously to lay the legal and moral groundwork for deep-rooted change and has fought to bring greater justice and security to people around the world.
LATEST NEWS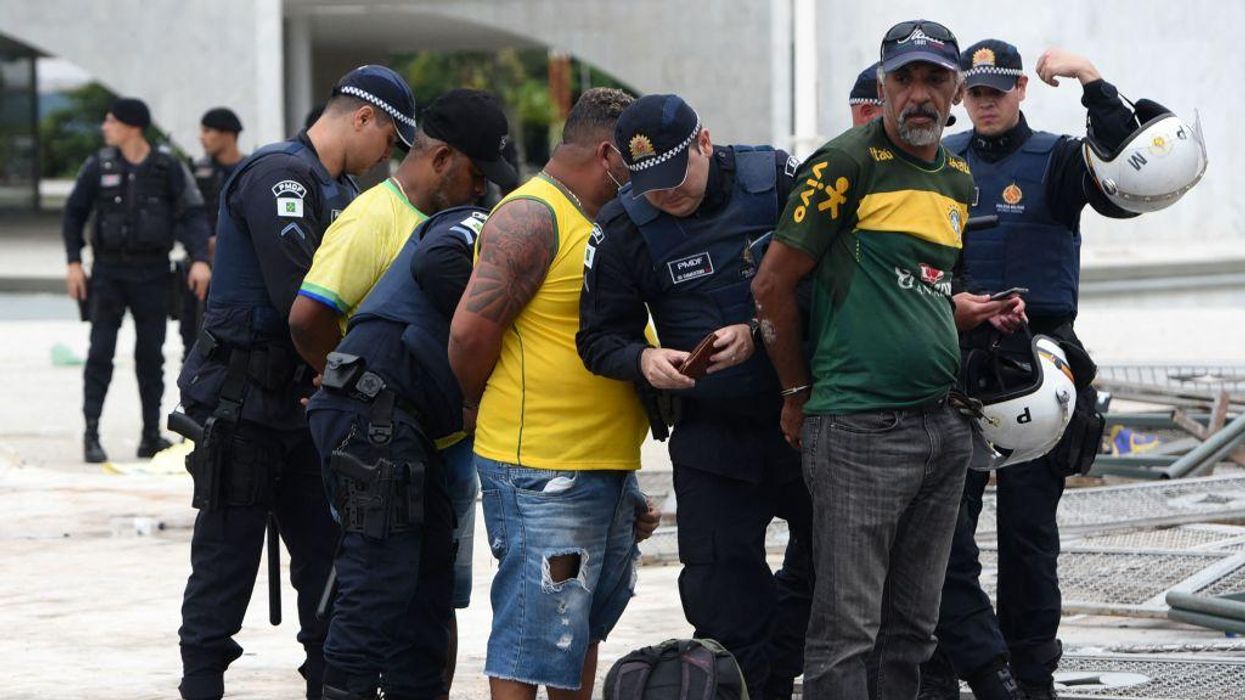 The country's justice minister said the right-wing former president bears "a political responsibility" for the attack on "the buildings of the three branches of powers, aiming at a coup d'état."
Brazilian Justice Minister Flávio Dino said Monday that "about 1,500" people have been arrested since supporters of Brazil's far-right former President Jair Bolsonaro attacked government buildings in Brasília the previous day.
Dino said that at least 209 people were arrested Sunday and "about 1,200" were detained Monday, as authorities dismantled a protest camp set up near military headquarters in the federal capital, according toCNN.
"This attack is the culmination of a campaign by Bolsonaro and his allies to undermine democratic institutions."
The attack on Brazil's National Congress, presidential palace, and top court came a week after the inauguration of leftist President Luiz Inácio Lula da Silva, who beat Bolsonoro in an October runoff. Since the election, some Bolsonaro supporters have advocated a military coup to oust Lula.
Neither man was in Brasília for the insurrection: Bolsonoro flew to Florida shortly before Lula was sworn in and was admitted to a U.S. hospital on Monday, according to his wife; Lula, who blamed his predecessor for inciting the violence, was in São Paulo.
As Bloombergreported Monday:
Lula held a meeting with the heads of the Supreme Court, Congress, and several of his Cabinet members at a presidential palace left in shambles.

"We're united to ensure that institutional measures are taken in accordance with the law," they wrote in a joint statement after the meeting. "We call on society to remain calm, defending peace and democracy in our country."
The Brazilian leader also spoke by phone with U.S. President Joe Biden on Monday.
"President Biden conveyed the unwavering support of the United States for Brazil's democracy and for the free will of the Brazilian people as expressed in Brazil's recent presidential election, which President Lula won," they said in a joint statement. "President Biden condemned the violence and the attack on democratic institutions and on the peaceful transfer of power."
"The two leaders pledged to work closely together on the issues confronting the United States and Brazil, including climate change, economic development, and peace and security," the statement continued. The U.S. leader invited his counterpart to visit Washington, D.C. early next month "for in-depth consultations on a wide-ranging shared agenda," and Lula accepted.
Earlier Monday, Biden had joined with Mexican President Andres Manuel Lopez Obrador and Canadian Prime Minister Justin Trudeau to condemn the "attacks on Brazil's democracy and on the peaceful transfer of power," express their solidarity with the South American country "as it safeguards its democratic institutions," and affirm that they "look forward to working with President Lula on delivering for our countries, the Western Hemisphere, and beyond."
\u201cSupporters of former Brazil president Jair Bolsonaro stormed Congress in Brazil's capital on January 8. This attack is the culmination of a campaign by Bolsonaro and his allies to undermine democratic institutions.\u201d

— Human Rights Watch (@Human Rights Watch) 1673295255
Although Bolsonaro is reportedly hospitalized with abdominal pain potentially related to an old stab wound, Biden is under mounting pressure—including from U.S. lawmakers—to expel him from the United States. The peace group CodePink has joined that call and highlighted that "Anderson Torres, Bolsonaro's justice minister who was appointed minister of public security for the capital city Brasília, is also in the United States."
"Bolsonaro and Torres should be sent back to Brazil to face justice for their crimes," the group said. "While Brazil's elected government and its people are anxious to rebuild a country that was seriously damaged by the unbridled neoliberal policies of the Bolsonaro government, the anti-democratic and violent mobs ignored the sovereign will of the Brazilian people who elected President Luis Inácio Lula da Silva to a new constitutional mandate. CodePink vehemently rejects these threats to the social and political peace of the Brazilian people, and stands firmly with the elected government of President Lula."
The Brazilian justice minister explained during a news conference Monday that at this time, there are no legal grounds to investigate Bolsonaro in connection with Sunday's violence. However, he still placed blame on the far-right leader.
"Words have power and those words turned into hate, which turned into destruction," Dino said. "It is a political responsibility because there are political leaders who are responsible for the hate speech and the destruction that we saw yesterday at the buildings of the three branches of powers, aiming at a coup d'état."
Other world leaders, including United Nations Secretary-General António Guterres, and human rights organizations have also condemned Sunday's attack and related actions from Bolsonaro and his supporters—which have provoked comparisons to former U.S. President Donald Trump's "Big Lie" about the 2020 election, which culminated in the January 6, 2021 insurrection.
\u201c"Perhaps if the U.S. had been more diligent in bringing the coup participants here, & their ringleaders, to justice much sooner, in the wake of January 6th 2021, there might not have been a coup attempt in Brazil on January 8th 2023."\n\nWatch my commentary:\nhttps://t.co/oVaVAA6gRU\u201d

— Mehdi Hasan (@Mehdi Hasan) 1673314795
"This attack is the culmination of a yearslong campaign by former president Jair Bolsonaro and his allies to undermine democratic principles and spread baseless claims of electoral fraud," Tamara Taraciuk Broner, acting director of Human Rights Watch's Americas Division declared Sunday. "The authorities have a responsibility to provide security to Congress, the Supreme Court, and the presidential palace, as well as protect the media and others."
"Local authorities failed to take adequate measures to protect key federal buildings, particularly considering previous violent incidents by Bolsonaro supporters, including an attack on the headquarters of the federal police on December 12, the day when electoral authorities officially certified the victory of Luiz Inácio Lula da Silva in the October presidential elections," she noted. "Police and the attorney general office need to investigate not just those who committed acts of violence, but those who incited and financed them. Those responsible for this extremely serious attack on Brazil's democratic institutions should be held accountable."
Amnesty International on Sunday also called for probes and prosecutions "in accordance with international human rights standards" and vowed to monitor the federal intervention in public security decreed by Lula in response to the violence.
The organization noted not only "the attacks and invasion of public buildings," but also "destruction of documents, violations of the security and physical integrity of journalists covering the events, and of security forces officers attacked by groups of civilians."
"Amnesty International demands that the Brazilian state ensure a prompt, impartial, serious, and effective investigation into the circumstances that led to the invasion and attacks," the group said, "in order to identify, prosecute, judge, and hold accountable all those involved in these incidents, including the instigators, organizers, and financiers, as well as the omissions of state institutions that failed to act to prevent these attacks from taking place."
Lula tweeted Monday evening that "it is not possible for a movement to last as long as it did" in front of the military headquarters "if there are no people financing it" and pledged that "we're going to investigate and we're going to find out who financed it."
News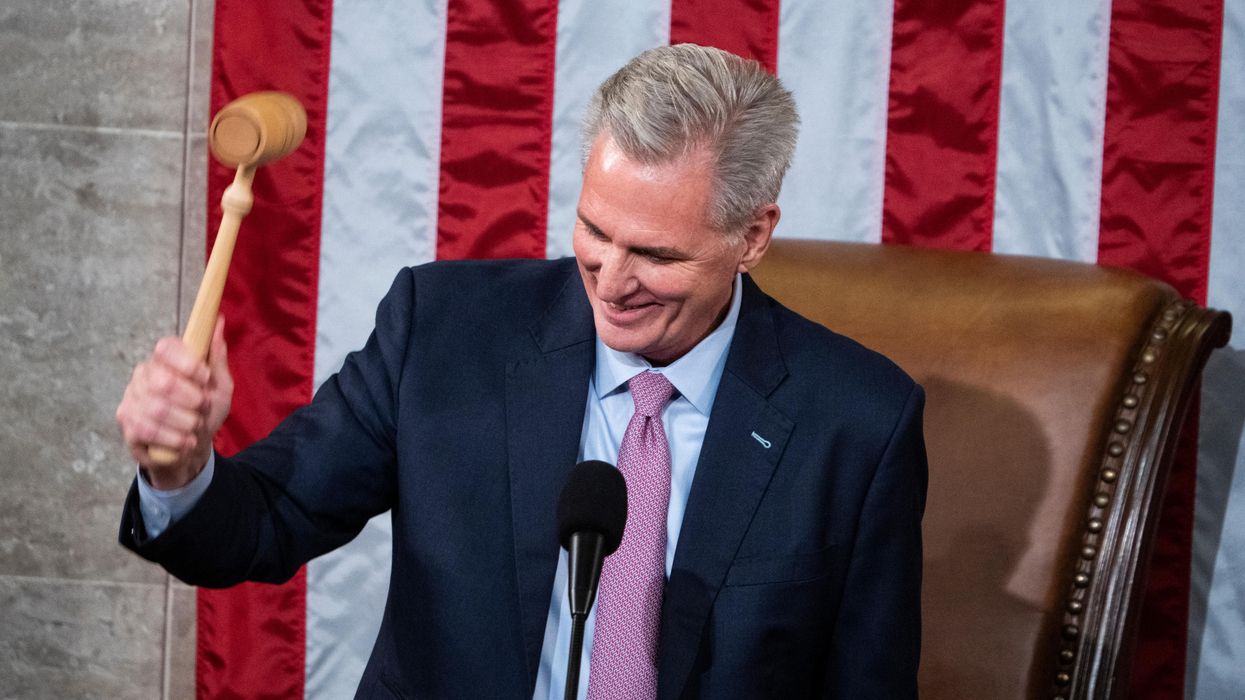 "Once again," said Congressional Progressive Caucus Chair Pramila Jayapal, Republicans are "putting politics over poor and working people."
Progressive U.S. lawmakers on Monday took House Republicans to task after the Congressional Budget Office said the erstwhile deficit hawks' first bill before the 118th Congress—a measure critics say is meant to "protect wealthy and corporate tax cheats"—will swell the federal deficit by more than $100 billion.
"They all run on reducing the deficit and now the House GOP's first... bill will increase the deficit by $114 billion," tweeted Rep. Ilhan Omar (D-Minn.). "Make it make sense."
Increasing the federal deficit can help people and the economy. Republicans have been criticized for hypocritically pushing cuts to social safety net programs in the name of fiscal responsibility while being willing to raise the deficit to help corporations and the rich.
The nonpartisan Congressional Budget Office (CBO) estimated that the euphemistically named Family and Small Business Taxpayer Protection Act—which faces a vote as soon as Monday evening—would "decrease outlays by $71 billion and decrease receipts by $186 billion over the 2023-2032 period."
\u201cThe @HouseGOP preaches about the deficit. Well here's their first bill \ud83d\udc47https://t.co/OujTofeKS0\u201d

— Raul M. Grijalva (@Raul M. Grijalva) 1673306214
That's because the legislation would rescind $72 billion of $80 billion worth of new Internal Revenue Service (IRS) funding authorized under the Inflation Reduction Act (IRA) passed by the Demorcat-controlled 117th Congress and signed into law last year by President Joe Biden.
In a December 30 letter to colleagues, House Majority Leader Steve Scalise (R-LA) said the proposed bill "rescinds tens of billions of dollars allocated to the IRS for 87,000 new IRS agents" under the IRA, a GOP talking point that has been widely debunked.
"Today, Republicans in Congress demonstrated their commitment to 'fiscal responsibility,'" Sen. Elizabeth Warren (D-Mass.) sardonically tweeted. "The first bill advanced by the GOP adds $114 billion to the deficit—by allowing the super-wealthy to cheat their taxes while everyone else pays. Corporate lobbyists are popping champagne."
Congressional Progressive Caucus Chair Pramila Jayapal (D-Wash.) lamented that the "first order of business in the GOP House of Representatives" will be to "vote to increase the deficit $114 BILLION by letting tax cheats dodge paying what they owe."
"Once again," she added, "they're putting politics over poor and working people."
Advocacy groups also questioned GOP lawmakers' motives for introducing the bill, with Americans for Tax Fairness tweeting that "House Republicans are using their new majority to try and repeal IRS funding that will make rich and corporate tax cheats pay what they owe."
"The GOP wants to let their rich friends keep cheating the rest of us," the group added.

News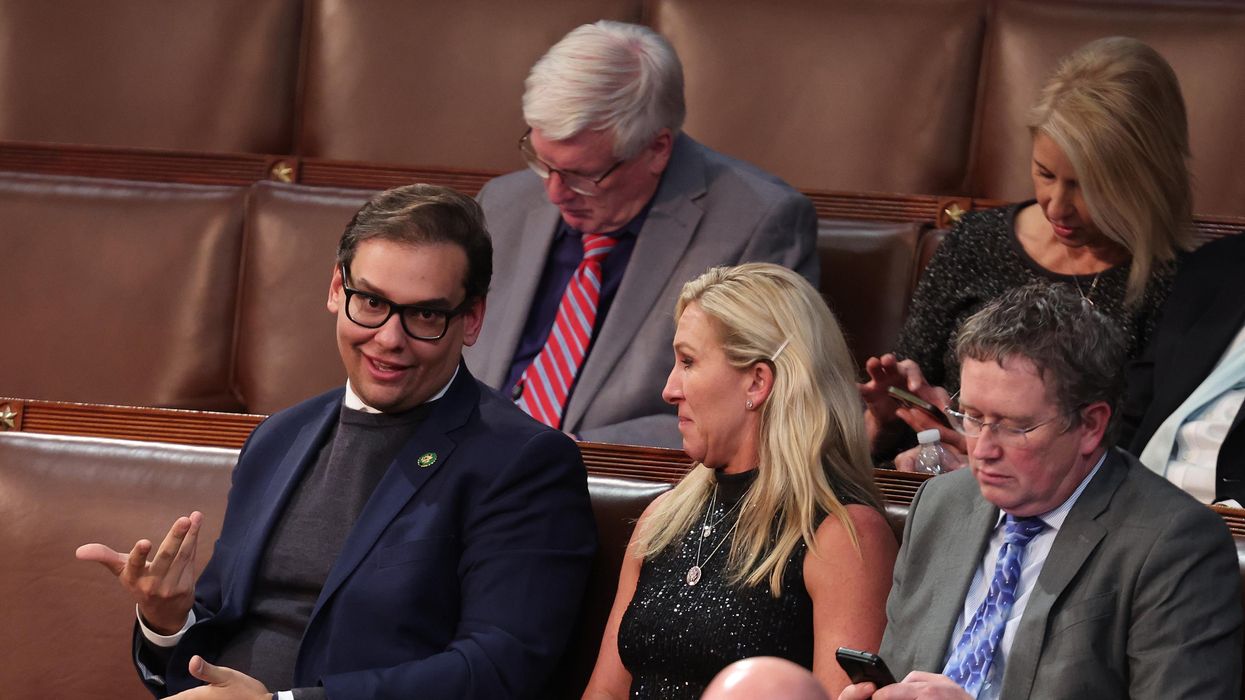 "Santos has become a punchline in the national media, but these campaign finance violations are no joke," said one researcher at an ethics watchdog that filed a Federal Election Commission complaint against him.
Serial liar and Republican U.S. Congressman George Santos was the subject of four complaints filed Monday by advocacy groups alleging campaign finance and ethics violations, including an alleged scheme to hide the true and unknown source of over $700,000 in campaign funds.
End Citizens United filed separate complaints with the Department of Justice (DOJ), Federal Election Commission (FEC), and Office of Congressional Ethics (OCE) over Santos' (N.Y.) campaign spending, fundraising, and financial disclosures.
"All this takes place amid Santos' compulsive lying about his entire background—and a pattern of serious reporting problems the FEC already knows about, including excessive contributions."
The group said in a statement that its DOJ complaint "argues that Santos violated the Ethics in Government Act by not only filing a required financial disclosure almost a year late, but likely making several omissions related to various purported assets he holds."
The complaint with the OCE alleges Santos "violated federal law by soliciting campaign contributions in exchange for attending a swearing-in event on Capitol grounds," the statement added. The FEC filing "focuses on a purported $700,000 personal loan that he made to his campaign that the group says either came from a 'shell company' or was a prohibited corporate contribution."
The OCE complaint also alleges that nearly 40 payments of $199.99 made by the Santos campaign constitute an attempt to evade federal laws requiring receipts for campaign purchases over $200.
End Citizens United president Tiffany Muller toldInsider's Brian Metzger, who first reported the group's complaints, that "Congressman Santos has shown a blatant disregard for the law and has flagrantly brushed aside the transparency voters deserve from their elected officials."
\u201cExclu: @StopBigMoney is filing *three* complaints against GOP Rep. George Santos of New York today.\n\nOne w/ FEC, one with OCE, and one with DOJ.\n\nAdds to existing complaints from @CampaignLegal and @American_Bridge.\nhttps://t.co/2Oej5IawoQ\u201d

— bryan metzger (@bryan metzger) 1673290653
"His actions are not only unethical, but illegal, and call into question his ability to serve," Muller added. "The FEC, the DOJ, and the OCE should immediately begin investigations and hold him accountable for his shady and unlawful actions."
Meanwhile, a similar complaint filed Monday by the Campaign Legal Center (CLC) alleges that Santos concealed the sources of his 2022 campaign's funding, that he lied about campaign spending, and that he illegally used campaign funds for personal spending.
According to the complaint, Santos, campaign treasurer Nancy Marks, and unknown accomplices hatched a straw donor scheme to conceal the source of $705,000 that the congressman claimed to loan to his campaign. They are also accused of lying on FEC disclosure forms and other reporting violations; and of unlawfully spending campaign funds on personal expenses like the house Santos rented during his 2022 run.
"All this takes place amid Santos' compulsive lying about his entire background—and a pattern of serious reporting problems the FEC already knows about, including excessive contributions. The FEC sent the Santos campaign 20 letters in the 2022 cycle about these," CLC senior researcher Roger G. Wieand tweeted Monday.
\u201cGeorge Santos (@Santos4Congress) has lied about virtually every aspect of his life, and it appears he broke the law by lying about where he got $705k for his campaign, how his campaign spent funds, and more. Today, @CampaignLegal filed an @FEC complaint: https://t.co/wm3usnBbbF\u201d

— Saurav Ghosh (@Saurav Ghosh) 1673280198
"We think that rather than Santos making overnight millions from a business he can't explain, he, and others unknown, engaged in a scheme to provide secret, illegal contributions to his campaign," Wieand continued.
"Santos has become a punchline in the national media, but these campaign finance violations are no joke," he added. "We think the people of New York's 3rd District deserve truth and transparency about where Santos' money came from and how it was spent. We're asking the FEC to investigate."
CLC senior vice president and legal director Adav Noti said in a statement:
George Santos has lied to voters about a lot of things, but while lying about your background might not be illegal, deceiving voters about your campaign's funding and spending is a serious violation of federal law. That is what we are asking the Federal Election Commission to investigate. As the agency responsible for enforcing America's campaign finance laws, the FEC owes it to the public to find out the truth about how George Santos raised and spent the money he used to run for public office, and to ensure accountability for Santos' illegal conduct.
The new complaints follow a January 3 OCE filing by the liberal super PAC American Bridge 21st Century requesting an investigation of Santos' alleged failure "to file timely, accurate, and complete financial disclosure reports," as well as the possibility "that he may have even falsified information on his disclosure report."

Monday's filings also came after a Republican New York prosecutor last month announced an investigation into Santos' "numerous fabrications and inconsistencies" involving his education, employment, and property ownership history as well as his racial and religious background.
As the complaint notes, "Santos is also wanted in Brazil for using stolen checks to make fraudulent purchases in 2008—a crime for which he was charged by Brazilian authorities and to which he reportedly confessed in 2010."
The barrage of ethics complaints against Santos comes as House Republicans—who now narrowly control the lower chamber under Speaker Kevin McCarthy (R-Calif.)—plan to gut the nonpartisan Office of Congressional Ethics.
\u201cIt's such a terrible sign for the kind of majority Republicans envision that they are starting by gutting the Office of Congressional Ethics in the rules package.\n\nAs George Santos' new office neighbor, I can think of at least one very bad reason why they'd want to do this.\u201d

— Rep. Don Beyer (@Rep. Don Beyer) 1673292257
The watchdog group Citizens for Responsibility and Ethics in Washington tweeted Monday; "We cannot stress this enough: Kevin McCarthy's plan to gut the Office of Congressional Ethics in the rules vote tonight would be a disaster for everyone except corrupt politicians."
The consumer advocacy group Public Citizen also noted Monday that "McCarthy plans to gut the Office of Congressional Ethics TONIGHT."
"The same office that investigates any congressional wrongdoing," the group added. "The same office that would investigate George Santos and [former President Donald] Trump's cronies. Pay attention. This isn't a coincidence."

News
SUPPORT OUR WORK.
We are independent, non-profit, advertising-free and 100%
reader supported.