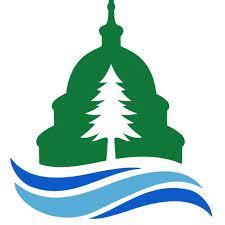 For Immediate Release
September, 24 2010, 04:23pm EDT
Contact:
Karen Schambach (530) 305-0503; Kirsten Stade (202) 265-7337
California Drops Park Hunting Plan, For Now
Conservation Groups Seek Increased Protection for Tolowa Dunes State Park
SACRAMENTO
California Department of Parks and Recreation Director Ruth Coleman
has abandoned her controversial plan to reclassify a portion of Tolowa
Dunes State Park as a State Recreation Area. The unprecedented
reclassification scheme was an attempt to allow waterfowl hunting in the
State Park despite a legislative prohibition of such use. Coleman has
now proposed to use a General Plan process as the means of pursuing
hunting in the park.
The conservation groups who successfully fought both the
reclassification proposal, and an earlier attempt to transfer 1200 acres
of this Park to the Department of Fish and Game, say State Parks
leadership continues to focus on perpetuating illegal uses, rather than
protecting the irreplaceable resources of Tolowa Dunes. The groups vow
to seek increased protection for Tolowa Dunes State Park under the
General Plan process.
Joe Gillespie of Friends of Del Norte expressed a mixture of
relief and puzzlement at the news. "Conservationists have been
requesting a General Plan be prepared for Tolowa Dunes for years. Up to
now, we've always been told there's no money for a General Plan to
ensure protection of the natural and cultural resources of Tolowa
Dunes. Now suddenly, with the parks system in crisis, and when the
Director wants to remove part of the Park, there's money for a General
Plan."
The unprecedented proposal to reclassify a 600-acre portion
of Tolowa Dunes State Park had created a stir among conservationists,
Native Americans, the Coastal Commission and State Park employees, not
only because of the reclassification, but because the Department
appeared intent on making the change administratively and without the
required public process. The area proposed for hunting adjoins the site
of the 1853 massacre in which 450 members of the Tolowa tribe were
slaughtered, and the cemetery where Tolowa graves were looted in 2010.
Karen Schambach of Public Employees for Environmental
Responsibility (PEER) noted, "State Parks leadership tried to pressure
local staff into agreeing to an illegal 'arrangement' for the benefit of
a few hunters even after their own lawyers told them they could not
legally do so. With the threats to Tolowa Dunes and to the entire State
Parks system from a lack of staffing and resources, it's appalling that
Director Coleman continues to focus not on her department's mission,
but on opening up a really important State Park to a small group of
well-connected hunters."
Scott Greacen of EPIC said, "A General Plan for Tolowa Dunes
is long overdue, but even as Director Coleman announced the new process,
she emphasized that 'she wants to make the resumption of hunting one of
the considerations.' Earth to Ruth Coleman: hunting is not a legal use
of State Parks, period, end of story."
The groups vowed to continue to fight for full protection of
the State Park, its sensitive wildlife and the cultural heritage of the
Tolowa people. "It's clear from State Park's own materials that
significant portions of Tolowa Dunes State Park merit, indeed require,
protection as both a natural and cultural preserve," said EPIC's
Greacen. "State Parks has failed so far to protect these resources from
trespassing off-road vehicles and other inappropriate uses."
###
See the California Parks & Recreation announcement
Public Employees for Environmental Responsibility (PEER) is a national alliance of local state and federal resource professionals. PEER's environmental work is solely directed by the needs of its members. As a consequence, we have the distinct honor of serving resource professionals who daily cast profiles in courage in cubicles across the country.
LATEST NEWS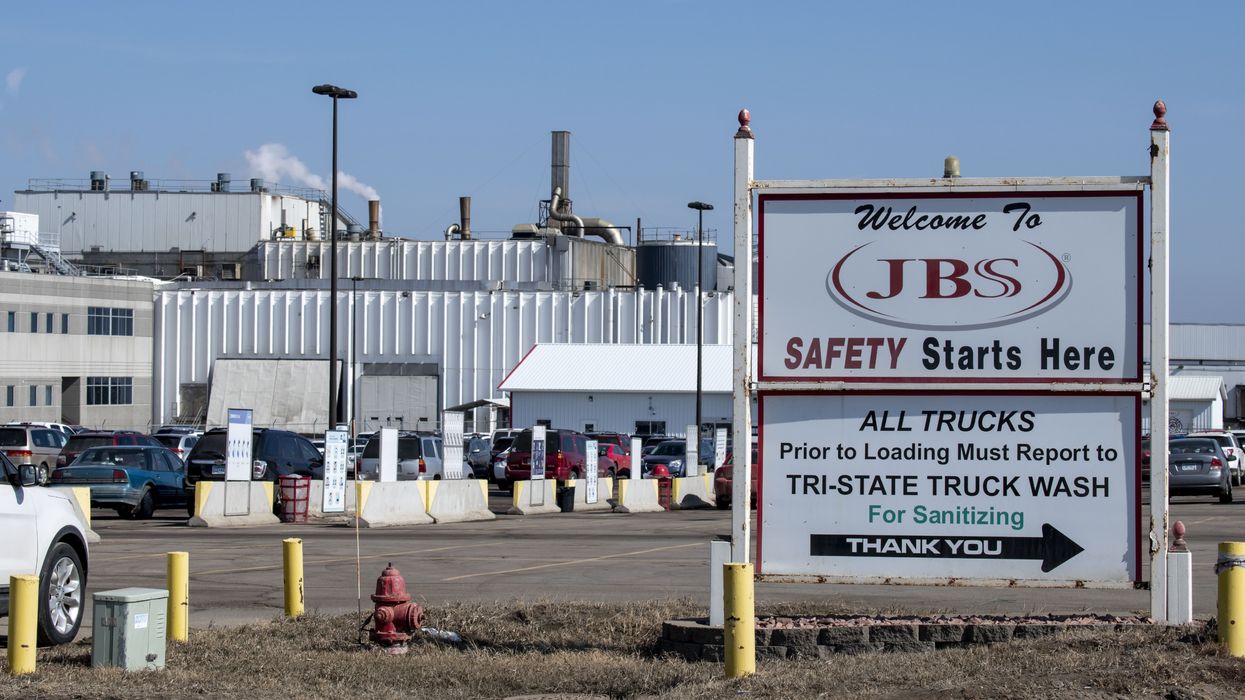 The federal probe revealed that Packers Sanitation Services had children as young as 13 "working with hazardous chemicals and cleaning meat processing equipment including back saws, brisket saws, and head splitters."
Federal investigators revealed Friday that one of the nation's largest food sanitation companies illegally employed at least 102 children in dangerous jobs at 13 meatpacking facilities across eight states, leading to $1.5 million in fines.
The U.S. Department of Labor (DOL) said its Wage and Hour Division "found that children were working with hazardous chemicals and cleaning meat processing equipment including back saws, brisket saws, and head splitters."
The probe determined that children ages 13 to 17 unlawfully worked for Kieler, Wisconsin-based Packers Sanitation Services Inc. at plants in Arkansas, Colorado, Indiana, Kansas, Minnesota, Nebraska, Tennessee, and Texas.
Jessica Looman, principal deputy administrator of the DOL's Wage and Hour Division, said the child labor violations "were systemic" and "clearly indicate a corporate-wide failure by Packers Sanitation Services at all levels."
"These children should never have been employed in meatpacking plants and this can only happen when employers do not take responsibility to prevent child labor violations from occurring in the first place," Looman charged.
\u201cThe food sanitation company was employing children in the plants of well known companies like Tyson Food, Cargill, Turkey Valley Farms, and more. \nhttps://t.co/bpfX0BqfJ5\u201d

— More Perfect Union (@More Perfect Union) 1676656915
Michael Lazzeri, the division's regional administrator in Chicago, said that "our investigation found Packers Sanitation Services' systems flagged some young workers as minors, but the company ignored the flags."
"When the Wage and Hour Division arrived with warrants, the adults—who had recruited, hired, and supervised these children—tried to derail our efforts to investigate their employment practices," Lazzeri noted.

The DOL—which found at least three cases where illegally employed children were injured on the job—fined the company $15,138 for each child who was not legally employed, the highest possible penalty under federal law.
As The New York Timesreported:
Some researchers have criticized the civil monetary penalties, which are set by Congress, as "woefully insufficient" to protect workers and to deter employers from violating labor laws.

"It's really shameful that the level of fine is so low," said Celine McNicholas, director of policy at the Economic Policy Institute, a research group that seeks to improve conditions for workers. "It's not sufficiently toothy enough to prevent the use of child labor in the meatpacking industry."
Despite such criticism, Solicitor of Labor Seema Nanda framed the case as an example of accountability, delcaring Friday, "The Department of Labor has made it absolutely clear that violations of child labor laws will not be tolerated."

"No child should ever be subject to the conditions found in this investigation," Nanda said. "The courts have upheld the department's rightful authority to execute federal court-approved search warrants and compelled this employer to change their hiring practices to ensure compliance with the law. Let this case be a powerful reminder that all workers in the United States are entitled to the protections of the Fair Labor Standards Act and that an employer who violates wage laws will be held accountable."
In a lengthy statement Friday, Packers Sanitation Services said that it was "pleased to have finalized this settlement figure."
"We have been crystal clear from the start: Our company has a zero-tolerance policy against employing anyone under the age of 18 and fully shares the DOL's objective of ensuring full compliance at all locations," the statement continued, noting internal audits and the hiring of "a third-party law firm to review and help further strengthen our policies."
The statement highlighted that none of the illegally employed children still work for Packers Sanitation Services, and "the DOL has also not identified any managers aware of improper conduct that are currently employed" by the company.
\u201cRepublicans in Iowa are pushing a bill to roll back child labor protections.\n\nIt would allow kids as young as 14 to work certain jobs in meatpacking plants.\n\nWhat if\u2026and hear me out\u2026we paid adult workers a living wage and gave them benefits instead of hiring children to work?\u201d

— Robert Reich (@Robert Reich) 1676661732
The revelations come amid a renewed national debate about child labor laws sparked by Republican legislators in Iowa pushing rollbacks to allow children as young as 14 to work in jobs including animal slaughtering, logging, and mining.
The proposal in Iowa is part of a trend of GOP state lawmakers across the country advocating relaxed child labor laws in recent years.

News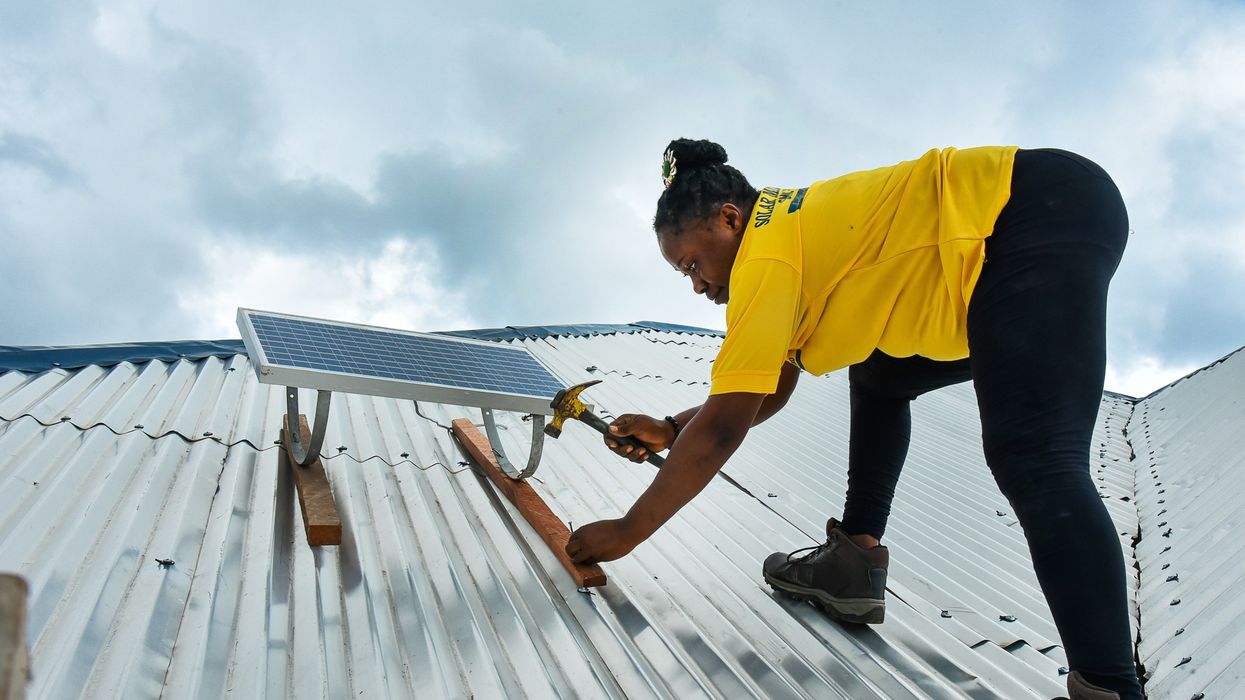 "Instead of selling away fossil fuel extraction rights to big multinational companies, African leaders should invest in clean, renewable energies that will directly benefit people across the continent without damaging their health."
As diplomats and political leaders headed to the Ethiopian capital Addis Ababa for an African Union summit, civil society groups from the continent argued Friday that "rather than doubling down on the obsolete and dirty energy systems," the A.U. must "move away from harmful fossil fuels towards a transformed energy system that is clean, renewable, democratic, and actually serves its peoples."
African groups are also circulating to heads of state and ministers attending the A.U. summit a report launched by Don't Gas Africa, in cooperation with the Fossil Fuel Treaty Initiative, at COP27—the United Nations climate conference hosted by Egypt in November that critics called "another terrible failure" because attendees refused to agree to rapidly phase out fossil fuels.
The November document asserts that "Africa has a monumental opportunity to pursue sustainable socioeconomic development without relying on fossil fuels," pushing back against arguments made by some world leaders, industry, and a 2022 International Energy Agency (IEA) publication that African nations should quickly extract and export their natural gas reserves.
"The Africa we want is one where the energy system is clean and sustainable and brings real access to African people."
"The idea that gas will bring prosperity and opportunities to Africans is a tired and overused fallacy, promulgated by those that stand to benefit the most: multinational fossil fuel firms and the elite politicians that aid and abet them," the report states. "It is a huge gamble to pursue these gas projects throughout Africa in the hope that they will bring development, wealth, and industry. It is highly likely that they will not and, instead, will burden African governments and citizens with vast debts, stranded assets, environmental degradation, and more broken promises."
Activists including Dean Bhekumuzi Bhebhe, campaigns lead for Don't Gas Africa, echoed those messages Friday, declaring that "African land is not a gas station. Millions are losing their homes, don't have access to food, have their health threatened, and are slipping into higher levels of extreme poverty because of the fossil fuel industry."

"Instead of selling away fossil fuel extraction rights to big multinational companies," he said, "African leaders should invest in clean, renewable energies that will directly benefit people across the continent without damaging their health."
\u201cAt #AUSummit, Africa\u2019s leaders must speak with a common voice and:\n\n\ud83d\udd25Call out claims that gas is a "clean fuel"\n\ud83c\udf0dLabel gas what it is\u2026 a dangerous distraction for Africa\n\ud83c\udf1eCall for rapid transition to people-centered, clean energy\n\n#DontGasAfrica @DontGasAfrica\u201d

— 350 dot org (@350 dot org) 1676627246
African Climate Reality Project Courtney Morgan similarly warned that "gas is a bridge to nowhere and will not address energy access challenges on our continent. Decision-makers and policymakers should be supporting sustainable solutions; for a fossil-free Africa."
"The Africa we want is one where the energy system is clean and sustainable and brings real access to African people," Morgan stressed. "The neocolonial gas project on our continent will not serve our needs and will exacerbate the climate crisis, we need African-led sustainable solutions."
Africa Climate Movements Building Spaces coordinator Lorraine Chiponda agreed that "we should not allow further colonial and extractive systems to put Africa on a destructive path," and called on the continent's leaders "to co-create a just development path together with African people that is clean, pan-African, and champions people's regenerative economies away from fossil fuels."
Their demands aligned with calls from campaigners who, over the past year, have blasted the IEA report, condemned African leaders' plan for new dirty energy development, protested during Africa Energy Week, and warned about the impacts of projects by the United States and other rich nations that have largely caused the global climate emergency.
\u201c\ud83d\udce2Fossil fuel productions ARE NOT for communities. They benefit big corporations.\nAfrican governments MUST push for their people\u2019s benefits and not oil firms. \n\nSay no to energy system capture and energy colonialism!!\n\n#DontGasAfrica\n#AUSummit\u201d

— Don't Gas Africa (@Don't Gas Africa) 1676628273
"We're in a climate emergency that is causing increasingly devastating climate impacts, particularly in Africa where adaptation capacity is still low," 350Africa.org regional director Landry Ninteretse said Friday. "African countries cannot bear the world's challenges on their own. This calls for urgent action to build resilience to climate challenges through the abandonment of fossil fuels and a just energy transition to renewable energy."
"There is no place for the expansion of fossil gas in the energy transition in Africa, as it would crowd out resources for renewable energy and dull any hopes for the transition," Ninteretse added. "We urge African leaders to reject the push for gas production in Africa and instead galvanize resources from developed nations to support renewable, community-centered, and accessible clean energy systems vital to achieving a just energy transition in the region."
News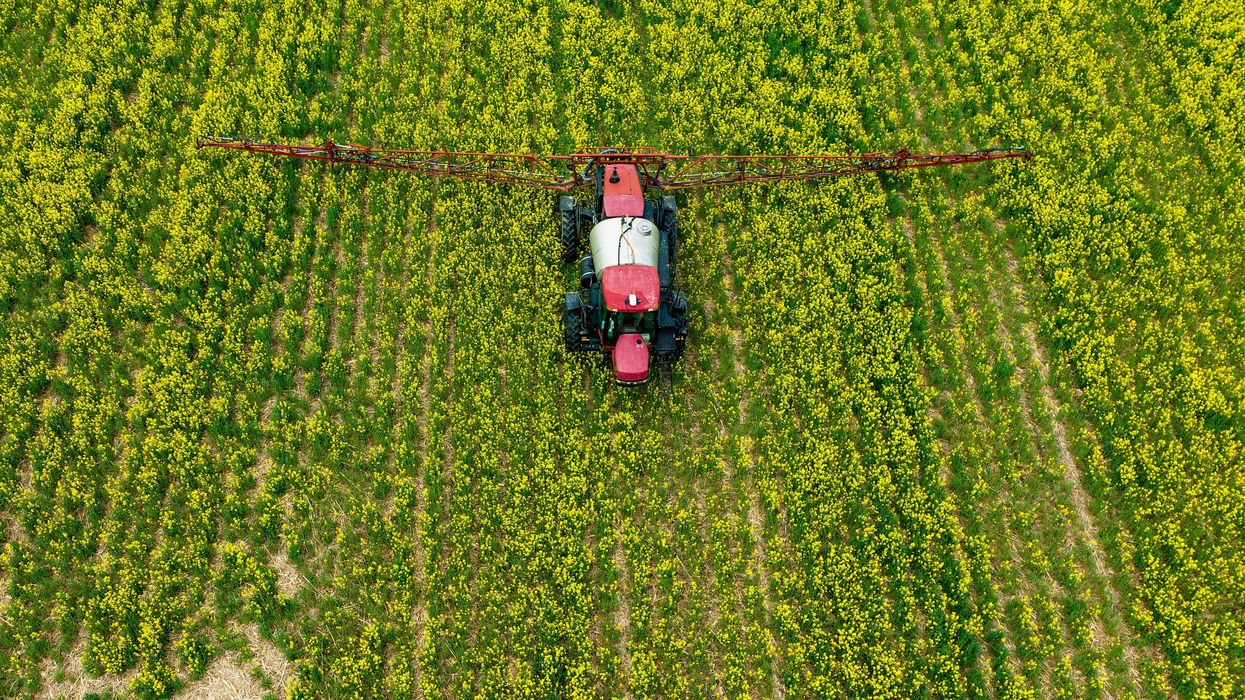 While agrochemical corporations promote "flawed solutions," said one advocate, "we need deeper, transformative approaches to actually solve the root problems of our broken food system."
Even though synthetic pesticides—the majority of which are derived from fossil fuels—contribute significantly to planet-heating pollution and increase the vulnerability of food systems, industrial agriculture interests continue to recklessly portray further pesticide use as a sensible response to the climate emergency's worsening impacts.
That's according to a recent report published by the Pesticide Action Network North America (PANNA), which details how agrochemical corporations exacerbate the climate crisis by refusing to admit that pesticides are part of the problem and instead promoting "false" solutions that enable them to keep peddling their highly profitable petroleum-based products.
The January report outlines how policymakers can help mitigate the climate crisis and build just and sustainable food systems by setting targets to drastically curb pesticide use, supporting agroecological farming practices, and protecting the rights of low-income individuals, disproportionately people of color, who are most harmed by pesticides, including farmworkers and residents of areas where the toxic substances are produced and applied.
"Governments are investing billions of dollars to address climate change, but these investments will fall woefully short unless they incorporate pesticide use reduction strategies and promotion of agroecological growing practices."
"Reductions in pesticide use and the adoption of agroecology would decrease greenhouse gas emissions, while also reducing acute poisonings, long-term diseases like cancer, and other health impacts that rural communities face from pesticide exposure," Nayamin Martinez, executive director of Central California Environmental Justice Network, said in a statement.
As the report explains: "Pesticides contribute to climate change throughout their lifecycle via manufacturing, packaging, transportation, application, and even through environmental degradation and disposal. Importantly, 99% of all synthetic chemicals—including pesticides—are derived from fossil fuels, and several oil and gas companies play major roles in developing pesticide ingredients."
Pesticides, the offspring of a World War II-era marriage of Big Ag and Big Oil, help drive global warming to a greater extent than many realize, as the authors document:
Other chemical inputs in agriculture, such as nitrogen fertilizer, have rightly received significant attention due to their contributions to greenhouse gas emissions. Yet research has shown that the manufacture of one kilogram of pesticide requires, on average, about 10 times more energy than one kilogram of nitrogen fertilizer. Like nitrogen fertilizers, pesticides can also release greenhouse gas emissions after their application, with fumigant pesticides shown to increase nitrous oxide production in soils seven- to eight-fold. Many pesticides also lead to the production of ground-level ozone, a greenhouse gas harmful to both humans and plants. Some pesticides, such as sulfuryl fluoride, are themselves powerful greenhouse gases, having nearly 5,000 times the potency of carbon dioxide.
Despite mounting evidence that pesticides are helping to accelerate planetary heating, "climate change impacts are expected to lead to increases in pesticide use, creating a vicious cycle between chemical dependency and intensifying climate change," the report notes. "Research shows that declining efficacy of pesticides, coupled with increases in pest pressures associated with a changing climate, will likely increase synthetic pesticide use in conventional agriculture. An increase in pesticide use will lead to greater resistance to herbicides and insecticides in weeds and insect pests, while also harming public health and the environment."
That agricultural production is a substantial contributor to greenhouse gas (GHG) pollution is increasingly acknowledged, but the role played by pesticides is "infrequently addressed" and "many proposed solutions would not result in meaningful GHG emission reductions," says the report.
It continues:
An example of a false solution is precision agriculture, which promises to reduce the use of petroleum-derived pesticides and fertilizers by using computer-aided technologies to more accurately determine need (pest presence) and then more accurately apply pesticides to intended targets. However, precision agriculture maintains a system dependent upon chemical- and energy-intensive technologies and materials, while diverting attention from and investment in more effective climate-friendly strategies in agriculture that have additional social and public health co-benefits, such as agroecology. Precision agriculture also increases the power and control of agrochemical companies, many of which own the precision agriculture platforms and the data inputted by farmers.

Another flawed solution, carbon markets, allows agribusinesses or farmers to sell carbon credits to corporations to "offset" continued greenhouse gas emissions—perpetuating reliance on fossil fuels. Carbon markets have a poor track record in terms of long-term climate mitigation, and have been shown to worsen economic and racial disparities.
Co-author Asha Sharma, organizing co-director at PANNA, said that "our new report reveals how oil and gas companies and pesticide manufacturers have followed a similar playbook—strategically promoting flawed solutions to the climate crisis, like carbon capture and storage and new digital agriculture tools, which in reality offer minimal climate benefits."
"Corporations tout these novel technologies to protect their reputation, while they continue to profit from fossil fuels," said Sharma. "We need deeper, transformative approaches to actually solve the root problems of our broken food system."
The report makes the case for agroecology, which it defines as "a way of farming rooted in social justice that focuses on working with nature rather than against it."
Agroecology "relies on ecological principles for pest management, minimizing the use of synthetic pesticides, while prioritizing the decision-making power of farmers and agricultural workers," the report notes, adding that such an approach improves "the resilience of our agricultural systems to better withstand climate change impacts."
The report makes three key recommendations for policymakers:
Establish measurable goals in climate policies to reduce synthetic pesticide use in agriculture;
Promote the transition to biodiverse, agroecological food and farming systems, such as by establishing and funding programs that provide increased technical assistance and incentives to farmers to adopt or continue these farming practices; and
In line with international law, adopt regulations that uphold and promote the rights of groups most impacted by synthetic pesticide use.
"Transitioning our agricultural systems to those that uplift ecological and social justice principles will not only help mitigate climate change, but also reduce the negative health impacts of industrial agriculture," says the report. "While the work toward future policy and practice change continues, we can collectively support the advocacy work of impacted communities and organizations fighting for more equitable and sustainable food and farming systems right now."
Co-author Margaret Reeves, a senior scientist at PANNA, argued that "governments are investing billions of dollars to address climate change, but these investments will fall woefully short unless they incorporate pesticide use reduction strategies and promotion of agroecological growing practices."
News
SUPPORT OUR WORK.
We are independent, non-profit, advertising-free and 100%
reader supported.