For Immediate Release
Contact:
Tel: +1-212-216-1832,Email:,hrwpress@hrw.org
Kenya: A Preventable Childbirth Injury That Ruins Lives
Provide Adequate Health Services, Accountability to Prevent, Treat Obstetric Fistula
NAIROBI
Tens of thousands of Kenyan women and girls suffer from obstetric fistula, a childbirth injury causing leakage of urine and feces, a direct result of inadequate health services and failed government policies, Human Rights Watch said in a report released today.
The 82-page report, "'I Am Not Dead, But I Am Not Living': Barriers to Fistula Prevention and Treatment in Kenya," describes the devastating condition facing women with fistula in Kenya and the wide gap between government's policies to address reproductive health and the reality of women's daily lives. It documents health system failures in five areas: education and information on reproductive and maternal health; school-based sex education; access to emergency obstetric care, including referral and transport systems; affordable maternity care and fistula repair; and health system accountability. It also documents stigma and violence many fistula sufferers face.
"Many women and girls with fistula endure lives of shame, misery, violence, and poverty," said Agnes Odhiambo, Africa women's rights researcher at Human Rights Watch. "Preventing fistula and restoring women's health and dignity requires more than good policies on paper. Kenya needs to keep its promise of decent health care for all."
The risk of obstetric fistula often begins when young girls get pregnant or marry early, before their bodies are safely able to sustain a pregnancy. This can result in obstructed labor, and if emergency care - often a Caesarean section - is not accessible, the long labor results in destruction of vaginal tissue and causes a hole - a fistula - and incontinence. One of the factors leading to early pregnancy and childbearing is the lack of accurate information about sexuality. Human Rights Watch interviewed many girls with virtually no knowledge about reproductive processes or health.
Kwamboka W., who got pregnant at 13 while in primary school, told Human Rights Watch: "I didn't know anything about family planning or condoms. I just went once and got pregnant. I still have no idea about contraceptives."
Others told Human Rights Watch they had unprotected sex but thought they would not get pregnant because it was their first time or because they had irregular menstrual periods.
The report is based on field research conducted by Human Rights Watch in November and December 2009 in hospitals in Kisumu, Nairobi, Kisii, and Machakos, as well as in Dadaab in March 2010. Researchers interviewed 55 women and girls ranging in age from 14 to 73, 53 of whom had fistula. Twelve of those with fistula were between the ages of 14 and 18. Human Rights Watch also interviewed obstetric fistula surgeons, nurses working in hospital fistula wards, hospital administrators, representatives of nongovernmental organizations working on health and women's rights, government officials, representatives of professional associations for doctors and nurses, international donors, United Nations representatives, and primary and secondary school teachers.
Kwamboka W. described her life after she developed a fistula: "I thought I should kill myself. You can't walk with people. They laugh at you. You can't travel; you are constantly in pain. It is so uncomfortable when you sleep. You go near people and they say urine smells, and they are looking directly at you and talking in low tones. It hurt so much I thought I should die. You can't work because you are in pain; you are always wet and washing clothes. Your work is just washing pieces of rugs."
Human Rights Watch found that even though the government has introduced sex education in schools, teachers often don't take the time to teach it because it is not part of the syllabus.
The report also said that health care user fees are a significant barrier to maternity care and fistula surgery. Many of the women who suffer from fistula are poor. Women told Human Rights Watch how difficult it was to raise money for surgery. The Kenya government made a great stride when it began offering free maternity care in dispensaries and health centers, Human Rights Watch said. But this does not help the women who develop complications requiring care in hospitals, where fees are still charged. These fees deter poor women from seeking skilled maternity care.
Government hospitals are supposed to offer fee waivers for indigent patients, but the report identified critical shortcomings in the waiver process. These include lack of awareness of the policy among patients and some health providers; the reluctance of some facilities to publicize the waivers and deliberate withholding of information requested by patients; vague implementation guidelines, including the criteria for determining a patient's financial needs; and lack of oversight and monitoring to ensure that hospitals grant waivers to qualifying patients. None of the women and girls interviewed by Human Rights Watch had received a waiver.
"Poor, rural, and illiterate women and girls are often the ones who develop obstetric fistula or die during pregnancy and childbirth," Odhiambo said. "Important information and services are not reaching them, and this shows that government policies that promise health care equality are not being carried out."
Strengthening health system accountability - giving people accessible and effective ways to provide feedback and lodge complaints, and ensuring that the feedback leads to improvements - can greatly enhance the health system, Human Rights Watch said. The current system of suggestion boxes is ineffective, especially for illiterate women, the report found. Several women and girls interviewed by Human Rights Watch had experienced abuse in health facilities, yet did not lodge complaints because they did not know how or feared retaliation.
"Camps" funded by international donors a few weeks a year in a number of towns offer surgical repairs to a small percentage of fistula sufferers, but even those who have successful surgery may still face stigma in their families and communities.
After years, sometimes decades, of isolation, many women and girls need help reintegrating into their communities. They need social and psychological support to regain self-esteem and confidence, to encourage participation in social and religious life, to regain fertility and an opportunity for a normal sexual life, and to ensure future safe childbirth. These women also need help to become financially self-sufficient.
The Kenyan government should develop and implement a national strategy to prevent fistula and provide needed services to those who have the injury, Human Rights Watch said. The effort should include a public awareness campaign about the causes of fistula, the need for childbirth to take place in properly equipped facilities, and the availability of treatment. The government should make comprehensive sex education part of the school syllabus to ensure that teachers allocate time to teach it.
The government also urgently needs to improve access to fistula surgery by subsidizing routine repairs in hospitals and providing free surgery for indigent patients, Human Rights Watch said. It should expand the exemptions from user fees to include all maternal health care, not just childbirth in dispensaries and health centers, and the government should urgently improve the quality of and access to emergency obstetric care.
Human Rights Watch is one of the world's leading independent organizations dedicated to defending and protecting human rights. By focusing international attention where human rights are violated, we give voice to the oppressed and hold oppressors accountable for their crimes. Our rigorous, objective investigations and strategic, targeted advocacy build intense pressure for action and raise the cost of human rights abuse. For 30 years, Human Rights Watch has worked tenaciously to lay the legal and moral groundwork for deep-rooted change and has fought to bring greater justice and security to people around the world.
LATEST NEWS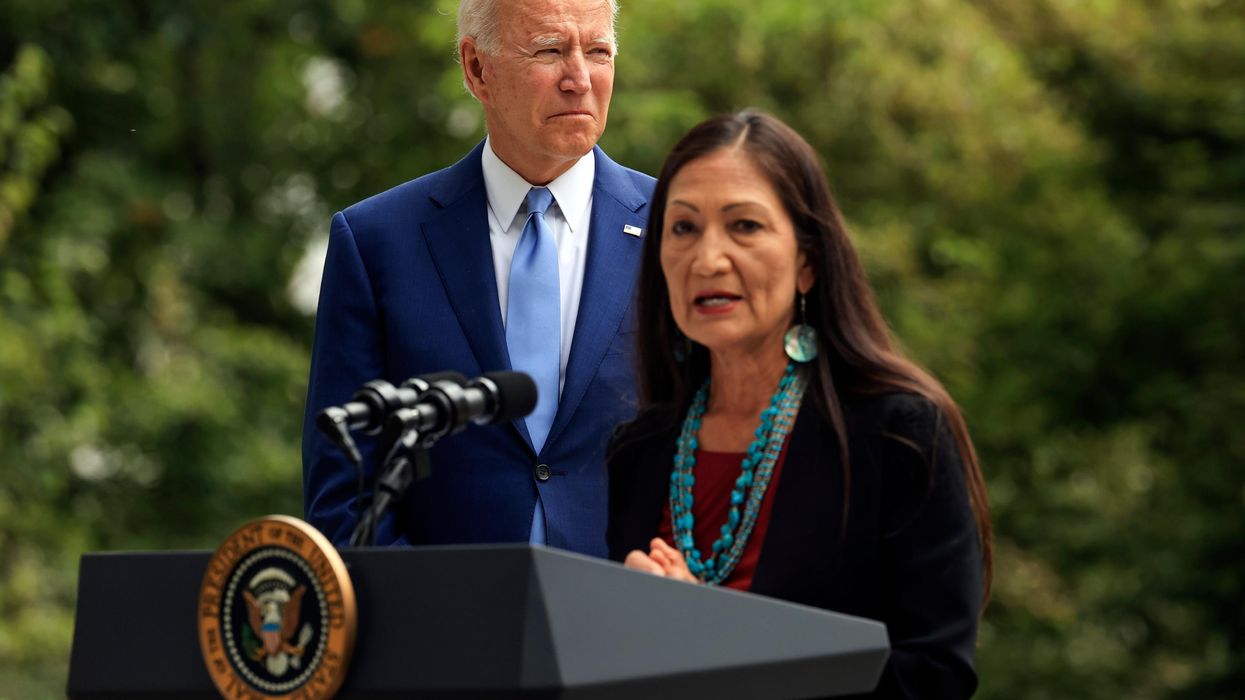 The lawsuit aims to "shed light on the Biden administration's dumbfounding refusal to align our country's federal fossil fuel programs with its own climate goals," said one campaigner.
A national conservation group sued the Biden administration on Tuesday for failing to respond to a public records request pertaining to the Interior Department's dismissal of a petition that called for a phaseout of oil and gas extraction on federal lands and waters.

Submitted last year, the petition from more than 360 environmental and Indigenous organizations called on the Interior Department to initiate a rulemaking process aimed at reducing oil and gas production on public lands and waters by 98% by 2035.
The department rejected the petition earlier this year, claiming that it "has a robust rulemaking agenda already underway to address the climate crisis and implement reforms to our conventional energy programs" and doesn't have adequate resources to "undertake the proposed rulemaking at this time."
The administration's reply came after the Center for Biological Diversity (CBD) sued the administration for not responding to the petition for more than a year.
CBD is now taking legal action against the Interior Department again, this time for violating the Freedom of Information Act (FOIA).
In July, CBD requested that the Interior Department turn over records related to the agency's deliberations about the fossil fuel phaseout petition and its response.
"At the time of the filing of this complaint, over 130 days have passed since the Center submitted its FOIA request to Interior. To date, however, Interior has not provided any requested records," the new lawsuit states. "Accordingly, the Center challenges Interior's FOIA violations resulting from its failure to respond to the Center's request and seeks declaratory and injunctive relief to require Interior to promptly search for and produce all responsive records without further delay."
"The administration needs to explain its failure to take bold, urgent action but instead it's hiding public records."
Taylor McKinnon, CBD's southwest director, said in a statement that the lawsuit "will shed light on the Biden administration's dumbfounding refusal to align our country's federal fossil fuel programs with its own climate goals."
"All-time high federal oil production is causing our planet's life support systems to shut down under the stresses of the climate emergency," said McKinnon. "The administration needs to explain its failure to take bold, urgent action but instead it's hiding public records."
The suit comes days before the start of the COP28 climate summit in the United Arab Emirates, closely watched and critically important talks that Biden has decided to skip.
Under Biden's leadership, U.S. crude oil production is on pace to surge to a record 12.9 million barrels this year. During his first two years in office, the Biden administration approved more than 6,400 permits for oil and gas drilling, exceeding the number of approvals during former President Donald Trump's first two years.
According to a CBD analysis released Monday, drilling projects that the Biden administration has approved could "erase" emissions-reduction progress from the Inflation Reduction Act, the president's signature legislative achievement.
"The Biden administration is canceling out its own climate progress by greenlighting major oil and gas projects," said Shaye Wolf, CBD's climate science director.
News
"It's like the tobacco companies that knew the addictive and lethal nature of cigarettes yet continued to get millions of teenagers hooked on them," said one African critic.

With the world hurtling toward catastrophic temperature rise, "Saudi Crown Prince Mohammed bin Salman is overseeing a sweeping global investment program" intended to "ensure that emerging economies across Africa and Asia become vastly more dependent on oil" even as the international community tries to phase out planet-heating fossil fuels.
That's according to a sixth-month undercover investigation by the U.K.'s Center for Climate Reporting (CCR) and Channel 4 News, based on regulatory filings, documents from Saudi officials, and secret recordings.
The findings were published Monday in the leadup to the United Nations Climate Change Conference (COP28) set to kick off Thursday in the United Arab Emirates.
As CCR detailed:
The Oil Demand Sustainability Program (OSP) is a vast government program with dozens of projects aimed at embedding a high-carbon, fossil fuel-dependent development model in countries across Africa and Asia. This includes meticulously researched plans to drive a major increase in gasoline and diesel-fueled vehicles and boost jet fuel sales via increased air travel.

It brings together the most powerful arms of the Saudi state, including the $700 billion Saudi Public Investment Fund; the world's largest oil company, Saudi Aramco; petrochemicals giant, Sabic; and the kingdom's most important ministries—all under the auspices of the crown prince's supreme committee of hydrocarbon affairs.

When asked by an undercover reporter whether the aim of the program is to artificially stimulate oil demand to counter global efforts to reduce oil consumption and tackle climate change, a Saudi official responded: "Yes... it is one of the main objectives that we are trying to accomplish."
Saudi Arabia's Ministry of Energy—which did not respond to a request for comment—mainly "characterizes the OSP as a sustainable development initiative" to aid developing countries, CCR reported.
However, as the center highlighted, key pieces of the kingdom's plot include plans to promote oil-based power generation, deploy petrol and diesel vehicles in Africa and Asia, work with a global auto manufacturer to make a cheap car, lobby against government subsidies for electric vehicles, and fast-track commercial supersonic air travel.
Power Shift Africa director Mohamed Adow told CCR that "the Saudi government is like a drug dealer trying to get Africa hooked on its harmful product. The rest of the world is cleaning up its act and weaning itself off dirty and polluting fossil fuels and Saudi Arabia is getting desperate for more customers and is turning its sights on Africa."
"It's like the tobacco companies that knew the addictive and lethal nature of cigarettes yet continued to get millions of teenagers hooked on them," Adow added, "it's repulsive."
Rapid Transition Alliance coordinator Andrew Simms similarly said on social media, "Straight outta the tobacco companies' playbook."
The Saudi investigation was released on the same day that the center and BBCrevealed that Sultan Ahmed Al Jaber, CEO of the UAE's Abu Dhabi National Oil Company and president of COP28, used meetings about the summit to push for foreign fossil fuel deals.
"This undermines essential impartiality and the integrity of the talks, and will accelerate devastating global heating," said the Environmental Justice Foundation, pointing to both revelations. "These backroom deals serve wealthy nations and fossil fuel profiteers at the expense of everyone else."
Also noting both reports, American author and climate activist Bill McKibben wrote Tuesday that "the new documents, which really must be read to be believed, perform the same essential task as the revelations almost a decade ago about Exxon's climate lies. They end any pretense that these countries are engaged in good-faith efforts to wind down the industry."
"It's difficult, I think, to imagine anything much more systemically evil than this spate of bids by the oil companies and oil countries to keep wrecking the planet; it's akin to the way that tobacco companies, facing legal losses in the U.S., pivoted to expand their markets in Asia instead," he added, describing the Saudi plot as "almost cartoonishly villainous."
The kingdom has a long history of impeding climate action—particularly progress at global talks, as three experts laid out in a paper released last week by the Climate Social Science Network at the Institute at Brown for Environment and Society.
"Saudi delegations to the U.N. climate talks are highly skilled, well-organized, and have been extremely successful over decades at slowing the efforts of the world community on climate change to a crawl," the trio wrote. "Saudi Arabia's actions should be seen as part of a wider web of obstruction to an effective response to climate change, which includes fossil fuel industry groups and other (predominantly U.S.-based) political lobbyists and elites, and allied intergovernmental organizations."
As Common Dreamsreported last week, the U.N. has allowed at least 7,200 delegates for fossil fuel companies and industry trade groups to attended climate talks since 2003. This year, attendees must disclose their affiliation under new transparency rules.
The summit comes as scientists warn that 2023 is projected to be the hottest year in 125,000 years and currently implemented emissions policies will likely lead to 3°C of temperature rise by the end of the century—or double the 1.5°C goal of the Paris agreement.
"Leaders must act to limit global temperature rise to 1.5°C, protect people from climate chaos, and end the fossil fuel age," United Nations Secretary-General António Guterres declared Monday. "They must make COP28 count."

News
In a letter to Chemours, the experts said they were worried about the company's "apparent disregard for the well-being of community members, who have been denied access to clean and safe water for decades."
United Nations human rights experts have expressed concerns over "alleged human rights violations and abuses" against people living along the lower Cape Fear River in North Carolina due emissions of per- and polyfluoroalkyl substances, or PFAS, from a Fayetteville chemical plant.
Five U.N. experts signed letters to Chemours—the plant's current operator—as well as DuPont, Corteva, the U.S. Environmental Protection Agency (EPA), and Dutch environmental regulators. The action marks the U.N. Human Rights Council's first investigation into an environmental problem in the U.S., The Guardianreported Tuesday.
"We are especially concerned about DuPont and Chemours' apparent disregard for the well-being of community members, who have been denied access to clean and safe water for decades," the U.N. experts wrote in the letter to Chemours.
"We hope the U.N.'s action will induce shareholders to bring DuPont and Chemours in line with international human rights law."
The Fayetteville Works manufacturing plant has been releasing toxic PFAS into the environment for more than four decades, according to the allegations detailed in the letter. PFAS dumped in the Cape Fear River have made it unsafe to drink for 100 river miles, and pollution from the plant has contaminated air, soil, groundwater, and aquatic life.
PFAS are a class of chemicals used in a variety of products from nonstick, water-repellent, or stain-resistant items to firefighting foam. They have been linked to a number of health issues including cancers and have earned the name "forever chemicals" for their ability to persist in the environment and the human body. One study found PFAS in 97% of local residents who received testing.
The letter also repeated allegations that DuPont, the plant's previous owner, and Chemours, a spinoff company, had not taken responsibility for cleaning up the local environment and compensating community members, and that DuPont had known about the dangers of PFAS for several years, but chose to hide this information from the public.
"We remain preoccupied that these actions infringe on community members' right to life, right to health, right to a healthy, clean, and sustainable environment, and the right to clean water, among others," the U.N. experts wrote.
The letters were sent in response to a request made in April by Berkeley Law's Environmental Law Clinic on behalf of local environmental advocacy group Clean Cape Fear. In the request, the groups said the matter was particularly urgent because Chemours plans to expand its making of PFAS at the plant.
The U.N. experts, or special rapporteurs, reviewed existing legal and scientific documents and media reports, rather than completing their own investigation, NC Newsline reported. They sent the letters in September, but made them public on Thanksgiving, 60 days later, according to Clean Cape Fear. During that time, Chemours, Corteva, and the Dutch regulator responded, but DuPont and the EPA did not.
"We are grateful to see the United Nations take action on behalf of all residents in our region suffering from decades of human rights abuse related to our PFAS contamination crisis," Clean Cape Fear co-founder Emily Donovan said in a statement. "Clearly, the U.N. recognizes international law is being violated in the United States. We find it profoundly troubling that the United States and DuPont have yet to respond to the U.N.'s allegation letters."
Clean Cape Fear called Chemours' response "classic corporate gaslighting." Chemours claimed to be "a relatively new company," despite being staffed by senior DuPont executives, focused mainly on the PFAS GenX despite the presence of several other pollutants, and focused on the impacts on private well owners, ignoring public utility customers who must pay to filter their own water because of PFAS contamination. However, the letter did acknowledge that Chemours knew about the PFAS pollution before the public learned of it in 2017 and tried to both resolve it internally and prevent the public from finding out.
"If corporate malfeasance had a name in N.C., it would be Chemours," said Rebecca Trammel, leadership team member of Clean Cape Fear and founder of Catalyst Consulting & Speaking. "Impunity is the accomplice of injustice. It is the obligation of governments and regulatory agencies to ensure that innovation, economic gain, and progress are in service of humanity, not at its expense. I extend my deepest thanks to the United Nations for its defense of our right to safe water and life itself."

The letter to the EPA focused in part on its failure to study the health impacts of PFAS exposure on the community, while the letter to the Netherlands focused on imports of GenX from that country to Fayetteville Works.
Clean Cape Fear said it hopes the letters will put pressure on both the private companies and the government regulators to act.
"We hope the U.N.'s action will induce shareholders to bring DuPont and Chemours in line with international human rights law," the group tweeted, noting that both companies are publicly traded.
"We also hope that the risk of being named a violator of international human rights laws will give the U.S. EPA the political courage to do what it must to curb toxic PFAS pollution in North Carolina and nationwide," the group added.
News