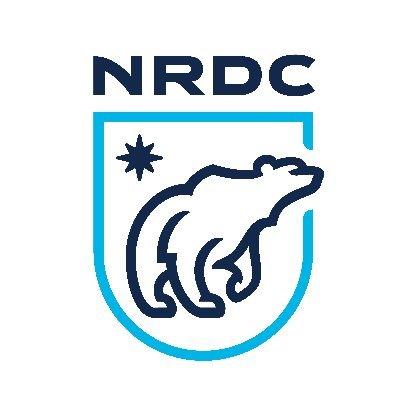 For Immediate Release
Contact:
Josh Mogerman, 312-651-7909
Updated Groundbreaking Report Shows U.S. Drinking Water and Watersheds Still Widely Contaminated by Hormone Disrupting Pesticide, Atrazine
New Water Data Reveals Broad Contamination Missed by EPA Monitoring
CHICAGO, Illinois
A widely
used pesticide known to impact wildlife development and, potentially,
human health continues to contaminate watersheds and drinking water
throughout much of the United States, according to a new report released
today by the Natural Resources Defense Council (NRDC).
"Sadly, new data doesn't point to new results -- atrazine can
be found everywhere we look," said Jennifer Sass, PhD, NRDC Senior
Scientist and an author of the report."
Banned by the European Union, atrazine is the most commonly
detected pesticide in U.S. waters and is a known endocrine disruptor,
which means that it affects human and animal hormones. Last year, NRDC's
Poisoning the Well report shined a bright light on widespread
contamination of American drinking water by the pesticide atrazine.
An EPA investigation of the chemical kicked off soon after
the report was released and magnified by prominent media coverage, with
expert meetings being held all last week in DC. The report authors today
released Still Poisoning
the Well, which uses updated data and new scientific research to
show that the vexing problem continues throughout the Midwest and
southern United States.
Atrazine season is here, and while it is great to see the
U.S. EPA revisiting the registration of this pesticide, until they
change monitoring policy high concentrations in drinking water will
continue to be ignored," said Sass. This exposure could have a
considerable impact on reproductive health. Scientific research has tied
this chemical to some ghastly impacts on wildlife and raises red flags
for possible human impacts."
The report reveals that all of the watersheds monitored by
EPA and 80% of the drinking water sampled tested positive for atrazine.
Contamination was most severe in Illinois, Iowa, Indiana, Missouri,
Kansas and Nebraska. An extensive U.S. Geological Survey study found
that approximately 75 percent of stream water and about 40 percent of
all groundwater samples from agricultural areas contained atrazine, and
according to the New York Times, an estimated 33 million Americans have
been exposed to atrazine through their drinking water systems.
"The extent of contamination continues to be shocking," said
Mae Wu, an attorney in NRDC's Health and Environment program focused on
the regulation of pesticides, toxins and drinking water. "It has been
found everywhere that regulators have looked for it. Given the troubling
questions that continue to be raised by independent scientists, we
continue to believe that this dangerous weed killer needs to come off
the market so that we can keep it out of our drinking water."
"People living in contaminated areas need to be made aware,
so they can use filters to protect themselves," said Sass.
Click here
for the full report, including detailed maps of affected areas and
Google Earth applications.
The contamination data in the report was obtained as the
result of a Freedom of Information Act requests. The report highlights
watersheds and municipal water treatment systems most affected by the
chemical contamination, offers policy solutions, and describes actions
that people can take to protect themselves from exposure to this
dangerous chemical in their water.
Atrazine is regulated by the U.S. Environmental Protection
Agency (EPA). Under the Safe Drinking Water Act (SDWA), EPA has
determined that an annual average of no more than 3 parts per billion
(ppb) of atrazine may be present in drinking water. One of the chief
findings of the report was that this reliance on a "running annual
average" allows levels of atrazine in drinking water to peak at
extremely high concentrations.
Given the pesticide's limited economic value and the fact
that safer agricultural methods can be substituted to achieve similar
results, NRDC recommends phasing out the use of atrazine, more effective
atrazine monitoring, the adoption of farming techniques that can help
minimize the use of atrazine to prevent it from running into waterways.
The report also underscores the importance of using home filtration
systems.
The effects associated with atrazine have been documented
extensively. Some scientists are concerned about exposure for children
and pregnant women, as small doses could impact development of the brain
and reproductive organs. Research has also raised concerns about
atrazine's "synergistic" affects, showing potential for the chemical
having a multiplier affect to increase toxic affects of other chemical
co-contaminants in the environment. A study in Indiana showed a
significant correlation between atrazine in tap water and low birth
weight.
Report authors Mae
Wu and Jennifer
Sass have new posts on NRDC's Switchboard blog with additional
evaluation of the report's findings.
The Natural Resources
Defense Council is a national, nonprofit organization of scientists,
lawyers and environmental specialists dedicated to protecting public
health and the environment. Founded in 1970, NRDC has 1.3 million
members and online activists, served from offices in New York,
Washington, Chicago, Los Angeles, San Francisco and Beijing.
NRDC works to safeguard the earth--its people, its plants and animals, and the natural systems on which all life depends. We combine the power of more than three million members and online activists with the expertise of some 700 scientists, lawyers, and policy advocates across the globe to ensure the rights of all people to the air, the water, and the wild.
(212) 727-2700
LATEST NEWS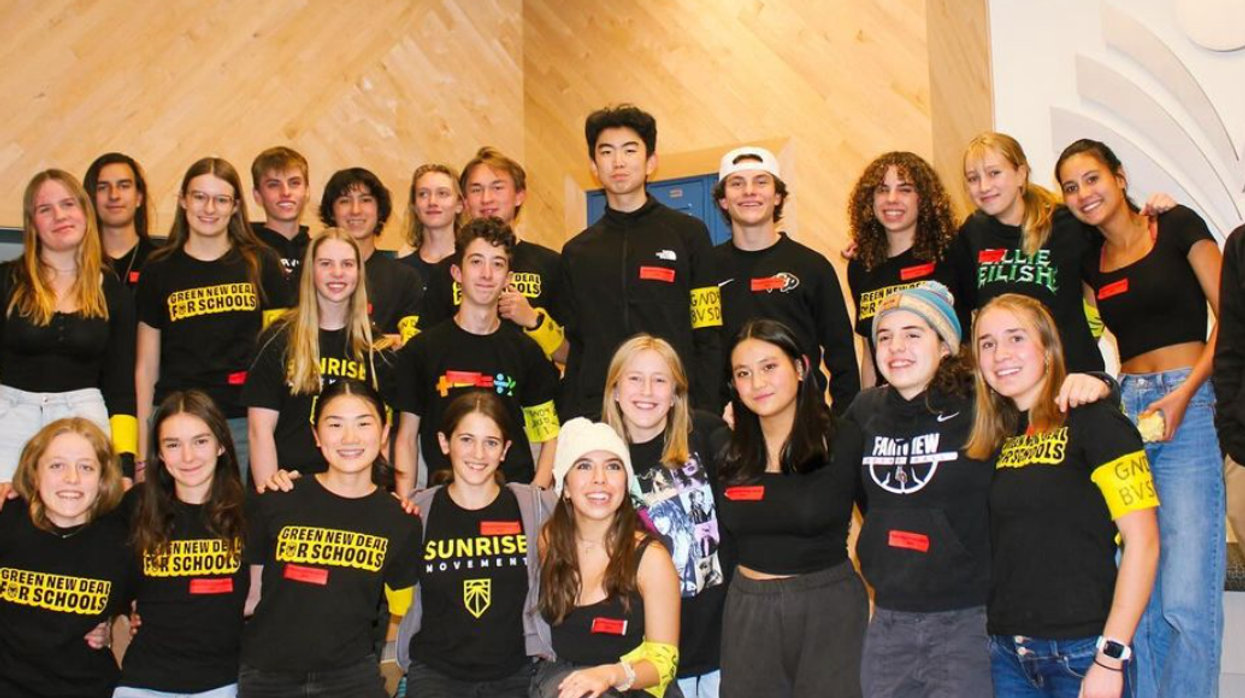 "This is a project of our generation, and we're not gonna stop until every school across the country has a Green New Deal and the kind of schools we deserve," said a 16-year-old student.
Youth advocates with the Green New Deal for Schools campaign notched up their first victory on Tuesday when Colorado's Boulder Valley School District Board of Trustees unanimously approved a resolution drafted by students at Fairview High School.
"This is a project of our generation, and we're not gonna stop until every school across the country has a Green New Deal and the kind of schools we deserve," said 16-year-old Emma Weber, a student leader in the district. "The Green New Deal for Schools is the kind of action and urgency that we need in order to address the climate crisis and prepare students to live with the realities of it."
The Daily Camerareported that the board's president, Kathy Gebhardt, "urged the students to take their advocacy beyond Boulder Valley to local governments and the state Legislature, saying most school districts in the state are struggling to pay teachers and don't have the resources to add solar panels or buy electric buses."

Colorado Public Radio on Tuesday laid out the long history of such policies in the district, which serves over 30,000 students:
Resolutions on the environment go back to 1978. In 2009, BVSD created a sustainability action plan, with updates in later years with a long-term goal of reducing greenhouse gases by 80% and also committed to a goal of zero net energy by 2050. It was one of the first school districts in the nation to make such a commitment.

As a part of its efforts to track carbon and lower emissions, the district has increased the number of buildings with renewable energy, purchased 19 electric buses, reduced greenhouse gas emissions by a quarter, reduced water consumption by 11% in three years, and hit a target of diverting 50% of waste from landfills. BVSD has already become a leader in providing locally sourced lunch to students.
"The students' resolution asks the district to continue and amplify efforts toward reducing carbon emissions, asking for all school buildings and buses to run on renewable energy," CPR added. "By 2026, they want a comprehensive curriculum for all students in all grades to develop sustainability knowledge and behaviors, including information on how climate change affects communities differently."
The Sunrise Movement—which is behind the national Green New Deal for Schools campaign—said on social media that the resolution also commits the district to "pathways to green union jobs for students, and increased collaboration with local, state, and federal agencies to strengthen responses to climate disasters."

With the resolution, the board is also asking U.S. President Joe Biden—who plans to skip COP28, the United Nations climate summit beginning this week—and Congress "to support the Green New Deal for Public Schools Act, reinforcing the call for a nationwide commitment to an education that prepares our generation to navigate the realities of the climate crisis," according to Sunrise.

Spearheaded by U.S. Sen. Ed Markey (D-Mass.) and Rep. Jamaal Bowman (D-N.Y.), a former educator and principal, the legislation would invest $1.6 trillion to transform the country's education system while "creating 1.3 million jobs and eliminating 78 million metric tons of carbon emissions" over a decade.

While the win in Colorado was a first for the campaign, Sunrise and students across the United States are pushing for more. The group noted Wednesday that young people in dozens of districts—from Bozeman, Montana to Philadelphia, Pennsylvania—have recently testified at school board meetings and attended daylong trainings in cities including Chicago, Illinois; Detroit, Michigan; and Washington D.C.
"Shoutout to the incredible students and their tireless advocacy that led to the Green New Deal for Schools resolution, which passed the Boulder Valley school board this week!" Bowman said Wednesday on social media. "Thank you for your incredible work. Now let's make this happen everywhere!"
News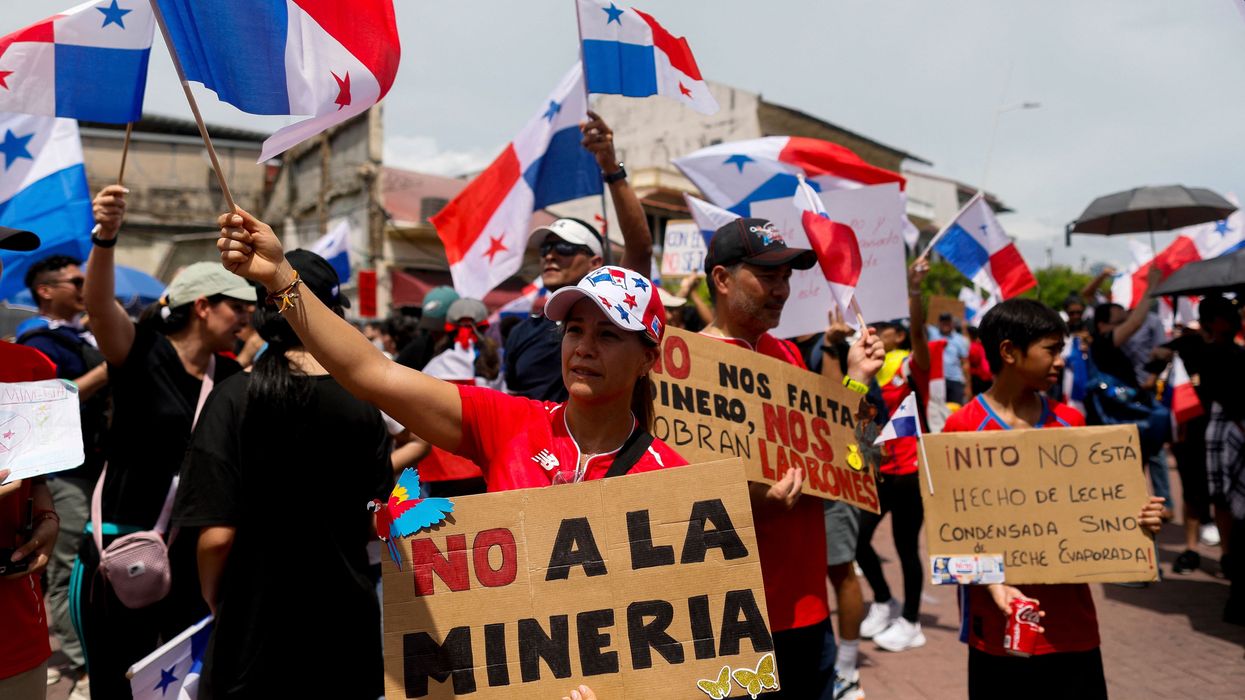 "The people have spoken and expressed that they don't want more mines, that they want sustainable economic development, and have no intention of destroying the country for profit," said one campaigner.
Indigenous and environmental campaigners this week hailed a landmark win for the Rights of Nature movement, the Panamanian Supreme Court's unanimous ruling that the contract for the Cobré mineral mine—one of the world's largest—is unconstitutional and must be shut down.
The November 24 ruling against Minera Panamá, a subsidiary of the Canadian company First Quantum Minerals, followed weeks of nationwide protests against the open-pit mine, which began operations in 2019 and where mainly copper, but also gold, silver, and molybdenum, are extracted. Opponents say the mine threatens area water supplies. A gunman shot and killed two people at a protest against the mine earlier this month.
Last year, the Cobré mine produced over 86,000 tons of copper, approximately 1% of the world's total production, 5% of Panama's gross domestic product, and 75% of the Central American country's export revenue. More than 2% of Panama's workforce is employed at the mine.
Cobré—which is located in a biodiverse area on Panama's Caribbean coast—will now shut down as a result of the ruling.

"The Panamanian people have spoken," Kherson Ruiz, executive director of the London-based Sustainable Development Foundation, toldMongabay. "The people have spoken and expressed that they don't want more mines, that they want sustainable economic development and have no intention of destroying the country for profit."
Referring to his introduction of Panama's Rights of Nature law, Juan Diego Vásquez Gutiérrez, an independent—and, at age 27, the youngest—member of Panama's National Assembly, said Wednesday that "I am very happy to have been part of a fundamental legal instrument to end the metal mining industry in the country."
"This is one of many tangible effects that we must repeat in defense of the environment thanks to legislation like this," Vásquez added.

Rengifo Navas Revilla, secretary of the National Coordinator of Indigenous Peoples of Panama, said in a statement that "when all this nature is contaminated, we all die."
"Even the planet itself, even Mother Earth herself, dies," he added. "This is the principle that has been instilled in us and that is why we continue to fight."
Since Ecuador became the first country to constitutionally enshrine the Rights of Nature in 2008, more than 30 nations have taken similar actions to protect their environment.
The advocacy groups Leatherback Project and Earth Law Center noted Wednesday that the Panamanian ruling "comes after a similar blocking of a copper mine earlier this year in Ecuador, where a provincial court ruled a mining project violated the constitutional Rights of Nature in the Intag Valley of the tropical Andes."
Constanza Prieto Figelist, Latin America legal director at Earth Law Center—which provided input and expertise on the Rights of Nature as the law was being drafted—said of the Panama ruling that "this case demonstrates that under a Rights of Nature framework, governments must give stronger consideration to the health and intrinsic value of nature when overseeing mining and other activities, elevating the interests of species and ecosystems to a higher status alongside human interests."
"The case also shows that the Rights of Nature can be an effective tool to protect the environment where traditional laws might fall short," she added. "We hope this will inspire other governments to give nature a formal voice and rights in the legal system, as Panama did."
News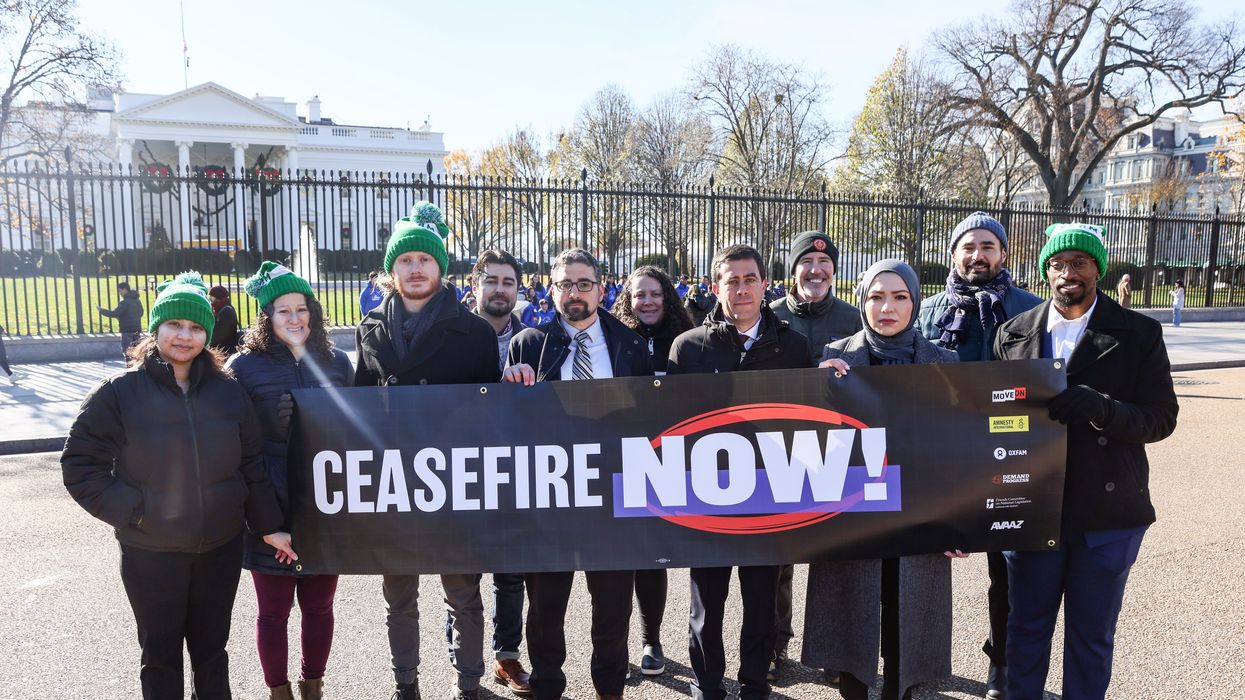 "Only a negotiated cease-fire can pave the way to addressing the current humanitarian crisis, the release of all hostages, and a long-term solution to this conflict," said one campaigner.
The groups delivered the petition signatures to the White House on Wednesday as the world waited to see if a temporary truce would be extended. The initial four-day pause in fighting—during which Hamas freed some hostages taken last month and Israel released some Palestinian prisoners—was extended by two days on Monday, but as of press time, no new announcement had been made.
U.S. Secretary of State Antony Blinken arrived in Tel Aviv on Wednesday to meet with Israel's leaders to discuss extending the temporary cease-fire, during which two American Israelis have been released—Liat Atzili and Abigail Idan, who is 4 years old.
"It's inspiring to see the groundswell of support across the United States for an immediate cease-fire to end Israel's reckless military campaign and the total blockade of Gaza."
"The resumption of fighting for Palestinians means that there's going to be no humanitarian aid that will be allowed into the Gaza Strip. It also means there are going to be more casualties and victims alongside mass destruction of civil infrastructure and civilian homes," Al Jazeera's Abu Azzoum reported from Khan Younis. Israeli forces have already killed 15,000 people in Gaza.
MoveOn executive director Rahna Epting said in a statement Wednesday that "civilians are being killed at what is being described a 'historic pace,' the majority women and children. The loss of life is devastating."
"We must end collective punishment, return those taken hostage or wrongfully imprisoned, and let in humanitarian aid," Epting argued. "The current pause is a good step toward what is needed: a permanent cease-fire."
Demand Progress foreign policy adviser Cavan Kharrazian similarly asserted that "there is no military solution to the current conflict, and further violence will continue to erode the safety and security of Palestinians and Israelis. Only a negotiated cease-fire can pave the way to addressing the current humanitarian crisis, the release of all hostages, and a long-term solution to this conflict."
Paul O'Brien, executive director of Amnesty International USA, pointed out that the nearly 1 million people who signed the petitions "represent just a fraction of Americans who support a cease-fire today, as reflected by poll after poll."
"They know that the way the Israeli military and Hamas have been engaging in this conflict is in violation of international law," he continued. "They know that a short pause in the fighting—even as it is welcome—will do nothing to assure that this will change."
Hassan El-Tayyab, FCNL's legislative director for Middle East policy, said that "it's inspiring to see the groundswell of support across the United States for an immediate cease-fire to end Israel's reckless military campaign and the total blockade of Gaza."
"It's critical that Congress and the administration listen to these voices, and the vast majority of U.S. citizens, who want an end to this nightmare before more innocent lives are lost," El-Tayyab added.
Since October 7, the list of members of Congress calling for a Gaza cease-fire has grown to about four dozen—though as The Intercept's Prem Thakker noted Wednesday, "a closer look at some lawmakers' statements raises questions about whether they are truly pushing for an end to the violence."

The United States already gives Israel $3.8 billion in annual military aid—and after the Hamas attack, Biden announced his "unwavering" support for the country and asked Congress for $14.3 billion for its war effort.
Oxfam's petition declares that "President Biden and Congress must help immediately de-escalate this dangerous situation; failing to do so will unwittingly place a U.S. seal of approval on the suffering that is sure to only deepen."
El-Tayyab highlighted that "every major humanitarian organization working in Gaza is pleading with the international community to reach an immediate cease-fire and open up aid access so they can continue their vital work in the Gaza Strip."
Throughout Israel's air and ground assault on Gaza, Israeli forces have waged what some critics have called a "war against hospitals," three-quarters of which have had to shut down. Margaret Harris, a World Health Organization spokesperson, warned Tuesday that "eventually we will see more people dying from disease than from bombardment if we are not able to put back together this health system."
The civil society groups behind the petitions shared the testimony of a practicing nurse volunteering in a Gaza hospital: "We heard nearby explosions. I rushed to assist, only to discover it was my own family. Witnessing their extraction was heartbreaking. Some lost their lives, while others were wounded. They started pulling out dead children from under the rubble in front of me."
"This is the hardest war Gaza has ever experienced. It's the first I witnessed such injuries: amputations, burns, unprecedented in its severity," the nurse added. "Dealing with 60 to 70 people simultaneously in an emergency room designed for 13 or 14 beds poses a challenge. We have no choice but to treat some on the floor."

As Oxfam's Scott Paul put it Wednesday: "We need a permanent cease-fire in order to enable humanitarian organizations to deliver much-needed aid safely and securely. More violence is not going to produce the safety and human rights that Israelis and Palestinians deserve, but it is sure to immeasurably deepen suffering in Gaza."
News