For Immediate Release
Contact:
Sam Husseini, (202) 347-0020; or David Zupan, (541) 484-9167
Healthcare and Unemployment
WASHINGTON
BRUCE DIXON
Dixon is managing editor of Black Agenda Report, which is one of the groups organizing the "Black is Back" gathering Saturday in D.C.
He recently wrote the piece "If Democrats Don't Pass Health Insurance Reform This Year, What Do We Lose? And What Do We Gain?" The article states: "In the year since the last election the president has made concession after concession to drug and insurance companies, to private health care providers and their lobbyists. The White House, establishment Democrats and their echo chambers in the corporate media and even on the Internet have worked hard to suppress voices advocating the simple, practical and elegant solution of single-payer Medicare For All, which is still favored in polls by a substantial majority of Americans." See polling results here.
Dixon adds: "As is highlighted today with the rising unemployment numbers, the principal fact of economic life in America these days is profound insecurity. Tens of millions cannot find work, and tens of millions more who have found it live with the everyday question of what will happen if one of them gets sick or injured. ...
"Medicare For All, single payer will enable the working poor to make a stand where they are, and lift themselves out of poverty by organizing for and demanding a greater share of the wealth they produce every day. By removing the dread of financial ruin due to illness or injury, single payer will enable working people to fight for their own collective economic uplift. That's why the struggle for guaranteed and universal single payer, Medicare For All is the real deal right now, the key to unlocking a better life for millions in the near future, a concrete focus of the civil and human rights movements of our time."
Background: See "Co-Authors Question Stand Alone Vote on National Single Payer" by Dennis Kucinich and John Conyers.
A nationwide consortium, the Institute for Public Accuracy (IPA) represents an unprecedented effort to bring other voices to the mass-media table often dominated by a few major think tanks. IPA works to broaden public discourse in mainstream media, while building communication with alternative media outlets and grassroots activists.
LATEST NEWS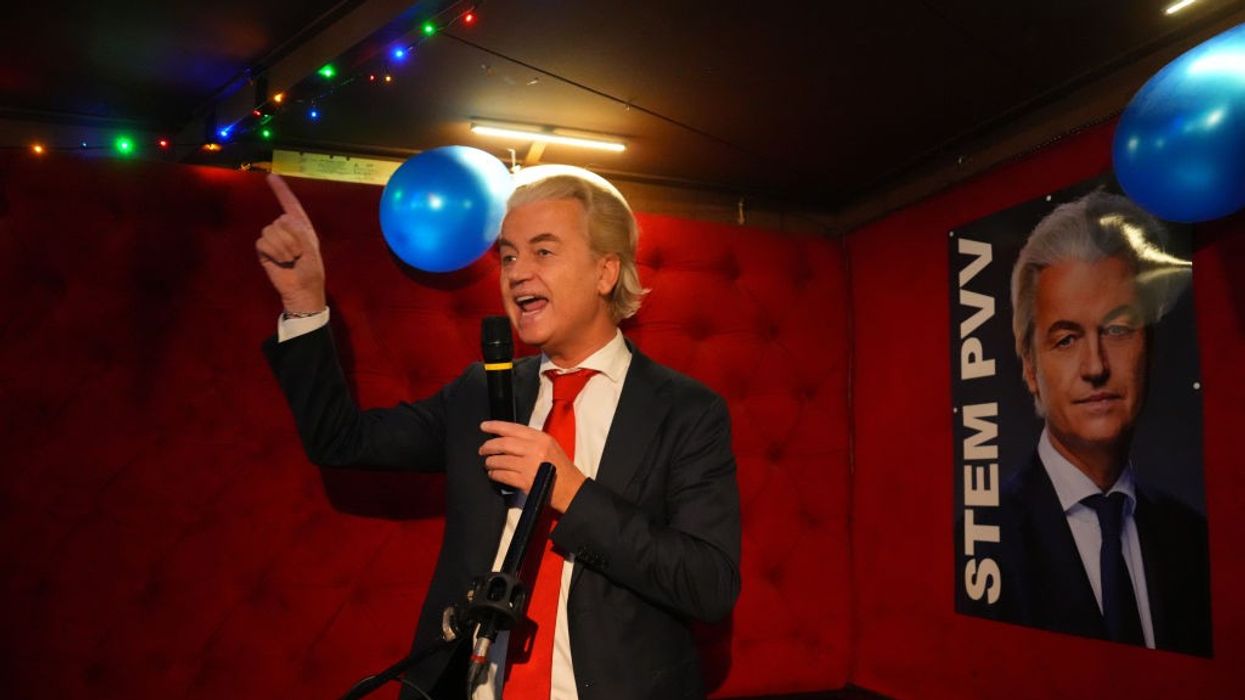 The outspoken Dutch xenophobe often compared to Donald Trump is poised to become the next prime minister of the Netherlands if he can cobble together enough support to form a coalition government.

National election results in the Netherlands on Wednesday sent shockwaves across Europe as "hateful far-right Islamophobe" Geert Wilders and his party have won the most seats in parliament and positioned Wilders himself to become the nation's next prime minister.
Wilders, a xenophobic nationalist who is regarded as the "Dutch Donald Trump—but worse" by many of his critics, has for years spewed anti-immigrant rhetoric and speaks openly about making the Netherlands a home only for those he considers pure Dutchmen.

In his victory remarks to supporters following the results, Wilders vowed to end the "tsunami of immigration" he claims is ruining the country and make sure "the Netherlands is for the Dutch again" as his Party for Freedom (PVV)—which won 35 seats in the 150-seat lower house of parliament—would deliver "hope" once again to Holland.
Miqdaad Versi, a spokesperson for the U.K.-based Muslim Council, said in a series of posts overnight that it's important to understand just how noxious Wilders' ideological positions are and the threat he poses.
"Wilders is not merely 'anti-Islam' as described by the BBC, Reuters, LBC & The Telegraph," said Versi, referring to prominent coverage of the election results. "This implies he's just a critic of the teachings of Islam. Actually he's a hateful far-right Islamophobe who targets ordinary Muslims."
In his victory remarks late Wednesday, Wilders immediately called for immigration restrictions and an end to protections for asylum-seekers. As an appeal to less stridently anti-Muslim parties in the political center, which he must try to win over to form a government, Wilders said he would not be targeting—at least for now—mosques, Islamic schools, or other institutions that he has previously said pose a threat.

In a sign that the PVV's win in the Netherlands and Wilders' ascendance was being well received by Europe's other xenophobic reactionary leaders, Hungary's far-right President Viktor Orbán responded to the news by declaring, "The winds of change are here."
Progressives in the Netherlands, Europe, and beyond, meanwhile, shuttered.
"Yesterday, human rights lost in the Netherlands with the victory of Geert Wilders' Freedom Party (PVV), known for promoting racist policies, undermining the rule of law and the constitution," said Agnes Callamard, secretary general of Amnesty International, on Thursday. "We will continue to fight for human rights. For everyone."
"The distress and fear are very great," said Habib el-Kaddouri, a member of a Dutch-Moroccan association in Holland, told local Dutch media. "Wilders is known for his ideas about Muslims and Moroccans. We are afraid that he will portray us as second-class citizens."
Wajahat Ali, a columnist for The Daily Beast in the U.S., responded by saying that after tracking his' political career and rhetoric for over a decade, he knows Wilders as a person who "espouses all the hateful and bigoted talking points of the far right both here and in Europe. He's been their darling, ditto for white Christian nationalists. His ascendancy is a disaster for multicultural democracies."
Despite the concerns and fears, Wilders' ability to actually form a ruling coalition with other parties is far from assured.
"While Geert Wilders' PVV have the highest number of individual seats, let's be real," said Julian Hoez, a political consultant in the E.U. "They won't be able to form a government, and they'll have limited influence over Dutch politics with 37 seats out of 150, which is far from the decisive, apocalyptic victory everyone is claiming."
News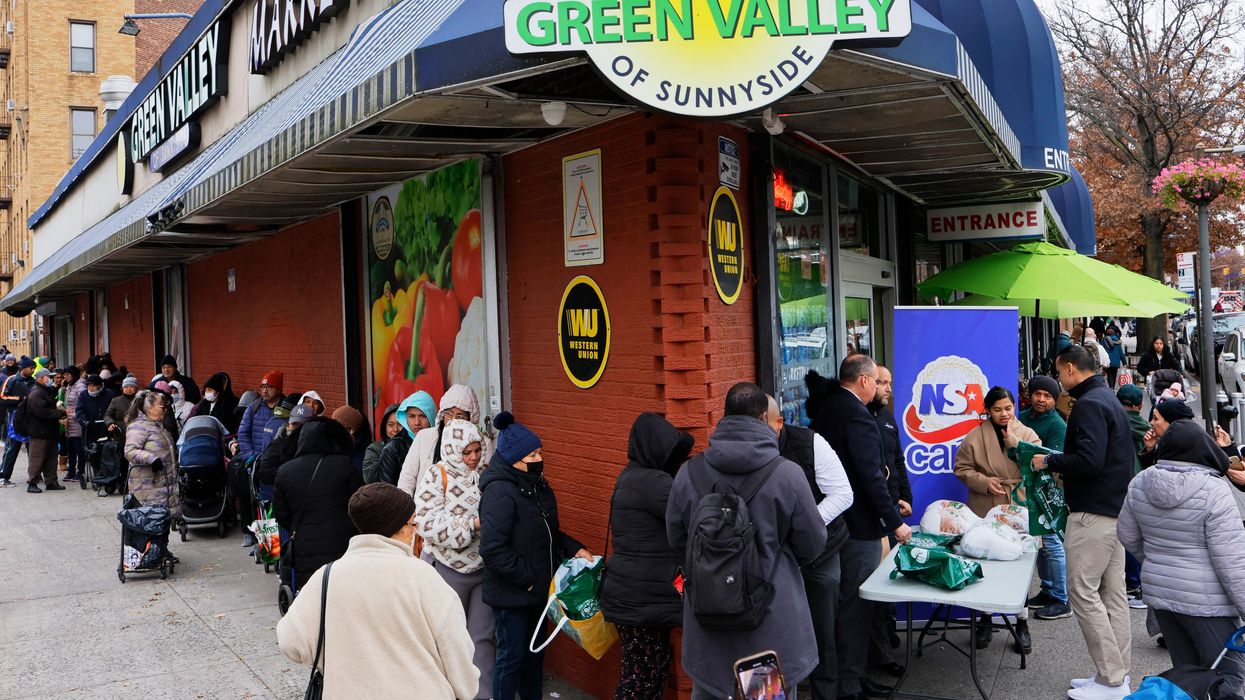 "Effective federal public policies over the previous few years were spectacularly successful in stemming U.S. hunger, but as many of those policies have been reversed, hunger has again soared," said one expert.
Highlighting the end of a yearslong trend of declining hunger in the United States due largely to federal policies like the expanded Child Tax Credit and universal school meals, a report published Wednesday details how the expiration of these programs has fueled a resurgence in food insecurity.
Hunger Free America's (HFA) 2023 National Hunger Survey Report found that "the number of Americans without enough food over a seven-day period was an average of 40% higher in September and October of 2023 than in September and October of 2021."
"Over that time period, the number of people without enough food increased from 19.7 million to 27.8 million nationwide," HFA noted, attributing the rise in hunger to the expiration of the expanded Child Tax Credit and universal school meals.
"Many federal benefit increases have either gone away entirely, or are being ramped down, even as prices for food, rent, healthcare, and fuel continue to soar," the advocacy group added.
Among the report's other findings:
The states with the highest rates of food-insecure children were Delaware (21.4%), Nebraska (21.0%), Texas (20.7%), Georgia (20.0%), Kentucky (19.7%), and Louisiana (19.7%);
Nationally, 9.1% of employed adults in the U.S. lived in food-insecure households during the three-year time period;
The states with the highest rates of food insecurity among employed adults were Arkansas (13.7%), Texas (13.4%), Louisiana (12.5%), South Carolina (12.5%), and Oklahoma (12.4%);
7.6% of older Americans, defined as people 60 years and older, lived in food-insecure households;
Louisiana had the highest rate of food insecurity among older Americans at 13.9%, followed by Mississippi (12.7%), the District of Columbia (12.6%), West Virginia (11.0%), and Oklahoma (10.4%); and
The states with the lowest rates of food insecurity were New Hampshire (6.1%), Minnesota (7.3%), Vermont (7.7%), Colorado (8.4%), and North Dakota (8.6%).
"This report should be a jarring wake-up call for our federal, state, and local leaders," HFA CEO Joel Berg said in a statement.
The new HFA report follows federal data released in November showing the U.S. child poverty rate more than doubled in 2022 compared to the previous year, thanks in large part to the expiration of the expanded Child Tax Credit. Under the policy—part of the American Rescue Plan signed into law by President Joe Biden in March 2021—eligible families received up to $300 per child each month.
However, the program expired at the end of 2021 as congressional Republicans and right-wing Democratic Sen. Joe Manchin of West Virginia opposed its extension. Manchin infamously argued that parents would use the money to buy drugs instead of food for their children.
Meanwhile, congressional Republicans last year blocked the extension of a pandemic-era policy under which public schools offered free breakfast and lunch to tens of millions of children.

"Effective federal public policies over the previous few years were spectacularly successful in stemming U.S. hunger, but as many of those policies have been reversed, hunger has again soared," Berg said on Wednesday. "At exactly the moment when so many Americans are in desperate need of relief, many of the federally funded benefits increases, such as the Child Tax Credit and universal school meals, have expired, due mostly to opposition from conservatives in Congress."
"Just as no one should be surprised if drought increases when water is taken away, no one should be shocked that when the government takes away food, as well as money to buy food, hunger rises," Berg added. "Our political leaders must act to raise wages and provide a strong safety net, so we can finally end U.S. hunger and ensure that all Americans have access to adequate, healthy food."
News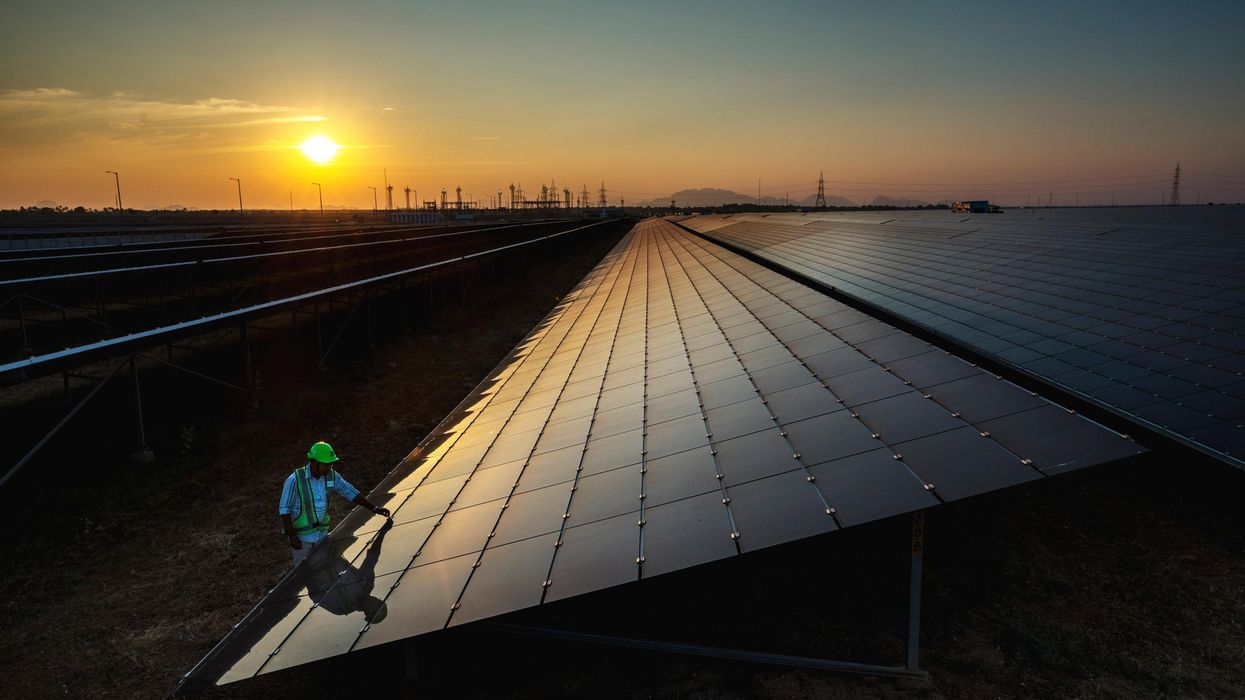 Recommendations include tripling renewable energy capacity by 2030, phasing out fossil fuels by 2050, and providing the Global South with the means to fund its energy transition.
As world leaders prepare to gather at the COP28 global climate talks next week in Dubai, 350.orgpublished a report Wednesday detailing how negotiators can draft a just and effective global transition to renewable energy.
One of the main agenda items at COP28 will be a worldwide target for renewable energy. Yet this target must be accompanied by a 2050 phaseout of fossil fuels and funds to speed the transition in the Global South, 350.org concluded.
"A renewable energy target at COP28 will only constitute a meaningful step towards climate justice if it is accompanied by a clear roadmap for implementation that includes equitable mechanisms and commitments in the financial and policy realms, as well as an urgent and equitable phaseout of fossil fuels," Andreas Sieber, 350.org associate director of global policy, said in a statement. "Without these, any agreement would represent a hollow, 'easy win' for the COP28 President Al Jaber, and risk allowing polluting countries to hide behind a renewables goal while continuing to emit fossil fuels."
"To achieve the proposed global renewable energy target by 2030, massive growth in financial investment into renewable energy is required in the Global South outside China, from both private and public sources."
The report, fully titled Power Up for Climate Justice: Financing and Implementing a 1.5°C-Aligned Global Renewables Target, also details how the target itself can be meaningful.
"For the global renewable energy target at COP28 to address global energy needs and redress fossil fuel dependency, it must include commitments to triple fair, safe, and clean renewable energy capacity by 2030 and deploy 1.5 terawatts per year thereafter, double energy efficiency by 2030, and completely phaseout of fossil fuels by 2050," said 350.org executive director May Boeve.
The report further argues that the target should be based on demonstrably effective technologies like wind and solar power.
"There is no room for dangerous distractions and unproven technologies such as Carbon Capture and Storage, nuclear energy, ammonia co-firing, which do not address the root causes of the climate crisis, and often cannot be implemented at scale," the report authors wrote.
They also emphasized the importance of providing poorer nations with the funds to scale up their renewable energy buildouts.
"To achieve the proposed global renewable energy target by 2030, massive growth in financial investment into renewable energy is required in the Global South outside China, from both private and public sources," Sieber said. "Barriers such as debt and the inequitable cost of capital in the Global South, significantly hinder investment in renewable energy."
Only $260 billion was invested in the Global South in 2022, the report notes, even though the International Energy Agency has said that $1.9 trillion is needed per year by 2030 in order to limit global heating to 1.5°C while providing energy to around 5 billion people—an amount of finance seven times 2022 levels.
The report offers several suggestions for how that funding can be realized, including canceling debt; sending the Global South $100 billion a year in concessional finance, providing it with $200 billion a year in grants; and channeling money away from fossil fuels by taxing profits, shifting subsidies and investments from fossil fuel projects to renewables, taxing wealth, issuing more Special Drawing Rights from the IMF, and using existing infrastructure funds.
The report comes at a crucial time for climate action. This year, 2023, is likely to be the hottest year in 125,000 years, and the U.N. concluded this week that current pledges put the world on course for 2.9°C of warming beyond preindustrial levels. But 350.org argues it's not too late to limit warming with ambitious action.
"The Paris Agreement is the landmark multilateral framework to stop climate change, and COP28—which includes the Global Stocktake of whether the world is on track to meet this target—is a pivotal moment to achieve its intended goal: limiting global heating to no more than 1.5°C," the report authors said.
News