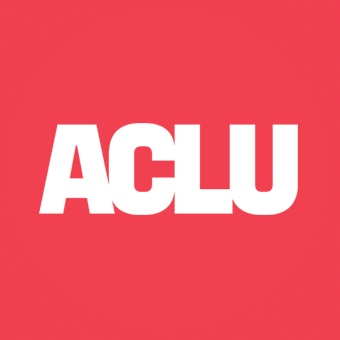 For Immediate Release
October, 23 2009, 01:17pm EDT
American Civil Liberties Union Mourns Passing Of Former Executive Director Jack Pemberton
The
American Civil Liberties Union mourns the passing of John de J. "Jack"
Pemberton. Pemberton served as the national Executive Director of the
ACLU from 1962-70, a period marked by the peak of the civil rights
struggle and the escalation of the Vietnam War.

NEW YORK
The
American Civil Liberties Union mourns the passing of John de J. "Jack"
Pemberton. Pemberton served as the national Executive Director of the
ACLU from 1962-70, a period marked by the peak of the civil rights
struggle and the escalation of the Vietnam War.

Under Pemberton's leadership, the ACLU helped achieve victories in landmark cases such as Loving v. Virginia, which legalized interracial marriage; Gideon v. Wainwright, which ensured felony defendants have the right to an attorney at trial; and Griswold v. Connecticut,
which found that Americans have a constitutional right to privacy.
Based on these successes and others, the ACLU doubled its membership
under his stewardship.
Pemberton was keenly aware of the
role of the ACLU during the turbulent years in which he led the
organization. In 1963, he wrote in the official newsletter:
"When parts of our nation are
responding to a revolution in race relations with an almost
totalitarian repression of ideas, when new reactions to the
complexities of an increasingly industrialized and urbanized society
are manifesting themselves in more sophisticated forms of intolerance
to dissent and unorthodoxy, and when fear-bred responses to constant
international tension are threatening liberty everywhere - the need for
putting sinew and muscle on the structure of a firm and steadfast
guardian of the American ideal is unprecedented."
Pemberton followed his tenure at the
ACLU as a distinguished leader in labor and employment law, serving as
Acting General Counsel for the U.S. Equal Employment Opportunity
Commission (EEOC) and the EEOC Regional Attorney in San Francisco.
Pemberton taught law at the University of San Francisco (USF) School of
Law from 1973-88, specializing in torts and employment law. He had
previously taught at Duke University and New York University. Since
2005, USF has hosted an annual Pemberton Lecture on Workplace Justice
in his honor.
A passionate advocate of nonviolence
and equality for all, Pemberton was instrumental in establishing the
ACLU as a truly national organization through some of the most critical
years in American civil rights history. We honor his legacy by
continuing to be "a firm and steadfast guardian of the American ideal"
- a call that rings just as true today as it did nearly half a century
ago.
The American Civil Liberties Union was founded in 1920 and is our nation's guardian of liberty. The ACLU works in the courts, legislatures and communities to defend and preserve the individual rights and liberties guaranteed to all people in this country by the Constitution and laws of the United States.
(212) 549-2666
LATEST NEWS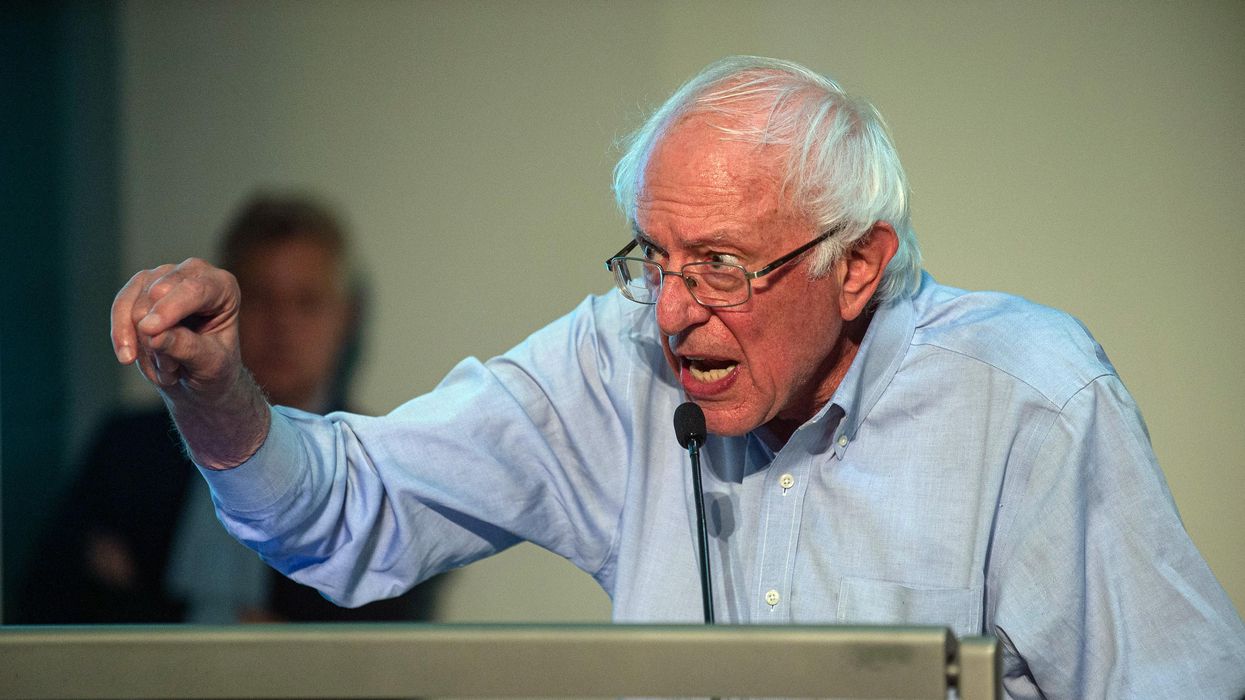 The Vermont Independent called for expanding popular federal programs rather than allowing a bipartisan commission to propose devastating cuts.
Progressive Sen. Bernie Sanders on Saturday slammed right-wing Democratic Sen. Joe Manchin's widely panned proposal to explore slashing Social Security benefits as part of a debt ceiling pact with Republicans.
During a Wednesday interview with Fox Business at the ruling class' annual gathering in Davos for the World Economic Forum, Manchin (W.Va.) suggested that members of both major U.S. political parties "work together" on solving the nation's so-called "debt problem." Although Manchin didn't explicitly demand cuts to Social Security and expressed opposition to GOP calls for privatization, he singled out the program for intervention, saying that Congress "should be able to solidify it."
Given that Republicans are currently threatening to tank the global economy unless Democrats agree to reduce social spending, Manchin's unilateral call for appeasement has set off alarm bells.
What's especially concerning to progressives is that the corporate-backed lawmaker is the co-author, alongside Sen. Mitt Romney (R-Utah), of the TRUST Act, a bill that would enable Congress to create bipartisan "rescue" committees for the nation's trust fund programs—including Social Security and Medicare—and give the panels 180 days to develop "legislation that restores solvency and otherwise improves each." Measures put forth by the bipartisan committees would be fast-tracked for floor votes in both chambers of Congress, with no amendments allowed.
Not only is Social Security legally incapable of adding to the federal deficit, but budget analysts have shown that the program is financially sound, requiring just a small increase in payroll tax revenue to ensure full benefits beyond 2035.
"The last thing we need is another commission to propose cuts to Social Security and Medicare," Sanders (I-Vt.) tweeted Saturday.
"The disastrous Bowles-Simpson 'fiscal commission' came very close to passing Congress some ten years ago. Bernie led the fight against it. It was a bad idea then, it is an even worse idea now."
"The last time we had one, it proposed cutting Social Security benefits for middle-class seniors by up to 35% and cutting tax rates for billionaires," Sanders added, referring to the notorious 2010 Bowles-Simpson Commission, on which Manchin and Romney's bill is based.
Former Clinton White House Chief of Staff Erskine Bowles and former Republican Sen. Alan Simpson (Wyo.), the Obama-appointed chairs of that commission, both endorsed the TRUST Act in 2021, calling it "important and vital."
Historically informed critics, by contrast, have condemned Manchin and Romney's legislation as "a Trojan horse to cut seniors' benefits."
Sanders' staff director Warren Gunnels provided additional historical context on Saturday, linking to a 2012 essay in which the senator explained that in addition to seeking to cut wealthy households' tax rates and current retirees' Social Security benefits, the panel also proposed raising the retirement age to 69 years, slashing veterans' benefits, increasing interest rates on student loans, and eliminating 450,000 federal jobs, among other harmful measures.
\u201cThe last "fiscal commission" proposed:\n\u2b07\ufe0f450,000 jobs\n\u2b07\ufe0fSocial Security by 35% for the middle class\n\u2b07\ufe0fSocial Security by $1,000 for 85-year olds\n\u2b07\ufe0fVeterans benefits by $2,260 for 65-year olds\n\u2b07\ufe0fTax rates for 1%\n\u2b06\ufe0fStudent loan rates\n\nNo. We don't need another cat food commission.\u201d

— Warren Gunnels (@Warren Gunnels) 1674321181
On Wednesday, Manchin asserted that his and Romney's bill could be used to secure a debt ceiling deal with House Republicans, many of whom have vowed to not lift the country's borrowing cap—an arbitrary and arguably unconstitutional figure set by Congress—unless Democrats agree to shred vital social programs.
The U.S. government's outstanding debt officially hit the statutory limit of $31.4 trillion on Thursday, at which point the Treasury Department started repurposing federal funds.
Treasury Secretary Janet Yellen told congressional leaders last week that "the use of extraordinary measures enables the government to meet its obligations for only a limited amount of time," possibly through early June. She implored Congress to "act in a timely manner to increase or suspend the debt limit," warning that "failure to meet the government's obligations would cause irreparable harm to the U.S. economy, the livelihoods of all Americans, and global financial stability."
Notably, Capitol Hill's deficit hawks do not support reducing the Pentagon's ever-expanding budget or hiking taxes on the rich to increase revenue. On the contrary, the first bill unveiled by House Republicans in the 118th Congress seeks to rescind most of the Inflation Reduction Act's roughly $80 billion funding boost for the Internal Revenue Service—a move that would help wealthy households evade taxes and add an estimated $114 billion to the federal deficit.
A 2011 debt ceiling standoff enabled the GOP to impose austerity and also resulted in a historic downgrading of the U.S. government's credit rating, but the country has never defaulted on its debt. Economists warn that doing so would likely trigger chaos in financial markets, leading to millions of job losses and the erasure of $15 trillion in wealth.
Knowing that a painful recession is at stake, "many leading Republican lawmakers are demanding that their new House majority use the debt limit as leverage to force the Biden administration to accept sweeping spending cuts that Democrats oppose, creating an impasse with no clear resolution at hand," the Washington Postreported last week.
Manchin claims to have spoken "briefly" with House Speaker Kevin McCarthy (R-Calif.) about the TRUST Act. Asked about the White House's opposition to attaching any policy concessions to a debt ceiling agreement, Manchin said he believes the Biden administration will change its tune and negotiate with Republicans.
Alex Lawson, the executive director of Social Security Works, toldCommon Dreams earlier this week that President Joe Biden should "reiterate his commitment to only signing a clean debt limit increase, and specifically rule out a closed-door commission designed to cut Social Security."
Lawson's sentiment was echoed Saturday by Gunnels, who wrote on social media: "I'm old enough to remember that the disastrous Bowles-Simpson 'fiscal commission' came very close to passing Congress some ten years ago. Bernie led the fight against it. It was a bad idea then, it is an even worse idea now."
Rather than allowing a bipartisan commission to propose devastating cuts, Sanders argued, "we must instead expand Social Security."
Surveys have shown that U.S. voters are strongly opposed to cutting or privatizing Social Security and want Congress to expand the program. Last year, Sanders and Sen. Elizabeth Warren (D-Mass.) led the introduction of the Social Security Expansion Act, which would lift the cap on income that is subject to the Social Security payroll tax and boost the program's annual benefits by $2,400.
According to Data for Progress, 76% of likely voters—including 83% of Democrats, 73% of Republicans, and 73% of independents—support imposing, for the first time, payroll taxes on individuals with annual incomes above $400,000 per year to fund an expansion of Social Security benefits. Currently, only those making $147,000 or less are subject to the Social Security payroll tax.
News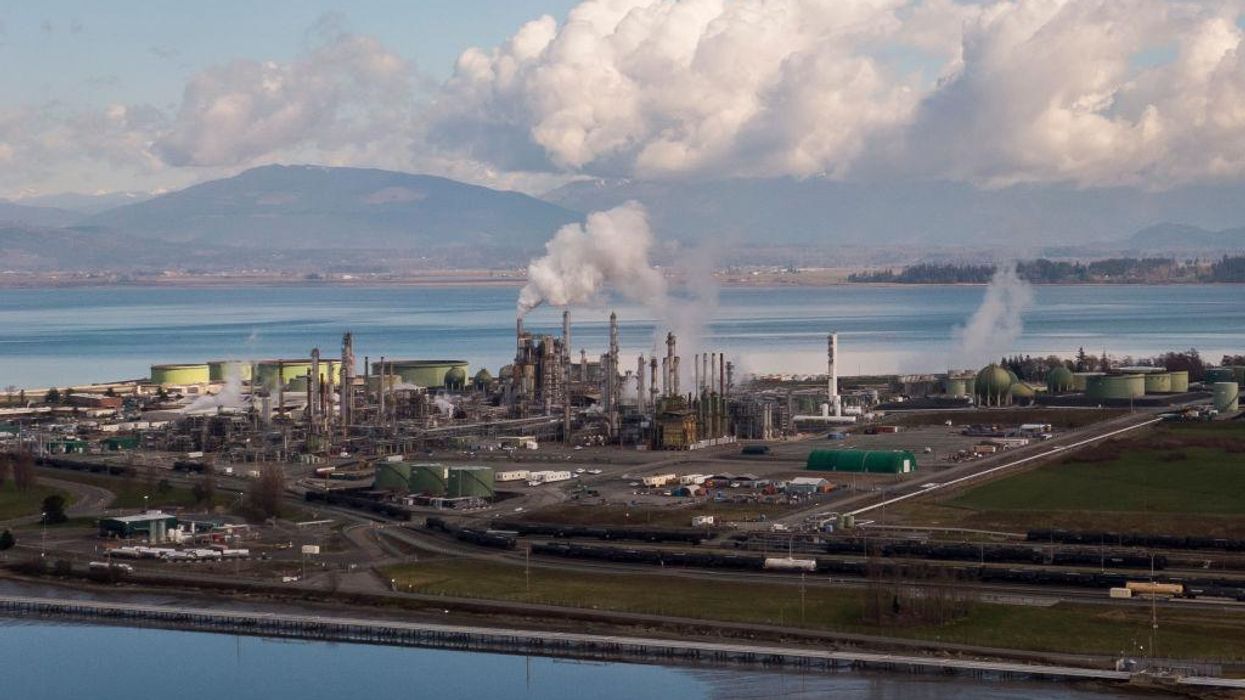 "Given the glacial pace of change in the EPA's plan, states should not wait for the EPA to act on PFAS," argued one advocate.
The U.S. Environmental Protection Agency's newly released plan for regulating wastewater pollution, including discharges of toxic "forever chemicals," is far too muted and sluggish, a progressive advocacy group warned Friday.
The Environmental Working Group (EWG) detailed how the EPA's long-awaited Effluent Guidelines Program Plan 15 postpones sorely needed action to rein in widespread contamination from per- and polyfluoroalkyl substances (PFAS). PFAS are a class of hazardous synthetic compounds widely called forever chemicals because they persist in people's bodies and the environment for years on end.
"We are deeply concerned that the EPA is punting on restrictions for PFAS polluting industries like electronics manufacturers, leather tanners, paint formulators, and plastics molders," said Melanie Benesh, EWG's vice president of government affairs. "We are also alarmed that the EPA's proposed restrictions on some of the most serious PFAS polluters—chemical manufacturers and metal finishers—are also getting delayed, with no timeline for when those limits will be final, if ever."
According to EWG, the EPA's new plan "falls short" of its pledge, made in the agency's 2021 PFAS Strategic Roadmap, to "get upstream" of the forever chemicals problem.
As the watchdog summarized:
The EPA confirmed that by spring 2024—nine months later than previously scheduled—it will release a draft regulation for manufacturers of PFAS or those that create mixtures of PFAS. The agency will do the same for metal finishers and electroplaters by the end of 2024, a delay of six months. The EPA did not announce when final rules will be available for these industries.

The agency will also begin regulating PFAS releases from landfills but did not provide a timeline for a final rule.

For all other industrial categories the EPA considered for PFAS wastewater limitation guidelines, the new plan includes more studies and monitoring, likely delaying restrictions on these sources indefinitely.

"Polluters have gotten a free pass for far too long to contaminate thousands of communities. Now they need aggressive action from the EPA to stop PFAS at the source," Benesh said. "But the EPA's plan lacks the urgency those communities rightfully expect."
"Although it's a good thing the EPA is committing to address PFAS discharges from landfills—a source of pollution that disproportionately affects vulnerable communities—it's also frustratingly unclear from EPA's plan when, if ever, those limits will materialize," said Benesh.
"Given the glacial pace of change in the EPA's plan," she added, "states should not wait for the EPA to act on PFAS."
"Polluters have gotten a free pass for far too long to contaminate thousands of communities. Now they need aggressive action from the EPA to stop PFAS at the source."
Scientists have linked long-term PFAS exposure to numerous adverse health outcomes, including cancer, reproductive and developmental harms, immune system damage, and other negative effects.
A peer-reviewed 2020 study estimated that more than 200 million people in the U.S. could have unsafe levels of PFAS in their drinking water. The deadly substances—used in dozens of everyday household products, including ostensibly "green" and "nontoxic" children's items, as well as firefighting foam—have been detected in the blood of 97% of Americans and in 100% of breast milk samples. Such findings stem from independent analyses because the EPA relies on inadequate testing methods.
Researchers have identified more than 57,000 sites across the U.S. contaminated by PFAS. Solid waste landfills, wastewater treatment plants, electroplaters and metal finishers, petroleum refiners, current or former military facilities, and airports are the most common sources of forever chemical pollution. Industrial discharges of PFAS are a key reason why 83% of U.S. waterways contain forever chemicals, tainting fish nationwide.
Some congressional Democrats are "trying to force the EPA to address PFAS more quickly," EWG noted.
The Clean Water Standards for PFAS Act, introduced in 2022 by Rep. Chris Pappas (D-N.H.) and Sen. Kirsten Gillibrand (D-N.Y.), would require the EPA to establish PFAS wastewater limitation guidelines and water standards for PFAS in nine distinct industry categories by the end of 2026.
News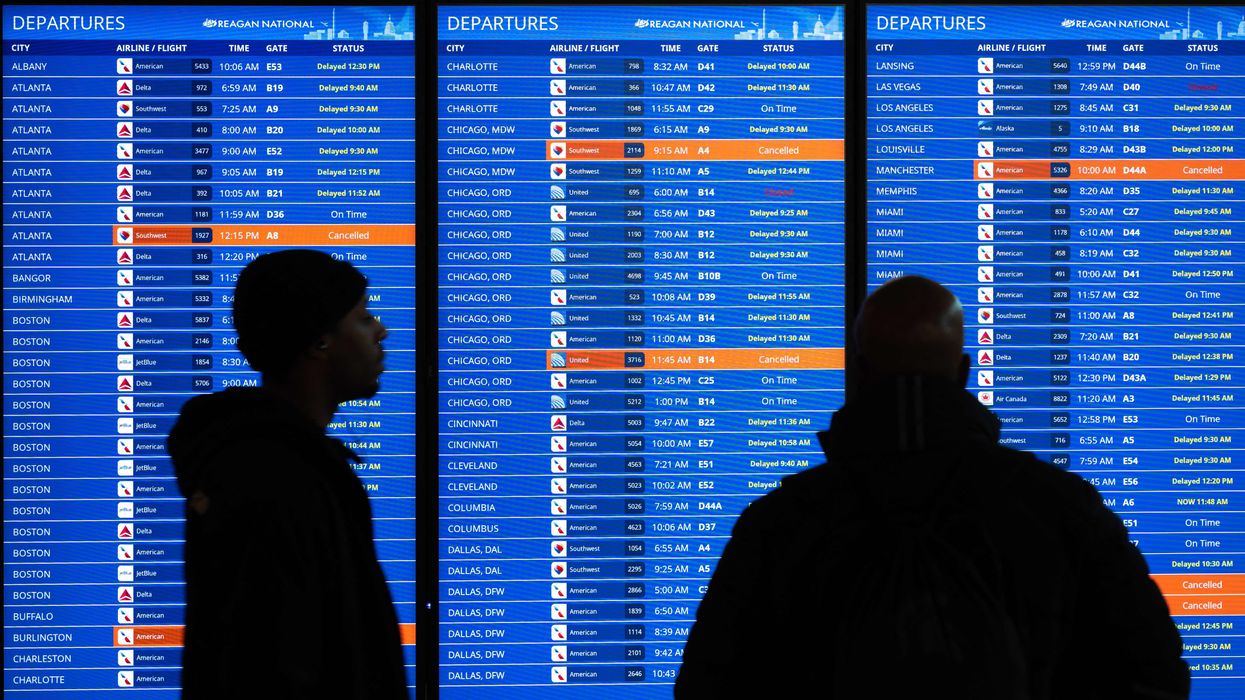 Facing criticism over recent air travel issues, the U.S. Transportation Department is reportedly investigating whether three airlines have scheduled flights they know they can't staff.

Three unidentified U.S. airlines are under federal investigation for potentially scheduling flights the companies know they ultimately will not be able to fly—a revelation The New York Timesreported Friday, just two days after United Airlines' CEO suggested competitors are doing just that.
The Times focused largely on how air travel issues—including mass cancellations from a winter storm during the holidays last month and a Federal Aviation Administration (FAA) system outage that grounded air traffic across the country last week—have put Pete Buttigieg, the head of the U.S. Department of Transporation (DOT), "in the hot seat."
"Unfortunately, the Department of Transportation has been hesitant to hold the airlines accountable," John Breyault, the vice president for public policy at the National Consumers League (NCL), told the newspaper. "While Secretary Buttigieg has talked a tough talk, particularly over the past few months, we have yet to see that really translate into action."
"Imagine any other industry taking money for products it can't deliver."
In an interview, Buttigieg defended his record—which has included a proposed rule on refunds, an online dashboard of airlines' commitments, and nearly $16 million in fines—saying that "in terms of what we've done and in terms of what we're doing, I would stack up our work in this area against anybody who's taken this on at the federal level."

According to the report, "The department is also investigating three U.S. airlines over whether they scheduled flights that they did not have enough staff to support, a spokeswoman for the agency said, though she declined to identify the airlines."
That reporting came after United CEO Scott Kirby said Wednesday during an earnings call with investors that "there are a number of airlines who cannot fly their schedules. The customers are paying the price. They're canceling a lot of flights. But they simply can't fly the schedules today."
\u201cThe CEO of United Airlines accused his rivals of committing fraud by selling tickets on flights they know they can't service. This statement by an airline CEO about the industry's problems is so much harsher than anything Pete Buttigieg has said or done. https://t.co/dW7SAt6Ji8\u201d

— Matt Stoller (@Matt Stoller) 1674141074
"What happened over the holidays wasn't a one-time event caused by the weather, and it wasn't just at one airline. One airline got the bulk of the media coverage, but the weather was the straw that broke the camel's back for several," Kirby said—presumably referring to Southwest Airlines, which faced intense scrutiny for canceling nearly 17,000 flights partly due to issues with its personnel management system that employees and other critics claim could have been avoided with technological upgrades.
United has recognized "the new reality and the new math for all airlines," Kirby asserted, while warning that "our industry has been changed profoundly by the pandemic and you can't run your airline like it's 2019 or you will fail."
"We believe any airline that tries to run at the same staffing levels that it had pre-pandemic is bound to fail and likely to tip over to meltdown anytime there are weather or air traffic control stresses in the system," the CEO said, highlighting the need for investments in not only staff but also technology and infrastructure.
Kirby's comments about competitors' alleged scheduling practices caught the attention of the anti-monopoly think tank American Economic Liberties Project (AELP), which described them as "the airlines' open admission of fraud."

\u201cAnd yet, crickets from @USDOT.\n\nJust one more reason why we need to eliminate federal preemption and allow state AGs, courts, and consumers to crack down on the airlines themselves.\nhttps://t.co/4f3hHswTyR\u201d

— American Economic Liberties Project (@American Economic Liberties Project) 1674146197
"What an extraordinary admission," William McGee, senior fellow for aviation and travel at AELP and author of the airline industry exposé Attention All Passengers, tweeted Thursday.
For months, the AELP has asked the DOT "to investigate IF airlines were accepting bookings (and $!) for flights they couldn't operate," he said. "Now United's CEO confirmed it. Imagine any other industry taking money for products it can't deliver."
"Ironically, we're learning more about canceled flights from the airlines than we are from the Department of Transportation," McGee toldThe Lever, while also pointing out that the DOT's "complaint database showed that United was by far the worst offender on unpaid refunds dating back to the earliest days of Covid in 2020."
As The Lever reported Friday:
Complaints against the major U.S. airlines, including United, more than tripled in the first year of the Covid-19 pandemic, as companies routinely sold tickets for flights they could not adequately staff, canceled the flights at the last minute, and slow-walked or withheld refunds while collecting billions in taxpayer bailout dollars.

The behavior prompted 34 attorneys general to write to Buttigieg on December 16 asking his agency to "require airlines to advertise and sell only flights that they have adequate personnel to fly and support, and perform regular audits of airlines to ensure compliance and impose fines on airlines that do not comply."

The letter, submitted as part of the rulemaking process for a still-delayed consumer protection proposal at Buttigieg's agency, also noted that the proposed rule "includes no provision that would correct this practice and that would prevent airlines from advertising and selling tickets for flights that they cannot reasonably provide."
In an opinion piece published by the Times last week in the wake of the FAA outage, the AELP's McGee traced U.S. air travel troubles back much further than the ongoing pandemic, explaining that although "the airlines were initially regulated in the 1930s for many reasons, some of which should be familiar to us in 2023," Congress passed the Airline Deregulation Act (ADA) in 1978.
"One could envision a wholesale return to the pre-1978 era, with route-setting and price-setting brought back into public hands entirely," he wrote, noting that the AELP "has proposed more FAA funding and eliminating federal preemption, which would allow consumers and state officials to sue airlines over consumer and safety rules."
"My colleagues and I are, however, eager to take part in a national conversation about regulating the industry more comprehensively," McGee added. "We haven't had a national discussion for 44 years about the state of air travel. It's time to have that discussion, rather than playing whack-a-mole with each crisis as it arises."
Buttigieg "has taken a tougher line than most of his predecessors" at the DOT, the NCL's Breyault tweeted Friday, while sharing his critical remarks to the Times. "But he is hamstrung by the ADA, which gives airlines far too much power. To truly protect passengers, Congress needs to act."
News
SUPPORT OUR WORK.
We are independent, non-profit, advertising-free and 100%
reader supported.