For Immediate Release
Contact:
Dylan Blaylock,202.408.0034 ext. 137,dylanb@whistleblower.org
D.C. Firefighter Terminated For Whistleblowing
WASHINGTON
Firefighter
Vanessa Coleman, previously a Captain with the D.C. Fire &
Emergency Medical Services (F&EMS) Department and a 19-year veteran
of the force, has been fired from her position as a result of blowing
the whistle on wrongful actions taken against her by Department
officials.
"We
all should have the right to free speech and justice, but this is an
unjust action that I will continue to fight," stated Coleman. "High
level fire department officials, including Chief Dennis Rubin and Asst.
Chief Brian Lee, have sought to make me a scapegoat for a fire which
was proven not to be my fault in any way and have retaliated against me
for challenging their orders that I submit to psychological testing. I
have been terminated for blowing the whistle and standing up for what
is right."
The
termination follows last month's decision by the Fire Trial Board, the
Department's so-called internal justice system, that Coleman be demoted
two ranks for failing to acknowledge that an ordered, retaliatory
psychological evaluation, or "fitness for duty" exam, was voluntary. Lawyers for Coleman assert that the order to undergo psychological testing was illegal.
"The
'Trial Board' is a farce, and does not mirror any sort of proper
hearing procedure whatsoever," stated Richard Condit, GAP Senior
Counsel and co-counsel for Coleman. "It was obvious from the beginning
that the decision would not be favorable - this is a hearing process under
the direct control of Asst Chief Brian Lee and the Fire Chief. If you
are blowing the whistle on senior management at the Fire Department you
don't stand a chance of surviving the rigged Trial Board process."
added Condit.
Although
Coleman reported several times as ordered for the psych test, a
particularly heinous form of retaliation, she would not submit to
official pressure to state that she was taking the test "voluntarily."
"Its
common sense that if you are ordered to take a test, you can't
truthfully state that you're taking it voluntarily," stated Karen Gray,
GAP General Counsel and co-counsel for Coleman. "She is being penalized
through departmental actions that are clearly unsupported by law. Our client did nothing wrong - she told the truth about a botched investigation, and now she's paying an unacceptable price."
There
are multiple problems with the fitness-for-duty system involving FEMS.
Notably, Department officials are able to order firefighters to be
tested on a whim, and firefighters may not be given access to the
results and supporting information.
After the decision came down from the Fire Trial Board ordering a
two-rank demotion, Coleman's superiors again ordered her for a
fitness-for-duty examination, which again required an acknowledgement
of her 'voluntary' cooperation. Coleman instead chose to stand up
against this wrongful action and refused to abide the Chief's illegal
order. Coleman was delivered her official notification of termination
by the department last Friday, October 9th - just before a holiday weekend.
"This isn't over," stated Condit. "We will continue with our suit
against the department in federal court and are confident we will
prevail. The actions by departmental officials are palpably improper.
The DC Counsel should take a long look at the abuse of power and the
retaliation that Coleman has had to endure."
Background
Captain
Vanessa Coleman has been steadily retaliated against since March 2008,
stemming from the fallout of the Mt. Pleasant apartment fire in
Washington, D.C. Despite a history beginning as a fire cadet in 1990,
with subsequent promotions to Sergeant, Lieutenant, and Captain, and
annual performance reviews greater than "satisfactory," Coleman has
been singled out by department officials and made to bear the blame for
the problems stemming from the fire. At the fire, Coleman was directed
away from the basement of the apartment building to the third floor.
This diversion was later found to be of great importance, as fire
officials now believe the fire originated in the basement.
Audio of Coleman being ordered to the third floor can be found at this Web site: https://www.dcfirefeed.com/pleasant.htm
In the months following the Mt. Pleasant fire, then-Battalion chief
John Lee, who ordered Coleman and her crew to the third floor, retired
from the Department.
The retaliation against Coleman that has ensued since the filing is a
laundry list of unacceptable actions that include: citations, a
suspension, failure to support her authority as a Captain, stripped
duties, and a transfer. In July 2008, Coleman received a notice that
she was to report for a psychological evaluation, ordered by Assistant
Chief Brian Lee. Upon reporting for the exam, she requested legal
counsel, but was denied. Unwilling to submit to the exam under the
conditions presented to her, Coleman was directed not to go back to
work and to take sick leave until she was able to take a rescheduled
psychological evaluation.
Months later, in August, Coleman and GAP staff met with F&EMS
officials to discuss the order. At such meeting, according to a memo
written from EMS Deputy General Counsel, Thelma Chichester:
The
Department has offered to hold the pending Order for Cpt. Coleman to
take the Fitness for Duty Examination as well as any administrative
action which resulted from her failure to comply with a direct Order in
abeyance pending the conclusion of the investigation into the charges
of discrimination made by Cpt. Coleman.
After reaching this agreement, Coleman was finally allowed to return to
work. Shortly after this meeting, Coleman received a notice that she
was being charged with insubordination for failing to take the
"fitness-for-duty" exam, as ordered. After refusing to check the
"voluntary" box, Coleman was ordered to stand before the Trial Board
proceeding, which started this past June.
The Government Accountability Project (GAP) is a 30-year-old nonprofit public interest group that promotes government and corporate accountability by advancing occupational free speech, defending whistleblowers, and empowering citizen activists. We pursue this mission through our Nuclear Safety, International Reform, Corporate Accountability, Food & Drug Safety, and Federal Employee/National Security programs. GAP is the nation's leading whistleblower protection organization.
LATEST NEWS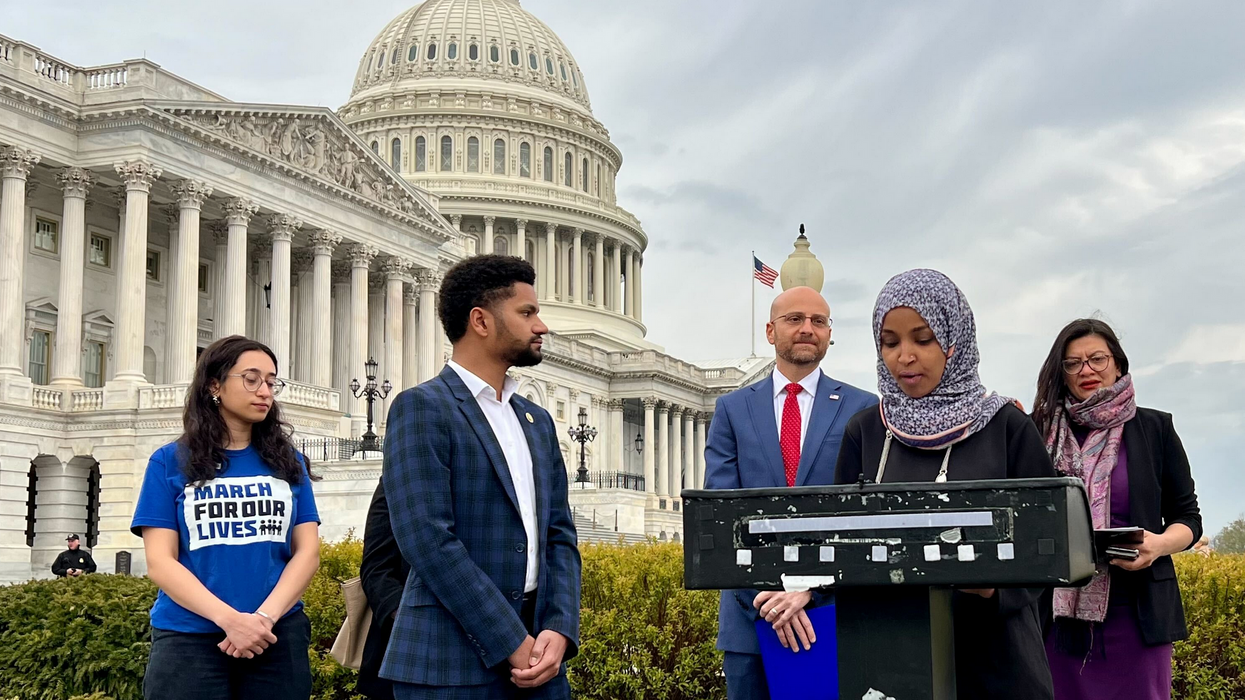 "In order to confront the evils of religious bigotry and hatred, we must come to understand that all our destinies are linked," said Omar, a former refugee from Somalia and one of two Muslim women in Congress.
Joined by Democratic House colleagues and activists outside the U.S. Capitol on Thursday—the first full day of Ramadan—Minnesota Congresswoman Ilhan Omar announced a new resolution condemning Islamophobia and commemorating the recent anniversary of the 2019 Christchurch, New Zealand mosque massacre.
Omar's office said the resolution—which is co-sponsored by more than 20 House Democrats—"comes after continued violence and threats made against religious minorities, particularly Muslims," while adding that the March 15, 2019 murder of 51 Muslim worshippers at the Al Noor Mosque in Christchurch by an Australian white supremacist "was a stated source of inspiration for mass shootings in the United States."
These include the deadly synagogue shooting in Poway, California; the massacre of 23 people, most of them of Mexican origin, at a Walmart in El Paso, Texas; and the murder of 10 people by a white supremacist in a Buffalo, New York grocery store.
Omar said:

As we begin the holy month of Ramadan, we must reaffirm that all people of faith should have the right to worship without fear. According to the Council on American-Islamic Relations, anti-Muslim hate crimes and attacks are at an all-time high. The attack in Christchurch, motivated by an extremist ideology of white supremacy, anti-Muslim hate, and the so-called replacement theory resonates deeply for Muslims in nearly every corner of the globe.

We also know that this increase in hate is not isolated to only Muslims. Church bombings, synagogue attacks, and racial hate crimes are also on the rise.
"In order to confront the evils of religious bigotry and hatred, we must come to understand that all our destinies are linked," Omar added. "That's why I'm proud to lead my colleagues in condemning the rise in Islamophobia and affirming the rights of religious minorities in the United States and around the world."
Robert McCaw, director of government relations at the Council on American-Islamic Relations, also spoke at Thursday's event, saying that "it is with a heavy heart that CAIR welcomes Omar's resolution," which "recognizes the threat posed by rising global Islamophobia to American Muslims and Muslims in other countries across the world, as well as the threat white supremacism poses to all people."
"It is incredibly important for Congress to lead the way in rejecting these hateful and dangerous ideologies, and CAIR calls on both sides of the aisle to co-sponsor and adopt this resolution," McCaw added. "As we remember the lives lost in Christchurch, we must continue to work towards a world where everyone is treated with humanity and dignity, regardless of their faith, ethnicity, or background."
In 2021, the Democratic-controlled House narrowly passed a resolution introduced by Omar aimed at combating Islamophobia after Rep. Lauren Boebert (R-Col.) referred to her and Rep. Rashida Tlaib (D-Mich.)—the only two Muslim women in Congress—as the "jihad squad."

The House GOP, which now narrowly controls the chamber, voted last month to remove Omar from the foreign affairs panel. Just before the vote, the congresswoman said that Republicans "are not OK with having a Muslim have a voice on that committee."
Omar's new federal resolution stood in stark contrast with Texas state Rep. Tony Tinderholt's (R-94) vote against a legislative resolution celebrating Ramadan.
"As a combat veteran, I served beside many local translators who were Muslims and good people," the Iraq War veteran explained. "I can also attest that Ramadan was routinely the most violent period during every deployment."
"Texas and America were founded on Christian principles and my faith as a Christian prevents me from celebrating Ramadan," Tinderholt added.
Responding to Tinderholt's statement, CAIR tweeted: "Every elected official has the right to express their own sincerely held religious beliefs—and we welcome that. But to insult another religion is uncalled for and harmful."

News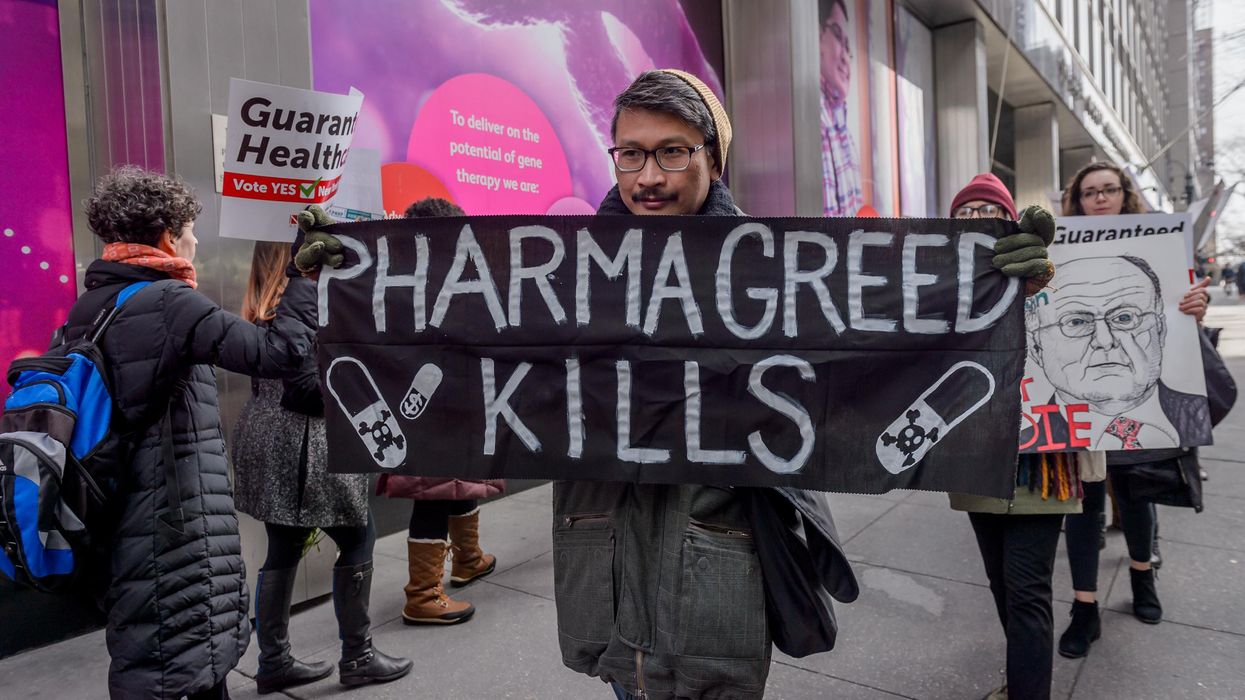 "We request HHS to consider this appeal directly... because the NIH has repeatedly demonstrated its unwillingness to even acknowledge that the Bayh-Dole Act includes an obligation to make products invented with federal funds 'available to the public on reasonable terms.'"
Two days after President Joe Biden's administration rejected a petition asking federal regulators to use their authority to lower the astronomical price of a lifesaving prostate cancer drug developed entirely with public funds, petitioners on Thursday filed an administrative appeal.
At issue is enzalutamide, a drug the Japanese pharmaceutical giant Astellas and its U.S. counterpart Pfizer sell under the brand name Xtandi. Although Xtandi owes its existence to U.S. taxpayers, who bankrolled 100% of its development, an annual supply of the drug costs $189,900 in the United States—three to six times more than its list price in other wealthy nations.
In late 2021, prostate cancer patients Robert Sachs, Clare Love, and Eric Sawyer petitioned the U.S. Department of Health and Human Services (HHS) to exercise its "march-in rights" against Xtandi. Under the Bayh-Dole Act, the federal government can reclaim and redistribute patents for inventions created with public funding—enabling generic competitors to produce cheaper versions—when "action is necessary to alleviate health or safety needs" or when an invention's benefits are not being made "available to the public on reasonable terms."
HHS Secretary Xavier Becerra referred the petition to the National Institutes of Health (NIH), whose acting Director Lawrence Tabak argued in a Tuesday letter that "Xtandi is widely available to the public on the market," citing Astellas' estimate that "more than 200,000 patients were treated with Xtandi from 2012 to 2021."
Even with insurance, co-pays for Xtandi are sky-high. Medicare recipients, for example, are expected to pay roughly $10,000 per year for the medicine. Especially for the millions of uninsured and underinsured people in the U.S., Xtandi remains completely out of reach.
Tabak's letter went on to say that Xtandi's "practical application is evidenced by the 'manufacture, practice, and operation' of the invention and the invention's 'availability to and use by the public….'" As Knowledge Ecology International executive director James Love lamented, the NIH completely elided any mention of "reasonable terms," editing out that key phrase from Bayh-Dole.
In their appeal, the petitioners wrote: "The petition focused on a single issue: the reasonableness of charging U.S. cancer patients three to six times more than residents of other high-income countries for the drug Xtandi."
"There is no dispute about the following facts," the appeal continues. "Xtandi was invented on grants from the U.S. Army and the NIH at UCLA, a public university. The patents were licensed eventually to Astellas, a Japanese drug company, with a partnership share now held by Pfizer, following its 2016 $14 billion acquisition of Medivation, UCLA's original licensee, that occurred just after the NIH rejected an earlier march-in request on Xtandi. The prices in the United States have consistently been far higher than the prices in other high-income countries."
Prior to the 2021 petition, Clare Love and prostate cancer patient David Reed filed a petition, later joined by Sachs, with the U.S. Department of Defense (DOD) after the Senate Armed Services Committee instructed the Pentagon to initiate march-in proceedings when the price of a drug created with a DOD grant exceeds the median price in seven large high-income nations. The Pentagon, however, has yet to acknowledge or act on the petition submitted to it in February 2019.
"If you consider both of these requests together, a petition to exercise the government's march-in or other rights in the Xtandi patents has been pending before the federal government for more than four years," Thursday's appeal states. "The HHS petition was filed 16 months ago."

It continues:
The petitions were filed with the DOD and HHS instead of the NIH because the NIH has repeatedly demonstrated its unwillingness to even acknowledge that the Bayh-Dole Act includes an obligation to make products invented with federal funds 'available to the public on reasonable terms.' This is demonstrated by a track record of dismissing multiple requests to use the government's Bayh-Dole safeguard to address pricing abuses and access restrictions, including those concerning the federal government's march-in rights under 35 USC § 203, and the federal government's global royalty-free license, under 35 USC § 202(c)(4). There are also extensive email records between Mark Rohrbaugh, currently NIH special adviser for technology transfer who is a long-time agency official, and lobbyists for drug companies and university rights holders, obtained through Freedom of Information Act requests, which not only express opposition to any safeguards regarding unreasonable pricing but organize public relations efforts against using a march-in request to address the pricing of products.
"HHS chose to assign to the NIH the evaluation of our petition regarding Xtandi," says the appeal. "We request HHS to consider this appeal directly, and not assign NIH to review its own decision. The latter would be tantamount to no review at all."
Since Bayh-Dole was enacted in 1980, "march-in rights have never been used... and NIH has repeatedly rejected the idea that affordability is a reasonable term," The American Prospectreported Wednesday. With Xtandi, "advocates thought they found the perfect test case for a new administration that paid lip service to lowering prescription drug costs."
As The Levernoted on Wednesday, the NIH's decision this week was consistent with Biden's track record:
Biden was vice president when the Obama administration rejected congressional Democrats' demand that the government use the same power to lower the skyrocketing prices of medicine in America.

As a senator in 2000, Biden was one of just eight Democrats who helped pharmaceutical lobbyists kill a measure spearheaded by Sen. Paul Wellstone (D-Minn.) and then-Rep. Bernie Sanders (I-Vt.) that would have reinstated the Reagan-era requirement that drug companies sell medicines developed with public money at a reasonable price.

That requirement was repealed by the Clinton administration in 1995, following pressure by drugmakers.
But Becerra's acquiescence to Big Pharma was more surprising. Prior to joining the Biden administration, the HHS secretary had expressed support for wielding the executive branch's authority to rein in soaring drug prices.
As the attorney general of California in the summer of 2020, "Becerra demanded the Trump administration use existing law to lower the price of medicines that were originally developed at taxpayer expense," The Lever reported. "As a member of Congress in 2016, Becerra signed on to a letter to the Obama Department of Health and Human Services calling on officials to broadly use 'march-in rights' to lower the cost of prescription drugs—including 'specialty drugs, like those to treat cancer, which are frequently developed with taxpayer funds.'"
Despite pressure from numerous members of Congress and medicine affordability advocacy groups, the NIH declared Tuesday that it "does not believe that use of the march-in authority would be an effective means of lowering the price of the drug."
Instead, the agency vowed to "pursue a whole-of-government approach informed by public input to ensure the use of march-in authority is consistent with the policy and objective of the Bayh-Dole Act," a move that progressive advocates denounced as a "pathetic" attempt to deflect criticism of its failure to use or threaten to use its legal power.
"This is a drug that was invented with taxpayer dollars by scientists at UCLA and can be purchased in Canada for one-fifth the U.S. price," Sanders said Tuesday. "The Japanese drugmaker Astellas, which made $1 billion in profits in 2021, has raised the price of this drug by more than 75%."
"How many prostate cancer patients will die because they cannot afford this unacceptable price?" asked Sanders, chair of the Senate Committee on Health, Education, Labor, and Pensions.
During a Wednesday hearing, Sanders made the case for changing "the current culture of greed into a culture which understands that science and medical breakthroughs should work for ordinary people, and not just enrich large corporations and CEOs."
News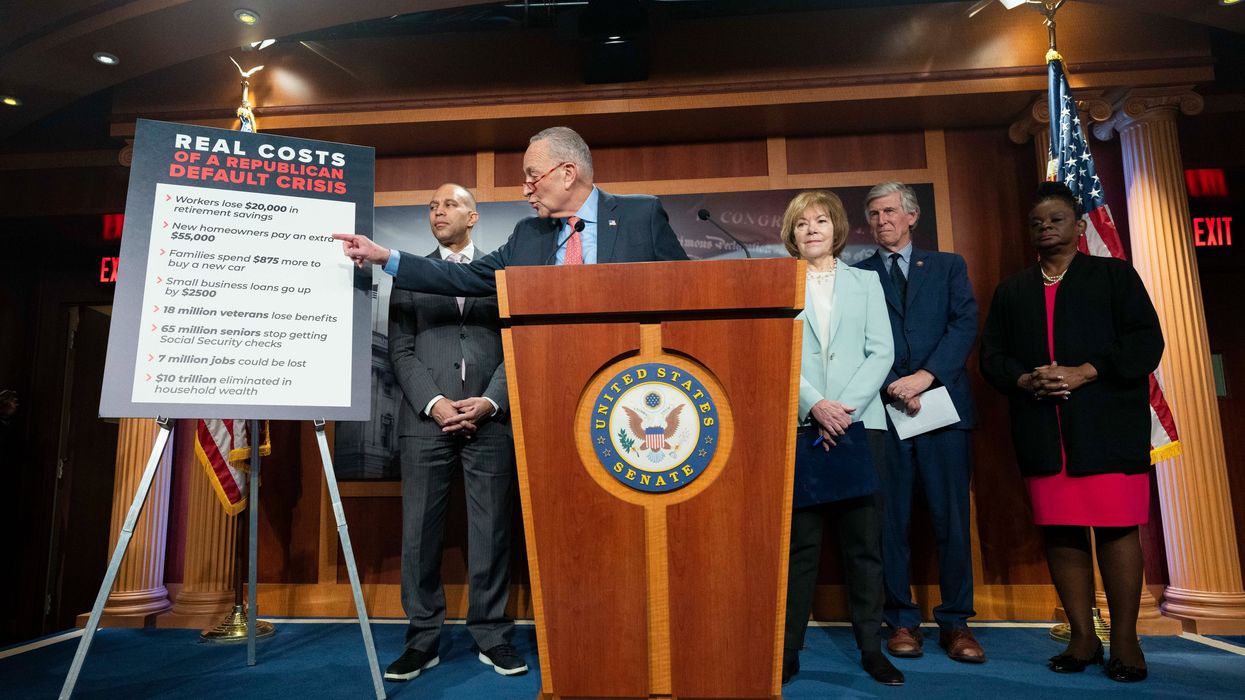 "House Republicans' approach is dangerous and destabilizing," warned Senate Majority Leader Chuck Schumer. "Republicans are gambling with Americans' savings, benefits, and lives, all to play a political game."

Congressional Democrats on Thursday forcefully called out their Republican colleagues for holding the economy hostage by refusing to raise the country's $31.4 trillion debt ceiling without major spending cuts, risking the first-ever U.S. default.
Democrats declined to even try to raise the nation's arbitrary and arguably unconstitutional borrowing limit while they still controlled both chambers of Congress during last year's lame-duck session, setting up the current fight. Because the ceiling has already been hit, Treasury Secretary Janet Yellen is now taking "extraordinary measures" to give lawmakers more time to act, but the deadline to do so looms, with a default possible as early as June, based on the latest federal estimates.
"This report shows that a Republican default crisis means real dollars coming out of American families' wallets and savings decimated."

Senate Majority Leader Chuck Schumer (D-N.Y.) and House Minority Leader Hakeem Jeffries (D-N.Y.) along with other key party members came together Thursday to unveil an alarming six-page Joint Economic Committee (JEC) Democratic staff report.
"This report shows that a Republican default crisis means real dollars coming out of American families' wallets and savings decimated. This is not a hypothetical exercise to the millions of Americans—including veterans and seniors—who rely on the United States government for benefits, pensions, and disability," Schumer said in a statement.
"House Republicans' approach is dangerous and destabilizing," he added. "Even the threat of a breach will raise costs on everything from car loans to mortgages. Republicans are gambling with Americans' savings, benefits, and lives, all to play a political game."
Specifically, according to the report, if the GOP forced a historic and "catastrophic" default:
The average worker close to retirement could take a $20,000 hit to their retirement savings;
Small business loans could go up $44 a month, costing about $2,500 more over the course of the loan;
Debt-limit threats could weaken the dollar and push up prices for consumers;
A typical new homeowner could see their monthly mortgage payment go up more than $150, costing them an extra $54,300 over the life of their loan;
A family buying a new car could pay over $800 more if interest rates spike;
Americans with private student loans could see their monthly payments rise by $23, costing them nearly $4,200 in total; and
Families with credit card debt could see their monthly payments rise, making it harder for them to become debt-free.
"A decade ago credit rating agencies downgraded the U.S. credit rating after Republican debt limit brinkmanship, and it drove borrowing costs for the American people higher in a variety of ways," noted Rep. Don Beyer (D-Va.). "This Joint Economic Committee report quantifies what kind of damage regular people could see if that happens again, and it is very bad."
"This would affect everyone who borrows money, including the United States government, which would have to pay more in its borrowing costs," he explained. "In other words, Republican hostage-taking on the debt limit would actually increase the deficit."
Beyer, Schumer, and Jeffries were joined at the news conference Thursday by Rep. Gwen Moore (D-Wis.) as well as Sens. Tina Smith (D-Minn.) and Martin Heinrich (D-N.M.), the JEC chairman-designate, who stressed that "the debt ceiling is not a bargaining chip."
While several of them slammed "MAGA Republican in the House," 71-year-old Moore chose to describe the GOP lawmakers whose actions are jeopardizing not only the U.S. but also the global economy another way.
"I have a great-granddaughter that falls out and rolls on the floor when she can't have her way. I tell her she needs to get up because she's not gonna get it," Moore said. "Republicans need to get up and stop holding our economy hostage."
"We are not going to devastate our seniors and our children, and we will not sabotage the world's standard credit rating," the congresswoman declared. "Republicans need to get up off the ground and raise the debt limit!"
Adding to concerns about the U.S. and global economies are recent bank turmoil and repeated interest rate hikes by the Federal Reserve—which, along with Congress, is facing criticism for regulatory rollbacks that experts tie to the bank failures.

As Punchbowl Newsreported Wednesday:
Instead of expressing caution, senior GOP lawmakers are leaning into their plans to demand spending cuts in return for raising the nation's borrowing limit. The Republicans we spoke to doubled down, arguing the same factors that led to the failure of Silicon Valley Bank and Signature Bank necessitate urgency in reducing government spending.

"This is the best time to do it," House Budget Committee Chair Jodey Arrington (R-Texas) said of the debt limit fight. "That interest rate pressure that is creating some risk in the banking industry is a result of the inflation that has been induced by the massive amounts of spending."

[...]

Arrington's panel will play a central role in the Republican posture heading into negotiations with President Joe Biden. While House Republicans have yet to release their budget, GOP leaders have vowed to roll back spending to FY2022 levels. That would mean a cut of roughly $130 billion from last year's funding level. Democrats and the White House have assailed the plan as an attack on working families, seniors, and veterans, while Republicans insist the cuts are necessary to rein in inflation.

The Texas Republican said it "makes sense that when you have a debt ceiling negotiation," lawmakers would "reflect on the indebtedness of our country" and look to cut spending at the same time.
Punchbowl noted similar remarks this week from Reps. Carlos Gimenez (R-Fla.) and John Rose (R-Tenn.) along with GOP Conference Secretary Lisa McClain.
Biden introduced his budget blueprint for FY2024 earlier this month. Though progressives condemned the president's historically high request for military spending as "madness" they also praised his push for massive social investments as well as tax hikes targeting wealthy individuals and corporations.
Meanwhile, "House Republican leaders did not respond to multiple questions from USA TODAY about when the GOP budget would be ready," the newspaper reported Wednesday.
As USA TODAY detailed:
An initial proposal from the House Budget Committee includes cuts to the Environmental Protection Agency, Biden's student debt cancellation, and funding for electric vehicles for the U.S. post office.

It also includes reinstating work requirements to the Temporary Assistance for Needy Families and the Supplemental Nutrition Assistance Program, or SNAP.

A proposal from the House Freedom Caucus includes $131 billion in cuts for fiscal year 2024.
"Extreme MAGA House Republicans are showing us what they value: tax breaks for the rich," Biden said of the caucus' proposal. "They demand the biggest Medicare benefits cut in decades, ship jobs overseas, defund law enforcement, devastate our national and border security. It's a gut punch to the middle class."
As Liz Zelnick from the watchdog Accountable.US warned, "The MAGA extremists running the House fully intend to manufacture a disastrous default crisis by making demands they know to be nonstarters—like letting wealthy tax cheats and big polluters off the hook."

News
SUPPORT OUR WORK.
We are independent, non-profit, advertising-free and 100%
reader supported.