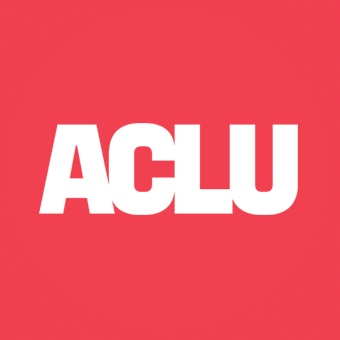 For Immediate Release
October, 06 2009, 06:45pm EDT
Contact:
Maria Archuleta, (917) 892-9180 or (212) 549-2666; media@aclu.org
Attorney General Says Guantanamo Closure Will Likely Be Delayed
Prison Should Be Closed As Soon As Possible And In Accordance With Rule Of Law, Says ACLU
NEW YORK
According
to news reports, U.S. Attorney General Eric Holder said it is unlikely
the Obama administration will meet its January deadline for closing the
Guantanamo prison camp. According to prior reports, the delay is due in
part to the administration's search for a place to indefinitely
imprison 50 to 60 detainees. The American Civil Liberties Union opposes
the indefinite detention of detainees suspected of terrorism crimes and
challenges the notion that there is any significant category of
detainees who can neither be securely freed or prosecuted in federal
court.
The following can be attributed to Jameel Jaffer, Director of the ACLU National Security Project:
"We are very concerned by Attorney
General Holder's announcement that the Obama administration will miss
its January deadline for closing Guantanamo, which holds hundreds of
men who have been imprisoned for years without charge or trial and has
become a symbol of lawlessness and cruelty. The prison camp should be
shut down as soon as possible.
"However, as important as when
Guantanamo is closed is that it is closed right. With the closure of
Guantanamo must also come the end of the policies that the prison has
come to represent, such as indefinite detention without charge or
trial. It would be unacceptable to close Guantanamo only to institute
the same policies elsewhere.
"If there is evidence to support
allegations that the men detained in Guantanamo have committed crimes,
the government should file charges and prosecute them in federal
courts, which are perfectly capable of handing terrorism cases while
protecting fundamental rights. In a democracy, there is no room for a
system of detention that allows human beings to be imprisoned
indefinitely without charge or trial."
The American Civil Liberties Union was founded in 1920 and is our nation's guardian of liberty. The ACLU works in the courts, legislatures and communities to defend and preserve the individual rights and liberties guaranteed to all people in this country by the Constitution and laws of the United States.
(212) 549-2666
LATEST NEWS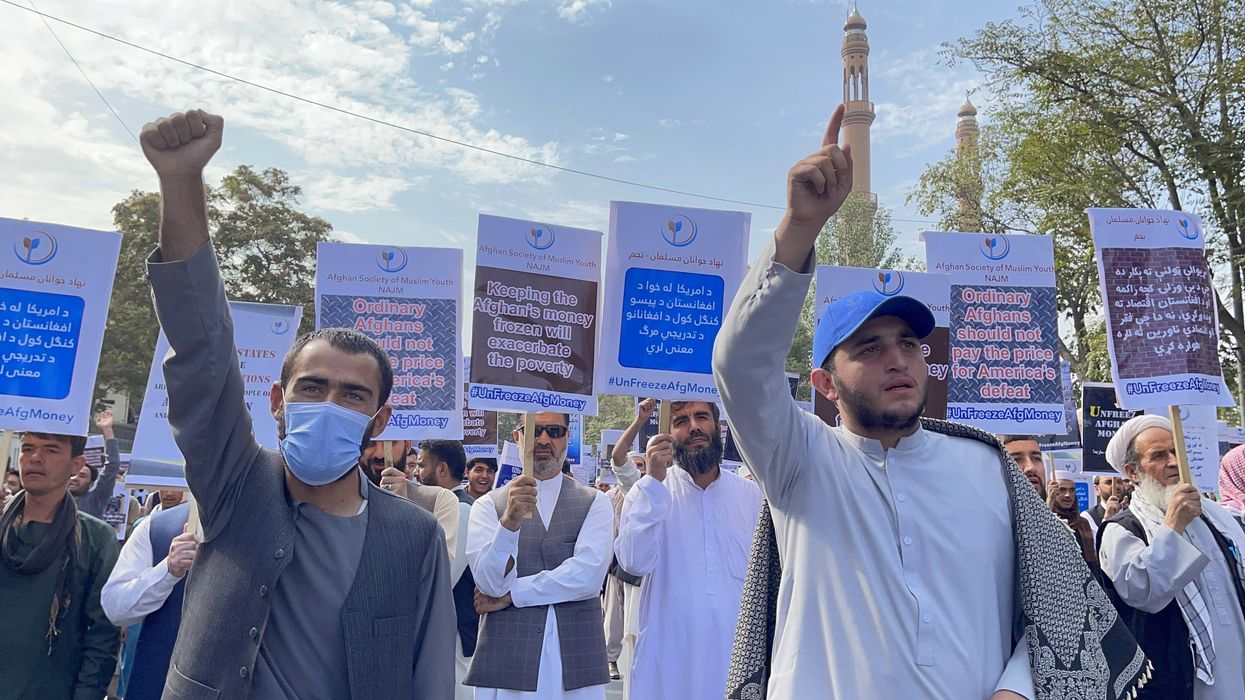 "This money belongs to the Afghan people, and no one else," said Afghans for a Better Tomorrow, a coalition of Afghan-American community groups.
A coalition of Afghan-American community organizations on Wednesday welcomed a U.S. federal judge's ruling rejecting a bid by relatives of 9/11 victims to seize billions of dollars in assets belonging to the people of Afghanistan.
In a 30-page opinion issued Tuesday, Judge George B. Daniels of the Southern District of New York denied an effort by family members of people killed during the September 11, 2001 attacks on the United States to gain access to $3.5 billion in frozen funds from Da Afghanistan Bank (DAB), the country's central bank.
"The judgment creditors are entitled to collect on their default judgments and be made whole for the worst terrorist attack in our nation's history, but they cannot do so with the funds of the central bank of Afghanistan," Daniels wrote. "The Taliban—not the former Islamic Republic of Afghanistan or the Afghan people—must pay for the Taliban's liability in the 9/11 attacks."
"We support the 9/11 families' quest for just compensation, but believe justice will not be achieved by 'raiding the coffers'... of a people already suffering."
The frozen assets are currently being held by the Federal Reserve Bank of New York in the wake of the Taliban's reconquest of the nation that, under the militant group's previous rule, hosted al-Qaeda leader Osama bin Laden and other figures involved in planning and executing the terrorist attacks that killed nearly 3,000 people. The 9/11 attacks resulted in a U.S.-led invasion and occupation of Afghanistan that lasted nearly two decades, the longest war in American history.
"We are pleased to see that Judge Daniels shares the same assessment we laid out in our amicus brief to the court: That this money belongs to the Afghan people, and no one else," the coalition—Afghans for a Better Tomorrow (AFBT)—said in a statement.
\u201c\u2705 VICTORY FOR THE AFGHAN PEOPLE\n\nOur coalition of Afghan-American community organizations welcomes a judgment by a federal judge that rejects a bid to seize assets by the families of the victims of the September 11th attacks. \n\nOur full statement: https://t.co/mZct0WbZSU\u201d

— Afghans For A Better Tomorrow (@Afghans For A Better Tomorrow) 1677095507
In February 2022, the Biden administration said it would split $7 billion in frozen DAB funds between the people of Afghanistan and victims of the 9/11 attacks who sued the Taliban—a move that one critic warned would amount to a "death sentence for untold numbers of civilians" in a war-ravaged country reeling from multiple humanitarian crises including widespread starvation.
Last August, U.S. Magistrate Judge Sarah Netburn said that 9/11 families should not be allowed to use billions of frozen DAB funds to pay off legal judgments against the Taliban.

"Just like the families of the September 11th attack victims, the Afghan people are no stranger to the Taliban's brutality and rule," AFBT co-director Arash Azizzada said. "We support the 9/11 families' quest for just compensation, but believe justice will not be achieved by 'raiding the coffers,' as Judge Daniels put [it], of a people already suffering."
\u201cThis wouldn\u2019t have been possible without the selfless efforts of many 9/11 victims\u2019 families \u2014 from @PeacefulTomorro and beyond \u2014 that refused to let their own tragedy be used to justify another tragedy for the Afghan people \nhttps://t.co/ehphzAqIPI\u201d

— Michael Galant (@Michael Galant) 1677029836
Homaira Hosseini, a board member of coalition member Afghan-American Community Organization (AACO), asserted that "an appeal of this decision, which the 9/11 families have stated they will pursue, will only cause further harm to both Afghans and the families involved."
"We continue to encourage these families to seek legal retribution elsewhere," Hosseini added, "and to not further harm Afghans in the process."
News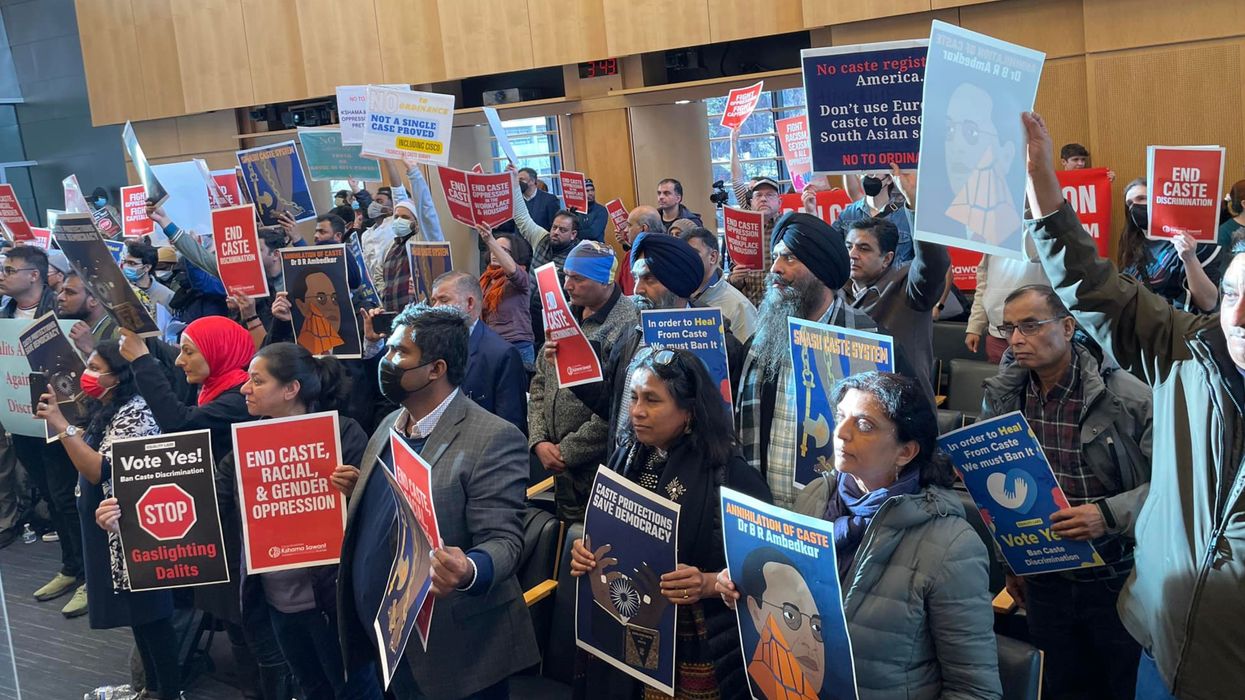 The Socialist Alternative Seattle Councilmember stressed that "caste discrimination doesn't only take place in other countries" and said she hopes the new law will become a "beacon" for other cities to follow.

The Seattle City Council voted Tuesday for the first U.S. ban on caste-based discrimination, a move the measure's socialist sponsor hopes will inspire similar legislation nationwide.
The council voted 6-1 in favor of an ordinance by District 3 Councilmember Kshama Sawant of the Socialist Alternative party that adds caste as a protected class to a long list that includes age, race, religion, gender identity, national origin, immigration status, disability, and military status.
Caste discrimination will now be banned in fields including employment, housing, and public accommodation. People experiencing caste-based discrimination will also be able to file official complaints.
Not only is it the first such law in the U.S., it's the first in the world outside South Asia.

"This bill is not technically complicated, it's a very simple question: Should discrimination based on caste be allowed to continue in Seattle?" Sawant said in a packed City Hall before Tuesday's vote.
Sawant, who is Indian-American, called the measure "profound and historic" and expressed hope that it will serve as a "beacon" for other cities to follow.
"If... you marched in the Black Lives Matter movement or you desire to live in a society free of racism, racial discrimination, sexism, or misogyny, then you should be paying attention," she toldCNN before the vote. "Because while caste oppression or discrimination does not affect all Americans, the way it manifests itself is no different than other types of oppression under capitalism."
Emotions and tensions ran high in City Hall before, during, and after the vote. Yogesh Mane, who grew up Dalit—the lowest caste—in India, wept as he heard the council's decision.
"I'm emotional because this is the first time such an ordinance has been passed anywhere in the world outside of South Asia," he told the Associated Press. "It's a historic moment."
The caste system, which has existed in South Asia for millennia, divides Hindus into groups including Brahmins (priests and teachers); Kshatriyas (rulers and warriors); Vaishyas (farmers, merchants, and traders); Shudras (laborers); and Dalits (street and latrine cleaners).
Although India's constitution, whose drafting was led by the Dalit scholar Bhimrao Ramji Ambedkar, officially banned caste-based discrimination, those on the lower rungs—especially the Dalits—continue to suffer endemic discrimination and frequent violence. Such bigotry has been inflamed by the rise of Hindu nationalism in recent decades, and during the tenure of right-wing Indian Prime Minister Narendra Modi.
Advocates of the ordinance in Washington state's largest city stressed that caste-based bigotry is by no means limited to South Asia.

"Caste discrimination doesn't only take place in other countries," Sawant—who grew up in a middle-class Brahmin family in Mumbai—said in a statement announcing the introduction of her bill. "It is faced by South Asian-American and other immigrant working people in their workplaces, including in the tech sector, in Seattle and in cities around the country."
"We know that caste discrimination has been growing in the United States across many industries, including technology, construction, restaurants, and the service industry, and in domestic work," she added. "Caste discrimination is increasingly a grave contributor to workplace discrimination and bias—data from Equality Labs show that 1 in 4 caste-oppressed people faced physical and verbal assault, 1 in 3 faced education discrimination, and 2 in 3 faced workplace discrimination."
Sawant continued:

Just as racism is not the result of an "inevitable" racial friction between white and Black people, caste oppression has also been maintained by the class structure of capitalist society in South Asia and now in the United States.

Beyond winning reforms such as this one, working people in our city, nationally, and internationally need to unite and build mass movements to fight for a socialist society. Because as long as an exploitative and rapacious system like capitalism exists, oppression will be endemic. The only way to end caste, racial, gender, and other oppressions is for the working class to fight for a different kind of world.
Caste-based discrimination is at the center of a case making its way through a California state court in which a former engineer at Cisco Systems says he was excluded from meetings and passed up for promotions because he is Dalit.
One Seattle-area tech worker, who gave only the name Maya for fear of retaliation, toldTheSeattle Times that she has been the target of workplace caste discrimination because she is Dalit. Maya said her manager rebuffed an offer to volunteer for a work project, telling her, "You better not touch the project because you're ill-fated."
"It might not sound like something major, but for us, it completely resonates with the caste and untouchability because not touching is what all of the dominant-caste people have made rules around for so long," Maya explained. "That's why we are called untouchables. We're not supposed to touch anything or anyone."
"Caste is an evil that has been practiced for more than 3,000 years now," she added. "We carry the genetic trauma of caste for such a long time already. But if we don't have caste protections, then this is going to affect even the next generations."
News
The state of Arizona has for two decades ignored a previous Supreme Court ruling that aimed to ensure defendants would be sentenced fairly.
The U.S. Supreme Court on Wednesday issued a rare rebuke of Arizona's criminal justice system as the majority ruled in favor of a death row inmate who has called for a resentencing, saying the state ignored legal precedents during his trial.
In a 5-4 decision, Chief Justice John Roberts and Justice Brett Kavanaugh joined with the court's three liberal judges in Cruz v. Arizona, with Justice Sonia Sotomayor writing the majority opinion.
The majority ruled that lawyers who prosecuted John Montenegro Cruz for the murder of a police officer in 2003 failed to inform jurors during his sentencing that if Cruz was not executed by the state, he would be sentenced to life in prison without the possibility of parole.
Instead, the prosecutors falsely told the jury that Cruz would be able to walk free unless he was sentenced to death.
As the Associated Press reported, at least one juror said after the trial that if she had been informed that Cruz would be sentenced to life in prison without parole, she "would have voted for that option."
Cruz is not the only Arizona death row inmate whose life could be spared by the ruling. For nearly two decades, the state has ignored a previous Supreme Court ruling that required jurors in certain death penalty cases to be informed that the alternative to capital punishment is a life sentence without parole.
Wednesday's ruling could overturn the death row sentences of roughly 30 inmates in Arizona, including Cruz, who may be granted new penalty phases of their trials.
Supreme Court observers including Mark Joseph Stern at Slate and Steve Vladeck of the University of Texas noted that post-conviction relief for an inmate is "rare" at the high court.
\u201cOh wow: The Supreme Court's third and final opinion of the day is in Cruz v. Arizona, and it's a 5\u20134 win for a prisoner seeking postconviction relief. Extremely rare these days. Roberts and Kavanaugh joined the liberals, with Sotomayor writing. https://t.co/VQL01Jk2Fp\u201d

— Mark Joseph Stern (@Mark Joseph Stern) 1677078166
By allowing jurors to go uninformed of the option of a life sentence without parole, the majority said, Arizona violated the 1994 Supreme Court case Simmons v. South Carolina. In that case the court said prosecutors cannot tell jurors that a defendant will pose a threat to society if they're not actually eligible for parole.
Arizona did not apply that ruling to its death penalty cases, and Cruz's lawyers argued the state continued to ignore the ruling even after the court directly told officials to comply with Simmons in another 2016 ruling in the case Lynch v. Arizona.

"Arizona courts refused to apply the Supreme Court's decision in Lynch to cases that had already been decided," University of Michigan law professor Leah Litman explained at Slate. "They refused to apply Lynch on the grounds that state law allowed defendants to challenge their convictions or sentences on the basis of 'new' Supreme Court rules. And, Arizona continued, Lynch did not announce a 'new' rule. Lynch had simply applied an existing rule (from Simmons) to Arizona without actually changing the law in the process."
"Arizona's position would have effectively left Arizona defendants with no remedy at all," Litman continued.

Justice Elena Kagan expressed bewilderment at Arizona's position when the case was argued:

Cruz loses his Simmons claims on direct appeal because the Arizona courts say point-blank Simmons has never applied in Arizona. And then he loses the next time around because the Arizona courts say Simmons always applied... I mean, tails you win, heads I lose, whatever that expression is?

Litman noted that the Supreme Court has recently ruled in favor of states that want permission to ignore rulings that officials oppose.
"It's basically what the Supreme Court allowed Texas to get away with on abortion in the S.B. 8 case before the courtultimately overruledRoe v. Wade last term," wrote Litman. "In 2021, the Texas Legislature adopted S.B. 8, a novel abortion restriction that was designed to shut down abortion access without allowing abortion providers to challenge the law in court. In the case challenging S.B. 8,five justices (the five justices who would later overrule Roe) let Texas get away with that gambit while Roe was still standing. The five justices allowed Texas to effectively nullify a Supreme Court decision that Texas didn't care for, and that six justices on the court didn't care for either."
"Had the court allowed Arizona to do the same in Cruz v. Arizona," she added, "it would have facilitated even more legal machinations that deprive people of their constitutional rights."
News
SUPPORT OUR WORK.
We are independent, non-profit, advertising-free and 100%
reader supported.