For Immediate Release
Contact:
Brenda Bowser Soder,bowsersoderb@humanrightsfirst.org,O -202/370-3323, C - 301/906-4460
Brazilian, Colombian Activists Will Receive Annual Human Rights Award
Human Rights First to Honor Gabriel Gonzalez, Sandra Carvalho
WASHINGTON
An activist who has fought to expose and end the inhumane treatment
of Colombian prisoners and an advocate who has worked to uncover
atrocities and promote human rights in Brazil are the recipients of
Human Rights First's 2009 Human Rights Award. The awards are bestowed
at Human Rights First's annual dinner held at Chelsea Piers in New York
City on Thursday, October 22.
Principe Gabriel Gonzalez is a student activist and regional
coordinator of the Political Prisoners Solidarity Committee in
Colombia where he has worked to promote access to justice for prisoners
and victims of Colombia's conflict. Ironically, Gonzalez's advocacy led
to his own arrest and detention on the false charge of being a guerilla
leader. He was detained for more than a year, lived in exile to escape
judicial harassment, and now faces seven more years in prison on
trumped-up charges if his test-case appeal to Colombia's Supreme Court
is unsuccessful. The award recognizes Gonzalez's bravery and unwavering
commitment to justice despite years of harassment, detention and
threats, and highlights the widespread problem of false prosecution
and arbitrary detention of Colombian activists.
Brazilian lawyer Sandra Carvalho has a long and distinguished career
as a human rights defender in Brazil. Carvalho leads Global Justice, a
Sao Paulo-based NGO known for its work on a wide range of issues,
including ending police violence in Rio de Janeiro, addressing land
rights in northern Brazil, ending prisoner abuse, and stopping illegal
wiretapping of Brazilian human rights defenders. Carvalho has
been harassed and threatened by those who seek to obstruct her work,
and several of her colleagues have been killed. But Carvalho has not
been deterred. Her work goes on, and Brazilians continue to benefit
from her courageous efforts to find justice for those who have been
oppressed or persecuted.
"These two extraordinary people truly embody the spirit of this
award: to stand up for those less powerful, protect them from harm, and
amplify their voices," said Elisa Massimino, Human Rights First CEO and
Executive Director. "Their courage and determination to seek justice
and defend the rights of others--often under difficult and dangerous
circumstances--inspire us all. We are so pleased to be able to
honor Gabriel and Sandra for their many accomplishments."
Gonzelez and Carvalho will receive their awards during a gala event
at Chelsea Piers. Veteran newsman Tom Brokaw will MC the event. Human
Rights First has presented its annual human rights awards for more than
20 years. Former recipients include Dr. Mudawi Ibrahim Adam from
Darfur; Ludmilla Alexeeva from Russia; Helen Mack from Guatemala;
Archbishop Pius Ncube from Zimbabwe; Saad Eddin Ibrahim from Egypt;
Albie Sachs from South Africa; Hina Jalani from Pakistan; and Mary
Robinson from Ireland.
Human Rights First is a non-profit, nonpartisan international human rights organization based in New York and Washington D.C. Human Rights First believes that building respect for human rights and the rule of law will help ensure the dignity to which every individual is entitled and will stem tyranny, extremism, intolerance, and violence.
LATEST NEWS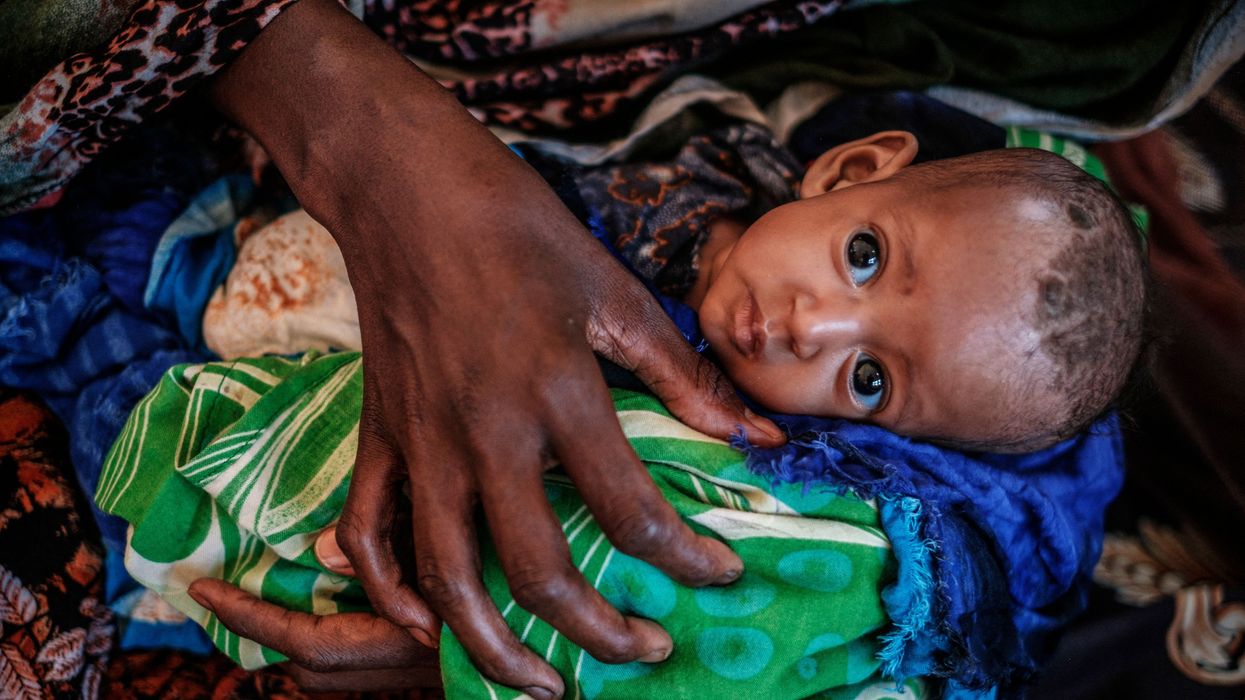 "I've been working on and off in this region for almost 25 years now—and in terms of accumulated emergencies, this is bad as I've ever seen it," the expert said.
Extreme hunger fueled by the climate emergency, violence, and disease has nearly 130,000 people in the Horn of Africa—which has entered its sixth straight failed rainy season—facing starvation, while 48 million others suffer from crisis levels of food insecurity, a United Nations expert warned Friday.
Liesbeth Aelbrecht, a consultant on health and food insecurity for the World Health Organization (WHO) sounded the alarm on what she said was the worst situation she's ever seen in over two decades of work in a region that includes the nations of Djibouti, Ethiopia, Kenya, Somalia, South Sudan, Sudan, and Uganda.
"These 48 million people do include as many as 129,000 who are facing catastrophe," Aelbrecht told reporters in Geneva, Switzerland. "That means they are facing starvation and literally looking death in the eyes."
According to a report published earlier this year by the United Nations High Commissioner for Refugees (UNHCR):
The Horn of Africa region continues to experience the longest and most severe drought on record, threatening lives and livelihoods, including millions of refugees and internally displaced people. Relentless drought and high food prices have weakened many people's ability to grow crops, raise livestock, and buy food... Harvests have yielded little and water sources have dried up. Conflict and insecurity continue to intersect with the drought emergency. As conditions continue to worsen, hundreds of thousands of people have been forced to flee in search of safety and assistance.
UNHCR—which is appealing for $137 million "to respond to the immediate needs of affected populations" in the drought-stricken region—says 1,750,000 people have been internally displaced in Ethiopia and Somalia alone, while more than 180,000 refugees have crossed from Somalia and South Sudan into regions of Kenya and Ethiopia that are also suffering from drought.
The region is also experiencing soaring disease rates.
"All seven countries are battling measles, a deadly disease, Aelbrecht said. "Four of the countries are fighting cholera, South Sudan being one of them; they just declared an outbreak," she added. "Malaria, which we know is endemic in this region and remains the biggest cause reason for [medical] consultation, is really on the rise."
Cases of hepatitis, meningitis, and dengue are also increasing, with Khartoum, the Sudanese capital, reporting its first-ever dengue outbreak this year.
"The frequency of these disease outbreaks is directly linked to these extreme weather events and to climate change," Aelbrecht said. "I've been working on and off in this region for almost 25 years now—and in terms of accumulated emergencies, this is bad as I've ever seen it."
"We need to do anything possible to control these disease outbreaks," she added. "We know how to control cholera, what we need is really the resources to scale this up."
News
"The project could result in as many as five, two-mile-long crude-oil trains running over 100 miles directly alongside the headwaters of the Colorado River each day," Colorado Democrats warned.
With the toxic train derailment in eastern Ohio still in the national spotlight, Democratic members of Colorado's congressional delegation are imploring U.S. Transportation Secretary Pete Buttigieg to do everything he can to head off another potential railway disaster—one that could impact a river that supplies drinking water to 40 million Americans.
In a letter to Buttiegieg on Thursday, Sens. Michael Bennet, John Hickenlooper, and Rep. Joe Neguse warned the secretary against approving a key federal funding mechanism for the Uinta Basin Railway, a project that aims to connect eastern Utah's oil-rich Uinta Basin with the national rail system in order to massively expand fossil fuel production in the region.
"The additional risks posed by this project—including those raised by Colorado communities concerned by the potential for a train derailment along the headwaters of the Colorado River—give cause for caution in using taxpayer funds to support the project, and have gained new urgency in the wake of the East Palestine disaster," the lawmakers wrote.
"If successful, the project could result in as many as five, two-mile-long crude-oil trains running over 100 miles directly alongside the headwaters of the Colorado River each day. Many Colorado communities have raised concerns about the potential harm of railway accidents to water quality, wildlife, and wildfire risk," they continued. "However, our review of the project found no plan to mitigate the harm of a potential accident or derailment in Colorado, which could be particularly difficult to address given our state's mountainous terrain."
The Colorado Democrats sent the letter a day after a CSX train derailed in West Virginia, dumping a yet-to-be-determined amount of diesel fuel into one of North America's oldest rivers. More than 1,000 trains derail each year in the U.S., where powerful rail giants have used their vast resources to fight off and weaken safety regulations.

In their letter, the lawmakers specifically urged Buttigieg to deny the Uinta Basin Railway project access to tax-exempt private activity bonds (PABs). On Thursday, Utah's Seven County Infrastructure Coalition—part of the public-private alliance that controls the project—formally approved a request asking the Transportation Department to authorize up to $2 billion worth of PABs, without which the project may struggle to advance as its costs balloon.
The PABs could cover an estimated 70% of the project's expenses.

"The Department of Transportation has generally issued PABs for passenger rail and highway improvements: projects that provide a clear public transportation benefit," the Colorado Democrats noted in their letter. "There is no precedent for using PABs to fund a rail project solely to transport crude oil."
If Buttigieg ignores the warnings of lawmakers, local residents, and environmentalists and approves issuance of the bonds, the Democratic congressmen wrote, "this would not only constitute the largest PAB the DOT has ever issued; it would also irretrievably sink taxpayer dollars into a project that has proven unable to contain its own costs."
"The fact that we continue to have disasters like East Palestine and near misses over and over again is a regulatory failure that demonstrates the absolute power of railroad industry lobbying."
On top of the potential costs to taxpayers, climate advocates have been arguing for more than a year that the Uinta Basin Railway poses a major threat to U.S. efforts to combat the climate crisis. The Center for Biological Diversity has dubbed the project "one of the nation's biggest carbon bombs," noting that it could quadruple oil production in Utah's Uinta Basin.
"The railway will spur an increase of up to 350,000 barrels a day, amounting to up to 53 million tons of annual carbon pollution—as much or more than what's produced by the nation's three largest power plants," the group said last June. "Sending tens of millions of barrels of crude oil each year from Utah to the Houston area for refining would be equivalent to adding a new refinery to the region, which already exceeds national pollution standards."
The Surface Transportation Board, an independent federal agency, approved construction of the new rail line for the Uinta Basin project in December 2021. Months later, the U.S. Forest Service gave its approval, drawing legal action from a coalition of environmental organizations.
Kristen Boyles, a managing attorney at Earthjustice, toldThe Guardian on Thursday that "it will be a triumph of corporate greed" if the project is ultimately allowed to move forward.
"The fact that we continue to have disasters like East Palestine and near misses over and over again is a regulatory failure that demonstrates the absolute power of railroad industry lobbying," Boyles said.
News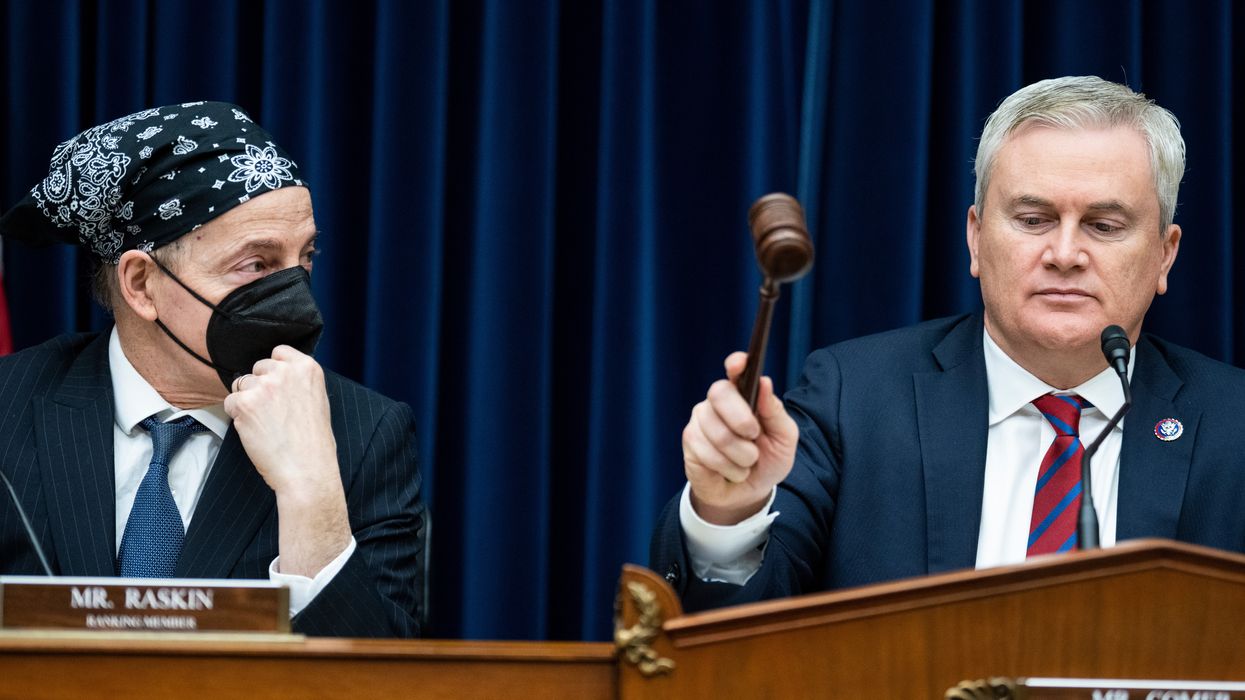 "It is imperative for every member of this committee to make clear to the American people that we speak with one voice to reject dangerous conspiracy theories and racist and antisemitic ideology," Rep. Jamie Raskin told his Republican colleagues.
Led by ranking member Rep. Jamie Raskin, Democrats on the U.S. House Oversight and Accountability Committee this week warned that Republicans doubled down on "a dangerous lie" when they refused to back a statement denouncing white supremacy.
Raskin (D-Md.) was joined by all 20 Democrats on the committee in signing a brief, straightforward statement condemning "white nationalism and white supremacy in all its forms, including the 'Great Replacement' conspiracy theory," which claims that white Americans are intentionally being "replaced" by people of color, particularly through immigration policy.
"These hateful and dangerous ideologies have no place in the work of the United States Congress or our committee," reads the statement.
Raskin sent the statement along with a letter to committee Chairman James Comer (R-Ky.), saying he was driven to call on his 26 Republican colleagues to sign on to the statement after the panel held a hearing in February titled "On the Front Lines of the Border Crisis."
In that hearing, Rep. Paul Gosar (R-Ariz.) asked whether immigrants arriving in the U.S. via the southern border are "changing our culture" and both Reps. Lauren Boebert (R-Colo.) and Marjorie Taylor Greene (R-Ga.) claimed an "invasion" by migrants and asylum-seekers is taking hold at the U.S.-Mexico border.
In his letter to Comer, Raskin noted that he had explained to the chairman at the hearing that "such language borrows from the 'Great Replacement' theory, the central dogma of contemporary white supremacy," and that the theory has been invoked by white nationalists who have committed deadly acts of domestic terrorism in Buffalo, New York; El Paso, Texas; and Pittsburgh.
Republican lawmakers including Sens. J.D. Vance of Ohio and Ron Johnson of Wisconsin have also alluded to the theory in their attacks on Democratic immigration policy.

Presented with the facts about the rise of white supremacy in the U.S. at the hearing and in Raskin's letter, Comer and the committee's other Republicans refused to sign the statement.
A spokesperson for the committee's Republicans claimed the Democrats were attempting to "distract from President Biden's border crisis and their failure to conduct oversight of it for two years," and did not address the embrace of the Great Replacement theory by Republican lawmakers and domestic terrorists.
The Biden administration has garnered condemnation from progressives and human rights advocates for a number of anti-immigration policies, including his expansion of the Trump-era Title 42 expulsion policy and his current reported consideration of migrant family detentions.
As the Trump and Biden administrations have pushed anti-immigration programs, advocates have maintained that the "crisis" at the border is one of denying asylum-seekers their internationally recognized right to seek refuge in another country.
"Politicians and media pundits quickly reduce this mounting humanitarian crisis to 'border security,'" wrote Farrah Hassen of the Institute for Policy Studies at OtherWords in January. "That narrow focus puts real solutions out of reach—and imperils the universal right to seek refuge from danger."
In his letter, Raskin noted that Republicans have been given previous opportunities to condemn white supremacy.
"On June 8, 2022, following the racially motivated Tops Supermarket mass shooting in Buffalo, New York, House Democrats passed H. Res. 1152, a resolution to condemn the 'Great Replacement' theory and affirm the commitment of the People's House to combating white supremacy and race hatred," wrote Raskin. "Despite then-Minority Leader Kevin McCarthy's acknowledgment that white supremacy and white nationalism are 'definitely not American,' not a single House Republican voted in favor of the resolution."
"As chairman, you have another opportunity to take a public stand against the deliberate amplification of dangerous racist rhetoric that has had deadly consequences in this country," he continued, referring to Comer. "If committee Republicans intend to continue examining the southern border and related policies, it is imperative for every member of this committee to make clear to the American people that we speak with one voice to reject dangerous conspiracy theories and racist and antisemitic ideology in our committee's deliberations and decision-making."
News
SUPPORT OUR WORK.
We are independent, non-profit, advertising-free and 100%
reader supported.