For Immediate Release
Contact:
Meghan Scott (202) 721-8014
Labor, Environmental, and Community Groups Launch American Values Agenda for Change at Walmart
Labor Day 2009: UFCW, Coalition Partners Announce New National Comprehensive Agenda Challenging Walmart to Change Corporate Practices for the Sake of the American Economy
WASHINGTON
UFCW International Vice President and Director Pat O'Neill today announced a new national comprehensive American values-driven agenda to hold Walmart accountable to its workers, our communities and the planet. He was joined by Nelson Lichtenstein, author of The Retail Revolution: How Walmart Created a Brave New World of Business, and Kim Bobo, Executive Director of Interfaith Worker Justice on a call to launch a broad coalition of labor, environmental and community groups who are calling on Walmart to join them in supporting the core American values of worker rights, quality jobs, equal opportunity, corporate responsibility and a healthy environment.
"Labor Day is an important time to reflect on the state of the American workplace and worker. As the world's largest retailer, and America's number one private employer, Walmart has the largest, most profound impact on jobs and on our economy," O'Neill said. "Nobody wants an economy where workers earn wages that can't support a family. Nobody wants an economy where people who go to work everyday and work hard have to turn to public assistance for basic needs.
"The Department of Labor last week released a report showing that the retail sector will see tremendous growth in the coming years, and it is up to all of us to determine what kinds of jobs those will be. We are trying to engage Walmart, not isolate it. With 1.4 million Americans working in its stores, Walmart bears a unique responsibility to its workers and our communities, and we're asking them to embrace this challenge."
On the conference call, Hansen issued direct challenges to Walmart in five key areas: worker rights, quality jobs, equal opportunity, corporate responsibility and a healthy environment. He then laid out next steps for how the coalition, led by the UFCW, will hold Walmart accountable for those challenges, and to the ideals it puts forth in its advertising. The full American Values Agenda for Change at Walmart is below.
Additionally, Lichtenstein asserted Walmart's vast impact on the American economy.
"When a company gets to be as big as Wal-Mart and employs so many workers - more than any other private enterprise in the world - it is no longer a 'private' entity," Lichtenstein said. "It sets the wage and benefit standard for every other mass retailer and influences the business practices of just about every firm in America's huge service sector. So Wal-Mart is part of this country's debate: on health care, wages, equal employment, and the role of trade unionism in our democracy."
Coalition members include: AFL-CIO, Change to Win, Sierra Club, Campaign for America's Future, National Education Association, American Federation of Teachers, National Consumers League, AFSCME, American Rights at Work, Communications Workers of America, Interfaith Worker Justice, LIUNA, National Labor Coordinating Committee, Service Employees International Union, Sierra Club, International Brotherhood of Teamsters, United Auto Workers, United Farmer Workers and United Steel Workers.
As a part of the launch of this important new campaign, WakeUpWalmart.com will be releasing two new television advertisements called "Common Sense Economics Rules" calling on Walmart to offer quality, affordable health care coverage to all its employees. Both ads highlight Walmart's failure to cover 700,000 of its employees, nearly half of its workforce. They end with the message "Walmart can afford to be a better employer; Now would be a good time to start." The ads can be viewed at: https://www.wakeupwalmart.com/video/commonsense/ .
American Values Agenda for Change at Walmart Labor Day 2009
Walmart has profoundly changed working America.
From where we shop to where we work, the types of jobs we do and the workplace benefits we earn, from the source of the products we buy to threats to our health and our environment, Walmart has transformed our lives and is increasingly defining our possibilities as workers, consumers and communities.
No other private, profit-making enterprise in the history of our country has had the economic scope and impact of Walmart.
It is the largest private employer in the U.S. and is the largest private employer in more states than any other corporation. Its labor market impact has placed steady downward pressure on wages, benefits and conditions.
It is the largest retailer. It has shifted shopping from the town square and from local and regional stores to mega-centers supplied from around the globe. Small shop owners and regional chains are becoming extinct. In some areas, it has become the only retail option. More than 150 million Americans visit Walmart each week.
It is the largest single outlet for imported goods from entire nations, and the largest retailer for a vast array of the products produced by the U.S. Fortune 500. No vendor or supplier can negotiate with Walmart on an equal footing.
Its wage rates and benefit levels set the standard across the labor market. Its demands on suppliers to reduce their cost to Walmart has brought repeated cuts in wages, forced domestic companies to move overseas and has driven foreign suppliers from country to country seeking the lowest wages, the least environmental protection and the most compliant governments.
Its 1.4 million U.S. workers face poverty-level wages, inadequate benefits and insufficient work hours to support families or sustain a modest middle class standard of living. Its failure to provide quality, affordable health care to hundreds of thousands of workers has worsened our health care crisis and driven other employers to reduce or eliminate benefits.
It has completely mismanaged the workplace with 1.6 million women suing the company for systematic sex discrimination, with hundreds of thousands forced to court to obtain overtime pay they worked to earn, with repeated violation of basic workplace standards, and with a policy of massive resistance to the basic human and legal right of workers to organize for a voice in the workplace.
Its global supply chain threatens our environment with the largest single carbon footprint of any private commercial entity. In seeking lower wages, and taking advantage of lax environmental regulation, it needlessly imports goods that are manufactured a world away from the ultimate point of sale forcing vast, wasteful consumption of resources shipping goods around the globe that could be supplied locally. Its supply practices have exposed our families to unsafe and potentially deadly products imported from nations without effective product safety regulations.
It has disregarded its responsibility to our communities. It has engaged in tax avoidance scams that have cost our states and localities billions in lost tax revenue, effectively raising our taxes and straining basic community services from schools to roads to police protection.
Its claims of change ring false. And its claims of providing a better standard of living for working families are hollow. It has made the Walton family the single richest family in the world with accumulated wealth of $158.4 billion.
Walmart's operation is not about lower prices, it is about more and more wealth for the Waltons.
And we have paid a terrible price. Working America has lost jobs and health benefits, suffered reduced pay and opportunity, seen our town and neighborhood stores abandoned, our environment degraded, unsafe products brought into our homes, and experienced widespread violation of basic worker rights.
Walmart is America's store.
Walmart is America's workplace.
Walmart is America's town center.
Walmart must reflect America's values.
Hard work should bring pay and benefits that can support families.
Workers have rights that even the largest employer must recognize and respect.
Our nation, our states and our localities have standards that must be obeyed regardless of the size or wealth of the corporation.
Our environment must be protected and products must be sustainable for our families and our future.
We challenge Walmart on Labor Day 2009 to an American Values Agenda for Change.
Worker Rights: Workers must have the right to self-organization to promote positive and productive workplace practices. No worker should have to go to court to get her pay. No worker should have to file suit to stop discrimination or harassment. And no worker should have to suffer in silence while being denied opportunity, overtime pay, a break or even safe working conditions. Walmart must cease its policy of massive resistance to the exercise of worker rights.
We challenge Walmart to work with us---labor, civil rights, women's, minority and faith organizations---to develop a code of conduct for Walmart to protect the rights of workers consistent with legal and human rights standards.
Quality Jobs: Wage and benefit levels should be designed to maximize economic security and stable jobs for the community. Training to increase productivity, equal opportunity and reduced turnover can all contribute to higher pay and better benefits, while at the same time maintaining low prices for consumers. Where workers choose, wages and benefits should be subject to good faith negotiations between workers and Walmart. The current low wage/high turnover strategy will only impoverish our families and our communities.
We challenge Walmart to work with us to develop pay and benefits programs that promote the economic well-being of working families and communities.
Workplace Fairness: Equal opportunity must be promoted. It is a core American value and allows workers to realize their potential for themselves, the company and the consumer. Walmart has failed after numerous lawsuits and complaints to effectively remedy the problem of discrimination.
We challenge Walmart to work with us to develop workplace practices that will end discrimination and promote a workplace culture of opportunity.
Corporate Responsibility: Responsible corporate behavior is key to developing prosperous and vibrant communities. For too long, Walmart's size and power has exempted them from those responsibilities. It has devised tax avoidance schemes that shortchange our towns and states at a time when budgets are stretched to the breaking point. Walmart has allowed taxpayers to shoulder the burden of its associates' coverage through Medicaid and State Children's Health Insurance Plans.
We challenge Walmart to work with us to become the kind of neighbor that is welcomed with open arms and rises to the challenges faced by the community, rather than compounding them by failing to shoulder their share of the burden.
Healthy Environment: Local sourcing should be the standard practice for stocking Walmart stores in order to reduce the environmental impact and to create local jobs. Technology allows the sourcing of products from virtually anywhere---including areas in close proximity to Walmart stores. Many products produced and shipped from around the world could be produced here in the U.S. Competition for sourcing should be based on quality, productivity, and product safety---not on poverty-level wages, absence of environmental regulation or authoritarian governments.
We challenge Walmart to work with us to develop sourcing protocols that will reduce Walmart's environmental footprint and create local jobs.
We are eager to work with Walmart to create a better workplace, healthier planet, and more vibrant community. In the coming months, we will take several important steps in this effort:
1.) We will establish an accountability project to keep Walmart honest. We will commission reports from the country's leading environmental, economic and labor experts to explore where Walmart is living up to its claims, and where the retail giant could be doing more. It is impossible to change unless you know the truth, and it is sometimes difficult to discern myth from reality when it comes to the retail giant.
2.) We will continue to support, and grow Walmart Workers for Change, an organization of associates who have realized the power they have to change their company from within when they speak with a united voice.
3.) We will build local community coalitions to develop and implement a set of minimum community standards for Walmart's corporate conduct. These coalitions will enforce the core American values of worker rights, quality jobs, workplace fairness, corporate responsibility and a healthy environment by informing consumers, supporting workers and engaging local elected officials.
4.) We will convene a summit of Walmart associates, industry experts, community activists, former Walmart managers, economists, academics, and consumers to address, develop and advance the American Values Agenda for Change at Walmart.
Our nation is facing a moment of intense challenges, but also great opportunities. Because Walmart is a presence in so many of our communities, because it employs so many, because it affects the lives of working families across the country and around the world, it is uniquely positioned to be a powerful force for change.
We challenge Walmart, on Labor Day 2009, to join with us and work to create the vibrant workplace, the healthy planet and the thriving community that we all want and are willing and ready to work for.
WakeUpWalMart.com is about Americans joining together in common purpose to change Wal-Mart. There is only one force powerful enough to change the #1 Fortune 500 company in the world - the American people. WakeUpWalMart.com is about giving Americans the tools to empower themselves to change the world's largest employer. We are Wal-Mart's customers and we have the power to make Wal-Mart live up to its responsibility to its employees, our families, our communities and the nation.
LATEST NEWS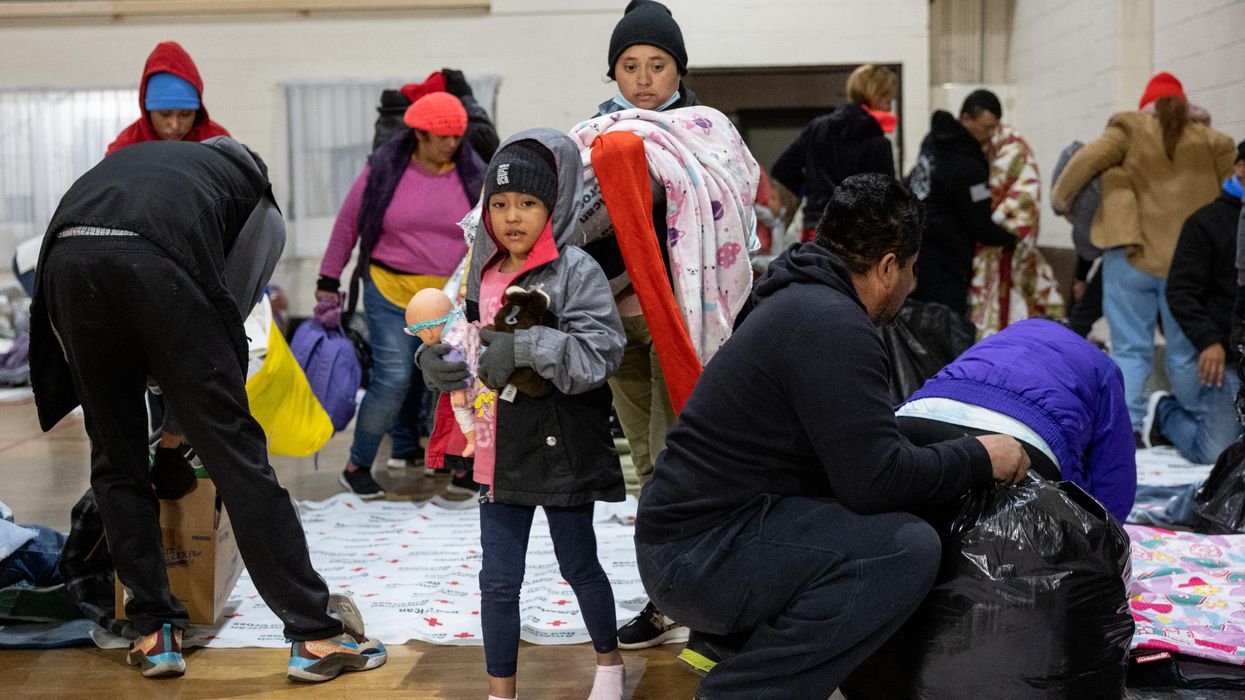 "I've got one word for them: unacceptable," responded one immigration attorney.
Multiple news outlets reported late Monday that the Biden administration is considering restarting migrant family detentions that were used extensively by previous administrations in an attempt to crack down on border crossings.
While "no final decision has been made," according toThe New York Times, "the move would be a stark reversal for President Biden, who came into office promising to adopt a more compassionate approach to the border after the harsh policies of his predecessor, former President Donald J. Trump."
Immigrant rights advocates were quick to warn Biden against following through with any plan to revive migrant family detentions, which the administration had largely shut down.
"I've got one word for them: unacceptable," wrote Aaron Reichlin-Melnick, policy director at the American Immigration Council.
"The thing about family detention is not only that it's cruel and inhumane," Reichlin-Melnick added, "but also that it was a money pit and absolutely useless as a 'deterrent.'"
Bob Libal, an immigration justice advocate and consultant with Human Rights Watch, said it is "absolutely shameful that this is even being considered again."
Both the Obama and Trump administrations made expansive use of family detention, with the latter attempting to rescind limits on how long children can be held in migrant detention facilities—an effort that was ultimately blocked in federal court.
On the campaign trail, Biden condemned the practice of family detention—as well as the separation of migrant families—as morally bankrupt, writing in a Twitter post: "Children should be released from ICE detention with their parents immediately. This is pretty simple, and I can't believe I have to say it: Families belong together."
But with the 2024 election looming, the Biden administration has moved to reinstate immigration policies that it previously denounced as cruel—including a Trump-era asylum ban—as it prepares for the May expiration of Title 42, another Trump administration policy that Biden has used to rapidly deport migrants.
\u201cNO NO NO NO NO NO. \n\n\u201cThe administration will continue to prioritize safe, orderly and humane processing of migrants,\u201d Luis Miranda, a department spokesman, said in a statement.\u201d\n\nFAMILY DETENTION IS INHERENTLY INHUMANE. BABY JAILS ARE INHUMANE. https://t.co/FajlFvBGKj\u201d

— Valeria Gomez (@Valeria Gomez) 1678151345
Reutersreported Monday that in addition to restarting family detentions, the Biden administration is "weighing reviving immigration arrests of migrant families within the United States who have been ordered deported."
"It's all on the table," an unnamed official told the outlet.
In the place of family detentions, the Biden administration has used ankle bracelets and other methods—decried as "digital prisons" by rights groups—to track migrant families as they move through the court system.
But as the Detention Watch Network has observed, the Biden administration did not end its contracts with facilities that were previously used to hold migrant families.
"Instead, following cues from the Obama administration, it converted the contract with Berks County to detain adult women and shifted its usage of the Dilley facility to detain single adults," the organization noted.
Citing one unnamed official, CNNreported Monday that the Biden administration is "looking at multiple options for how to handle migrant families at the southern border, not all of them involving family detention."
"Another source familiar with the deliberations added that among the options discussed are some that wouldn't involve detaining families in ICE facilities," CNN added. "This source said that family detentions would be limited to a small number of days—an attempt to set the policy apart from the Trump administration's handling of family detentions."
But it's not likely that rights groups and advocates would accept such an alternative.
"I was part of a legal team that sued to get access to the first family detention center that President Obama opened (in Artesia, N.M.)," Karen Tumlin, a civil rights litigator, recounted Monday. "Talking to families and kids detained at Artesia was one of the lowest points of my legal career. I can see the cribs lining the hallway now, families and babies crammed into tiny rooms."
"A family detention policy is a policy of adding trauma to trauma," Tumlin added. "It is painful to see this as a rumored proposal from the Biden administration."
News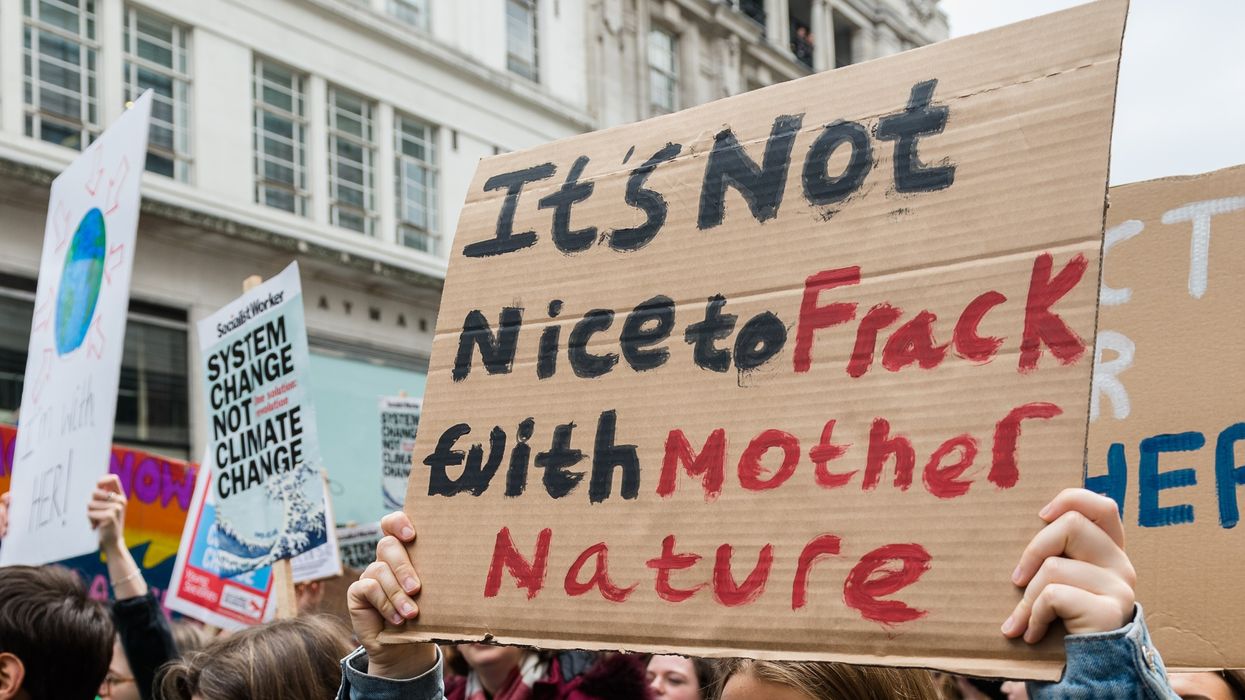 "We see the impact the climate crisis has on people each and every day. And we have a responsibility to sound the alarm," said one doctor. "We urge FERC to prioritize the health of our most vulnerable communities over profit."
As of Monday, more than 500 physicians and other medical professionals had signed on to a letter urging federal regulators to prevent the expansion of a fracked gas pipeline in the Pacific Northwest.
The sign-on campaign comes as the Federal Energy Regulatory Commission (FERC) is expected to weigh in on TC Energy's Gas Transmission Northwest (GTN) Xpress project as soon as this month.
The Canadian company's proposed expansion would boost the capacity of a pipeline that runs through British Columbia, Canada and the U.S. states of Idaho, Washington, Oregon, and California.
"FERC should deny the permit for this pipeline expansion proposal, which is both unnecessary to meet our energy needs and harmful to people in our communities."
"We are in a climate crisis, where we are already experiencing the devastating effects of rising temperatures, the direct result of burning fossil fuels, including so-called 'natural gas,' i.e., methane," the health professionals wrote, noting that methane has more than 80 times the warming power of carbon dioxide over its first 20 years.
Dr. Ann Turner of Oregon Physicians for Social Responsibility (PSR) said that "as medical practitioners, we see the impact the climate crisis has on people each and every day. And we have a responsibility to sound the alarm. We urge FERC to prioritize the health of our most vulnerable communities over profit."

As the letter explains:

TC Energy proposes to increase the amount of gas in its existing pipelines by expanding compressor stations which provide the force which propels gas through pipelines. These compressor stations emit significant amounts of air pollution, both from the operation of the engine which powers the pump as well as from venting. Compressor stations and meter stations vent methane, volatile organic compounds like formaldehyde, particulate matter, nitrogen dioxide, and carbon monoxide. All of these air pollutants have serious health impacts, including increased risks of stroke, cancer, asthma and low birth weight, and premature babies. Compressor stations also produce significant noise pollution. The air and noise pollution from these compressor stations disproportionately harms the rural, low-income, and minority communities that already experience significant health disparities, especially those that are living in proximity to the pipeline expansion project.
"In addition to the health consequences from the pipeline expansion project itself, gas in the GTN pipeline is extracted by fracking in Canada," the letter highlights. "Fracking degrades the environment including contamination of soil, water, and air by toxic chemicals. Communities exposed to these toxins experience elevated rates of birth defects, cancer, and asthma."
"The negative health impacts of methane gas, and its contribution to warming the climate and polluting the air, are unacceptable impacts that disproportionately affect Black, Indigenous, and people of color and low-income communities," the letter adds, arguing that the project is inconsistent with both global and regional goals to reduce planet-heating emissions.
Organizations supporting the letter include Wild Idaho Rising Tide as well as the San Francisco, Oregon, and Washington arms of PSR—which have previously joined other local groups in speaking out against the project alongside regional political figures including U.S. Democratic Sens. Jeff Merkley and Ron Wyden, both of Oregon.
\u201cTAKE ACTION: Sign on to the letter urging the Federal Energy Regulatory Commission to deny the bid to expand shipments of fracked gas through WA.\nhttps://t.co/A86LLz8lRY\u201d

— Washington Physicians for Social Responsibility (@Washington Physicians for Social Responsibility) 1678146398
"Idahoans dread FERC approval of the GTN Xpress expansion project, which would force greater fracked gas volumes and hazardous emissions through the aging GTN pipeline," according to Helen Yost of Wild Idaho Rising Tide.
"This expansion project would further threaten and harm the health and safety of rural communities, environments, and recreation economies for decades," she warned. "This proposed expansion does not support the best interests of concerned Northwesterners living and working near compressor stations and the pipeline route."
Dr. Mark Vossler, a board member at Washington PSR, pointed out that "states in the Northwest have made great strides in reducing our dependence on fossil fuels and creating healthier communities."
"I urge FERC to consider the human health impact of the proposed pipeline expansion and respect the leadership of local, state, and tribal governments in addressing the climate crisis," he said. "FERC should deny the permit for this pipeline expansion proposal, which is both unnecessary to meet our energy needs and harmful to people in our communities."
News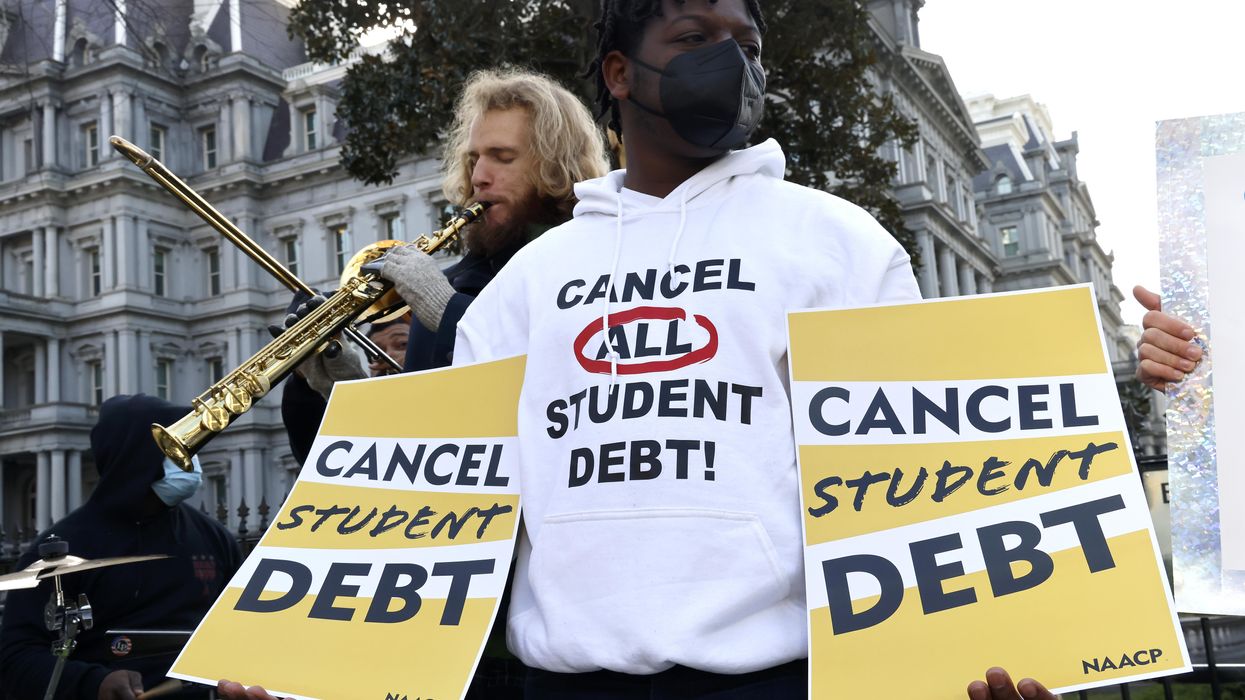 Thanks to the moratorium, said one advocate, "tens of millions of Americans have been able to put food on the table, pay for childcare, stay in their homes, and purchase their lifesaving medicine."
Supporters of U.S. President Joe Biden's plan to cancel over $400 billion in college debt to more than 43 million borrowers reacted angrily Monday to a lawsuit filed by an online finance company trying to overturn his administration's latest pause on student loan repayments—a policy that has cost the firm more than $100 million in lost profits.
San Francisco-based SoFi filed suit Friday in the U.S. District Court for the District of Columbia onFriday against the U.S. Department of Education and Education Secretary Miguel Cardona over the agency's rdecision in November to extend a Covid-19-based moratorium on student loan repayments due to ongoing legal battles.

Founded in 2011, SoFi "was once the leader of a booming private student loan refinancing industry," according to to the Student Borrower Protection Center (SBPC), a nonprofit advocacy group. SoFi's stock price has plummeted by more than 70% since its peak.
"SoFi has a long history of misleading student debtors and tricking them into refinancing their loans."
SoFi toldThe Washington Post that "we have supported and continue to support targeted student loan forgiveness, in addition to the student loan payment moratorium during the economic crisis at the height of the Covid-19 pandemic," but that the latest extension is an "illegal overreach."
However, according to the Debt Collective, the U.S.' first debtors union:
SoFi has a long history of misleading student debtors and tricking them into refinancing their loans in a way that costs hardworking Americans more interest in the long run. SoFi also engages in racist lending practices. The Debt Collective is encouraging its members—and anyone who has been misled or harmed by SoFi—to immediately file a complaint with the Consumer Financial Protection Bureau as well as their state's attorney general.

The Biden administration's pause extensions have kept cash in the pockets of people who desperately need it—disproportionately women, low-income families, and Black communities. Thanks to years of a pause on federal student debt, tens of millions of Americans have been able to put food on the table, pay for childcare, stay in their homes, and purchase their lifesaving medicine.
"SoFi CEO Anthony Noto is a financial vulture gorging himself on our bloated and broken student loan system," SBPC executive director Mike Pierce said in a statement. "Noto's failing company thinks it is entitled to engorge itself by skimming the cream off of the federal student loan portfolio and—after a failed back-room lobbying blitz—is running into court because the government doesn't agree."
\u201c.@SoFi (a failing private student lender) just sued @SecCardona to try to end the payment pause & send you student loan bills.\n\nWhy? So that CEO @anthonynoto can cash in by offering cheap loans to rich people while everyone else gets screwed.\n\n\u27a5https://t.co/ZyZ5qacfCB\u201d

— Student Borrower Protection Center (@Student Borrower Protection Center) 1678141269
"The real story here is the huge risk this poses to tens of millions of working people who SoFi would never lend to—families across the country that depend on the student loan payment pause to shield them from financial devastation," Pierce added.
As the Post's Danielle Douglas-Gabriel noted:
SoFi has a lot at stake with the ongoing payment pause. The company made a name for itself by refinancing education loans—lowering the interest rates and monthly payments of people with private and federal student loans. Refinancing federal student loans can save borrowers money, especially those with high-interest graduate debt. But it means giving up federal benefits, including access to income-driven repayment plans and public service loan forgiveness. The trade-off has become less appealing in the wake of the payment pause, according to SoFi.

The moratorium has eliminated the primary benefits of student loan refinancing by suspending interest on most federal student loans for the past three years, the complaint said. Whereas SoFi originated about $450 million to $500 million of refinanced federal student loans per month before March 2020, the volume plummeted by more than 75% following the initial pause, according to the company. The decline has accelerated and resulted in the company losing roughly $150 million to $200 million in profits over the past three years, the company said.
The current repayment pause—which costs the federal government $5 billion each month—could continue until August, depending upon the timing of the U.S. Supreme Court's ruling on two cases that will decide the fate of Biden's plan.
Last month, the nine justices heard oral arguments in the cases. Members of the court's right-wing supermajority repeatedly criticized the president's proposal and its estimated $400 billion-plus price tag. U.S. Solicitor General Elizabeth Prelogar told the Supreme Court that failing to cancel student debt and lifting the moratorium will bring extreme financial hardship to millions of borrowers and cause defaults to skyrocket.
"The Department of Education should immediately cancel all federal student loans. Don't feed the parasites."
Debt Collective spokesperson Braxton Brewington ripped SoFi's "ridiculous" filing as "just a continuation of the sham lawsuits pushed by Republican states and right-wing dark-money groups opposing student debt relief."
"What the Biden administration needs to do is fight back and choose working-class people over corporate profits," Brewington continued. "A predatory corporation losing revenue because the federal government continues good policy is not grounds to end that policy. "SoFi claims they want to lower Americans' interest rates, but they're working to destroy 0% interest to force Americans into a higher rate with them."
Debt Collective organizer Thomas Gokey called SoFi "a parasite on a policy failure."
"SoFi CEO Anthony Noto is starting to get desperate now that everyone realizes that there is no reason to ever restart student debt payments," Gokey contended. "The Department of Education should immediately cancel all federal student loans. Don't feed the parasites."
\u201cThis memo shows how the payment pause boosted borrowers\u2019 credit scores & lowered financial distress above-and-beyond other pandemic relief programs.\n\nPlus, the biggest help went to borrowers who already faced the greatest financial distress before COVID-19.\u201d

— Student Borrower Protection Center (@Student Borrower Protection Center) 1678129297
The lawsuit came on the same day that the Student Loan Law Initiative—an academic partnership between the University of California, Irvine School of Law and SBPC—published a new analysis detailing how "the ongoing student loan payment pause may have been even more beneficial for federal borrowers than previously understood."

News
SUPPORT OUR WORK.
We are independent, non-profit, advertising-free and 100%
reader supported.