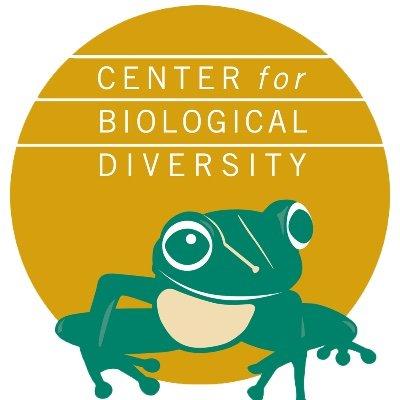 For Immediate Release
Contact:
Jeff Miller, Center for Biological Diversity, (510)
499-9185
Pesticide Victory: Proposal to Restrict Toxic Pesticides in Bay Area Endangered Species Habitat
Lawsuit Settlement Would Require Environmental Protection Agency to Evaluate, Restrict Use of 74 Pesticides Harmful to 11 Bay Area Endangered Species
SAN FRANCISCO
The U.S.
Environmental Protection Agency today proposed to formally evaluate the harmful
effects of 74 pesticides on 11 endangered and threatened species in the San
Francisco Bay Area over the next five years, and to impose interim restrictions
on use of these pesticides in and adjacent to endangered species habitats. The
proposal stems from a settlement agreement with the Center for Biological
Diversity, which sued the EPA in 2007 for violating the Endangered Species Act
by registering and allowing the use of toxic pesticides in Bay Area endangered
species habitats without determining whether the chemicals jeopardize those
species' existence.
"Tens of millions
of pounds of toxic and poisonous chemicals, known to be deadly to endangered
species and harmful to human health, including proven carcinogens and endocrine
disruptors, are applied in the Bay Area each year, and many of those find their
way through runoff or drift into our soil, creeks and rivers, San Francisco Bay,
and sensitive wildlife habitats," said Jeff Miller, conservation advocate with
the Center. "The toxic stew of pesticides in the Bay-Delta has played a major
role in the collapse of native fish populations, and pesticides are a leading
cause of the loss of native amphibians. This agreement is a positive step for
protection of some of the Bay Area's most endangered wildlife from
pesticides."
The
11 San Francisco Bay-area endangered species are the Alameda whipsnake,
bay checkerspot butterfly, California clapper rail, California
freshwater shrimp, California tiger salamander, delta smelt, salt marsh
harvest mouse, San Francisco garter snake, San Joaquin kit fox,
tidewater goby, and valley elderberry longhorn beetle. Similar
protections were obtained by the Center for the California red-legged frog under
a 2006 settlement that prohibited use of 66 pesticides in and adjacent to frog
habitats statewide.
The EPA is required under the
Endangered Species Act to consult with the U.S. Fish and Wildlife Service over
registration, re-registration and approved uses of pesticides that may endanger
listed species or adversely affect their designated critical habitat. The
consultation is designed to ensure that EPA avoids authorizing pesticide uses
that jeopardize the existence of endangered species. The EPA has consistently
failed to evaluate or adequately regulate pesticides harmful to endangered
species.
The EPA today published a proposed
settlement agreement with the Center and is taking public comment on a
stipulated injunction that would establish a series of deadlines for the EPA to
conduct formal consultations with the Service and make "effects determinations''
on 74 pesticides that may affect 11 Bay Area species listed under the Endangered
Species Act. The injunction would set aside the EPA's authorization of use for
each of the 74 pesticides in, and adjacent to, endangered species habitats
within eight Bay Area counties (Alameda, Contra
Costa, Marin, Napa, San
Mateo, Santa Clara, Solano, and
Sonoma) until
formal consultation is completed. The consultations should result in
cancellation of some pesticide uses and permanent use restrictions for harmful
pesticides. The EPA will make the effect determinations beginning October 20,
2009 and ending June 30, 2014.
The settlement includes interim
pesticide-use restrictions in habitat for the 11 Bay Area species, in order to
reduce the potential exposure of these species to harmful pesticides during the
consultation period and Fish and Wildlife Service assessments of pesticide
impacts.
Reported pesticide use in the Bay
Area is about 10 million pounds annually, but actual pesticide use is estimated
to be several times this amount since most home and commercial pesticide use is
not reported to the state. Pesticides have been implicated in the recent
collapse of Bay-Delta fish populations such as delta smelt, longfin smelt, and
chinook salmon. Toxic pulses of pesticides have been documented in Bay Area
streams and the Delta during critical stages in fish development, and many local
water bodies are listed as "impaired" for not meeting water-quality standards
due to high concentrations of extremely toxic pesticides such as chlorpyrifos
and diazinon.
Numerous studies have definitively
linked pesticides with significant developmental, neurological, and reproductive
damage to amphibians. Pesticide contamination can cause deformities, abnormal
immune system functions, diseases, injury, and death of frogs and salamanders.
Studies by Dr. Tyrone Hayes at the University of California have strengthened the case for
banning atrazine, a potent chemical that is the most common contaminant of
ground, surface, and drinking water nationwide. Dr. Hayes demonstrated that
atrazine is an endocrine disruptor that "assaults male sexual development,"
interfering with reproduction by chemically castrating and feminizing male
frogs. Atrazine has also been linked to increased prostate cancer, decreased
sperm count, and high risk of breast cancer in humans. Thousands of pounds of
atrazine are used each year in the Bay Area in proximity to amphibian
habitats.
In 2006 the Center published Poisoning
Our Imperiled Wildlife: San Francisco Bay Area Endangered Species at
Risk from Pesticides, a
report analyzing the EPA's dismal record in protecting endangered species
and the agency's ongoing refusal to reform pesticide registration and use in
accordance with scientific findings. In 2004 the
Center published Silent
Spring Revisited: Pesticide Use and Endangered Species, detailing the decades-long failure
of the EPA to regulate pesticides harmful to endangered species. The EPA still
has no meaningful plan to protect endangered species from pesticides.
The lawsuit, report on pesticide
impacts to Bay Area species, maps of pesticide use, and information about the
listed species are on the Center's
pesticides Web page.
At the Center for Biological Diversity, we believe that the welfare of human beings is deeply linked to nature — to the existence in our world of a vast diversity of wild animals and plants. Because diversity has intrinsic value, and because its loss impoverishes society, we work to secure a future for all species, great and small, hovering on the brink of extinction. We do so through science, law and creative media, with a focus on protecting the lands, waters and climate that species need to survive.
(520) 623-5252
LATEST NEWS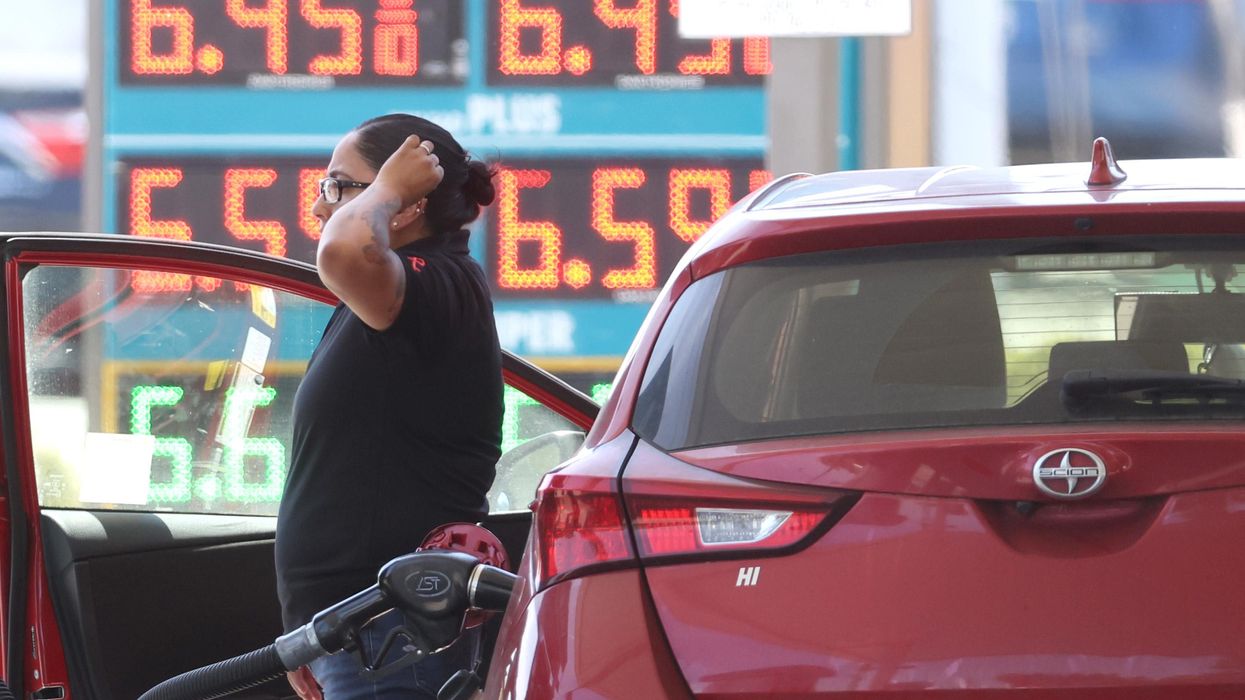 "With $290 billion in profits, Big Oil made enough money in 2022 to end world hunger, pay off U.S. medical debt, and build 10 Disney Worlds, but instead used their record profits to shower $163 billion on shareholders."
An analysis published Monday by the watchdog Accountable.US revealed that the biggest oil companies operating in the United States raked in a collective $290 billion in profits last year while they "consistently prioritized shareholder returns over alleviating the pressure of high energy prices."
According to the report—which analyzed 26 oil companies doing business in the U.S.—the $290 billion in collective 2022 Big Oil profits marked a 126% increase from the previous year. Fossil Fuel giants including BP, Shell, and Chevron more than doubled their net income in 2022, while smaller players like Murphy Oil And Southwestern Energy saw respective increases of 1,410% and 7,496%.
"With $290 billion in profits, Big Oil made enough money in 2022 to end world hunger, pay off U.S. medical debt, and build 10 Disney Worlds, but instead used their record profits to shower $163 billion on shareholders with plans to give even more in 2023," Accountable.US said.
\u201cIn 2022, Big Oil giants like @Shell, @BP_America and @ExxonMobil doubled their profits and added billions to their shareholders' pockets by gouging American consumers.\n\nLearn how their profiteering kept prices high at the pump: https://t.co/njDbQo9E9c\u201d

— Accountable.US (@Accountable.US) 1678133351
According to a summary of the analysis:
The industry's historic margins were largely achieved through unabated price gouging of American consumers. As families across the country experienced financial strain due to the artificially high prices at the pump, the industry spent over $163 billion on stock buybacks and dividends, further enriching their wealthy shareholders. Even as Big Oil executives complain about supposedly lower-than-desired margins in 2023, oil and gas companies have already publicly announced plans to buy at least $160 billion in stock backs starting this year.
"Modern-day oil barons like Shell, BP, and Chevron forced American consumers into financial strain and ruthlessly extracted every last dime out of working and middle-class people,"said Accountable.US director of energy and environment Jordan Schreiber.

Fossil fuel and other corporations have used the Covid-19 pandemic, Russia's invasion of Ukraine, and inflation as pretexts to price gouge consumers.
"Despite the industry's bald-faced lies, Big Oil's never-ending greed was the central force driving the industry's obscene price gouging," Schreiber continued. "Now, executives have already announced plans to spend $160 billion on stock buybacks to enrich their wealthy shareholders further."
"Meanwhile," she added, "the MAGA majority in the House continues to shield Big Oil from accountability as their constituents pay the price."
Last March, Rep. Ro Khanna(D-Calif.) introduced a bill that would tax excess oil company profits and pay American households a quarterly refund. That same month, Sen. Bernie Sanders(I-Vt.) introduced the Ending Corporate Greed Act, a proposed 95% windfall profits tax on major oil companies.
While President Joe Biden has threatened to support a windfall profits tax on oil companies if they don't increase production, he has not yet done so.
News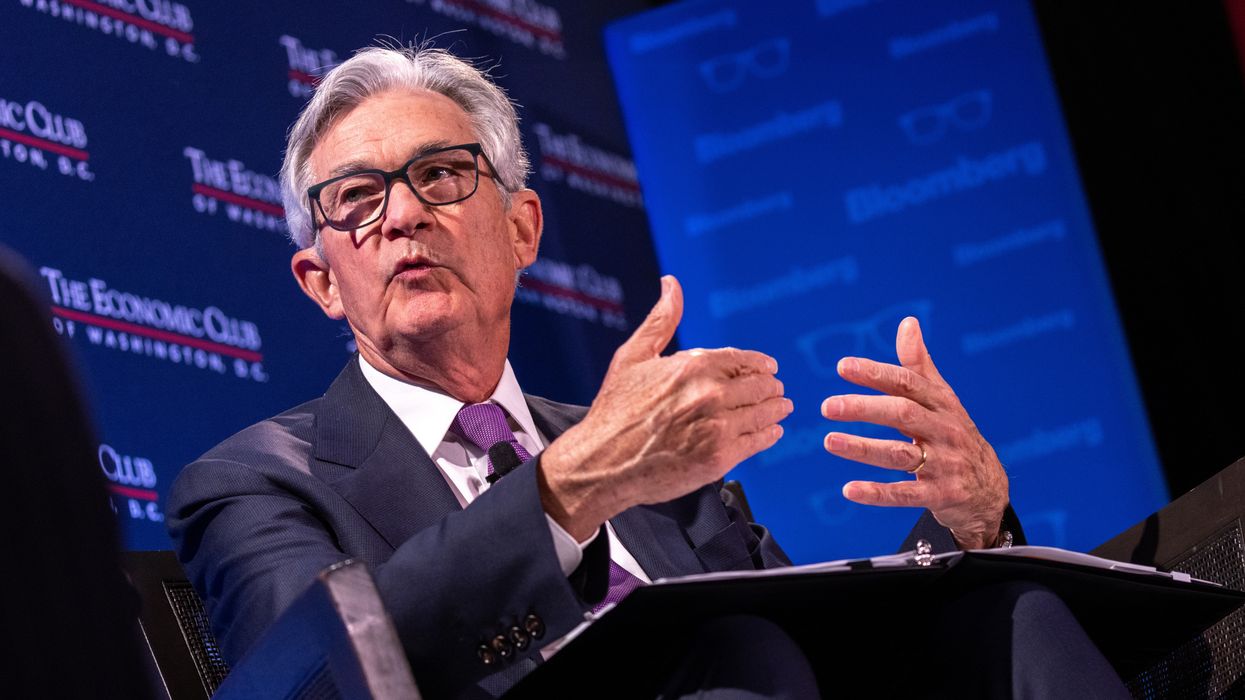 "People understand that pushing millions of workers out of a job is a terrible way to address inflation," said one economist.
Survey data released Monday shows that a majority of U.S. voters want the Federal Reserve to stop raising interest rates before it plunges the economy into recession, a position that aligns with the view of many economists and lawmakers who fear the central bank is on the verge of needlessly throwing millions out of work.
Conducted by Lake Research Partners and published by the Groundwork Collaborative, the new poll found that 56% of U.S. voters believe the Fed should bring its rate hikes to a halt as top central bankers indicate that more increases are coming in the near future—even though rates are already at their highest level in 15 years.
"Our new poll makes it clear that people across the country want the Federal Reserve to stop raising interest rates before it pushes us toward a devastating and completely avoidable recession," said Rakeen Mabud, chief economist at the Groundwork Collaborative.
"People understand that pushing millions of workers out of a job is a terrible way to address inflation and will do nothing to address root causes of inflation like supply-chain interruptions, the war in Ukraine, and big corporations manipulating the market to increase profits," Mabud added. "And they want a Federal Reserve that prioritizes workers and families, not Wall Street and Big Business."
The survey, which reached 1,240 registered voters nationwide, found that just 14% believe the Fed is on the side of "average Americans." Nearly 40% said they feel the central bank serves the interests of big businesses or banks.
"Voters believe overwhelmingly that the Federal Reserve is on the side of Big Business, banks, and Wall Street," Celinda Lake, the president and founder of Lake Research Partners, said during a press call Monday.
\u201c\ud83d\udea8 NEW POLL: Voters believe the @federalreserve is on the side of big business (38%), banks (38%), and Wall Street (30%). \n\nLess than 1 in 5 across partisan lines think the Fed is on the side of average Americans.\n\nFull memo here: https://t.co/65jSnYGFuU\u201d

— Groundwork Collaborative (@Groundwork Collaborative) 1678117489
The findings were released a day ahead of Federal Reserve Chair Jerome Powell's scheduled appearance before the Senate Banking, Housing, and Urban Affairs Committee, where he will likely face sharp questioning from central bank policy critics such as Sens. Sherrod Brown (D-Ohio) and Elizabeth Warren(D-Mass.).
On Wednesday, Powell is set to testify before the House Financial Services Committee.

The Fed is widely expected to raise interest rates again during its policy meeting later this month, even with inflation easing and despite mounting calls for a pause as previous increases—which are taking a toll on wage growth and the housing market—work their way through the economy.
Powell and other central bankers have repeatedly claimed that the U.S. labor market—which has thus far remained strong in the face of the Fed's rate increases—is running too hot and must be weakened in order to curtail inflation, sparking accusations that the Fed is prioritizing just one side of its dual mandate and "trying to engineer a recession."
The latest U.S. job figures are set to be released on Friday.
Critics have said the Fed's chosen policy approach—aggressive attempts to curb demand—is misguided and will do little to tackle the primary drivers of inflation, including corporate concentration and profit-seeking price increases.

During Monday's press call, economist J.W. Mason argued that "it's absolutely possible for inflation to drop without much job destruction."
"Over the past few months, we've seen a substantial fall in inflation without significant job destruction," said Mason. "You can have disinflation without falling wages and without unemployment. The question is: Are higher interest rates really a tool that can deliver that? I think the answer is no."
The new polling shows that an overwhelming majority of U.S. voters—77%—believe that "we should be focusing on the legislative tools Congress can use to fight inflation instead of simply relying on the Federal Reserve to raise interest rates."
While the survey doesn't mention specific legislative fixes, campaigners and experts have floated a range of proposals over the past year, from a crackdown on Big Oil profiteering to targeted price controls.
Pointing to the public earnings calls of major corporations, Mabud noted Monday that "you don't actually have to look too hard to hear the CEOs being pretty crystal clear that they're jacking up their profit margins by raising prices on consumers."

News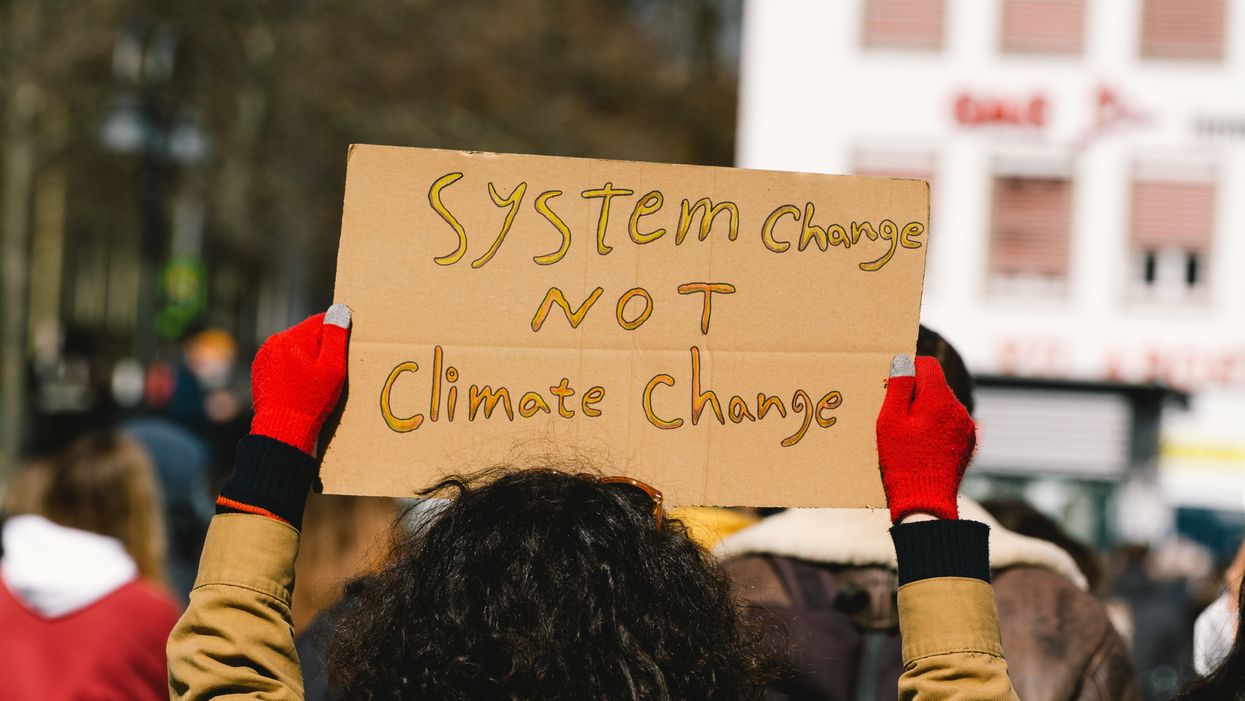 "Promoting the utilization of captured CO2 in petrochemicals, plastics, and fuels, as your legislation would encourage, will perpetuate environmental justice harms and subsidize the oil and gas industry to do it."
More than 100 organizations on Monday urged the congressional sponsors of a new proposal that would boost the tax credit for certain carbon capture projects to shift their focus to solutions that will actually address the fossil fuel-driven climate emergency.
The groups—including 350.org, Beyond Plastics, Center for Biological Diversity, Food & Water Watch, Indigenous Environmental Network, Michigan Environmental Justice Coalition (MEJC) Action!, Physicians for Social Responsibility, Science and Environmental Health Network (SEHN), and Waterspirit—oppose the Captured Carbon Utilization Parity Act (S. 542/H.R. 1262).
Introduced last week by Sens. Sheldon Whitehouse (D-R.I.) and Bill Cassidy (R-La.) and Reps. David Schweikert (R-Ariz.) and Terri Sewell (D-Ala.), the legislation would increase the 45Q tax credit for carbon capture and utilization (CCU) "to match the incentives for carbon capture and storage (CCS) for both direct air capture (DAC) and the power and industrial sectors."
The groups sent a letter to the four sponsors arguing that:

This bill does not advance climate solutions, but is rather a giveaway to fossil fuel companies and other corporate polluters under the guise of climate action. Promoting the utilization of captured CO2 in petrochemicals, plastics, and fuels, as your legislation would encourage, will perpetuate environmental justice harms and subsidize the oil and gas industry to do it. Rather than perpetuating these climate scams, we encourage you to support the elimination of subsidies for the fossil fuel industry instead of enriching them through carbon capture schemes.
In addition to stressing that such projects consume a lot of water while producing emissions and chemical waste—further endangering frontline communities that are disproportuantely home to people of color and low-income individuals—the organizations pointed out that "carbon capture has a long history of overpromising and under-delivering."

"The overwhelming majority of captured carbon to date has been used to increase oil production via enhanced oil recovery (EOR)," the letter highlights. "The myth of a massive carbon management paradigm that uses and re-uses carbon dioxide on any large scale serves only to greenwash the reality of how carbon dioxide is used: for oil production."

"As laid bare in an investigation from the U.S. Treasury Inspector General for Tax Administration, the 45Q tax credit is rife with abuse as credits are improperly claimed," the letter further notes. "Moreover, documents uncovered by the House Oversight Committee's investigation into major oil companies and climate disinformation revealed that the biggest proponents of CCS also understand the technology to be costly, ineffective, and requiring continued and increasing government subsidization."

"The myth of a massive carbon management paradigm that uses and re-uses carbon dioxide on any large scale serves only to greenwash the reality of how carbon dioxide is used: for oil production."
Citing a report from the United Nations' Intergovernmental Panel on Climate Change, the organizations also explained that "in contrast to things like solar power and batteries, carbon capture is not the kind of technology that gets significantly cheaper over time, and increasing public subsidies to spark a carbon management industry will not result in a self-sustaining system."

According to dozens of groups representing communities across the country, "The carbon utilization fantasy should be abandoned, with focus restored on the solutions we know will help combat the climate crisis, like renewable energy and storage, electrification, energy efficiency, real zero-waste materials systems, agroecology, and more."
SEHN executive director Carolyn Raffensperger told Common Dreams that her group is supporting the letter "because carbon capture use and sequestration (CCUS) is the fossil fuel industry's diabolical plan to line its investors' pockets with public money" and "the antithesis of a climate solution in that it delays real, tried and true solutions."
"Further, the entire 45Q tax credit program turns sound environmental policy on its head: Instead of requiring the polluter to pay for its damage, 45Q tax credits pay the polluter to pollute," Raffensperger added. Pointing to proposed CO2 pipelines in Iowa, she said:
Keenly aware of the climate crisis, we investigated the claims that industry was making that we could address climate by putting a big machine on top of various polluting facilities and transporting the CO2 across the countryside and burying it deep underground. What we discovered was that the entire enterprise would require more energy than the original facility required. It will disrupt farm land and pose grave risks in case of a pipeline rupture. Even worse, we found that this vast complex system of carbon capture, transportation, and either use or disposal is horribly under-regulated by [the Environmental Protection Agency], the Pipeline and Hazardous Materials Safety Administration, the [Internal Revenue Service], and others. The frosting on this toxic cake is that the public pays the fossil fuel industry with public money and the public gets no climate benefit. If anything, CCUS makes climate change worse.
"Heed the lessons of the recent train derailment and pipeline disasters. That is, fix the regulatory mess before pouring money into 45Q tax credits," she urged U.S. lawmakers. "The tax credits are like shoveling coal into the boiler of a runaway train."
MEJC Action! backed the letter "because of the dangers CCUS presents to environmental justice communities in Michigan," Juan Jhong-Chung, the group's climate justice director, told Common Dreams. "Our communities are already overburdened by polluted air and water because of fossil fuel power plants and other toxic industrial infrastructure. We do not want government subsidies going to technologies that will perpetuate harms and impact the health of our families."
"Most projects where CCUS can be deployed are Black, Brown, and poor communities," the campaigner added. "We don't need more respiratory issues, we deserve clean pollution-free renewable energy."

As Rachel Dawn Davis, public policy and justice organizer at Waterspirit, said Monday in an email to Common Dreams, independent science has already shown that investments in carbon capture "would be a waste of money and time," and "we are experiencing the sixth mass extinction; we have no time to continue wasting."

"If we are to provide a livable future for current and future generations of young people and all creation, we must invest solely in renewable energy, not furthering fossil fuel fallacies," she emphasized. "Subsidies going to the most heinous polluters are only continuing through this legislation; congressional representatives must know better by now."
This post has been updated with comment from MEJC Action!.
News
SUPPORT OUR WORK.
We are independent, non-profit, advertising-free and 100%
reader supported.