For Immediate Release
Contact:
Sam Husseini, (202) 347-0020; or David Zupan, (541) 484-9167
WASHINGTON
AP reports that according to government data released today, "the
number of people continuing to receive unemployment benefits rose to
6.78 million -- the largest total on records dating back to 1967 and
the 17th straight record week."
FRANK HAMMER
Hammer is a retired GM employee of 32 years. He was president of United
Auto Workers local 909 and also worked in the GM department of the UAW.
He said today: "We have to look at multiple crises, including the
economy and global warming. James Hansen of NASA has warned that we are
near irreversible harm on global warming. Now, that's pretty alarming.
But we're not acting with the seriousness that would mean.
"We must engage in a conversion so that what we manufacture makes sense
environmentally, including public transportation, like trains, and
renewable energy, like wind turbines. We need to put people to work
creating things that will work to prevent environmental disaster.
"There was a similar civilian-to-military conversion in the auto plants
during World War II -- and the companies resisted that too while the
UAW pushed for it. And they were able to convert in eight months. We
need another conversion for another kind of war now. GM has been a
dinosaur and is not able to lead the conversion to produce the things
we need."
A nationwide consortium, the Institute for Public Accuracy (IPA) represents an unprecedented effort to bring other voices to the mass-media table often dominated by a few major think tanks. IPA works to broaden public discourse in mainstream media, while building communication with alternative media outlets and grassroots activists.
LATEST NEWS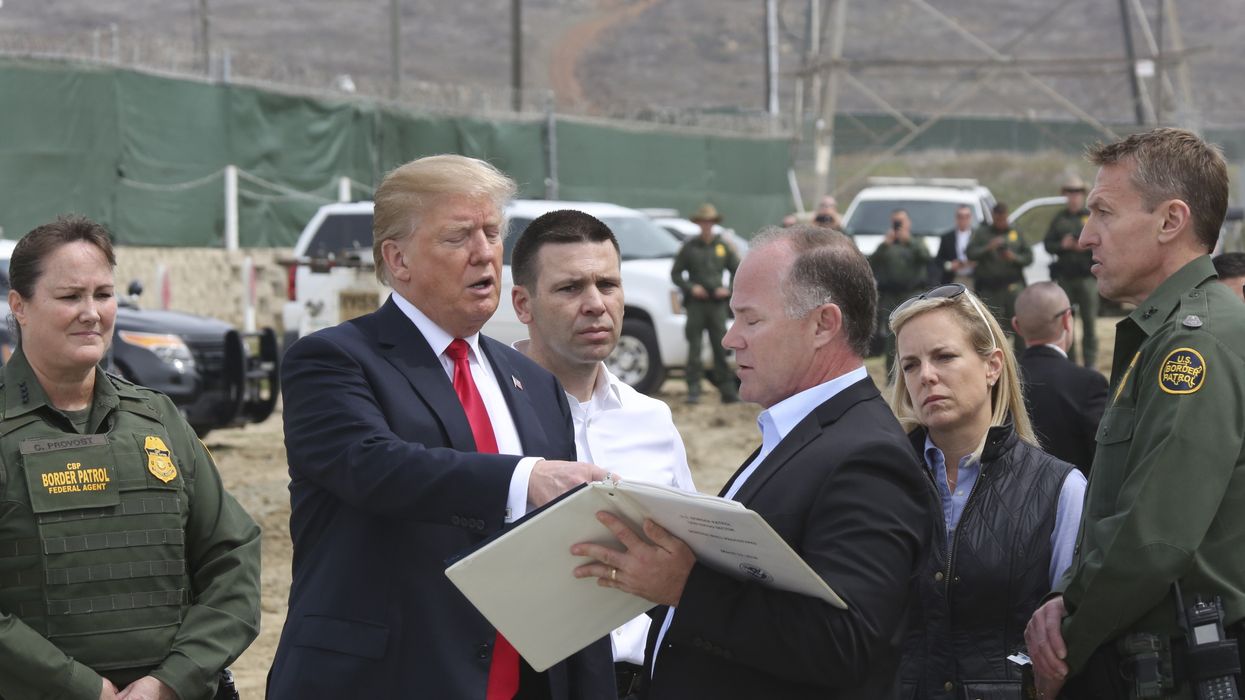 "This racist political stunt has been an ineffective waste of billions of American taxpayers' dollars—and now we know it has caused immeasurable, irreparable harm," said Congressman Raúl Grijalva.
A U.S. government watchdog agency on Thursday released a report exposing how former President Donald Trump's wall construction along the nation's border with Mexico negatively affected cultural and natural resources, as critics have long argued.
"The Department of Homeland Security's (DHS) U.S. Customs and Border Protection (CBP) and the Department of Defense (DOD) installed about 458 miles of border barrier panels across the southwest border from January 2017 through January 2021," according to the Government Accountability Office (GAO) report. "Most (81%) of the miles of panels replaced existing barriers."
"The agencies installed over 62% of barrier miles on federal lands, including on those managed by the Department of the Interior," the report continues. "Interior and CBP officials, as well as federally recognized tribes and stakeholders, noted that the barriers led to various impacts, including to cultural resources, water sources, and endangered species, and from erosion."
The GAO document details how the border wall work caused severe erosion; disrupted natural water flows; damaged native plants while spreading invasive species; disturbed wildlife habitats and migration patterns, including for threatened and endangered species; and destroyed Indigenous burial grounds and sacred sites.
"From the start, President Trump's border wall was nothing more than a symbolic message of hate, aimed at vilifying migrants and bolstering extreme MAGA rhetoric," said U.S. House Natural Resources Committee Ranking Member Raúl Grijalva (D-Ariz.), who requested the report in May 2021. "This racist political stunt has been an ineffective waste of billions of American taxpayers' dollars—and now we know it has caused immeasurable, irreparable harm to our environment and cultural heritage as well."
"So much damage has been done, but we still have the opportunity to keep it from getting worse," he stressed. "Environmental restoration and mitigation work must be led by science and input from the right stakeholders, including tribes and communities along the border. So many corners were cut in building the wall—let's not repeat history by cutting corners in repairing the damage it caused."
"The report also makes clear that federal land management agencies, like the Interior Department and U.S. Forest Service, must be involved in environmental restoration and mitigation. These agencies have the utmost expertise and scientific knowledge of the borderlands," he added, calling on Congress to include funds for Interior and the Forest Service in the fiscal year 2024 budget "to make sure they have a strong leadership role going forward."
The GAO's report broadly recommends that the CBP commissioner and Interior secretary jointly document "a strategy to mitigate cultural and natural resource impacts from border barrier construction that defines agency roles and responsibilities for undertaking specific mitigation actions; identifies the costs, associated funding sources, and time frames necessary to implement them; and specifies when agencies are to consult with tribes."
The document adds that "the commissioner of CBP, with input from Interior, DOD, tribes, and stakeholders, should evaluate lessons learned from its prior assessments of potential impacts." The agencies have agreed to implement the recommendations, according to the GAO.
Building the border wall—which also increased rates of serious injuries and deaths among migrants—was a prominent pledge in Trump's 2016 campaign messaging. It was part of a broader anti-migrant platform that continued into his presidency, which also featured the notorious family separation policy.
When Democratic President Joe Biden took office in January 2021, he delivered on a campaign promise to suspend work on the wall. The following month, he ended Trump's related emergency declaration and halted funding toward wall construction. That April, DOD announced that it was canceling all border barrier projects paid for with funds originally intended for other military uses.
While Biden was widely praised for those moves, the GAO report points out that "pausing construction and canceling contracts exacerbated some of the negative impacts because contractors left project sites in an incomplete or unrestored state as of the January 2021 pause, and the sites remained that way, at times, for more than a year."
Biden—who has faced criticism from rights groups for some of his immigration policies—is seeking reelection in 2024. He is expected to face the Republican nominee. Trump is currently the GOP front-runner, despite his various legal problems and arguments that he is constitutionally barred from holding office again after inciting the January 6, 2021 insurrection.
The GAO report was released the same day as a United Nations International Children's Emergency Fund (UNICEF) alert that the number of kids traveling major migration routes in Latin America and the Caribbean hit a new record, due to gang violence, instability, poverty, and the climate emergency. As Common Dreamsreported earlier Thursday, CBP has recorded more than 83,000 children entering the United States in the first eight months of this year.
News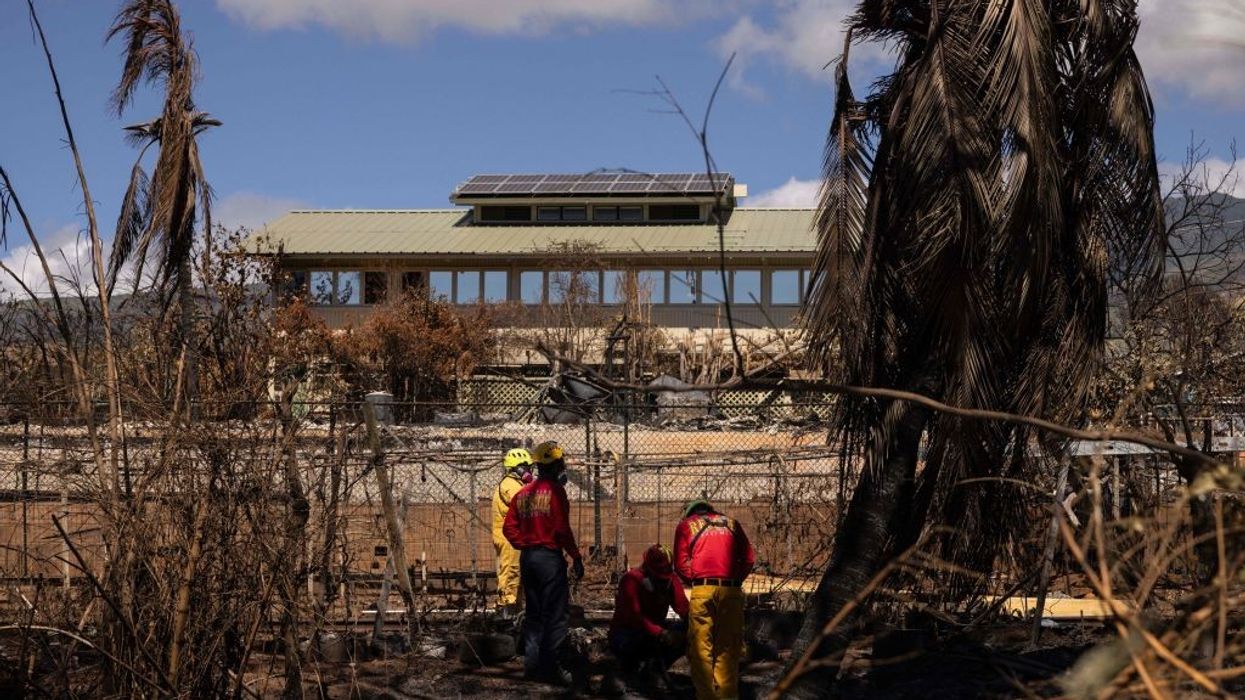 "Firms like Blackstone should be ashamed of this sinister investment strategy that contributes to catastrophe and rebuilds after it strikes," a report author said.
In yet another instance of disaster capitalism, private equity companies like Blackstone have found two ways to profit from the climate emergency: first by investing in fossil fuel infrastructure and then by buying up restoration companies that clean up after increasingly extreme weather events.

That's one of the main takeaways from a report released Thursday by the Private Equity Stakeholder Project (PESP) and Resilience Force titled Private Equity Profits From Disaster at the Expense of Workers, Communities, and Climate.
"Firms like Blackstone should be ashamed of this sinister investment strategy that contributes to catastrophe and rebuilds after it strikes," report co-author and PESP research coordinator Azani Creeks told Common Dreams.
"The investments Blackstone has made in both ServPro and its fossil fuel companies have long-term consequences that are borne primarily by already marginalized communities in the United States."
The report documents a shift that took place in the disaster recovery industry following Hurricane Katrina in 2005. Before that historic storm, cleanup work in a given area was usually done by smaller local companies.
"After the massive efforts required post-Hurricane Katrina and the increasing frequency and magnitude of climate disasters, private equity firms saw an opportunity to consolidate the market by buying up smaller companies," Creeks wrote in the report.
And the trend continues. Private equity firms bought 72 restoration companies between January 2020 and June 2023, with the number of purchases rising each year. They acquired 13 in 2020, 20 in 2021, 25 in 2022, and 14 during just the first six months of 2023. If that pace continues through the end of the year, the 2023 total will rise to 28, more than double the yearly purchases three years ago.
The report includes a list of 14 major disaster relief companies owned by private equity firms, five of which also invest in fossil fuels. For example, Blackstone, which owns ServPro, also bought Ohio's General James Gavin Power Plant—one of the leading single sources of coal pollution in the U.S.— in 2017.In another example, Louisiana-based disaster relief company the Lemoine Company also manages Lemoine Pipeline Services. The company is owned by the private equity firm Bernhard Capital Partners.
This profit-making strategy has major environmental justice implications.
"The investments Blackstone has made in both ServPro and its fossil fuel companies have long-term consequences that are borne primarily by already marginalized communities in the United States," Creeks told Common Dreams, adding that ServPro often hires immigrants and people of color who are vulnerable to unfair and unsafe labor practices like wage theft.
"Furthermore," Creek added, "Blackstone's financing of fossil fuel assets also inflicts direct harm on these same communities, who bear the brunt of toxic emissions and climate disasters."
Even if private equity firms aren't funding fossil fuels, their acquisition of restoration companies still means they have a responsibility to workers and communities, the report argues.
As disaster restoration companies have consolidated and gone national, they have organized themselves in a series of franchises and subcontractors. Of the 72 companies acquired in the last three years, more than 80% of them were instances of larger companies buying up smaller ones. These often-opaque corporate structures can make it difficult for workers to challenge their employers over issues like wage theft or unsafe working conditions. Undocumented workers are especially vulnerable, because any complaint may be met with a threat to contact immigration authorities.
"Though issues with wage theft and worker health and safety have long existed in the construction and disaster restoration industries, with an investment from the world's largest asset manager, you would expect to see these issues less frequently as more resources can be implemented to protect workers," Creek said. "Instead, the problems at ServPro and other private equity-owned disaster restoration companies persist, with even less mechanisms for accountability and public scrutiny than before."
One worker named Joél Salazar, who is also an organizer with Resilience Force, shared his experience ServPro subcontractor Royal Services. He said the company offered to pay his way from Florida to Colorado in early 2022 to help with wildfire recovery there, and promised him 40-hour workweeks and weekly paychecks when he arrived. But the travel costs never materialized, weeks started out closer to 20 hours, and the pay ended up being every other week instead.
"The company is stealing from me."
What's more, the payment was made via a Visa card. When Salazar said he had to return to Florida, the company canceled his card despite the fact that a significant amount of his earnings were still on it.
"The company is stealing from me," he said in the report.
Salazar said he wanted private equity firms and investors to be aware of what their companies were doing.
"Investors, I'm calling to ask you to consider worker safety at the companies you invest in, especially the private equity firms you rely on for profits," he said.
Another problem is unsafe working conditions. Companies owned by private equity firms racked up a total of 194 federal Occupational Safety and Health Administration violations between January 2015 and January 2022. The most common violations were exposing workers to asbestos and failing to provide them with respiratory protection, followed by failing to communicate dangers and protect workers from falls.
Recovery workers are organizing to protect themselves through the group Resilience Force, which says it is "building a strong, stable, inclusive, million-strong workforce that will be able to perform year-round climate preparation and adaptation work, as well as rebuild after disasters."
The group's founder and director Saket Soni said in the new report, "We must ensure that these companies, and their private equity backers who profit from disaster, pay and protect the resilience workers who are essential to helping communities adapt and recover."
What's better for workers will be better for the communities they help, as well. The report found that the private equity-owned firms engage in price gouging. For example, a ServPro franchise settled with the state of North Carolina for overcharging residents following Hurricane Florence.
The report highlights the legislative efforts of U.S. Rep. Pramilla Jayapal (D-Wash.), whose Climate Resilience Workforce Act would fund jobs and training through grants and make workers less vulnerable by providing a pathway to citizenship for immigrant workers and banning employers from asking about criminal history.
"The innovative Climate Resilience Workforce Act responds to the worsening climate crisis at the scale necessary by investing in a skilled workforce that is capable of not only responding to but preparing for the destructive impacts of climate change," Jayapal said when the bill was introduced in 2022. "As we create millions of good-paying, union jobs and center the very communities who are disproportionately impacted, we are finally building back better, greener, and stronger."
The report also issues recommendations to private equity firms to better protect the workers at the companies they own, such as setting up complaint lines, minimizing the use of subcontractors, funding programs to monitor their companies, and allowing their workers to unionize.
Finally, Creeks noted that firms like Blackstone manage public pensions, and have a responsibility to these workers as well.
"Public employees, such as teachers, nurses, and firefighters, have a right to know that their pension dollars are being used to purchase fossil fuel plants that are contributing to climate disasters all over the country," Creeks told Common Dreams. "In turn, their retirement capital is also being used to buy companies that profit off of these very disasters."
News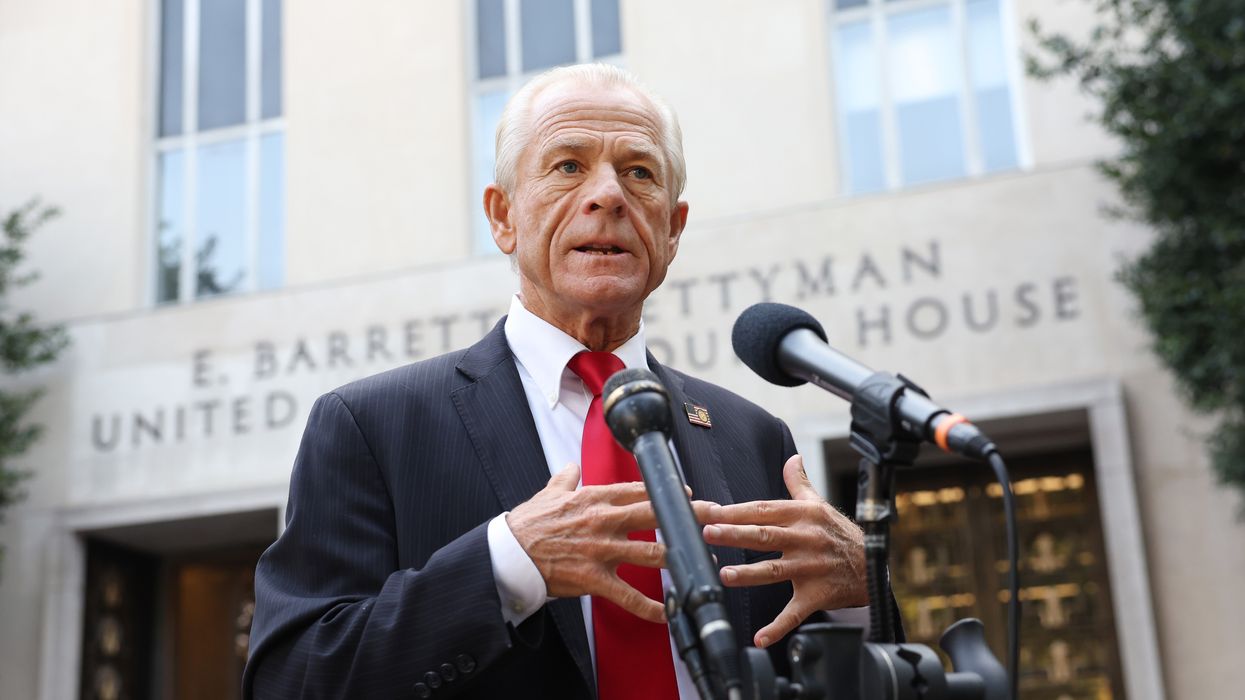 "In an administration defined by lawlessness, Peter Navarro was one of the most lawless," said one ethics expert. "It is positive that he was convicted."
A federal jury on Thursday found Peter Navarro, who served as a trade adviser to former U.S. President Donald Trump, guilty of contempt of Congress for defying a subpoena from the congressional panel that probed the January 6, 2021 insurrection.
Despite a February 2022 subpoena from the House Select Committee to Investigate the January 6th Attack on the United States Capitol, Navarro declined to turn over documents or show up for a deposition, resulting in the two contempt convictions.

Each count carries a maximum sentence of one year in prison and a fine of up to $100,000. Navarro intends to appeal the unanimous verdict—which came after a two-day trial with testimony from three committee staffers and four hours of deliberation, according toPolitico.
"Open and shut case really. And a righteous one. He just completely thumbed his nose at the committee and his legal obligations."
Advocacy groups and legal experts welcomed the development on social media, with the pro-democracy organization Common Cause saying, "Hold everyone accountable."
Los Angeles Times senior legal affairs columnist Harry Litman said: "Open and shut case really. And a righteous one. He just completely thumbed his nose at the committee and his legal obligations."
Noah Bookbinder, president of Citizens for Responsibility and Ethics in Washington (CREW), declared that "in an administration defined by lawlessness, Peter Navarro was one of the most lawless—routinely violating the Hatch Act and pushing bogus claims that the 2020 election was stolen. It is positive that he was convicted of contempt of Congress."
As The Hillreported:
Just after the verdict was read, Navarro attorney Stan Woodward called for a mistrial, claiming the jurors [who] went outside during their break were exposed to protestors toting January 6-related signs. Government prosecutors said they did not see any protestors outside the exit the jurors purportedly used.

U.S. District Judge Amit Mehta said he would not rule on the mistrial request until the defense provided him video or photo evidence of such a situation, which they said they were collecting.
Mehta has scheduled Navarro's sentencing for January 12, 2024.

Navarro is the second aide of Trump—who is the front-runner for the GOP's 2024 presidential nomination, despite his various legal issues—to be convicted of contempt of Congress, after Steve Bannon.
Last year, Bannon was also found guilty of two counts of contempt of Congress for defying a subpoena from the January 6 panel. The ex-president's former chief strategist was sentenced to four months in prison but remains free during the appeals process.
News
Independent, nonprofit journalism needs your help.
Please Pitch In
Today!