For Immediate Release
Contact:
Jonathan Williams, Coordinator, Student Peace Action Network (SPAN), (443) 474-8919 cell, SPAN@peace-action.org

Pat Elder, Peace Action Montgomery County, 202-210-3467
Paul Kawika Martin, Political Director, 951.217.7285 cell, pmartin@peace-action.org
Seven Arrested at Philadelphia Mall Over Military Recruiting Practices
300 Veterans, military families, religious leaders and voters rallied, marched and closed the "Army Experience Center" to decry the Army pilot program that entices teens with violent video games
PHILADELPHIA
Several hundred demonstrators from a coalition of 30 national and regional veteran, youth and peace groups, including the Iraq Veterans Against the War, Veterans for Peace, BuxMont Coalition for Peace Action, Student Peace Action Network, protested what they claimed were unethical military recruitment of teenagers at Franklin Mills Mall in northeast Philadelphia.
The protesters rallied at a church, then marched one mile to the Franklin Mills mall where dozens of police blocked them from entering the "Army Experience Center" (AEC). After nearly an hour of chants of "War is no game, shut down the Army Experience Center" and speeches, Bob Smith of the Brandywine Peace Community (a member of United for Peace and Justice, a coalition of 1,300 national and local organizations) delivered a criminal complaint (4) to a Captain at the AEC and to a representative of the mall's parent company, The Simon Property Group, Inc. After two police warnings, hundreds of protesters continued to chant and listen to speeches by Col. Wright and others, until the police arrested seven conducting civil disobedience by refusing to leave. Forced out of the mall, people continued to vigil and listen to songs by the Granny Peace Brigade outside the "red" entrance to the mall.
"The Army Experience Center is an abomination. It epitomizes the turn for the worse that the military was forced to take over the last eight years. It is misleading. It targets impressionable minors, and it propagates the glorification of war. I am utterly disgusted that the Army which I loved and in which I served so long has resorted to such a deceiving recruiting strategy," said Sergeant Jesse Hamilton, who served nine years in the Army including tours in Iraq. After receiving and honorable discharge, he joined Iraq Veterans Against the War (IVAW).
Elaine Brower, 53, who sits on the board of Peace Action of Staten Island, was one of those taken to jail. She has been organizing against the AEC because she is the mother of a Marine who just returned from his third tour of duty in Iraq and Afghanistan.
Col. Anne Wright, former State Department official of 16 years shouted, "We demand that our policy isn't militarism but diplomacy."
Critics of the AEC point out that it is not acceptable for alcohol, cigarette, pornography, gun manufacturers and pharmaceutical companies to market to thirteen year olds. They claim those decisions are for adults and dying for something you believe in is also an adult decision.
One of the religious leaders present, Rev. Bob Moore, the director of the Coalition for Peace Action, preached, "War is not fun and exciting; War is hell on earth. If you're not old enough to drink you are not old enough to kill. No recruiting of our children!" He organized one hundred people to attend the protest."
With American's saying they want troops home from Iraq and becoming more concerned about our troops in Afghanistan, the military is finding it more difficult to recruit youth who disagree with U.S. foreign policy. "In its desperate approach to meet recruiting numbers, the military is teaching the wrong values to teenagers. Sugarcoating combat experience with virtual war is a dishonor to those with real war experience. That's why the Student Peace Action Network (SPAN) works with young veterans, and high school and college students across the country for truth and honor in recruiting," stated Jonathan Williams, Span's coordinator.
Police estimated over 200 participants while organizers claimed nearly 300 attended the rally at St. Luke's United Church of Christ, then marched with one lead 12' by 3' banner that said, "War is No Game, Close-down Army Experience Center" along Knights Road to the AEC where an enlarged version of the criminal complaint was handed over and stated, in part, "THAT: the Army Experience Center is therefore involved in the "Criminal Solicitation of Minors" - soliciting underage persons to act in a violent manner and thereby promoting and supporting criminal and corrupt behavior..."
The Pentagon is committed to establishing "Experience Centers" in malls across the country. The $13 Million, 14,500 square foot facility at Franklin Mills Mall boasts dozens of video game computers and X-Box video game consoles with various interactive, military-style shooting games as well as Apache helicopter and Humvee simulators that allow teens to simulate the killing of Arabs and Afghans. Philadelphia Inquirer reporter Rob Watson compares the Army Experience Center to "a heavy dose of candy cigarettes." (3) 200 packs of candy cigarettes were handed out with Watson's column at the protest.
After leaving the indoor skateboard park across from the AEC, one teenager wearing a helmet and kneepads, with skateboard in tow, quipped "skateboards are the solution," after grabbing a "War Isn't Working," Peace Action, bumper sticker.
For more information: https://shutdowntheaec.net
Peace Action is the United States' largest peace and disarmament organization with over 100,000 members and nearly 100 chapters in 34 states, works to achieve the abolition of nuclear weapons, promote government spending priorities that support human needs and encourage real security through international cooperation and human rights.
LATEST NEWS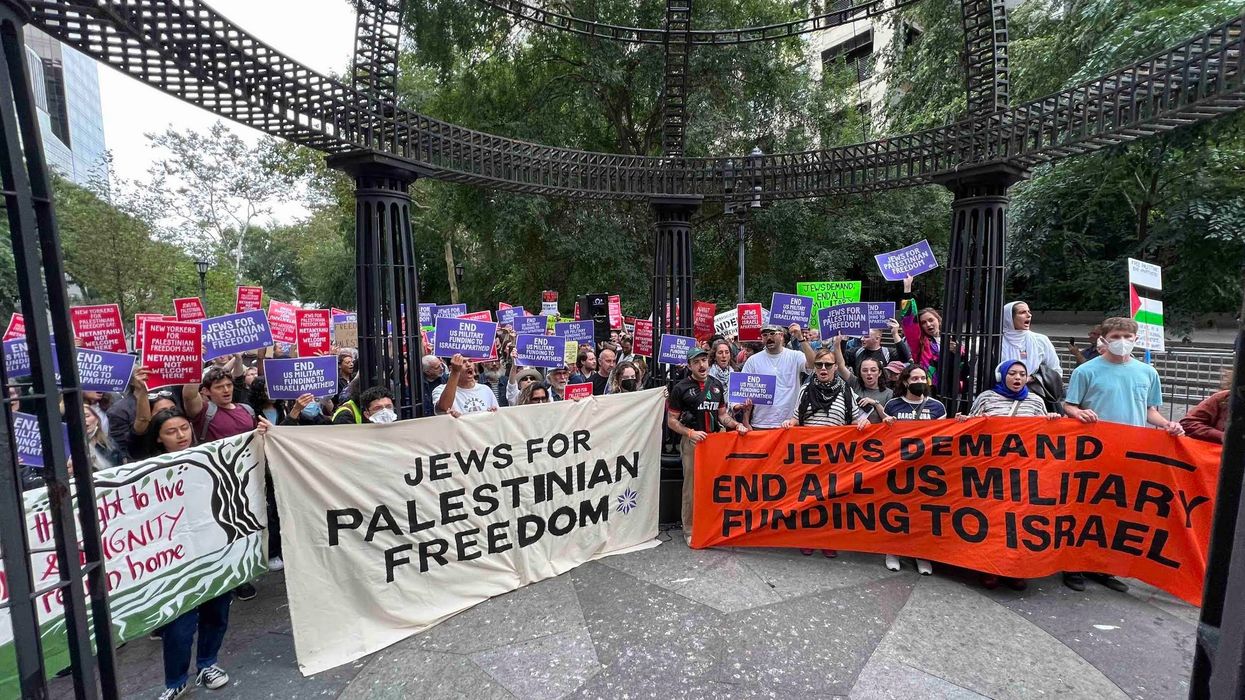 "As Jewish New Yorkers committed to racial justice, we believe apartheid is indefensible," said one protester. "Palestinians deserve to live with dignity and freedom."
A pair of democratic socialist New York state lawmakers joined more than 250 Jewish demonstrators and allies on Friday afternoon outside United Nations headquarters in Midtown Manhattan to protest Israeli Prime Minister Benjamin Netanyahu's General Assembly speech defending his far-right government's apartheid policies.
New York state Sen. Jabari Brisport (D-25) and state Assemblymember Zohran Mamdani (D-36) joined activists from Jewish Voice for Peace (JVP), Adalah Justice Project, and other human rights defenders as Netanyahu—whose government is widely considered the most extreme in Israeli history—addressed world leaders inside the U.N. building.
During his speech, Netanyahu displayed a map of the Middle East without Palestine, while claiming he has "long sought to make peace with the Palestinians."
The protesters said there can be no peace under apartheid.
"As Jewish New Yorkers committed to racial justice, we believe apartheid is indefensible," asserted JVP's Jay Saper. "Palestinians deserve to live with dignity and freedom."
Brisport—who in May introduced the Not On Our Dime! Act, which would prevent state-registered charities from funding violations of the Geneva Convention by Israeli settlers—said: "In Brooklyn we have a saying, 'Spread love, it's the Brooklyn way.' Netanyahu has spread hate and displacement. And that has no place in our city."
The senator has previously drawn attention to the more than 700,000 Israelis living in over 250 illegal settlements built on Palestinian land in the unlawfully occupied West Bank, with the backing of the Israel Defense Forces (IDF). Many of the illegal colonies are funded by New York-based organizations.

Last year, the Israeli government forcibly displaced more than 1,000 Palestinians from their homes in what many critics have called acts of ethnic cleansing. Hundreds more Palestinians have been displaced this year to make way for Jewish settler-colonists.
There have also been multiple deadly settler rampages through Palestinian towns this year, revenge attacks that a wide range of critics—from Palestinian-American Congresswoman Rashida Tlaib (D-Mich.) to conservative U.S. Jewish groups and an IDF general—called "pogroms."
"We should refuse to host a man who has openly lauded the ethnic cleansing of thousands of Palestinians from their homes, who gave the green light for bombing campaigns that left large parts of Gaza uninhabitable, a man who approved killing sprees that riddled streets with Palestinians wounded and killed," Adalah Justice Project communications and strategy director Sumaya Awad told the demonstrators.
According to the U.N.'s Office for the Coordination of Humanitarian Affairs, Israeli soldiers and settlers have killed at least 200 Palestinians this year, making it the deadliest year for Palestinians since the final year of the second intifada, or general uprising, in 2005. The advocacy group Defense for Children International Palestine says 45 Palestinian children have been killed by Israelis so far this year. At least 30 Israelis have been killed by Palestinian militant attacks in 2023.
Through it all, the U.S. continues to give Israel—the 13th-wealthiest nation in the world per capita, according to the International Monetary Fund—billions of dollars in nearly unconditional annual aid.
"Earlier today, someone asked me, 'Why should New Yorkers care about what's happening halfway across the world in Israel?'" said Mamdani, a co-sponsor of Brisport's bill. "There are 3.8 billion reasons for us to care: Same as the number of dollars that go from the U.S. to Israel in military aid every year."
"As Americans," he added, "this is a fight that recognizes our complicity in this apartheid regime in Israel."
News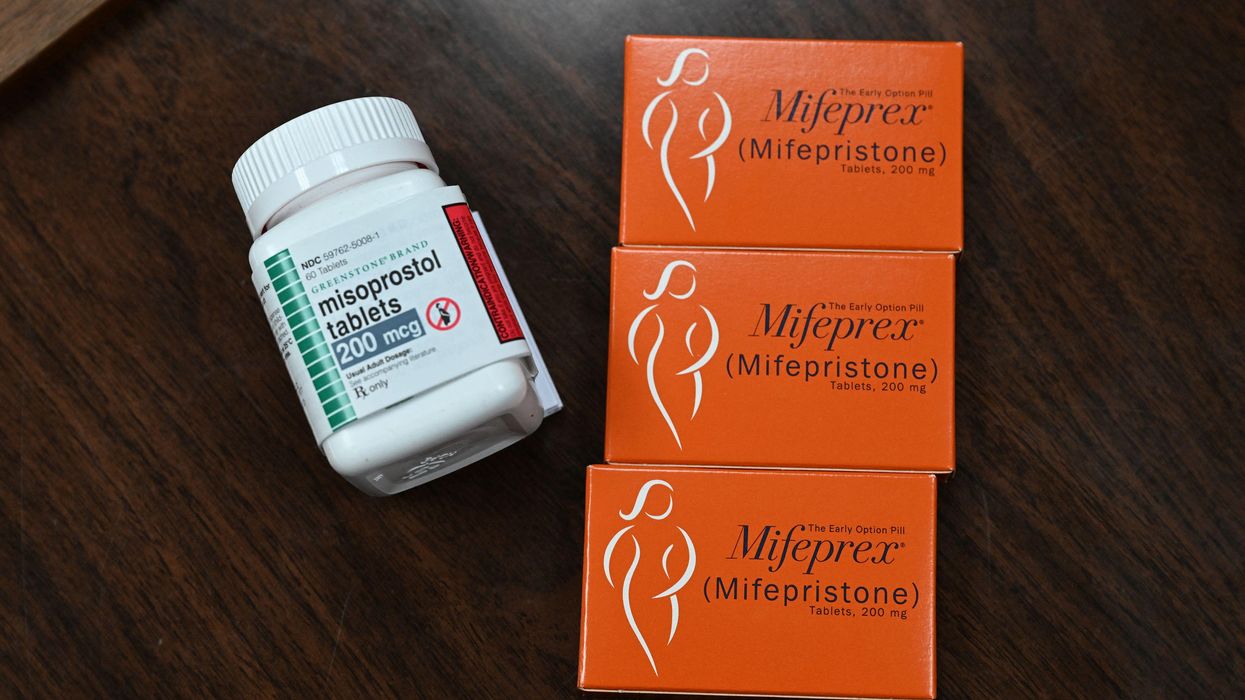 "In this particular case, here's the audacity: Self-managed abortion is not even a crime in fucking Nebraska," said one rights advocate.
Amid a wave of right-wing efforts to quash abortion rights across the United States, a Nebraska judge on Friday sentenced Jessica Burgess to two years in prison after helping her teenage daughter end her pregnancy and bury the remains in early 2022.
Police have said that over two years ago, then-17-year-old Celeste Burgess took abortion pills—provided by her mother—at approximately 29 weeks pregnant and gave birth to a stillborn fetus, which the pair burned and buried in Norfolk, Nebraska.
Celeste Burgess was sentenced to 90 days behind bars and released earlier this month. Tanner Barnhill, who pleaded no contest to attempting to conceal a death for helping with the burial, was sentenced to nine months of probation and 40 hours of community service.
Jessica Burgess, who took a plea deal, faced up to five years in prison. She pleaded guilty to providing an abortion after 20 weeks of gestation, tampering with human remains, and false reporting. As Jezebelnoted, the 42-year-old was charged even though the state's 20-week ban that was in effect at the time applied to "licensed abortion providers, not people self-managing their own terminations."
As Rafa Kidvai, director of If/When/How's Repro Legal Defense Fund—which is not representing Jessica Burgess—put it to Jezebel, "In this particular case, here's the audacity: Self-managed abortion is not even a crime in fucking Nebraska."
"None of this is about justice or safety or someone's health or society being better or kinder or safer—this is about control from the state," Kidvai argued. "Everything is a distraction, including conversations around gestational age... They're distracting you constantly by telling you that your individual choices are the problem, not the systems that keep you oppressed."
The Appeal reported Friday that "abortions after 21 weeks rarely occur within the United States, accounting for just 1% of all abortions. It is unclear when Celeste first knew she was pregnant. Police say Celeste, then 17, got an ultrasound showing she was 23 weeks pregnant on March 8, 2022."
"That same month, police say Jessica Burgess ordered abortion pills online. But the medication took about six weeks to arrive," the outlet added. "[Celeste] Burgess stated in court that she wanted to end her pregnancy because she was in an abusive relationship and did not want to share a child with the man who impregnated her."
While Celeste Burgess' stillbirth occurred a couple of months before the U.S. Supreme Court overturned Roe v. Wade, abortion rights advocates have connected the Nebraska mother and daughter's cases to a broader assault on reproductive freedom since the right-wing justices' Dobbs v. Jackson Women's Health Organizationdecision.
Nebraska is among several states that have tightened abortion restrictions since June 2022. In May, Republican Nebraska Gov. Jim Pillen signed a bill banning abortion at 12 weeks of pregnancy, with exceptions for rape, incest, and to save the life of the pregnant person—a measure which has taken effect but that rights group are fighting in state court.
The Burgesses' cases have also heightened concerns about digital communications, given that police obtained and Facebook parent company Meta complied with a search warrant for their private messages. Further, there are rising fears that U.S. law enforcement may eventually try to use new laboratory methods allegedly developed by researchers in Poland—which has outlawed most abortions—to detect medication commonly used to end pregnancies in biological specimens.
Across the United States from 2000 to 2020, "at least 61 people were criminally investigated or arrested for ending their own pregnancies or helping someone else do so," according to a report released this month by Pregnancy Justice and other groups. From 2006 to 2020, "more than 1,300 people were arrested in relation to their conduct during pregnancy," including people who experienced miscarriages and stillbirths but were suspected of self-managing abortions.
Emma Roth, senior staff attorney at Pregnancy Justice, told The Appeal that "even if the state's law does not criminalize abortion itself, prosecutors will still seek other creative ways to try to incarcerate, shame, or make a case out of that person."
"Prosecutors will charge anything that they can think of when what they're actually trying to criminalize is what they view as immoral conduct," Roth stressed. With the Burgesses, she said, "the prosecutor's whole case was about shaming somebody for being a young teenager and having an abortion later on in pregnancy. These prosecutions create a culture of fear."
Nebraska is one of multiple U.S. states where reproductive rights advocates are currently working to put a question on 2024 ballots regarding an amendment to the state constitution that would protect the right to abortion.

News
"This is unprecedented: a sitting president showing up on the picket lines with workers," said Congressional Progressive Caucus Chair Pramila Jayapal.
In a historic move, U.S. President Joe Biden vowed Friday to travel to Michigan next week and stand with striking United Auto Workers members, an announcement that came just hours after union autoworkers widened their strike to include all U.S. General Motors and Stellantis parts distribution centers.
"Tuesday, I'll go to Michigan to join the picket line and stand in solidarity with the men and women of UAW as they fight for a fair share of the value they helped create," Biden said on social media. "It's time for a win-win agreement that keeps American auto manufacturing thriving with well-paid UAW jobs."
Last Friday, Biden called on automakers to share more of their windfall with UAW workers, who are seeking better pay and benefits.
"Auto companies have seen record profits... They have not been shared fairly with workers," the president said. "I understand the workers' frustration. Over generations, autoworkers have sacrificed so much to keep the industry alive and strong, especially during the economic crisis and the pandemic."
"The companies have made some significant offers," Biden added. "But I believe they should go further to ensure that record corporate profits mean record contracts for the UAW."
Biden—who is seeking reelection next year—is a self-described "pro-labor president" but his response to the UAW is notably different from last year, when he came under fire for signing legislation to block a nationwide rail strike.
At noon Eastern time this Friday, workers at all 38 GM and Stellantis parts distribution facilities across the U.S. walked off the job as the UAW escalated its strike.
"We will shut down parts distribution until those two companies come to their senses and come to the table with a serious offer," UAW president Shawn Fain said in a video update. "The plants that are already on strike will remain on strike."
Fain said Ford was spared the escalation because UAW and company negotiators were making "real progress" at the bargaining table.
While some striking workers said they'd prefer the president didn't join them, others welcomed the solidarity.
"Me personally, I wouldn't mind if Biden stepped up and showed some support," 55-year-old Laura Zielinski of Toledo, Ohio, toldReuters earlier this week, recalling 2010, when he was vice president and visited her city's Stellantis assembly plant.
"Support like that would put a spotlight on the talks—kind of give a nudge to the companies," she added.
Congressional Progressive Caucus Chair Pramila Jayapal (D-Wash.) said Friday on social media that it was "unprecedented" for a sitting U.S. president to join striking workers on a picket line.
Jeremi Suri, a historian and presidential scholar at the University of Texas at Austin, toldReuters the last time it happened was probably in 1902, when then-President Theodore Roosevelt invited striking coal miners to the White House.
"This would be a major, major shift for Biden to identify the presidency with striking workers," said Suri, "rather than siding with industry or staying above the fray."
News
Independent, nonprofit journalism needs your help.
Please Pitch In
Today!