For Immediate Release
March, 04 2009, 01:50pm EDT
Contact:
Tel: +1-212-216-1832,Email:,hrwpress@hrw.org
ICC: Bashir Warrant Is Warning to Abusive Leaders
Move to Seek Arrest of Sudanese President a Victory for Darfur's Victims
NEW YORK
The International Criminal Court's (ICC) issuance of an arrest
warrant for President Omar al-Bashir of Sudan signals that even those
at the top may be held to account for mass murder, rape and torture,
Human Rights Watch said today. ICC judges granted the warrant for
Bashir, its first for a sitting head of state, on charges of crimes
against humanity and war crimes for his role in orchestrating Sudan's
abusive counterinsurgency campaign in Darfur.
"With this arrest warrant, the International Criminal Court has made
Omar al-Bashir a wanted man," said Richard Dicker, director of the
International Justice Program at Human Rights Watch. "Not even
presidents are guaranteed a free pass for horrific crimes. By ruling
there is a case for President al-Bashir to answer for the horrors of
Darfur, the warrant breaks through Khartoum's repeated denials of his
responsibility."
The court did not confirm the three counts of genocide that were
requested by the ICC prosecutor. Genocide requires evidence that the
crimes were committed specifically "with the intent to destroy, in
whole or in part," a national, ethnic, racial, or religious group
solely on the basis of its identity.
"Proving genocide charges is always extremely difficult," said
Dicker. "President Bashir is hardly off the hook, as he is sought for
crimes against humanity and war crimes, including widespread rape,
murder, and torture committed as part of a government plan."
Under the ICC Statute, the prosecutor is able to request an
amendment of the warrant to include genocide if he obtains additional
evidence to support the charge.
The ICC prosecutor requested an arrest warrant
for Bashir on July 14, 2008. Following the prosecutor's announcement,
Sudanese government officials made implicit and explicit threats of
retaliation against international peacekeepers and humanitarian
workers. On July 25, a Sudanese presidential advisor, Bona Malwal,
stated in regard to peacekeeping forces that, "We are telling the world
that with the indictment of our President al-Bashir we can't be
responsible for the well-being of foreign forces in Darfur." President
Bashir has also threatened to expel international peacekeeping forces
if a warrant is issued.
The Security Council, its individual members, the UN Secretariat,
the European Union, and the African Union have a critical role in
promptly responding to any government-supported retaliation in Darfur
following news of the warrant.
"The Sudanese government is obliged to maintain security in the
country and the Security Council should act decisively to hold them to
it," said Dicker. "Khartoum should not be allowed to use the arrest
warrant as a pretext for stepping up its obstructionist policies that
have hobbled peacekeeping and humanitarian efforts in Darfur."
The government of Sudan is required by a Security Council resolution
to facilitate the deployment of the African Union/UN Mission in Darfur
(UNAMID) and to cooperate with the ICC. Under international law, Sudan
remains obligated to protect its own civilians and to provide full,
safe, and unhindered access by relief personnel to those in need in
Darfur. The arrest warrant does not change these obligations, nor does
it have any impact on Khartoum's obligations to carry out the 2005
Comprehensive Peace Agreement with the government of Southern Sudan.
"The Security Council and concerned governments should impose
targeted sanctions against Sudanese officials responsible for any
retaliatory violence, and consider other measures such as further
banking restrictions or a widening of the arms embargo," said Dicker.
The ICC is an independent judicial institution. Sudan, though not a
party to the Rome Statute creating the court, is subject to ICC
jurisdiction through Security Council resolution. Having an official
position as head of state does not provide immunity from criminal
responsibility before the ICC.
Apart from the warrant against President Bashir, the ICC has issued
two other warrants in relation to Darfur. On April 27, 2007, the court
issued arrest warrants for State Minister of Humanitarian Affairs Ahmed
Haroun and a "Janjaweed" militia leader, Ali Kosheib. The prosecutor
has also requested arrest warrants for three rebel leaders in
connection with attacks on international peacekeepers at Haskanita in
October 2007. That request is currently under consideration by the
court.
Sudan has so far refused to cooperate with the ICC. All the arrest
warrants remain outstanding. Haroun continues in his official position
as state minister of humanitarian affairs. On November 24, the Sudanese
government arrested and tortured three human rights defenders in
Khartoum for allegedly giving information to the ICC.
"Khartoum is required to cooperate with the court," said Dicker.
"Because the ICC has no police force of its own, it needs strong
support from governments to ensure that all those charged with crimes
are arrested."
Background
In a March 31, 2005 resolution, the Security Council referred
the situation in Darfur to the ICC prosecutor for investigation and
prosecution. The decision was based on the recommendation of an
international commission of inquiry, which found that violations of
international humanitarian law and human rights law were continuing in
Darfur and that the Sudanese justice system was unwilling and unable to
address the crimes. Darfur is the first situation referred by the
Security Council to the ICC.
Human Rights Watch is one of the world's leading independent organizations dedicated to defending and protecting human rights. By focusing international attention where human rights are violated, we give voice to the oppressed and hold oppressors accountable for their crimes. Our rigorous, objective investigations and strategic, targeted advocacy build intense pressure for action and raise the cost of human rights abuse. For 30 years, Human Rights Watch has worked tenaciously to lay the legal and moral groundwork for deep-rooted change and has fought to bring greater justice and security to people around the world.
LATEST NEWS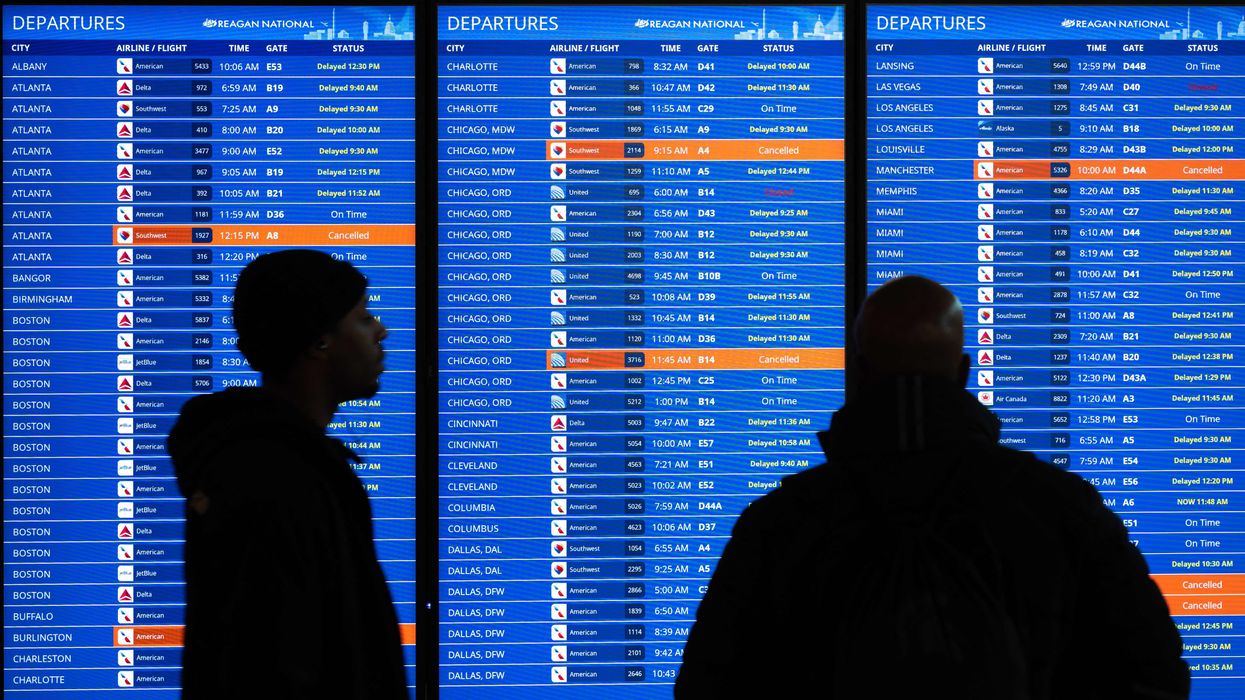 Facing criticism over recent air travel issues, the U.S. Transportation Department is reportedly investigating whether three airlines have scheduled flights they know they can't staff.

Three unidentified U.S. airlines are under federal investigation for potentially scheduling flights the companies know they ultimately will not be able to fly—a revelation The New York Timesreported Friday, just two days after United Airlines' CEO suggested competitors are doing just that.
The Times focused largely on how air travel issues—including mass cancellations from a winter storm during the holidays last month and a Federal Aviation Administration (FAA) system outage that grounded air traffic across the country last week—have put Pete Buttigieg, the head of the U.S. Department of Transporation (DOT), "in the hot seat."
"Unfortunately, the Department of Transportation has been hesitant to hold the airlines accountable," John Breyault, the vice president for public policy at the National Consumers League (NCL), told the newspaper. "While Secretary Buttigieg has talked a tough talk, particularly over the past few months, we have yet to see that really translate into action."
"Imagine any other industry taking money for products it can't deliver."
In an interview, Buttigieg defended his record—which has included a proposed rule on refunds, an online dashboard of airlines' commitments, and nearly $16 million in fines—saying that "in terms of what we've done and in terms of what we're doing, I would stack up our work in this area against anybody who's taken this on at the federal level."

According to the report, "The department is also investigating three U.S. airlines over whether they scheduled flights that they did not have enough staff to support, a spokeswoman for the agency said, though she declined to identify the airlines."
That reporting came after United CEO Scott Kirby said Wednesday during an earnings call with investors that "there are a number of airlines who cannot fly their schedules. The customers are paying the price. They're canceling a lot of flights. But they simply can't fly the schedules today."
\u201cThe CEO of United Airlines accused his rivals of committing fraud by selling tickets on flights they know they can't service. This statement by an airline CEO about the industry's problems is so much harsher than anything Pete Buttigieg has said or done. https://t.co/dW7SAt6Ji8\u201d

— Matt Stoller (@Matt Stoller) 1674141074
"What happened over the holidays wasn't a one-time event caused by the weather, and it wasn't just at one airline. One airline got the bulk of the media coverage, but the weather was the straw that broke the camel's back for several," Kirby said—presumably referring to Southwest Airlines, which faced intense scrutiny for canceling nearly 17,000 flights partly due to issues with its personnel management system that employees and other critics claim could have been avoided with technological upgrades.
United has recognized "the new reality and the new math for all airlines," Kirby asserted, while warning that "our industry has been changed profoundly by the pandemic and you can't run your airline like it's 2019 or you will fail."
"We believe any airline that tries to run at the same staffing levels that it had pre-pandemic is bound to fail and likely to tip over to meltdown anytime there are weather or air traffic control stresses in the system," the CEO said, highlighting the need for investments in not only staff but also technology and infrastructure.
Kirby's comments about competitors' alleged scheduling practices caught the attention of the anti-monopoly think tank American Economic Liberties Project (AELP), which described them as "the airlines' open admission of fraud."

\u201cAnd yet, crickets from @USDOT.\n\nJust one more reason why we need to eliminate federal preemption and allow state AGs, courts, and consumers to crack down on the airlines themselves.\nhttps://t.co/4f3hHswTyR\u201d

— American Economic Liberties Project (@American Economic Liberties Project) 1674146197
"What an extraordinary admission," William McGee, senior fellow for aviation and travel at AELP and author of the airline industry exposé Attention All Passengers, tweeted Thursday.
For months, the AELP has asked the DOT "to investigate IF airlines were accepting bookings (and $!) for flights they couldn't operate," he said. "Now United's CEO confirmed it. Imagine any other industry taking money for products it can't deliver."
"Ironically, we're learning more about canceled flights from the airlines than we are from the Department of Transportation," McGee toldThe Lever, while also pointing out that the DOT's "complaint database showed that United was by far the worst offender on unpaid refunds dating back to the earliest days of Covid in 2020."
As The Lever reported Friday:
Complaints against the major U.S. airlines, including United, more than tripled in the first year of the Covid-19 pandemic, as companies routinely sold tickets for flights they could not adequately staff, canceled the flights at the last minute, and slow-walked or withheld refunds while collecting billions in taxpayer bailout dollars.

The behavior prompted 34 attorneys general to write to Buttigieg on December 16 asking his agency to "require airlines to advertise and sell only flights that they have adequate personnel to fly and support, and perform regular audits of airlines to ensure compliance and impose fines on airlines that do not comply."

The letter, submitted as part of the rulemaking process for a still-delayed consumer protection proposal at Buttigieg's agency, also noted that the proposed rule "includes no provision that would correct this practice and that would prevent airlines from advertising and selling tickets for flights that they cannot reasonably provide."
In an opinion piece published by the Times last week in the wake of the FAA outage, the AELP's McGee traced U.S. air travel troubles back much further than the ongoing pandemic, explaining that although "the airlines were initially regulated in the 1930s for many reasons, some of which should be familiar to us in 2023," Congress passed the Airline Deregulation Act (ADA) in 1978.
"One could envision a wholesale return to the pre-1978 era, with route-setting and price-setting brought back into public hands entirely," he wrote, noting that the AELP "has proposed more FAA funding and eliminating federal preemption, which would allow consumers and state officials to sue airlines over consumer and safety rules."
"My colleagues and I are, however, eager to take part in a national conversation about regulating the industry more comprehensively," McGee added. "We haven't had a national discussion for 44 years about the state of air travel. It's time to have that discussion, rather than playing whack-a-mole with each crisis as it arises."
Buttigieg "has taken a tougher line than most of his predecessors" at the DOT, the NCL's Breyault tweeted Friday, while sharing his critical remarks to the Times. "But he is hamstrung by the ADA, which gives airlines far too much power. To truly protect passengers, Congress needs to act."
News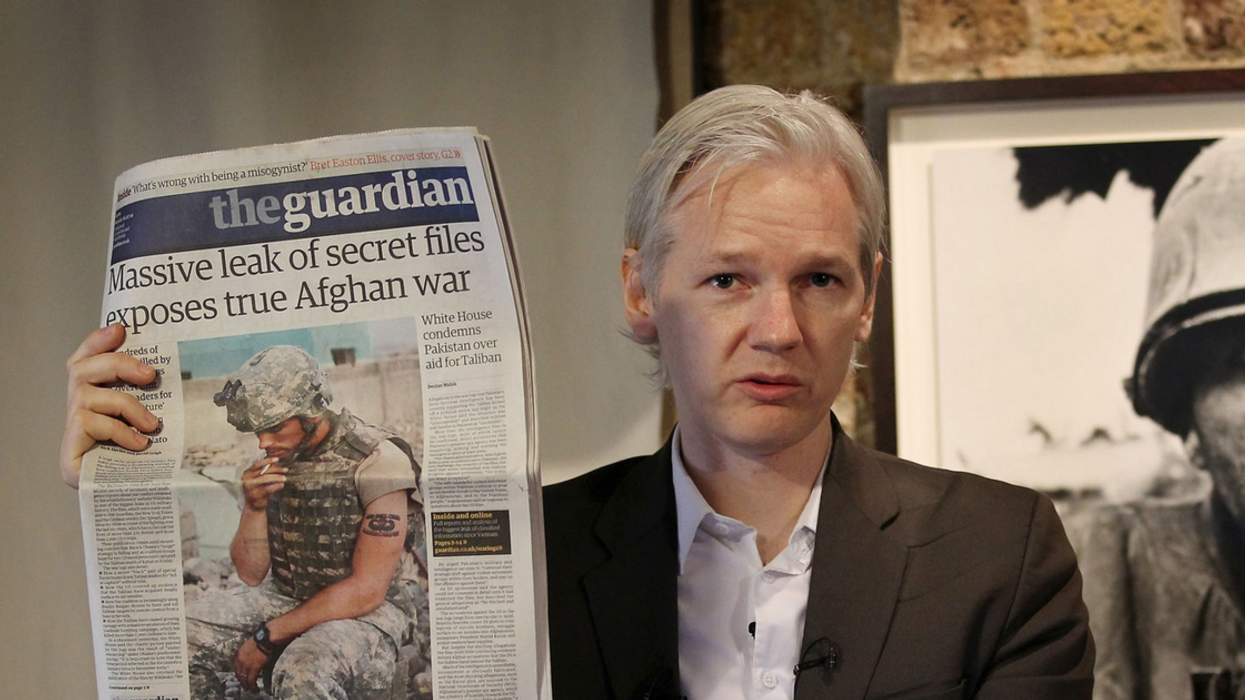 "As long as the Biden administration continues to deploy tools like the Espionage Act to imprison those who dare to expose war crimes, no publisher and no journalist will be safe," said one of the tribunal's co-chairs.
As Julian Assange awaits the final appeal of his looming extradition to the United States while languishing behind bars in London's notorious Belmarsh Prison, leading left luminaries and free press advocates gathered in Washington, D.C. on Friday for the fourth sitting of the Belmarsh Tribunal, where they called on U.S. President Joe Biden to drop all charges against the WikiLeaks publisher.
"From Ankara to Manila to Budapest to right here in the United States, state actors are cracking down on journalists, their sources, and their publishers in a globally coordinated campaign to disrupt the public's access to information," co-chair and Democracy Now! host Amy Goodman said during her opening remarks at the National Press Club.
"The Belmarsh Tribunal... pursues justice for journalists who are imprisoned or persecuted [and] publishers and whistleblowers who dare to reveal the crimes of our governments," she continued.
"Assange's case is the first time in history that a publisher has been indicted under the Espionage Act," Goodman added. "Recently, it was revealed that the CIA had been spying illegally on Julian, his lawyers, and some members of this very tribunal. The CIA even plotted his assassination at the Ecuadorean Embassy under [former U.S. President Donald] Trump."
\u201cWatch the Belmarsh Tribunal LIVE from Washington, D.C. today at 2 pm ET. \n\nIncluding Amy Goodman, @HorvatSrecko, Daniel Ellsberg, Noam Chomsky, @khrafnsson, @jeremycorbyn, Betty Medsger & @SMaurizi.\n\nFreedom for Assange and journalism are at stake. \n\nhttps://t.co/BsTWi02Xct\u201d

— Progressive International (@Progressive International) 1674225186
Assange—who suffers from physical and mental health problems including heart and respiratory issues—could be imprisoned for 175 years if fully convicted of Espionage Act violations. Among the classified materials published by WikiLeaks—many provided by whistleblower Chelsea Manning—are the infamous "Collateral Murder" video showing a U.S. Army helicopter crew killing a group of Iraqi civilians, the Afghan War Diary, and the Iraq War Logs, which revealed American and allied war crimes.
According to the United Nations Working Group on Arbitrary Detention, Assange has been arbitrarily deprived of his freedom since he was arrested on December 7, 2010. Since then he has been held under house arrest, confined for seven years in the Ecuadorean Embassy in London while he was protected by the administration of former Ecuadorean President Rafael Correa, and jailed in Belmarsh Prison, for which the tribunal is named.
Human rights, journalistic, peace, and other groups have condemned Assange's impending extradition and the U.S. government's targeting of a journalist who exposed American war crimes.
\u201c"That the extradition proceedings against Assange are an unexpected legal outcome \u2014 is a lie. Based on my experience as Ecuador's foreign minister...the British government wanted to extradite him all along." \u2014 @GuillaumeLong\n\nAttend the Belmarsh Tribunal. https://t.co/1au3neo8FD\u201d

— Progressive International (@Progressive International) 1674143897
In a statement ahead of Friday's tribunal, co-chair and Croatian philosopher Srećko Horvat said:
The First Amendment, freedom of the press, and the life of Julian Assange are at stake. That's why the Belmarsh Tribunal is landing literally just two blocks away from the White House. As long as the Biden administration continues to deploy tools like the Espionage Act to imprison those who dare to expose war crimes, no publisher and no journalist will be safe. Our tribunal is gathering courageous voices of dissent to demand justice for those crimes and to demand President Biden to drop the charges against Assange immediately.
Belmarsh Tribunal participants include Pentagon Papers whistleblower Daniel Ellsberg, U.S. academic Noam Chomsky, British parliamentarian Jeremy Corbyn, former Assange lawyer Renata Ávila, human rights attorney Steven Donziger, and WikiLeaks editor-in-chief Kristinn Hrafnsson.
Assange's father, John Shipton, and the whistleblower's wife and lawyer Stella Assange, are also members, as are Shadowproof editor Kevin Gosztola, Chip Gibbons of Defending Rights, Selay Ghaffar of the Solidarity Party of Afghanistan, investigative journalist Stefania Maurizi, The Nation publisher Katrina vanden Heuvel, and ACLU attorney Ben Wizner.
\u201cFormer U.K. Labour Party leader @jeremycorbyn is in Washington for the Belmarsh Tribunal to advocate for Julian Assange's freedom as he fights extradition from Britain to the United States.\n\n"We're standing up for the right to know. We're standing up for journalism," Corbyn says.\u201d

— Democracy Now! (@Democracy Now!) 1674220962
"One of the foundation stones of our form of government here in the United States... is our First Amendment to the Constitution," Ellsberg—whom the Richard Nixon administration tried to jail for up to 115 years under the Espionage Act, but due to government misconduct was never imprisoned—said in a recorded message played at the tribunal.
"Up until Assange's indictment, the act had never been used... against a journalist like Assange," Ellsberg added. "If you're going to use the act against a journalist in a blatant violation of the First Amendment... the First Amendment is essentially gone."
Ávila said before Thursday's event that "the Espionage Act is one of the most dangerous pieces of legislation in the world: an existential threat against international investigative journalism."
"If applied, it will deprive us of one of our must powerful tools towards de-escalation of conflicts, diplomacy, and peace," she added. "The Belmarsh Tribunal convenes in Washington to present evidence of this chilling threat, and to unite lawmakers next door to dismantle the legal architecture that undermines the basic right of all peoples to know what their governments do in their name."
The Belmarsh Tribunal, first convened in London in 2021, is inspired by the Russell Tribunal, a 1966 event organized by philosophers Bertrand Russell and Jean-Paul Sartre to hold the U.S. accountable for its escalating war crimes in Vietnam.
News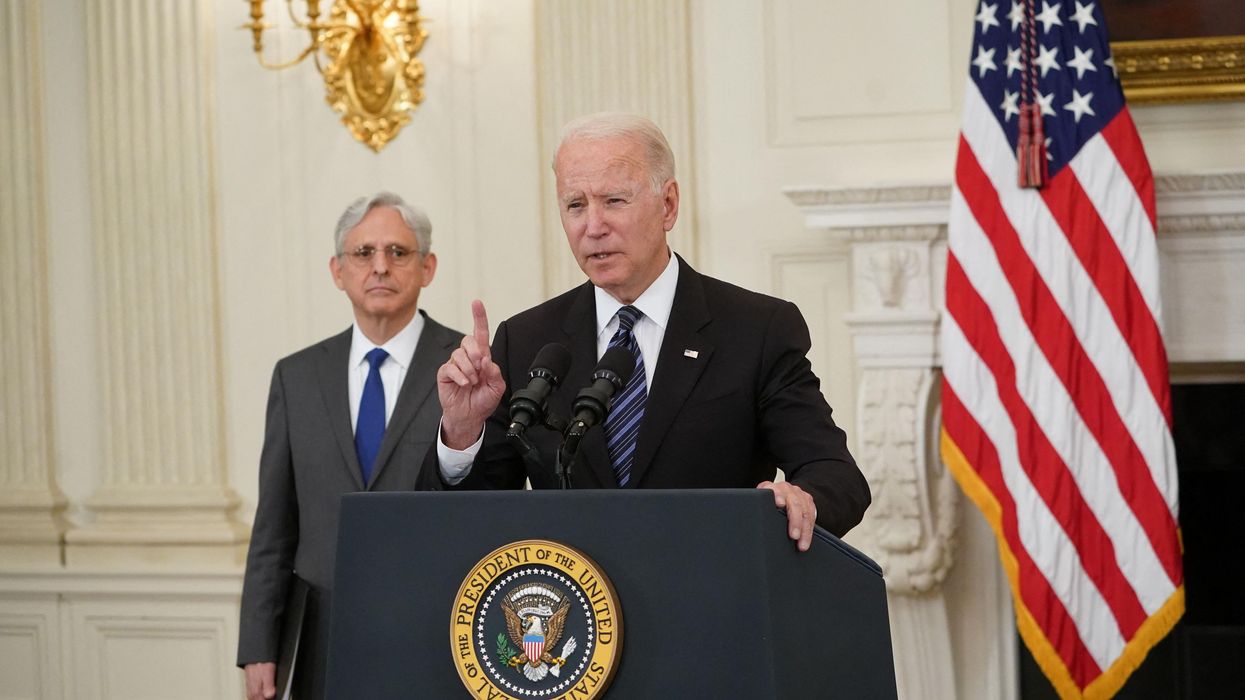 "As the previous administration violated legal and ethical norms at every turn, Attorney General Merrick Garland's choice of continuity with the Trump DOJ's positions erodes the integrity of the very institution he is determined to protect," said one researcher.
Two years after President Joe Biden was inaugurated, his administration continues to advance Trump-era legal positions in dozens of court cases, a progressive watchdog group revealed Friday.
Former President Donald Trump's Department of Justice (DOJ) "consistently made a mockery of the law throughout his four years in power," the Revolving Door Project (RDP) noted in the latest release of its long-running litigation tracker.
Even though "their laughable reasoning and indefensible positions were struck down at a historic rate, many cases were still waiting for Biden," RDP wrote. "Two years into Biden's presidency, an alarming number remain, either in some form of pause or advancing forward with the Biden administration adopting Trump's position."
RDP's litigation tracker, a noncomprehensive database updated Friday to include additional cases and developments, breaks down legal actions across more than a dozen categories. A selection of the Biden administration's moves follows:
Immigration
Biden's DOJ bowed to Republican pressure and pulled out of settlement talks with migrants whose families were separated at the border;
The Biden administration continues to misuse Title 42 public health authority, first misused by Trump, to turn away asylum-seekers at the border; and
The Biden administration continued to defend the practice of violating the legal rights of unaccompanied migrant children under the Migrant Protection Protocols (MPP) program.
Environment
Though Biden canceled the Keystone XL pipeline on his first day as president, his Department of Justice defended the Trump-approved Line 3 pipeline in court; and
The Biden administration urged an appeals court to overturn an offshore fracking ban once backed by Vice President Kamala Harris.
Education
Biden's DOJ defended Betsy DeVos and her corrupt Education Department's actions in court.
Voting Rights
Biden failed to defend voting rights amid historic assault.
Criminal Justice Reform
Biden endorsed an expansion of police power.
Social Security
Biden's DOJ defended a Social Security provision that deprives Puerto Rico residents of benefits before the Supreme Court.
Executive Power and Immunity
Biden's DOJ is defending former President Trump in a defamation lawsuit stemming from a sexual assault accusation; and
Biden's DOJ argued to toss out lawsuits against Trump and top officials for violently removing protestors ahead of a photo-op.
Death Penalty
Biden's DOJ asked the Supreme Court to reinstate the death sentence in the Boston Marathon bomber case.
International Law/Human Rights
Biden's DOJ declined to take a position on whether prisoners at Guantánamo have due process rights.
"Fidelity to Trump-era positions takes many forms," RDP pointed out. "Biden's DOJ successfully defended Trump-era warrantless searches of travelers' phones; in 2022, the public learned that customs officials maintain a huge database of travelers' copied phone data. The DOJ continued to prosecute an Indigenous woman arrested while praying on sacred grounds disrupted by Trump's border wall construction. They successfully defended the 17-year allowance Trump's EPA granted to Montana to fail to meet clean water standards for nutrient pollution."
In addition, the Biden White House persists "in siding with the pork industry against California and animal rights groups in a high-profile Supreme Court case, despite dozens of Democratic lawmakers urging a change of course," RDP continued. "National Pork Producers Council v. Ross is not the only animal farming case in which the Biden-Garland Justice Department continues to maintain Trump administration positions. The latest update to the litigation tracker shows the Justice Department continuing to defend multiple Trump-era Department of Agriculture decisions that excuse or enable the cruel treatment of poultry, lab-kept primates, and pigs in slaughterhouses."
In a statement, RDP researcher Ananya Kalahasti said that "as the previous administration violated legal and ethical norms at every turn, Attorney General Merrick Garland's choice of continuity with the Trump DOJ's positions erodes the integrity of the very institution he is determined to protect."
"While the Justice Department makes concerted strides towards a more just application of the law in many cases," Kalahasti added, "it pulls backward in others, muddling the legacy and body of precedent it is shaping in real-time."
RDP researcher Hannah Story Brown observed that although "the Justice Department has chosen continuity with its Trump-era position in amicus filings before the Supreme Court in National Pork Producers Council v. Ross... the Biden administration still has a potent opportunity to chart a better course, withother ongoing cases like Suncor v. Boulder County Commissioners, a climate damages case in which the Supreme Court has solicited the Justice Department's opinion."
Brown made clear that RDP is "watching closely to see whether the Justice Department chooses to break from or maintain the position it first adopted under disgraced former DOJ environmental attorney Jeffrey Clark in related state-level climate cases."
Under normal circumstances, maintaining the previous administration's positions "would be relatively routine," RDP argued. "Even if the White House is shifting from one party to another, it is not generally assumed that all of the federal government's litigation positions will change. Instead of a blanket reversal, each case tends to receive a thorough review before the new administration decides to stay the course or reverse."
"But these are not normal circumstances," the group continued. "At every turn and in every corner of the federal government, the Trump administration gleefully trampled the law. In fact, loyalty to the president's person—which plainly required a willingness to ignore legal constraints—was a nonnegotiable condition of employment. In the wake of such an attack, normal deference is not warranted."
"The Biden administration must move quickly to drop, reverse, or settle the cases that Trump left behind," RDP stressed. "And—we would have thought this wouldn't need to be said—the administration should adopt Trump's positions about as often as a stopped clock is accurate."
News
SUPPORT OUR WORK.
We are independent, non-profit, advertising-free and 100%
reader supported.