For Immediate Release
Contact:
Naomi Seligman 202.408.5565
CREW Files Ethics Complaint Against Sen. Kit Bond for Role in Firing of Former US Attorney Todd Graves
WASHINGTON
Earlier today, Citizens for Responsibility and Ethics in Washington ("CREW") filed a complaint with the Senate Ethics Committee against Sen. Christopher "Kit" Bond (R-MO) for his role in removing Todd Graves, the former U.S. Attorney for the Western District of Missouri, from his position.
CREW filed its complaint following the September 29th release by the Department of Justice's Office of Inspector General ("OIG") and Office of Professional Responsibility ("OPR") of their report, An Investigation into the Removal of Nine U.S. Attorneys in 2006. The report concludes that Sen. Bond's office inappropriately sought Mr. Graves's removal.
Former legal counsel for Sen. Bond, Jack Bartling, admitted to asking the White House Counsel's office to seek Mr. Graves's removal. Mr. Bartling also talked to Justice official Michael Elston about keeping Sen. Bond's role a secret. Sen. Bond's office became dissatisfied with Mr. Graves after he refused to intervene in a dispute between Sen. Bond's office and that of Mr. Graves's brother, Rep. Sam Graves (R-MO). Mr. Graves told investigators that a member of Sen. Bond's staff had called him to insist that he use his influence to force Rep. Graves to fire his chief of staff. When Mr. Graves refused, the Bond staffer told him "they could no longer protect his job."
The OIG and OPR found it "extremely troubling that the impetus for Graves's removal as U.S. Attorney appears to have stemmed from U.S. Attorney Graves's decision not to respond to a Bond staff member's demand to get involved in personnel decisions in Representative Sam Graves's congressional office."
In its complaint, CREW alleges that by seeking Graves's removal to punish him for refusing to intervene in a dispute between two congressional offices, Sen. Bond and his staff violated Senate rules prohibiting "improper conduct which may reflect upon the Senate."
CREW Executive Director Melanie Sloan stated, "When Mr. Graves appropriately refused to tell his brother the congressman to fire one of his staff members, Sen. Bond petulantly demanded Mr. Graves be fired." Sloan continued, "What adult acts like this? Senators are not spoiled children who can lash out on the playground - in this case the Department of Justice - when they don't get their way. U.S. Attorneys are not toadies for their Senate sponsors, they are federal law enforcement officials. The Senate Ethics Committee should immediately investigate this matter and sanction Sen. Bond and his staff."
Citizens for Responsibility and Ethics in Washington (CREW) is a nonprofit 501(c)(3) organization dedicated to promoting ethics and accountability in government and public life by targeting government officials -- regardless of party affiliation -- who sacrifice the common good to special interests. CREW advances its mission using a combination of research, litigation and media outreach.
LATEST NEWS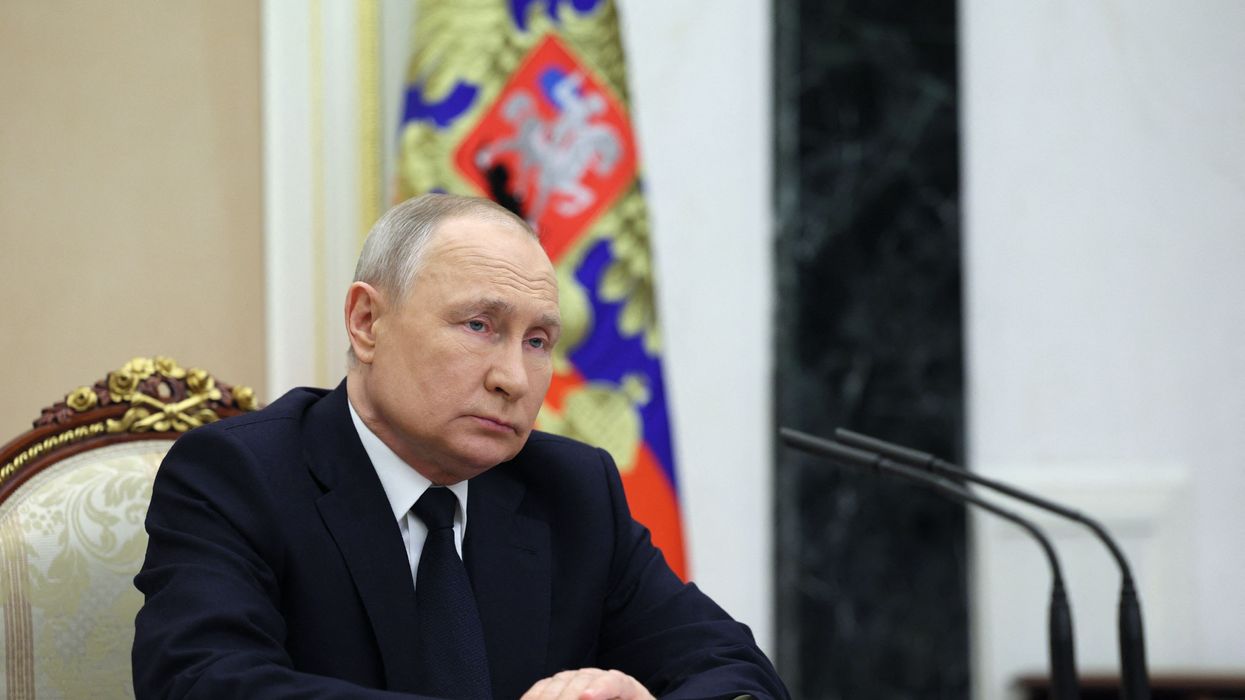 "Putin's nuclear provocations are dangerous and unacceptable. U.S. and NATO must resist calls to respond in kind and avoid injecting nuclear weapons deeper into this war," said Global Zero's Derek Johnson.

Russian President Vladimir Putin announced on state television Saturday plans to station tactical nuclear weapons in Belarus—an escalation anti-war campaigners had been warning about and that alarmed disarmament advocates and experts.
The International Campaign to Abolish Nuclear Weapons (ICAN) "condemns this extremely dangerous escalation which makes the use of nuclear weapons more likely," the group declared in a series of tweets.
"In the context of the war in Ukraine, the likelihood of miscalculation or misinterpretation is extremely high," ICAN added. "Sharing nuclear weapons makes the situation much worse and risks catastrophic humanitarian consequences."
"Sharing nuclear weapons makes the situation much worse and risks catastrophic humanitarian consequences."
The deployment decision comes 13 months into Russia's invasion of Ukraine and after the United Kingdom this week revealed plans to provide the invaded nation with armor-piercing rounds containing depleted uranium (DU).
Putin said the U.K.'s announcement "probably served as a reason" why Belarusian President Alexander Lukashenko agreed to the plan and argued that it won't violate Russia's international nonproliferation treaty obligations, according to a BBC translation.
As Reutersexplained, "The Treaty on the Nonproliferation of Nuclear Weapons, signed by the Soviet Union, says that no nuclear power can transfer nuclear weapons or technology to a nonnuclear power, but it does allow for the weapons to be deployed outside its borders but under its control—as with U.S. nuclear weapons in Europe."
The United States, which has the world's second-largest nuclear arsenal after Russia, "long ago deployed their nuclear weapons on the territory of their allies, NATO countries, in Europe," the Russia leader noted. "We are doing the same thing that they have been doing for decades."
Russia "will not hand over" nuclear arms to Belarus, Putin insisted, explaining that his country has already given its ally an Iskander missile complex that can be equipped with weapons, plans to start training crews in early April, and aims to complete construction of a special storage facility for the nukes by the beginning of July.
The Soviet Union collapsed in 1991 and in the five years that followed, nuclear weapons based in Belarus, Kazakhstan, and Ukraine were transferred to Russia—where they have remained since.
"It's a very significant move," Nikolai Sokol, a senior fellow at the Vienna Center for Disarmament and Nonproliferation, toldReuters of the deployment decision. "Russia had always been very proud that it had no nuclear weapons outside its territory. So, now, yes, they are changing that and it's a big change."
Hans Kristensen, director of the Federation of American Scientists' Nuclear Information Project, told Reuters that "this is part of Putin's game to try to intimidate NATO... because there is no military utility from doing this in Belarus as Russia has so many of these weapons and forces inside Russia."
Global Zero managing partner Derek Johnson said that "Putin's nuclear provocations are dangerous and unacceptable. U.S. and NATO must resist calls to respond in kind and avoid injecting nuclear weapons deeper into this war."

In addition to his nuclear announcement, Putin pointed out during the Saturday interview that Russia also has depleted uranium shells. As he put it: "I must say that certainly, Russia has something to respond. Without exaggeration, we have hundreds of thousands, namely hundreds of thousands of such shells. We are not using them now."
A U.K. Ministry of Defense official had confirmed earlier this week that "alongside our granting of a squadron of Challenger 2 main battle tanks to Ukraine, we will be providing ammunition including armor-piercing rounds which contain depleted uranium," which swiftly generated concerns about not only Russian nuclear threats but also public health and environmental impacts.
"DU shells have already been implicated in thousands of unnecessary deaths from cancer and other serious illnesses," stressed Kate Hudson, general secretary of the U.K.-based Campaign for Nuclear Disarmament, which has advocated for a moratorium on such arms. "Sending them into yet another war zone will not help the people of Ukraine."
This post has been updated with new comments from Derek Johnson.

News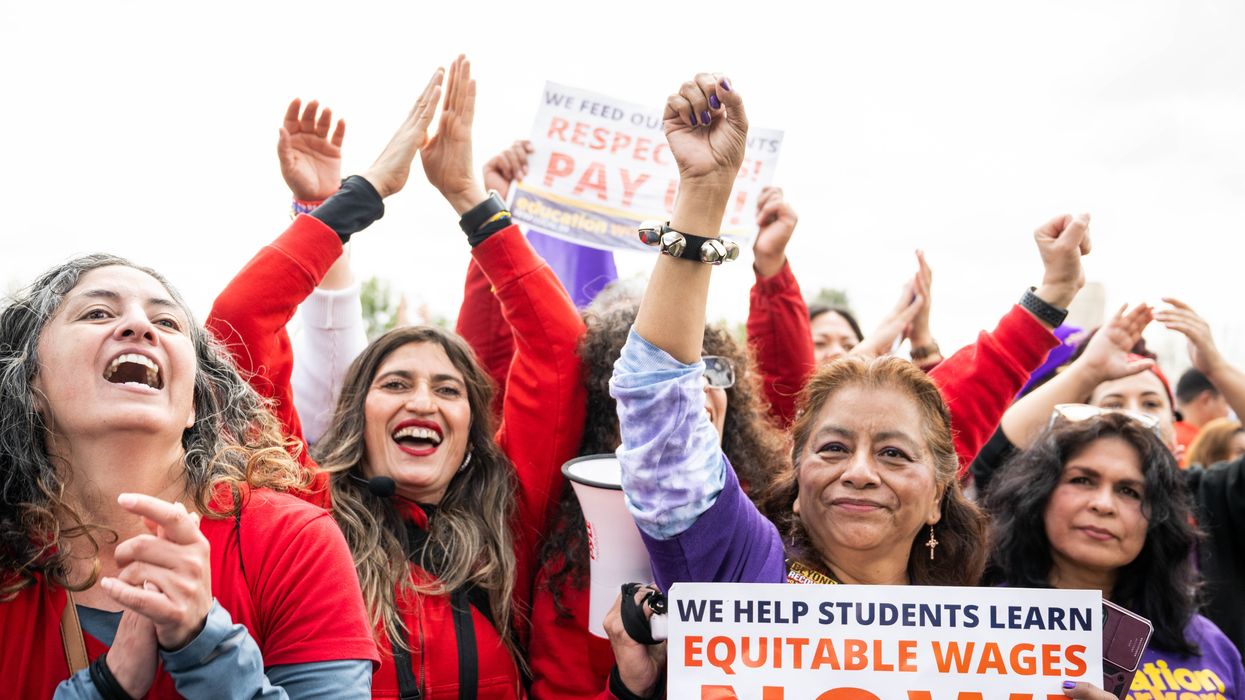 "The agreement addresses our key demands and sets us on a clear pathway to improving our livelihoods and securing the staffing we need to improve student services," said SEIU Local 99.
Union negotiators for about 30,000 school support staffers in California's Los Angeles County struck a historic deal with the second-largest district in the United States on Friday after a three-day strike.
Members of Service Employees International Union (SEIU) Local 99, including bus drivers, cafeteria workers, special education assistants, teaching aides, and other school staff—backed by about 35,000 educators of United Teachers Los Angeles (UTLA)—walked off the job on Tuesday and continued to strike through Thursday.
The tentative contract agreement, which must still be voted on by SEIU Local 99 members, was reached with the Los Angeles Unified School District (LAUSD) after mediation from Democratic Mayor Karen Bass.
The deal would increase the average annual salary from $25,000 to $33,000, raise wages by 30%, boost the district minimum wage to $22.52, provide a $1,000 Covid-19 pandemic bonus, secure healthcare benefits for part-time employees who work at least four hours a day, and guarantee seven hours of work for special education assistants.
"The agreement addresses our key demands and sets us on a clear pathway to improving our livelihoods and securing the staffing we need to improve student services," SEIU Local 99 said in a statement. "It was members' dedication to winning respect from the district that made this agreement possible."
The Los Angeles Times reports that during a Friday news conference at City Hall with Bass and Alberto Carvalho, the LAUSD superintendent, Local 99 executive director Max Arias declared that "here in California this agreement will set new standards, not just for Los Angeles, but the entire state."
"I want to appreciate the 30,000 members that sacrificed three days of work, despite low income, to raise the issue to society, that we as a society need to do better for all workers, all working people, for everyone," Arias added.
While the strike meant about 400,000 K-12 students weren't in classes for three days this week, "many parents stood in support of union employees," according toKTLA, with one local parent saying that "it's obvious all over the schools that we're really not putting the support where it's needed and our children are suffering because of that."
In a series of tweets, Local 99 thanked people from across the country for their solidarity this past week and stressed that the LA mayor, who has no formal authority over LAUSD, "was instrumental to getting the district to finally start hearing our demands."
Bass, in a statement, thanked Arias and Carvalho "for working together with me to put our families first" and emphasized that "we must continue working together to address our city's high cost of living, to grow opportunity, and to support more funding for LA's public schools, which are the most powerful determinant of our city's future."
Carvalho said Friday that "when we started negotiating with SEIU, we promised to deliver on three goals. We wanted to honor and elevate the dignity of our workforce and correct well-known, decadeslong inequities impacting the lowest-wage earners. We wanted to continue supporting critical services for our students. We wanted to protect the financial viability of the district for the long haul. Promises made, promises delivered."
Contract talks with district teachers are ongoing. When announcing support for Local 99's strike earlier this month, UTLA president Cecily Myart-Cruz said that "despite LAUSD having one of the largest school budgets and largest reserves in the nation—teachers and essential school workers are struggling to support their own families and live in the communities they work for."
The strike and pending deal in California come amid a rejuvenated labor organizing movement across the United States, with employees of major corporations including Amazon and Starbucks fighting for unions.
News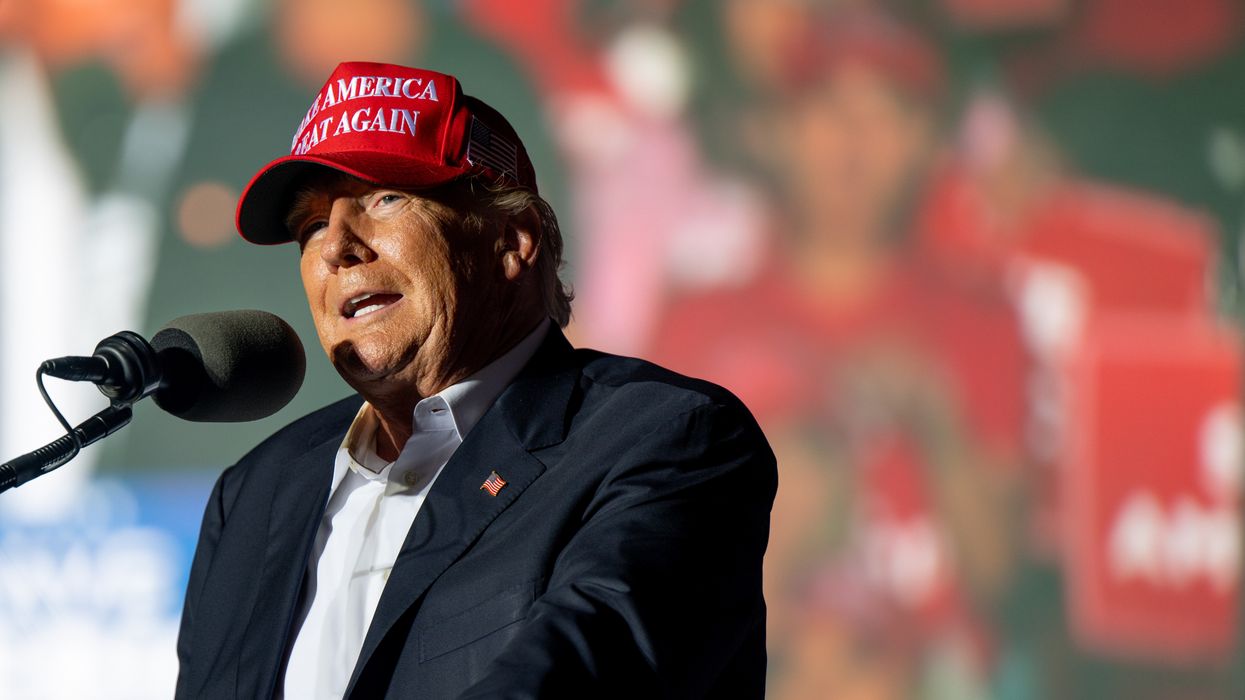 "There's not really another place in the U.S. that you could pick that would tap into these deep veins of anti-government hatred—Christian nationalist skepticism of the government," said one extremism expert.
While former U.S. President Donald Trump's 2024 campaign insists it is purely coincidental that his planned Saturday rally in Waco, Texas falls during the 30th anniversary of a deadly 51-day siege targeting a religious cult, some Texans and extremism experts aren't buying it.
Since law enforcement—including Federal Bureau of Investigation (FBI) agents—carried out the botched operation at a Branch Davidian compound near Waco from February 28 to April 19 in 1993, the event has been a source of anti-government sentiment for the likes of Oklahoma City bomber Timothy McVeigh and U.S. militia movement members.
"When Donald Trump flies into Waco on Saturday evening for the first major campaign event of his 2024 reelection quest, dog ears won't be the only ones twitching," the Houston Chronicle editorial board argued Thursday. "Trump doesn't do subtle; dog-whistle messages are not his style. The more apt metaphor is the blaring air horn of a Mack 18-wheeler barreling down I-10."
"'Waco' has become an Alamo of sorts, a shrine for the Proud Boys, the Three Percenters, the Oath Keepers, and other anti-government extremists and conspiracists."
"The GOP-friendly city of Waco—Trump won McLennan County by more than 20 percentage points in 2020—has every right, of course, to host a former president, the leading contender for the 2024 Republican presidential nomination, but 'Waco,' the symbol... means something else entirely," the board stressed. "'Waco' has become an Alamo of sorts, a shrine for the Proud Boys, the Three Percenters, the Oath Keepers, and other anti-government extremists and conspiracists."
The twice-impeached former president faces potential legal trouble in multiple states and at the federal level for everything from a hush money payment to porn star Stormy Daniels to trying to overturn his 2020 electoral loss and inciting the January 6, 2021 attack on the U.S. Capitol.
Trump, a documented serial liar, took to his Truth Social platform last weekend to say that he would be arrested Tuesday—as part of a New York grand jury investigation into the hush money—and call for protests. Manhattan District Attorney Alvin Bragg said Thursday that Trump "created a false expectation that he would be arrested."
In a Truth Social post on Friday, Trump warned of "death and destruction" if he is indicted—which led the watchdog Citizens for Responsibility and Ethics in Washington (CREW) to charge that "he's not being subtle, he's threatening prosecutors with violence."

The Chronicle board tied Trump's legal problems to his Waco trip:
Thirty years later, the anti-government paramilitary groups feeding off lies about the "deep state" and a stolen election periodically visit the modest, little chapel on the site of the sprawling, ramshackle building that burned to the ground. Although the Branch Davidians had nothing to do with anti-government conspiracists, chapel construction was funded by loud-mouthed conspiracy theorist Alex Jones.

Militia members and conspiracists know exactly what Trump's Waco visit symbolizes. They have heard him castigate the FBI and the "deep state," particularly after agents searched for classified documents at Mar-a-Lago. How they'll respond to his remarks, particularly if he shows up as the first former president in American history to face criminal charges, has law enforcement in Waco and beyond taking every precaution. What he says will likely set the tone for the presidential campaign to come. Every American should be concerned.
Trump campaign spokesperson Steven Cheung wrote Friday in an email to The New York Times that Waco was chosen "because it is centrally located and close to all four of Texas' biggest metropolitan areas—Dallas/Fort Worth, Houston, Austin, and San Antonio—while providing the necessary infrastructure to hold a rally of this magnitude."
The Chronicle board noted other local options, writing that "the Waco Regional Airport and an expected crowd of 10,000 or so fit the bill. Of course, Temple or Belton or Killeen (home to Fort Hood) would have fit the bill, as well—without the weight of symbolism."
The Texas newspaper was far from alone in sounding the alarm about Trump's upcoming trip to Waco.
"Waco is hugely symbolic on the far right," Heidi Beirich, co-founder of the Global Project Against Hate and Extremism, toldUSA TODAY. "There's not really another place in the U.S. that you could pick that would tap into these deep veins of anti-government hatred—Christian nationalist skepticism of the government—and I find it hard to believe that Trump doesn't know that Waco represents all of these things."
"Waco has a sense of grievance among people that I know he's got to be trying to tap into," Beirich added. "He's being unjustly accused, like the Branch Davidians were unjustly accused—and the deep state is out to get them all."
The newspaper pointed out that "though Trump has held more than 100 campaign rallies and similar events, and mounted a near-daily schedule of them during his campaigns, this week's appears to be the first one ever held in Waco."
Megan Squire, deputy director for data analytics at the Southern Poverty Law Center, also rejected the Trump campaign's suggestion that the trip isn't connected to the 1993 standoff and what means to many members of the far-right.
"Give me a break! There's no reason to go to Waco, Texas, other than one thing," Squire told USA TODAY. "I can't even fathom what that's about other than just a complete dog whistle—actually forget dog whistle, that is just a train whistle to the folks who still remember that event and are still mad about it."
Even some right-wing figures are openly making the connection, as TIMEreported: "Posting on the messaging app Telegram, far-right activist and conspiracy theorist Laura Loomer called the rally in Waco 'very symbolic!' A few MAGA influencers on social media noted the choice of location, with one calling it 'a meaningful shot across the brow of the deep state.'"
Nicole Hemmer, a Vanderbilt University associate professor of history and author of Messengers of the Right: Conservative Media and the Transformation of American Politics and Partisans: The Conservative Revolutionaries Who Remade American Politics in the 1990s, wrote in a Friday opinion piece for CNNthat Trump's trip is "a provocation of historic significance."
"When Trump became president in 2016, rather than becoming synonymous with the federal government as previous chief executives had done, he styled himself as both its victim and its adversary, promoting conspiracies about the deep state and encouraging supporters to keep him in power by any means necessary," Hemmer highlighted. "In choosing Waco as the kickoff site for his campaign rallies, he has signaled that his courtship of extremist groups will continue, and that he sees his role as a pivotal figure in the far-right mythos as central to his efforts to retake the presidency."
News
SUPPORT OUR WORK.
We are independent, non-profit, advertising-free and 100%
reader supported.