Our work is licensed under Creative Commons (CC BY-NC-ND 3.0). Feel free to republish and share widely.
Andrea Germanos
Andrea Germanos is a senior editor and staff writer at Common Dreams.
In a vote cheered as a victory for democracy, one community in British Columbia has given a flat rejection to a proposed tar sands pipeline.
Over 58 percent of voters who headed to the polls in the North Coast municipality of Kitimat on Saturday said "no" to Enbridge's Northern Gateway project.
That project would include a pipeline to carry tar sands crude from near Edmonton, Alberta to Kitimat.
CBC News reports that
Kitimat is the community most affected by the $6.5-billion project, because as the endpoint for the pipeline bringing bitumen from Alberta, it would house a marine terminal where the supertankers would load up.
"The people have spoken. That's what we wanted -- it's a democratic process," Kitimat Mayor Joanne Monaghan said in a statement following the vote. "We'll be talking about this Monday night at Council, and then we'll go from there with whatever Council decides."
One group welcoming the rejection is the Dogwood Initiative, a B.C.-based group that advocates for decision-making power for environmental decisions to be in the hands of the people.
"This shows what happens when you actually give people the chance to vote on Enbridge's proposal," stated Kai Nagata, Energy & Democracy Director with the group.
The rejection was also a reflection of voter awareness of the environmental threats posed by the Northern Gate, according to the B.C.-based Raincoast Conservation Foundation.
"The vote in Kitimat illustrates how acutely aware British Columbians are that our province's coast, which hosts incomparable land and seascapes, is in imminent jeopardy from the proposed export of diluted bitumen from Alberta's tar sands to the oil industry's global markets by the threat of a catastrophic Exxon Valdez type spill, as well as a host of other impacts," said Chris Genovali, Executive Director of Raincoast.
"For example, the Enbridge Northern Gateway Project will result in increased tanker traffic and vessel noise through sensitive and productive waters, impoverishing critical habitat for numerous species of threatened and endangered whales. Additionally, the chronic oiling accompanying Northern Gateway's tankers and terminal will likely slowly degrade habitat and water quality to the point where near-shore environments are no longer productive or capable of supporting nurseries for wild salmon, one of B.C.'s greatest natural assets," said Genovali.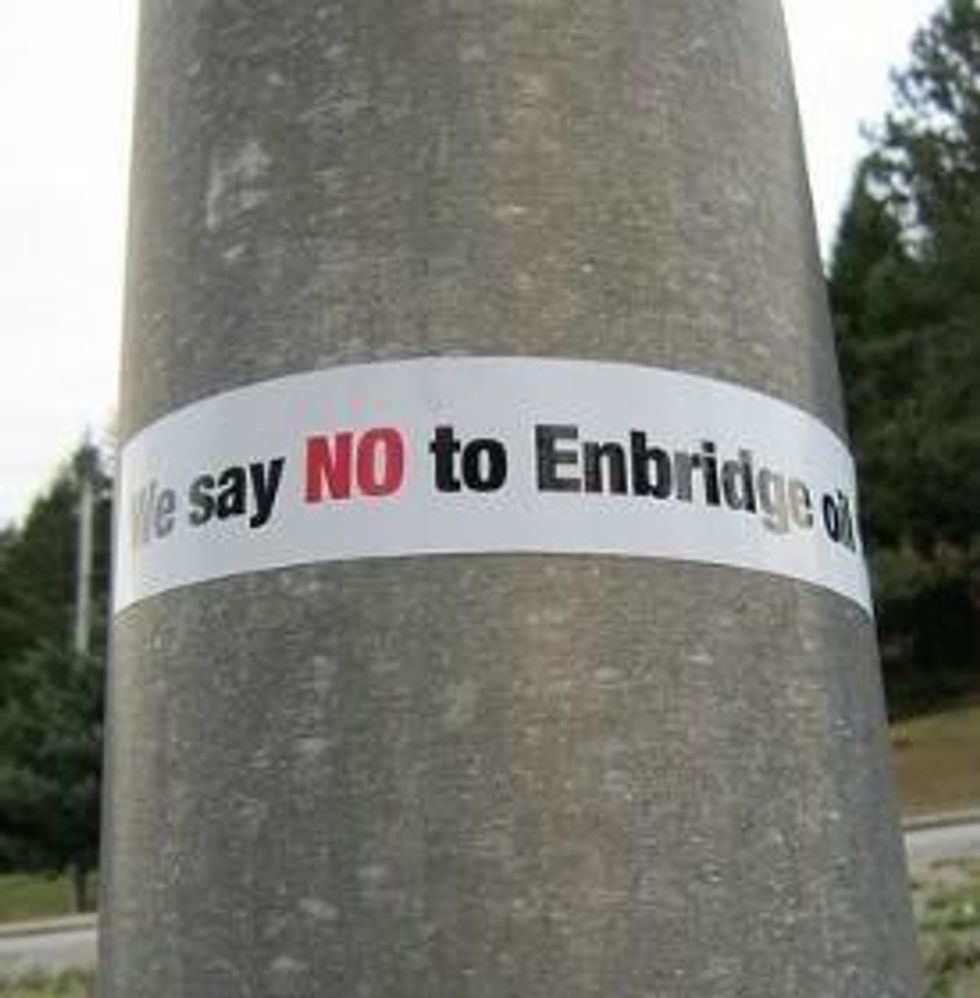 In December 2013, a federal Joint Review Panel (JRP) gave its recommendation to approve the pipeline, but that approval prompted backlash from environmental groups, including ForestEthics Advocacy and Living Oceans Society, who
say
the approval was made without taking into consideration the full environmental impacts of the project. The groups, representing by Ecojustice, have filed suit to block the JRP's report from being used as a basis for full federal approval of the project.
"The panel cannot consider the so-called economic benefits of oilsands expansion tied to this pipeline but ignore the adverse impacts that expansion will have on climate change, endangered wildlife and ecosystems," stated Nikki Skuce, senior energy campaigner with ForestEthics Advocacy, when their lawsuit was filed.
A resounding "No" for the pipeline was also heard this past Friday, when, as the Globe and Mailreports,
A group of First Nations with territory covering a quarter of the route for the proposed Northern Gateway oil pipeline met with federal representatives Friday to officially reject the project.
The First Nations representatives said there is no more debate, as they banned the pipeline under their traditional laws.
"We do not, we will not, allow this pipeline," the Globe and Mail reports Peter Erickson, a hereditary chief of the Nak'azdli First Nation, as telling the bureaucrats. "We're going to send the message today to the federal government and to the company itself: Their pipeline is dead. Under no circumstances will that proposal be allowed."
"Their pipeline is now a pipe dream," Erickson added.
Nagata's group is saying that all British Columbians should have a vote on the Northern Gateway.
"This project would have serious ramifications for the whole province, so all British Columbians deserve to vote on it," said Nagata. "That should extend far beyond just speaking to a panel or writing your local newspaper. Regardless of whether you support this proposal, the decision should be made by British Columbians."
To help make this happen, the Dogwood Initiative has launched a new website, LetBCvote.ca, to harness the province's direct democracy laws by gathering the signatures of at least 10 per cent of the registered voters to get the issue onto a ballot.
A federal review panel is expected to give its final decision on Enbridge's project in June.
_____________
We've had enough. The 1% own and operate the corporate media. They are doing everything they can to defend the status quo, squash dissent and protect the wealthy and the powerful. The Common Dreams media model is different. We cover the news that matters to the 99%. Our mission? To inform. To inspire. To ignite change for the common good. How? Nonprofit. Independent. Reader-supported. Free to read. Free to republish. Free to share. With no advertising. No paywalls. No selling of your data. Thousands of small donations fund our newsroom and allow us to continue publishing. Can you chip in? We can't do it without you. Thank you.