Our work is licensed under Creative Commons (CC BY-NC-ND 3.0). Feel free to republish and share widely.
Elana Sulakshana
Elana Sulakshana leads Rainforest Action Network's campaign pressuring the U.S. insurance industry to stop making the climate crisis worse. She has been active in the climate justice movement for the last eight years, most recently organizing for just and equitable climate policy in Washington State, fighting fracking in the U.K., and campaigning for universities to divest from fossil fuels and reinvest in communities.
Last year, Rainforest Action Network tracked down and published a document revealing the 11 insurance giants behind the controversial Trans Mountain tar sands pipeline in Canada, which were providing more than USD$500 million in insurance policies. These pipelines are so dangerous that under Canadian federal law that the existing Trans Mountain pipeline cannot move any oil, and the expansion project cannot be built, without hundreds of millions in insurance coverage.
That makes un-insuring Trans Mountain a critical way to stop the pipeline once and for all, which is why a global coalition of Indigenous communities, climate activists, and finance campaigners has been calling on the insurance sector to stay far away from Trans Mountain. And our efforts are working: as of this week, fourteen insurers have pledged not to touch Trans Mountain, and many of these companies have also adopted policies ruling out all support for all tar sands expansion projects.
What is Trans Mountain?
It's not a surprise that insurers are dropping like flies: the existing Trans Mountain pipeline is a major environmental and public health hazard, and the expansion project consists of an entirely new pipeline that would ship more than 590,000 barrels per year of highly-polluting tar sands crude oil to the coast of British Columbia.
If the pipeline goes into operation, it is estimated that it would produce the same climate pollution as adding 22 million new cars to the road.
The existing Trans Mountain pipeline was built 68 years ago when Indigenous communities were not allowed to hire lawyers to represent themselves, and the proposed expansion of Trans Mountain has been delayed for years in the face of fierce Indigenous resistance. It has not obtained the Free, Prior, and Informed Consent of Indigenous communities on whose lands the pipeline would cross. The Tsleil-Waututh Nation, Squamish Nation, Coldwater Indian Band, and Ts'elxweyeqw Tribes have challenged Trans Mountain in the courts, and land defenders like the Tiny House Warriors are occupying their land and asserting their responsibility and jurisdiction over their lands and waters.
Future spills from a massively expanded pipeline would endanger local sources of drinking water along the route and waters along the west coast of North America, including the Burrard Inlet. In fact, there is an estimated 87% chance of an oil spill along the west coast of North America if the expansion project moves forward.
Tar sands are one of the dirtiest, highest carbon sources of oil on the planet, with climate emissions from a barrel of tar sands 70% above the global average. Alberta's oil patch is one of the biggest in the world and is the single largest industrial project on the planet. If the pipeline goes into operation, it is estimated that it would produce the same climate pollution as adding 22 million new cars to the road, and a growing consensus--now including the International Energy Agency - agrees that there is no room for new tar sands (or any oil and gas projects) to keep global warming to a safe limit.
Up in Alberta, the Beaver Lake Cree have mounted one of the most significant legal cases to date over the development of the Alberta tar sands. They are the first community to ever challenge--and be granted a trial on--the cumulative environmental, social, and cultural impacts of industrial development.
Why are Trans Mountain's insurers secret now?
Following campaign pressure and engagement with Indigenous communities, Trans Mountain's lead insurer--the Swiss-based Zurich insurance company--announced that it was cutting ties with Trans Mountain last summer. Two German insurance companies, Munich Re and Talanx, also committed to drop Trans Mountain as a client.
In response, Trans Mountain filed a request with Canadian regulators asking to keep its insurers secret last February because, as the company put it: "Trans Mountain has already observed increasing reluctance from insurance companies to offer insurance coverage for the Pipeline and to do so at a reasonable price."
The company blamed pressure campaigns like ours for why it was struggling to get insurance coverage, conveniently not mentioning all of the serious risks with the pipeline and the broader shift of insurers out of the fossil fuel industry. As CBC recently reported, many insurers are no longer offering coverage to major pipelines and tar sands facilities, as they take steps to decarbonize their portfolios.
Unfortunately, the Canadian government approved Trans Mountain's request to shield its insurers. But we know that hiding the details of Trans Mountain's insurance certificate will do nothing to address the very real problems this pipeline faces: lack of consent from Indigenous communities, decaying infrastructure, mounting costs, and a huge carbon footprint. It's also not going to stop us from continuing to pressure insurers to stay far away from Trans Mountain and all tar sands expansion projects, as we still know who the likely insurers of Trans Mountain are.
Who's still insuring the pipeline?
This summer, we're targeting the companies that were linked to the pipeline last year and have not yet stated that they have cut ties or plan to drop Trans Mountain as a client. Here's the list:
AIG (US)
Chubb (US)
Energy Insurance Limited (US)
Liberty Mutual (US)
Lloyd's (UK) (Note: there are a number of targets within the Lloyd's marketplace!)
Starr (US)
Stewart Specialty Risk Underwriting (Canada)
W.R. Berkley (US)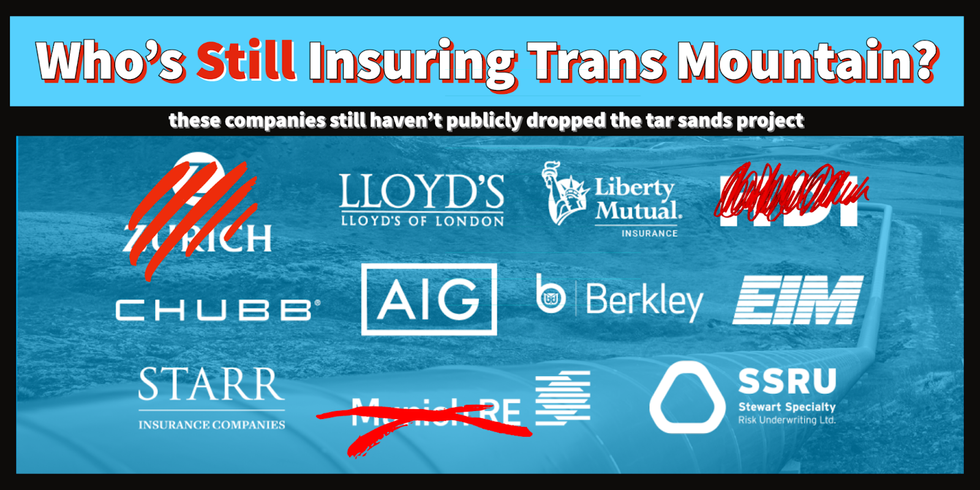 Trans Mountain's current insurance policy expires on August 31, 2021, so we are urgently calling on these companies to:
Not renew their policy for Trans Mountain for 2020-2021 and make a public statement committing to rule out any insurance coverage for the existing Trans Mountain pipeline and its expansion.
Adopt a public-facing policy that rules out insuring and investing in tar sands projects and companies.
Adopt a policy to ensure that projects and companies they insure have obtained the Free, Prior, and Informed Consent of impacted Indigenous communities.
With just two months until Trans Mountain's policy expires, this is a critical window to push Trans Mountain's insurers to act. Right now, we're ramping up the pressure on Trans Mountain's remaining insurers alongside thousands of people globally as part of the Stop Insuring Trans Mountain week of action from June 14-21.
People all over the world--from Canada to Sierra Leone to Australia--are taking to the streets and to insurance offices in solidarity with Indigenous communities fiercely resisting Trans Mountain on the frontlines. Together, we are demanding that these insurance companies insure our future, not Indigenous rights violations and fossil fuel expansion. We hope you'll join us.
We've had enough. The 1% own and operate the corporate media. They are doing everything they can to defend the status quo, squash dissent and protect the wealthy and the powerful. The Common Dreams media model is different. We cover the news that matters to the 99%. Our mission? To inform. To inspire. To ignite change for the common good. How? Nonprofit. Independent. Reader-supported. Free to read. Free to republish. Free to share. With no advertising. No paywalls. No selling of your data. Thousands of small donations fund our newsroom and allow us to continue publishing. Can you chip in? We can't do it without you. Thank you.