This work is licensed under a Creative Commons Attribution-Share Alike 3.0 License.
There is a rich history of resistance against colonialism in North America-Turtle Island. In Canada alone, there are stories of victories from Batchewana Bay First Nation to the Oka uprising to the occupation of the Federal Revenue Agency.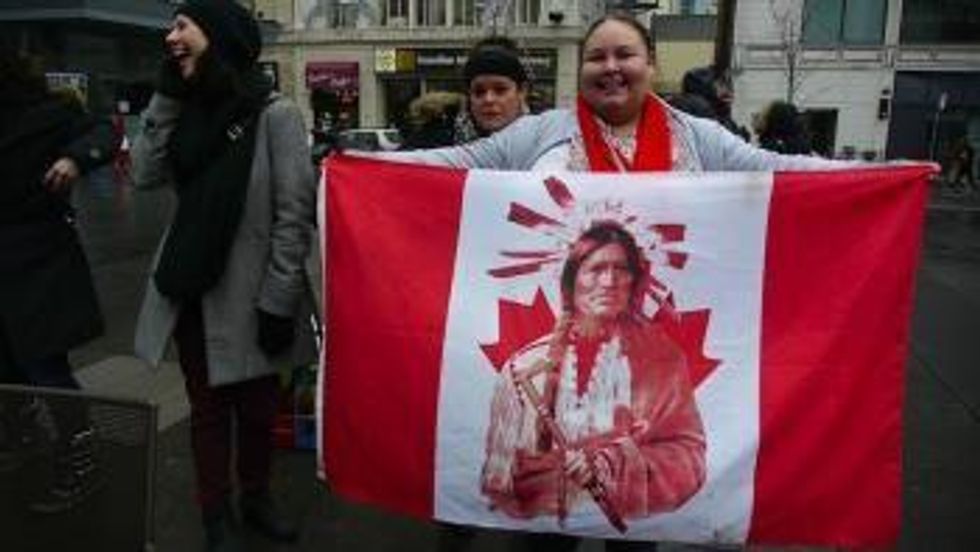 Drawn from the deep water of this legacy, the Idle No More movement has sprung up -- starting in early December 2012 and promising to continue into the new year.
At an Idle No More rally in Toronto on December 10, 2012, Cree Elder Vern Harper spoke at Queen's Park to remind people, "When I came here [today], it brings memories. I've been coming here for 55 years and I'll keep coming as long as I can, as long as people are ready to speak out to defend our mother, the earth."
Furthering the Idle No More movement which began earlier this month, Attawapiskat Chief Theresa Spence, Emil Bell and Raymond Robinson are all currently on hunger strikes.
Idle No More round dance flash mobs are being held across North America -- from Whitehorse to Vancouver to Los Angeles to Toronto to Halifax -- supporting the Indigenous uprising springing forth in its current incarnation of resistance in opposition to Bill C-45.
"What we saw on Parliament Hill was a true reflection of the outright disregard the Harper Government has towards First Nation people," said Idle No More organizer Nina Wilson.
Members from the Aamjiwnaang First Nation and supporters from Sarnia, Ontario, have been blockading the Canadian National St. Clair spur railway line since Friday. Sarnia police have so far refused to intercede in the blockade unless "there is a safety risk."
A meeting will be held to deal with a court injunction against the blockade filed on December 24, 2012. Blockage organizer and community leader Ron Plain has so far stated that the CN blockade will remain up until Chief Spence's demands to end her hunger strike are met.
These demands include an immediate meeting with Prime Minister Stephen Harper and his wife. Chief Spence has been leading the hunger strike and has the highest profile, with liquids only in the morning and evening.
Demonstrators from the Sturgeon Lake First Nation, east of Grande Prairie, announced plans to put up two blockades across the highway between the town and the reserve Wednesday afternoon.
There is a further call-out on Friday, December 28, 2012:
"December 28 is the next full moon. In my community, Anishinaabeg women are out on the land that night participating in Full Moon ceremonies. We will be doing this on the evening of December 28.
We are asking that all Indigenous Peoples reclaim their sacred sites on that day by visiting these sites -- conducting ceremonies, singing, dancing, educating or doing whatever makes sense for your community and according to the traditions of your nation."
On Friday, December 28, 2012, there will also be an Idle No More rally in Winnipeg, Manitoba between 11 a.m. and 2 p.m. at the Friendship Centre Restaurant on 57 Church Street.
A one-day border blockade in Akwesasne has been called for January 5, 2013.
Canadians are encouraged to call the Prime Minister's Office and leave a voicemail asking Harper to meet with Chief Spence at (613)992-4211 or send tweets to @PMHarper.
Attawapiskat Chief Spence has the backing of her community and a strong social media presence. Idle No More's facebook page is here and key Twitter accounts are @ IdleNoMore4 and @ChiefTheresa (Chief Theresa Spence's Twitter account).
A map of past and future Idle No More demonstrations can be found online here and this events page.
The Prime Minister's Office has so far referred the issue to Minister of Aboriginal Affairs John Duncan, who has said he is willing to meet Chief Spence in Harper's stead. She has so far declined, stating firmly that she will talk only to the Prime Minister as she subsists on water, medicine tea and some fish broth every day.
Chief Spence, surrounded by supporters in a tipi in the shadow of Parliament Hill, has also stated that she is willing to die for her people and "meet her ancestors."
First Nations have always been awake and proudly following in the footsteps of their ancestors. Idle No More continues this legacy.
We've had enough. The 1% own and operate the corporate media. They are doing everything they can to defend the status quo, squash dissent and protect the wealthy and the powerful. The Common Dreams media model is different. We cover the news that matters to the 99%. Our mission? To inform. To inspire. To ignite change for the common good. How? Nonprofit. Independent. Reader-supported. Free to read. Free to republish. Free to share. With no advertising. No paywalls. No selling of your data. Thousands of small donations fund our newsroom and allow us to continue publishing. Can you chip in? We can't do it without you. Thank you.