Vandana Shiva
Dr. Vandana Shiva is a philosopher, environmental activist and eco feminist. She is the founder/director of Navdanya Research Foundation for Science, Technology, and Ecology. She is author of numerous books including, Soil Not Oil: Environmental Justice in an Age of Climate Crisis; Stolen Harvest: The Hijacking of the Global Food Supply; Earth Democracy: Justice, Sustainability, and Peace; and Staying Alive: Women, Ecology, and Development. Shiva has also served as an adviser to governments in India and abroad as well as NGOs, including the International Forum on Globalization, the Women's Environment and Development Organization and the Third World Network. She has received numerous awards, including 1993 Right Livelihood Award (Alternative Nobel Prize) and the 2010 Sydney Peace Prize.
We are in a food emergency. Speculation and diversion of food to biofuel has contributed to an uncontrolled price rise, adding more to the billion already denied their right to food. Industrial agriculture is pushing species to extinction through the use of toxic chemicals that kill our bees and butterflies, our earthworms and soil organisms that create soil fertility. Plant and animal varieties are disappearing as monocultures displace biodiversity. Industrial, globalized agriculture is responsible for 40 percent of greenhouse gases, which then destabilize agriculture by causing climate chaos, creating new threats to food security.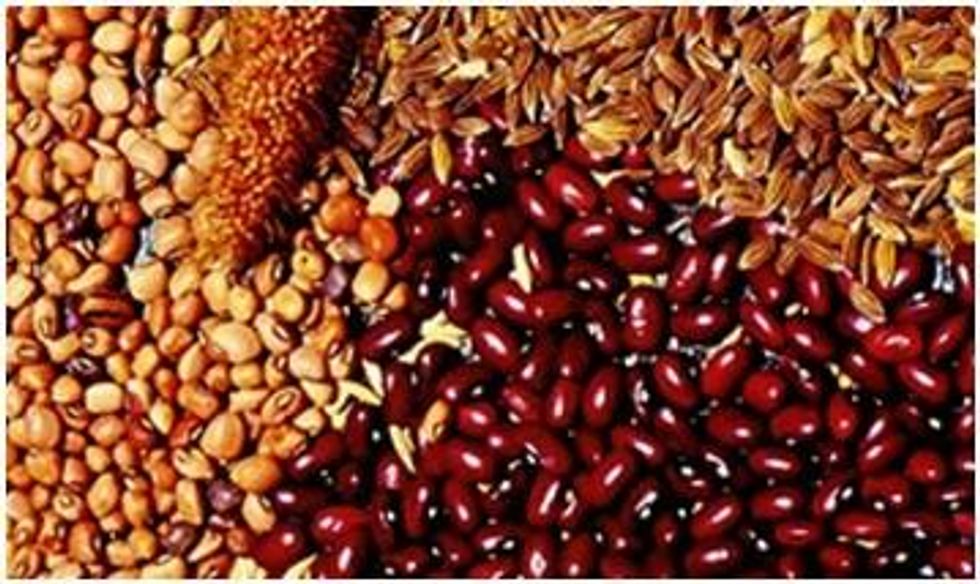 But the biggest threat we face is the control of seed and food moving out of the hands of farmers and communities and into a few corporate hands. Monopoly control of cottonseed and the introduction of genetically engineered Bt cotton has already given rise to an epidemic of farmers' suicides in India. A quarter-million farmers have taken their lives because of debt induced by the high costs of nonrenewable seed, which spins billions of dollars of royalty for firms like Monsanto.
I started Navdanya in 1987 to address the challenge of GM seeds, seed patents and seed monopolies.
We have been successful in reclaiming seed sovereignty and creating sixty community seed banks to reclaim seed as a commons. We have proven that biodiverse ecological agriculture produces more food and nutrition per acre than monocultures, while reducing costs to the planet and to farmers.
But our efforts are like a little lamp in a very dark room. We keep the lamp of possibilities and alternatives burning. The food emergency, however, calls for a much wider response.
The food movement must become more integrated, from seed to table, from village to city, from South to North. We need to be stronger in challenging the corporate control of our food system and the role of governments in increasing, rather than stopping, the corporate abuse of our seeds and soils, our bodies and our health. Michelle Obama has an organic garden at the White House, but the Obama administration is embracing GMOs in the United States and around the world. The US-India agriculture agreement--signed by President Bush and Prime Minister Singh in 2005, at the same time as the signing of the US-India nuclear deal--has on its board representatives from Monsanto, ADM and Walmart. The hijacking of our food systems is the hijacking of our democracy.
That is why we have to make food democracy the core of the defense of our freedom and survival. We will either have food dictatorship for a while and then a collapse of our food systems and our societies, or we will succeed in building robust food democracies, resting on resilient ecosystems and resilient communities. There is still a chance for the second alternative.
We've had enough. The 1% own and operate the corporate media. They are doing everything they can to defend the status quo, squash dissent and protect the wealthy and the powerful. The Common Dreams media model is different. We cover the news that matters to the 99%. Our mission? To inform. To inspire. To ignite change for the common good. How? Nonprofit. Independent. Reader-supported. Free to read. Free to republish. Free to share. With no advertising. No paywalls. No selling of your data. Thousands of small donations fund our newsroom and allow us to continue publishing. Can you chip in? We can't do it without you. Thank you.