Our work is licensed under Creative Commons (CC BY-NC-ND 3.0). Feel free to republish and share widely.
Adam Sanchez
Adam Sanchez (asanchez@zinnedproject.org) teaches at Harvest Collegiate High School in New York City. He is an editor of Rethinking Schools magazine and the Zinn Education Project organizer and curriculum writer.
For years dirty energy corporations have created education materials marketed to young children in an attempt to shape the discussion around environmental issues. After the Exxon Valdez oil spill, Exxon created a lesson plan "about the healthy, flourishing wildlife in Prince William Sound, Alaska, which showed beautiful eagles, frolicking sea otters, and sea birds in their habitat." Last year, oil giant BP was exposed for helping to write California state's environmental curriculum for over six million children. So it should come as no surprise that Scholastic recently partnered with the American Coal Foundation to produce "The United States of Energy," a 4th grade curriculum designed to boost the "clean" image of dirty coal.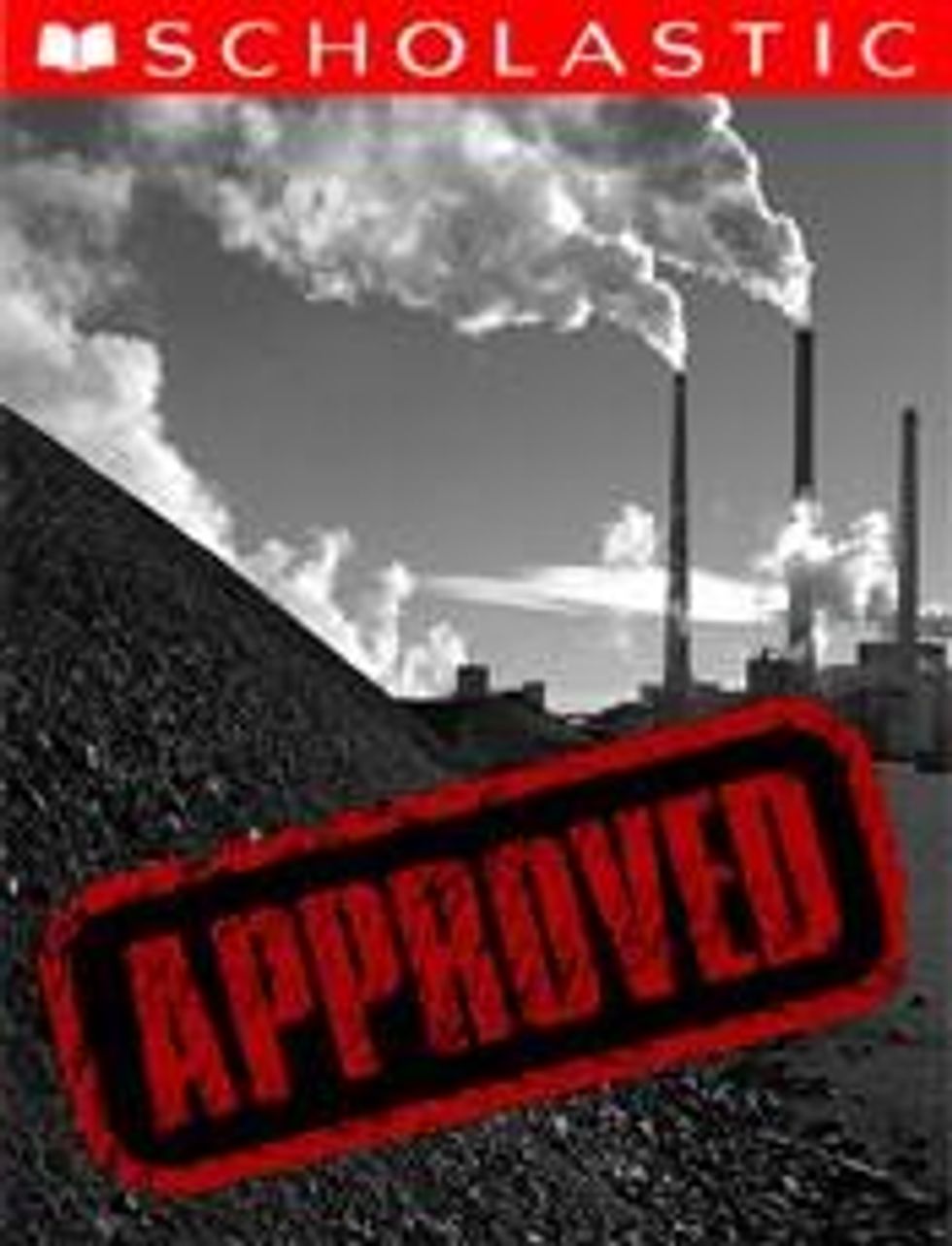 Scholastic, a $2 billion corporation whose educational materials are in 9 out of 10 classrooms in the United States, is no stranger to partnering with the corporate world to market products and brands to children. Last year Scholastic teamed up with SunnyD, the juice company whose product has been
labeled by consumer groups as "junk juice"
because of its high sugar and very low fruit juice content despite being marketed as a "real fruit beverage." Marketing the campaign through their Parent & Child magazine, Scholastic agreed to donate 20 books to any class that sent in 20 UPC labels of SunnyD drinks. The ten schools that collected the most labels (
ranging from 13,000 to 30,000 SunnyD labels per school!
) were awarded hundreds of books.
Scholastic has also partnered with Shell Oil Company to create science lessons that explore "energy conservation and practical 'green' solutions," which help focus students on their own individual "carbon footprint" while conveniently ignoring Shell's much larger one. Scholastic's "Shedding Light on Energy" teacher's guide that is still promoted on their website (along with the Shell curriculum) was written by the Chamber of Commerce, whose unwavering climate change denial was too much for even Apple, the company named the biggest polluter in the technology industry by Greenpeace. Other previous Scholastic clients have included McDonald's, Cartoon Network, Nestle and Disney.
***
The story of Scholastic's partnership with the American Coal Foundation is unique, not because the coal industry is paying Scholastic to help distribute propaganda aimed at benefiting their corporate image, but because teachers and environmental activists spoke out against this dirty corporate marriage and forced a divorce.
It started when Bill Bigelow, an editor of Rethinking Schools and a member of Climate Justice Portland, contacted the American Coal Foundation to see if they would send him some coal for a lesson he was teaching as part of a larger unit on climate change. Not knowing that Bigelow was a climate justice activist, the American Coal Foundation representative agreed and informed Bigelow of the coal curriculum that Scholastic had produced for them.
"It didn't surprise me to learn that Scholastic had a partnership with the coal industry," said Bigelow. "To read most mainstream textbooks, you'd think that all of them are sponsored by the coal industry. They consistently downplay the climate crisis and fail to get students thinking critically about what and who is responsible." In fact, the Spring 2011 issue of Rethinking Schools is titled "Climate Crisis in the Classroom." The lead editorial points out how most classroom textbooks approach climate change with equivocating and ambiguous language that stands in stark contrast to the clear scientific consensus. The editors write, "If the purpose of education is to serve humanity, then this climate emergency should be accompanied by widespread rethinking and revision of the curriculum--a massive undertaking to equip children to understand the causes of the climate crisis and the enormity of its potential consequences."
The Scholastic coal curriculum does precisely the opposite. After receiving a copy of "The United States of Energy" Bigelow wrote a scathing critique of the curriculum for Rethinking Schools. He points out that "the Scholastic curriculum includes nothing about perhaps the worst aspect of burning coal: that it is the single greatest contributor to human-created, climate-altering, civilization-threatening greenhouse gases."
Outraged by the pro-coal curriculum, Bigelow contacted the Campaign for a Commercial-Free Childhood, and together with Rethinking Schools and Friends of the Earth they launched a campaign in early May to pressure Scholastic to remove "The United States of Energy" from their website. There was an immediate response from people all across the country. Within a few hours of launching the campaign over 1,500 people had sent letters to Scholastic asking them to remove the curriculum. Within days a whole slew of news outlets picked up the story including Mother Jones, Time, Publisher's Weekly, and The New York Times. Some of Scholastic's own book authors began contacting the publisher to express disgust with the coal industry partnership.
After a two day publicity nightmare, Scholastic agreed to the campaign's main demands. They pulled the curriculum off their website and acknowledged that partnering with the coal industry to develop lesson plans was a bad idea. But that's not the end of the story, because as noted above Scholastic still has an entire division that sells its curriculum services and its logo to all kinds of corporations hoping to create "brand awareness" and "consumer loyalty." The coalition that now includes Greenpeace USA, 350.org, Sierra Club, the Center for Biological Diversity, Public Citizen, and Teaching for Change is demanding that Scholastic end their InSchool Marketing division.
As Bill Bigelow concluded, "I had no idea that this campaign would reach so many people -- or that Scholastic would be forced to sever ties with Big Coal. What I found so encouraging about the struggle was that so many education activists, parents, environmentalists, and just plain folks were paying attention to what kids are learning about coal and energy issues. And we won. We showed everyone that if people do their homework and get organized, we can influence the curriculum in important ways. It's nice to force a small change in the practices of a big corporation, but my aim was never to win over Scholastic. Whether or not we can claim victory really depends on whether we can build a movement of teachers, parents, and environmental justice activists to reshape the school curriculum about energy and climate issues."
We've had enough. The 1% own and operate the corporate media. They are doing everything they can to defend the status quo, squash dissent and protect the wealthy and the powerful. The Common Dreams media model is different. We cover the news that matters to the 99%. Our mission? To inform. To inspire. To ignite change for the common good. How? Nonprofit. Independent. Reader-supported. Free to read. Free to republish. Free to share. With no advertising. No paywalls. No selling of your data. Thousands of small donations fund our newsroom and allow us to continue publishing. Can you chip in? We can't do it without you. Thank you.