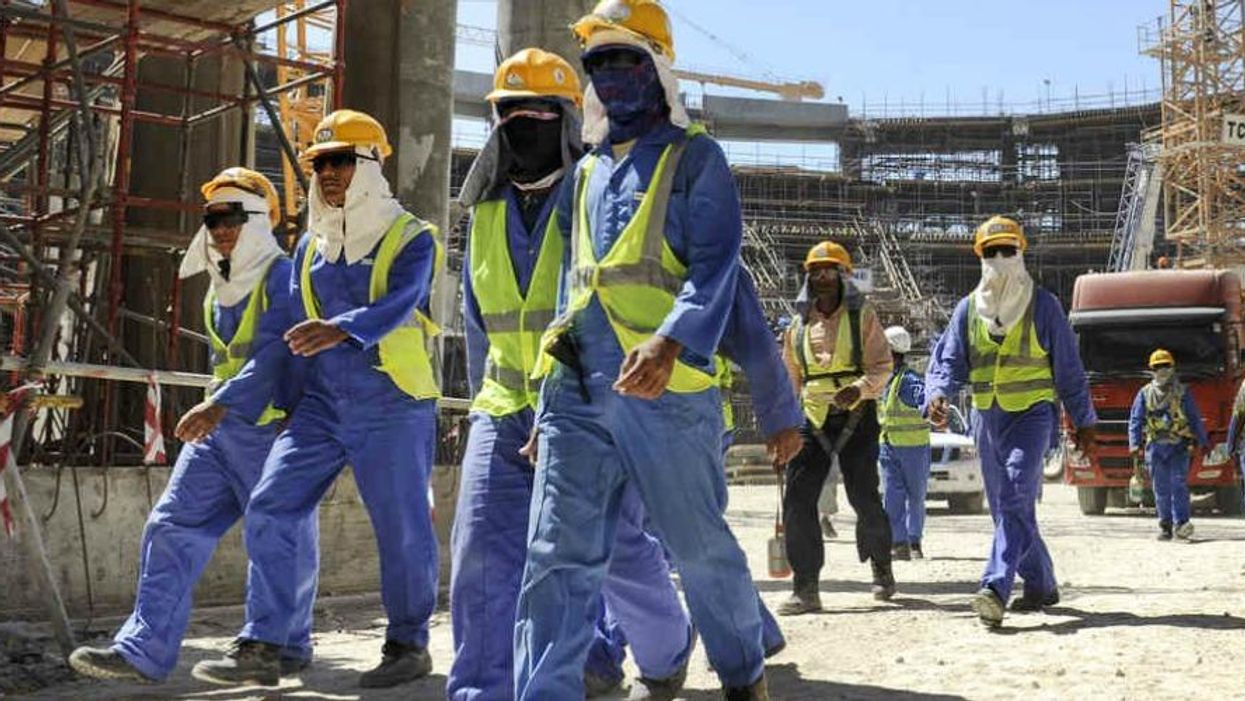 Many laborers waiting for salaries for more than a year, unable to return home
A Fifa vice president on Tuesday demanded that the World Cup organizing committee pay migrant laborers wages they are still owed for constructing offices and stadiums in Qatar. Many of the workers, who are from Nepal, India, and Sri Lanka, have been waiting for over a year to be compensated for fitting the 38th and 39th floors of Doha's al-Bidda skyscraper, nicknamed the Tower of Football, where executive offices have luxurious amenities like heated toilets and hand-carved Italian furniture. They are unable to return to their home countries as the companies that hired them continue to withhold their wages indefinitely. Most are also barred from leaving the country, as Qatar's sponsorship-based work system requires laborers to obtain exit visas from their employers, who rarely grant them.
Britain representative Jim Boyce said that if the committee used the offices built by migrant workers, it should "immediately take steps with the Qatar government to make sure they are properly paid for the work they have done," according to the Guardian. "If they are serious and accept there has been a problem and they are going to ensure that labour rights are maintained on any work done in conjunction with the World Cup, then the supreme committee has to ensure this is carried out," Boyce said.
Despite promises from the organizing committee that their rights would be guaranteed, laborers faced fatally unsafe working conditions and roach-infested living quarters, where they sleep seven to a room, the Guardian reports. Over 1,000 have died on the project in the past two years. Those who have received wages earn as little as $8.30 a day. As domestic workers, they are not protected by Qatar's labor laws. The United Nations has called on the country's government to abolish its sponsorship "kafala" program, which ties laborers to one employer by work permit and allows the "abuse and exploitation of migrants." Even now, groups of workers forced to live in the desert are also waiting for payment as they endure cramped sleeping spaces, filthy water, and a lack of plumbing and electricity.
In May, organizing committee spokesperson Nasser Al Khater responded to widespread investigations by human rights groups into the abuse of migrant workers by announcing that no one had died on the project. In July, the Qatari government admitted that there had been deaths from construction accidents, heart attacks, and suicide. The state-funded Qatar Foundation published a report (PDF) that supported findings by Amnesty International and Human Rights Watch -- corrupt company policies that skirt international labor laws, bribe recruiting agents, and withhold salaries from workers who have no support system.
Fifa president Sepp Blatter and secretary general Jerome Valcke recently met with Qatari emir Sheikh Tamim bin Hamad al-Thani to discuss reforming laws to better protect workers' rights. But their meeting comes more than a year after human rights groups began reporting (PDF) on the forced labor, unsanitary living conditions, and other abuses faced by the migrants trapped in Qatar's construction sector. Earlier this month, Qatar labor minister Abdulla al-Khulaifi said the government "welcome[d] the recent scrutiny as it helps us identify shortcomings. We know there is much more to do, but we are making definite progress."
Yet even as the government pledges to monitor the construction companies to ensure they pay their laborers' salaries, "Qatar's legal and regulatory framework still facilitates the trafficking and forced labor of migrant workers," said Nicholas McGeehan, Middle East researcher for Human Rights Watch.
News