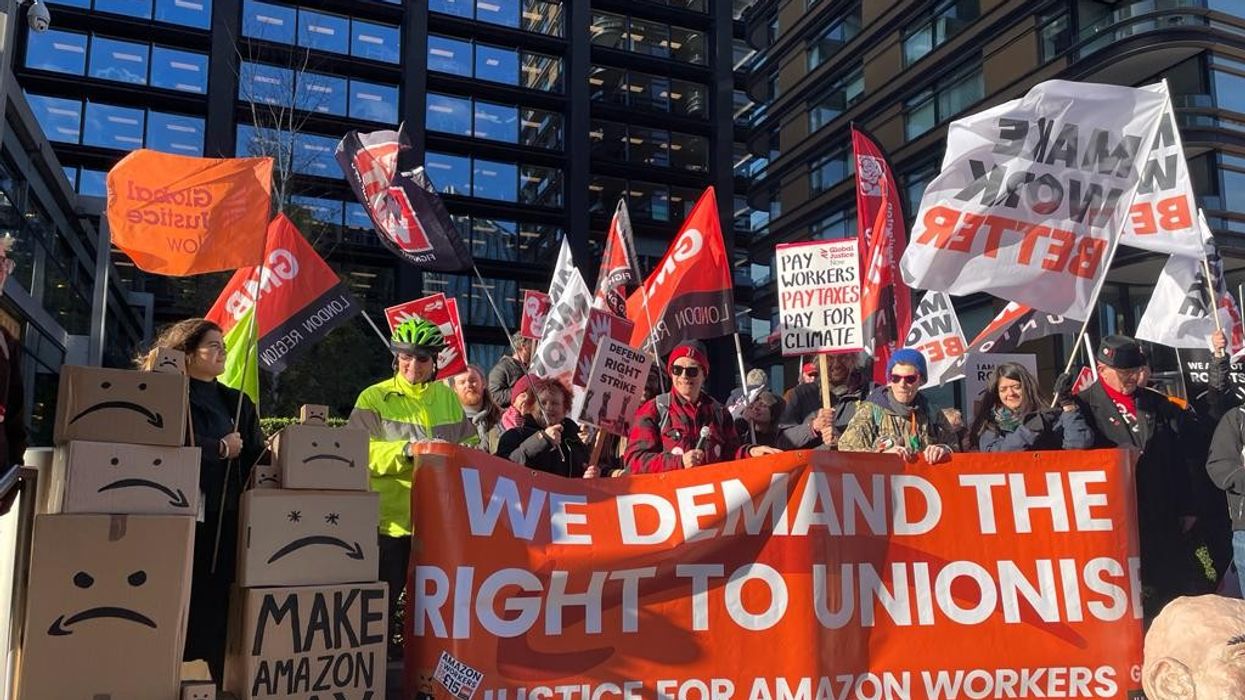 "This day of action grows every year because the movement to hold Amazon accountable keeps getting bigger and stronger," said the head of UNI Global Union.
Amazon workers and allies in dozens of countries around the world took to the streets Friday to protest the e-commerce behemoth's atrocious working conditions, low pay, union busting, tax dodging, and inaction on planet-warming emissions.
The "Make Amazon Pay" strikes and rallies coincided with Black Friday, the busiest shopping day of the year and one of Amazon's most profitable. Amazon workers across the globe—in ever-larger numbers—have been walking off the job on Black Friday for years to demand better treatment from the $1.5 trillion company.
"This day of action grows every year because the movement to hold Amazon accountable keeps getting bigger and stronger," said Christy Hoffman, general-secretary of UNI Global Union. "Workers know that it doesn't matter what country you're in or what your job title is, we are all united in the fight for higher wages, an end to unreasonable quotas, and a voice on the job."
Organizers of the worldwide demonstrations said strikes and protests are set to take place in more than 30 countries, including the United States, the United Kingdom, Germany, Spain, Italy, and Bangladesh.
"From the warehouses in Coventry to the factories of Dhaka, this global day of action is more than a protest," Varsha Gandikota-Nellutla, co-general coordinator of Progressive International, said in a statement. "It is a worldwide declaration that this age of abuse must end."
"Amazon's globe-spanning empire, which exploits workers, our communities, and our planet, now faces a growing globe-spanning movement to Make Amazon Pay," Gandikota-Nellutla added.
The strikes come amid an intensifying fight between Amazon and workers at its warehouse in Coventry, England, where around 1,000 employees have joined GMB, one of the U.K.'s largest trade unions.
Amazon, which is hostile to organized labor, has expressed opposition to the union's push for formal recognition and provided Coventry workers with measly pay raises amid elevated inflation. Increasingly outraged by their treatment at the hands of one of the world's most powerful companies, the Coventry workers have held 28 days of strikes this year.
Amazon also recently beat back union drives at U.S. warehouses in Alabama and upstate New York, efforts that followed the landmark union victory at a facility in Staten Island.
Stuart Appelbaum, president of the Retail, Wholesale, and Department Store Union—which led the Alabama organizing push—said Friday that the global day of action "underscores the urgent need for Amazon to address its egregious labor practices and engage in fair bargaining with its workers."
"Our collective actions are gaining momentum, challenging Amazon's unfair practices and advocating for workers' rights and a sustainable future for all," said Appelbaum. "Together, we can Make Amazon Pay."
A first-of-its-kind international survey of Amazon workers released by UNI Global Union earlier this year found that the company's intrusive productivity monitoring systems are harming many employees' physical and mental health, compounding the stress caused by low pay and other mistreatment.
"I feel like I'm drowning all day, causing me to drive in unsafe ways to meet the unreasonable expectation[s]," a U.S. Amazon driver told the union federation.
Amazon said in a statement that it doesn't expect Friday's strikes to impact customers and insisted it offers "great pay and benefits for our employees," despite recent research showing the company's pay is worse than that of other warehouse employers.

Amanda Gearing, a senior organizer with GMB, told the BBC that "Amazon bosses are desperate to claim it will be business as usual for Amazon and their customers this Black Friday."
"The truth is that today will see the largest day of industrial disruption in Amazon's history," said Gearing.
News