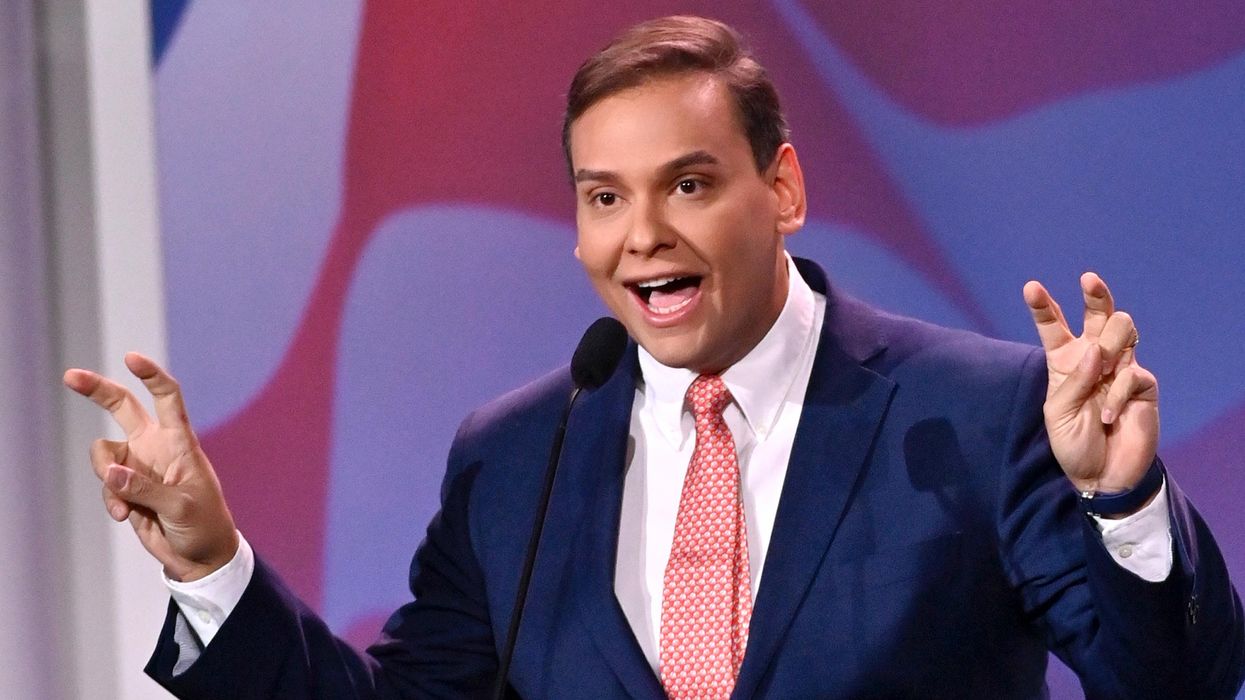 "George Santos needs to resign or be immediately expelled from the House," said one House Democrat who has introduced a resolution to expel him.
Prosecutors at the U.S. Department of Justice have filed criminal charges against Republican Congressman George Santos of New York, sources familiar with the matter told multiple media outlets on Tuesday.
Federal prosecutors in the Eastern District of New York filed charges against the freshman lawmaker, who is expected to appear in court as soon as Wednesday, according to CNN—which was first to report the news. The nature of the charges against Santos will not be known until he makes his first court appearance.
The FBI and Justice Department public integrity prosecutors in New York City and Washington, D.C. are investigating accusations that Santos lied in his campaign finance filings, among other allegations.
"George Santos needs to resign or be immediately expelled from the House."
Last December, Nassau County, New York District Attorney Anne T. Donnelly—a Republican—also announced that her office was investigating Santos, then a congressman-elect, over his myriad lies.
"The numerous fabrications and inconsistencies associated with Congressman-elect Santos are nothing short of stunning," Donnelly said at the time.

From intrigue surrounding how his net worth skyrocketed from almost nothing to $11 million in less than two years; to demonstrable lies about his education, employment history, residence, and purported Jewish heritage; to allegations of fraud perpetrated in Brazil and against a U.S. combat veteran and his dying dog, Santos' lies have dominated his short congressional career.
While he has admitted to lying about his life, Santos has denied any criminal wrongdoing. Earlier this year, he vowed to serve out his term despite growing calls for him to resign—including from Republican officials in his own district.
Those calls mounted anew following news of Santos' impending indictment.
\u201cThe prosecution of @RepSantosNY03 is long overdue. He is a pathological liar and lawbreaker who defrauded his way into public office.\n\nAs we learn more about this investigation, one thing is clear. He must resign or @HouseGOP must join us to expel him.\nhttps://t.co/exLtkwKsoN\u201d

— Rep. Ritchie Torres (@Rep. Ritchie Torres) 1683671128
"We are waiting to see the charges, but we all knew this was where things were heading," said Rep. Nicole Maliotakis (R-N.Y.).
"The sooner he leaves," she added in reference to Santos, "the sooner we can win the seat with someone who isn't a liar."
Rep. Robert Garcia (D-Calif.)—who three months ago introduced a resolution to expel the congressman that more than 40 Democratic lawmakers endorsed—tweeted that "George Santos needs to resign or be immediately expelled from the House."

"Today's news that federal prosecutors are filing criminal charges against George Santos makes it crystal clear that we must act," he added.
News