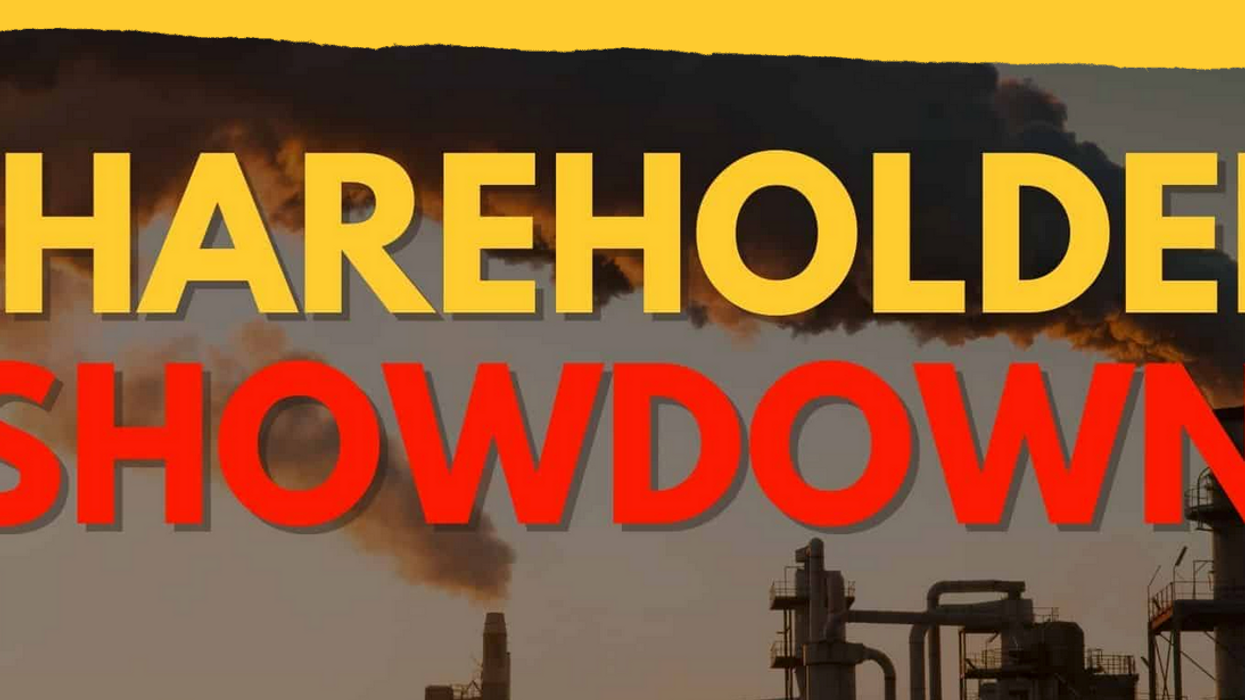 Without Wall Street cash, the world's most polluting companies wouldn't get the capital they need to finance their toxic expansion.
Today, a coalition of over 240 organizations across North America announced a new campaign on big banks and insurance companies: Shareholder Showdown. This spring, we're calling for shareholders to step up and push major corporations to start taking the climate crisis seriously.
Every year, shareholder season runs from April to June. It's the time of year when the country's biggest corporations hold their annual general meetings, where shareholders vote on all sorts of proposals: how companies should be governed, who should be in charge, and how they should relate to climate, racial, and economic justice.
Shareholder activism has been a tried and true technique of progressive movement organizations for years. Labor unions, environmental activists, and human rights campaigners have won big change by combining filing shareholder resolutions with public pressure and grassroots campaigns.
This year, the climate movement is hoping to turn off the flow of Wall Street money to destructive fossil fuels. Investors have filed shareholder resolutions at the largest North American banks and insurance companies calling on the firms to phase out their financing of fossil fuel expansion, protect Indigenous rights, and stop greenwashing.
This campaign is called shareholder showdown because we're in for a real fight – we're up against some globally powerful institutions.
These resolutions are just one part of a multi-faceted campaign to stop the flow of money to oil, gas, and coal. Shareholder season is the time when all eyes are on Wall Street, and an opportunity for activists to call out big banks and insurance companies for their greenwashing, denialism, and continued support of climate destruction.
Wall Street matters in the climate fight because fossil fuel companies simply don't have the cash on hand to build new coal mines, oil fields, refineries, or pipelines whenever they want. Like other businesses, they need to go to the bank for financing, often in the billions of dollars. Despite pledges to align their business models with the goals of the Paris Agreement, the six largest American banks – JP Morgan Chase, Citigroup, Bank of America, Wells Fargo, Morgan Stanley, and Goldman Sachs – have provided nearly $500 billion in lending and underwriting to the 100 corporations most aggressively expanding fossil fuel operations since 2016.
That's billions to fossil fuel companies such as ExxonMobil, BP and Gazprom, the Russian state-owned oil company which is helping to finance the murderous invasion of Ukraine. It's money to companies like Energy Transfer Partners, the operator of the Dakota Access Pipeline, Enbrige, the owner of Line 3 and Line 5, and GeoPark, which is drilling for oil on Indigenous lands in the Amazon.
Fossil fuel expansion isn't just bad for our carbon budget – although according to the International Energy Agency, in order to have a fifty percent chance of limiting global warming to 1.5°C, we have to stop fossil fuel expansion now – it's devastating to Black, Indigenous, and communities of color on the frontlines. Polluting fossil fuel infrastructure is disproportionately likely to be sited in communities of color, causing negative impacts such as heart disease, asthma, and cancer, poisoning land, air, and water, and disrupting community cohesion.
Without Wall Street cash, these companies wouldn't get the capital they need to finance their toxic expansion.
That's why this spring, climate activists are campaigning hard to get major investors such as pension funds, asset managers, and universities to vote yes on these climate and Indigenous rights resolutions. This vote isn't like a regular election – they don't need to pass with more than fifty percent to become policy. Even results in the teens and twenties send a strong signal to companies that people are ready for change. After all, what company would ignore the demands of one in five of its shareholders?
Activists are especially focused on pushing public pension funds, which are large, long-term investors, to vote yes, and it's already paying off. After coming out publicly in favor of a series "no fossil fuel expansion" resolutions last year, New York City Comptroller Brad Lander filed resolutions at Bank of America, Goldman Sachs, JPMorgan Chase, and Royal Bank of Canada calling on the banks to use absolute targets to track their emissions, rather than the emissions intensity targets that allow them to put out greenwashing statements while insidiously increasing their investment in fossil fuels.
New Yorkers should be proud of their city for this leadership, but those of us in the Big Apple needn't have all the fun – anyone who lives in a state or city with a public pension can get involved by calling or writing to their Treasurer's office demanding they support these critical resolutions. People who have public pensions or are public sector employees, including educators, nurses, bus drivers, and administrators can reach out to their pension fund directly and demand that their retirement not be used to uphold Wall Street's greenwashing and lies.
This campaign is called
shareholder showdown
because we're in for a real fight – we're up against some globally powerful institutions. But organized people can achieve anything, and together we will stop the flow of money to fossil fuels and climate destruction.
Opinion