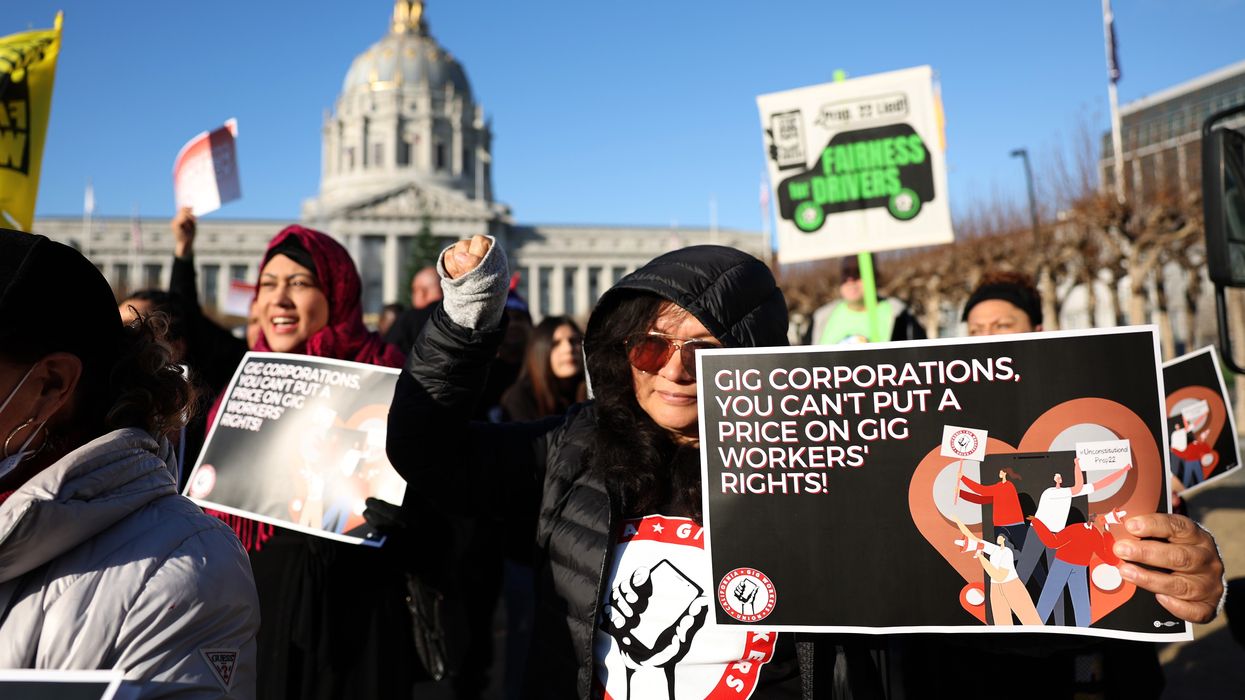 But "the oligarchs are dancing in the streets tonight," said one law professor as talk among worker advocates turned to a likely appeal before the state Supreme Court.
Labor advocates on Tuesday decried the California appellate court largely upholding Proposition 22, the industry-backed 2020 state ballot measure allowing app-based ride and delivery companies to classify their drivers as independent contractors—which is serving as a template for legislation to deny basic worker rights, benefits, and protections in other states.
The 1st District Court of Appeals on Monday rejected Alameda County Superior Court Judge Frank Roesch's 2021 ruling that Prop 22 was unconstitutional, a decision viewed at the time as a major blow to gig economy companies such as Uber, Lyft, DoorDash, and Instacart whose business models rely upon minimizing frontline worker compensation by categorizing drivers as independent contractors instead of employees. Independent contractors are not entitled to unemployment insurance, health insurance, or recompensation for business expenses.
"The oligarchs are dancing in the streets tonight," tweeted Veena Dubal, a professor at the University of California College of the Law, San Francisco.
David Huerta, president of the California branch of the Service Employees International Union (SEIU)—which led a 2021 lawsuit challenging Prop 22 and is expected to appeal Monday's decision to the California Supreme Court—said in a statement that "when gig companies can spend over $200 million to pass a law that violates our state's constitution instead of investing in workers, it's clear that California needs better safeguards for our democracy."
"And now, the fast food industry and oil industry are copying the gig industry's playbook—attempting to boost their profits by hijacking the ballot referendum process and overturning laws that give workers a voice on the job and protect the health of our communities," he added.
Meanwhile, Uber chief legal officer Tony West called the ruling "a victory for app-based workers and the millions of Californians who voted for Prop 22" and claimed that the law gives drivers and couriers "new benefits while preserving the unique flexibility of app-based work."
Prop 22's passage in November 2020 with nearly 59% of the vote was the culmination of what was by far the most expensive ballot measure in California history. App-based companies and their backers outspent labor and progressive groups by more than 10 to 1, with proponents pouring a staggering $204.5 million into the "yes" campaign's coffers against just $19 million for the "no" side.
Had voters rejected Prop 22, gig companies would have been compelled to pay drivers the state minimum wage, and provide healthcare, paid sick leave, overtime pay, and reimbursement for some of the work-related expenses that claim a significant share of drivers' income.
Instead, app-based companies are required to pay frontline workers 120% of the state minimum wage—currently $15.50 per hour—but only while driving and not during the waiting that constitutes a significant amount of their workday. The companies must also offer a health stipend to drivers who work more than 15 hours a week—again, only actual driving hours count—and cover the cost of workplace injuries.
The experience of Daryush Khodadadi-Mobarakeh—who drives 35-40 hours a week for Uber, Lyft, and DoorDash—is typical of many app-based drivers.

According to CalMatters labor reporter Grace Gedye:
Khodadadi-Mobarakeh, who is a leader with the California Gig Workers Union, said his pay has consistently decreased since he began working in 2014, including after Prop 22 went into effect. Now it takes him about 12 hours to make the same amount he used to earn in eight hours before Prop 22, he said. And he doesn't receive the health stipend; he didn't bother trying to sign up, he said, because he gets insurance through his wife and his understanding is that you need to be on your own insurance to get the reimbursement.
A May 2021 Instacart survey found that just 12% of its shoppers—the workers who fill and deliver customer orders—said they worked enough weekly hours to qualify for the health stipend, and of those people, only a quarter applied for and received the benefit.
Prop 22's passage inspired the introduction of similar legislation in other states. In Massachusetts, Lyft gave a record $14.4 million to a coalition established to fund a prospective 2022 state ballot measure to keep ride-hailing and delivery app drivers classified as independent contractors.
The Massachusetts Supreme Judiciary Court ultimately blocked the measure from appearing on the 2022 ballot, arguing that app-based companies went too far by including language meant to protect them from liability when their drivers get in accidents by classifying them as "not an employee or agent."
News