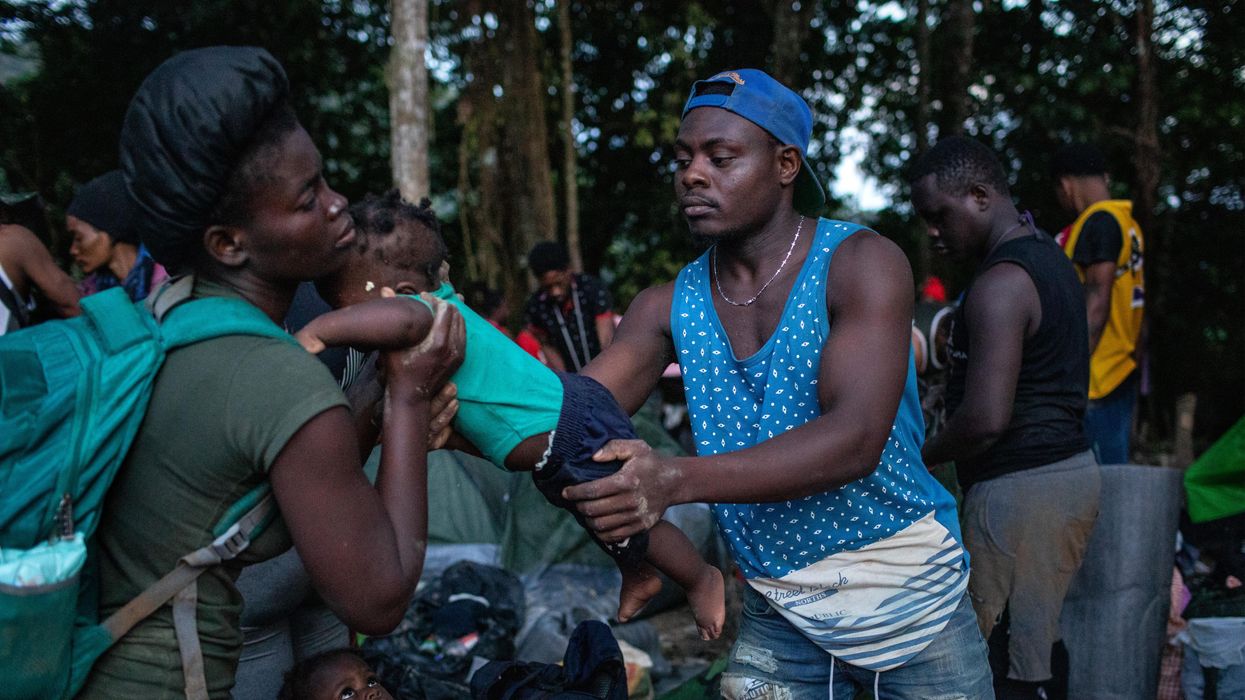 One rights group called the Biden administration's new policy, which expands the Title 42 mass expulsion program, "a flagrant violation of all people's right to seek asylum."
The Biden administration has called the Trump-era Title 42 policy "obsolete" and urged the U.S. Supreme Court to strike it down, but on Thursday President Joe Biden announced a significant expansion of the migrant expulsion program in an effort to deny entry to Cubans, Haitians, and Nicaraguans who arrive at the U.S.-Mexico border.
NBC Newsreported that under the new policy, which rights groups and experts decried as a cruel attack on asylum-seekers, the Biden administration "will be sending up to 30,000 migrants from each of the three countries back into Mexico per month while allowing 30,000 asylum-seekers from each of the three countries admittance to live and work in the U.S. for two years."
"Those accepted through the application process must show they have a U.S.-based sponsor to support them, much like Venezuelans and Ukrainians have done through programs the Biden administration established for those countries," the outlet explained.
The Young Center, an immigrant rights group, called the changes "unacceptable" and argued that "cherry-picking people from specific countries undermines the rule of law that guarantees people, regardless of country, race, ethnicity, or language, the right to seek protection through a fundamentally fair proceeding."
"This proposal, like the current program denying asylum to most Venezuelans, would cap the number of Cuban, Nicaraguan, and Haitian migrants eligible to seek asylum while expelling all others to Mexico," the group added. "It is also a flagrant violation of all people's right to seek asylum by excluding people from protection if they do not have a supporter with financial means in the United States or if they traveled 'irregularly' through Mexico or Panama to reach the United States... This proposal is discriminatory and dangerous."
Karen Tumlin, an immigrant rights lawyer, agreed, calling Thursday's announcement "a new low from the Biden administration with respect to protecting the legal right for those fleeing persecution to seek asylum."
"Let's be clear: Nothing requires the administration to expand Title 42 while it claims to be preparing for its ending."
Biden and the Department of Homeland Security (DHS) unveiled the Title 42 expansion just weeks after the administration asked the Supreme Court to strike down the policy, which uses the coronavirus pandemic as a justification to rapidly expel migrants.
Last week, the Supreme Court ruled that Title 42 must remain in place until it hears arguments next month in a case brought by Republican-led states hoping to uphold the program, which the Trump and Biden administrations used to deny millions of people regular asylum proceedings.
In a press release, DHS said that in addition to the Title 42 expansion—which the agency acknowledged could soon be struck down—it is "increasing and enhancing the use of expedited removal under Title 8 authorities for those who cannot be processed under the Title 42 public health order."
Speaking to reporters Thursday, Biden said, "I don't like Title 42, but it's the law now and I have to operate within it."
But immigrant rights advocates noted that although Title 42 is still in effect, the Biden administration is under no obligation to expand its scope.
"Title 42 expulsions were already an unjustifiable misuse of the public health laws; this knee-jerk expansion of Title 42 will put more lives in grave danger," said Jonathan Blazer, director of border strategies at the ACLU. "Let's be clear: Nothing requires the administration to expand Title 42 while it claims to be preparing for its ending. There is simply no reason why the benefits of a new parole program for Cubans, Nicaraguans, and Haitians must be conditioned on the expansion of dangerous expulsions."
"President Biden correctly recognized today that seeking asylum is a legal right and spoke sympathetically about people fleeing persecution. But the plan he announced further ties his administration to the poisonous anti-immigrant policies of the Trump era instead of restoring fair access to asylum protections," Blazer continued. "And previously, President Biden explicitly condemned Trump's asylum ban against people who travel through other countries and made a campaign promise to end it and restore our asylum laws. But today the White House announced that he plans to bring a version of that ban back."
Amy Fischer, Amnesty International USA's advocacy director for the Americas, also expressed outrage over the administration's policy announcement, calling it an "attack on the human right to seek asylum."
"Today, the Biden administration fully reversed course on its stated commitment to human rights and racial justice by once again expanding the use of Title 42, announcing rulemaking on an asylum transit ban, expanding the use of expedited removal, and implementing a new system to require appointments through a mobile app for those desperately seeking safety," said Fischer. "Amnesty International previously found that the cruel treatment of Haitians under Title 42 subjected Haitian asylum seekers to arbitrary detention and discriminatory and humiliating ill-treatment that amounts to race-based torture. The United States has both a legal and moral obligation to uphold the right to seek asylum, and over the holidays, we once again saw communities mobilize to welcome asylum seekers with dignity."
"The Biden administration must reverse course and stop these policies of exclusion, and instead uphold the right to seek asylum and invest in the communities that are stepping up to welcome," Fischer added.

News