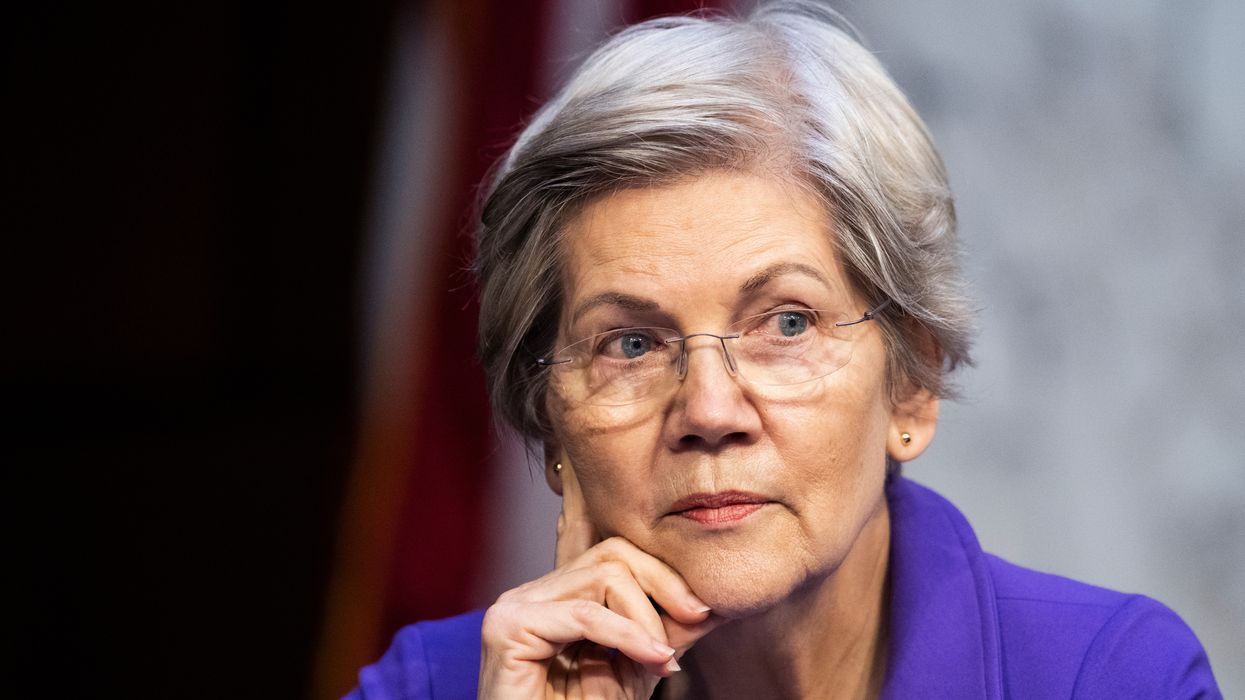 "Defense contractors have been exploiting loopholes in the law and raking in massive profits by price gouging the Pentagon and American taxpayers," said the senator.
A month after sending letters to the U.S. Department of Defense and military contractors, Sen. Elizabeth Warren on Wednesday partnered with a pair of colleagues to introduce bipartisan legislation intended to stop price gouging at the Pentagon such as "$71 for a pin that should have cost less than a nickel and $80 for a drain pipe segment that should have cost $1.41."
Warren (D-Mass.), chair of the Senate Armed Services Subcommittee on Personnel, and Rep. John Garamendi (D-Calif.), ranking member of the House Armed Services Committee Subcommittee on Readiness, first unveiled the Stop Price Gouging the Military Act last year. Sen. Mike Braun (R-Ind.) joined with them to reintroduce the bill.
"Defense contractors have been exploiting loopholes in the law and raking in massive profits by price gouging the Pentagon and American taxpayers," Warren said Wednesday. "My bipartisan bill with Sen. Braun and Rep. Garamendi would close these loopholes and ensure that DOD has the necessary tools to prevent these abuses."
In additon to addressing issues with existing law and ensuring DOD has the "information necessary to prevent future rip-offs," the bill aims to financially incentivize contractors to improve performance, a fact sheet from Warren's office explains.
As the document details, the legislation would reduce advanced payments for companies to 50% but allow them to receive up to 95%, rewarding them for:
Meeting program schedules and milestones 95% of the time;
Not having major outstanding corrective action requests;
Having required business systems;
Timely responses to requests to provide certified cost or pricing information;
Disclosing first tier subcontractor data, beneficial owners, and total executive
compensation;
Meeting small business subcontracting goals; and
Providing subcontracting opportunities for the blind and severely disabled.
"Defense contractors are taking advantage of the DOD and American taxpayers by charging more and delivering less," declared Braun, adding that the bill "will inject transparency and accountability into the process."
After an explosive "60 Minutes" investigation last month showed how private corporations are overcharging the Defense Department, Braun and Warren along with Sens. Chuck Grassley (R-Iowa), Bernie Sanders (I-Vt.), and Ron Wyden (D-Ore.) sent a letter to the Pentagon urging a probe into contractor price gouging. That same day, Warren and Garamendi sent letters to the DOD, Boeing, and TransDigm about companies' refusal to provide pricing data.
"As a senior member of the House Armed Services Committee, I know how much we pay for parts to keep military equipment ready," Garamendi said Wednesday. "We know that taxpayers and service members are routinely overcharged by defense contractors due to loopholes in current regulations. We cannot allow taxpayer money to be wasted to inflate the bottom lines of giant defense contractors. Our service members need the tools to properly negotiate prices. This is just common sense."
The bill's reintroduction comes as U.S. weapons contractors celebrate the debt ceiling deal recently negotiated by the congressional Republicans and President Joe Biden, which proposes a military budget increase while capping other discretionary federal spending. As Common Dreamsreported earlier this month, Lockheed Martin CEO James Taiclet said during a conference that the resulting legislation is "as good an outcome as our industry or our company could ask for at this point."
Notably, Biden was already requesting a $886 billion military budget for fiscal year 2024, a $28 billion increase over current levels. Writing about the debt limit agreement for OtherWords last week, economic analyst Sam Pizzigati pointed out that "defense contractors will pocket about half of that," which will in turn line the pockets of their top executives.
"In 2021, the most recent year with complete stats, the nation's top five weapons makers—Lockheed Martin, Boeing, Raytheon, General Dynamics, and Northrop Grumman–grabbed over $116 billion in Pentagon contracts and paid their top executives $287 million," he noted, citing Pentagon-watcher William Hartung.
As Pizzigati put it, "Does anyone have a sweeter deal than military contractor CEOs?"
News