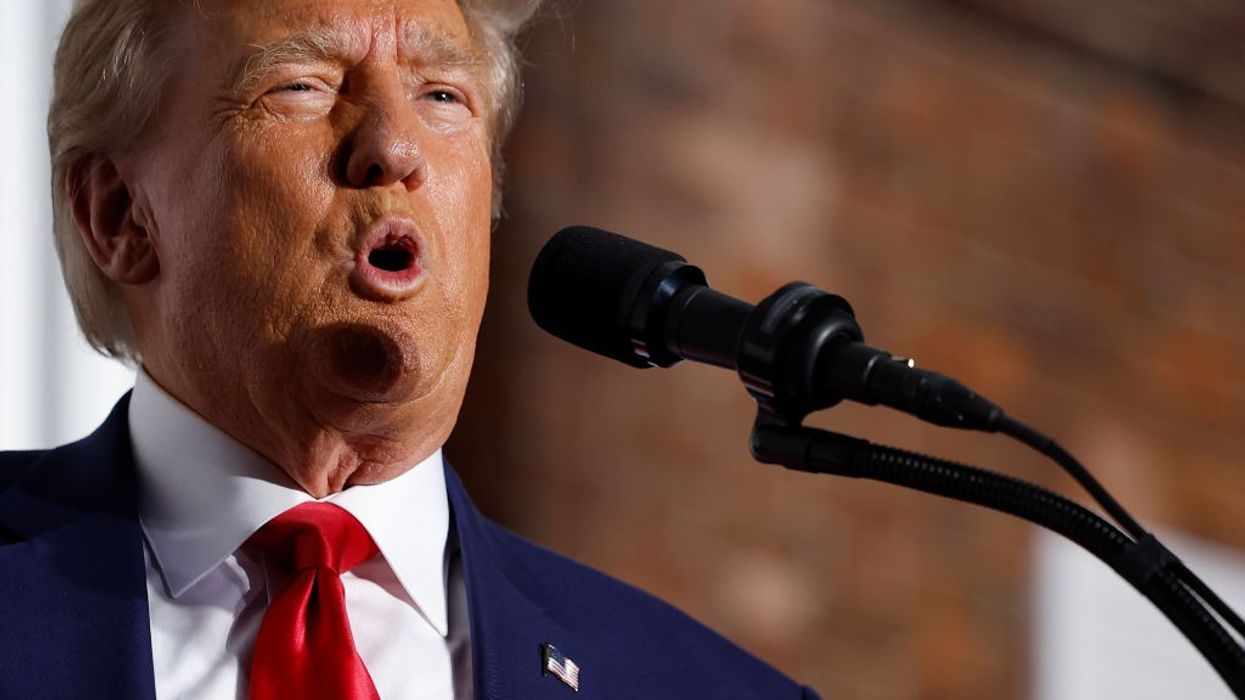 While the goal of giving Americans more options to choose from on the ballot may seem well-intentioned, pursuing this strategy in the 2024 general election would have dire consequences for the future of democracy in America.
In recent months, the No Labels Party has made headlines for its $70 million effort to get on the ballot in all 50 states. The self-proclaimed centrist organization has been attempting to woo donors and centrist politicians alike in its bid to give voters an Independent presidential choice in the case of a Biden-Trump 2024 presidential rematch. While this drive to give voters more choices in the next election may seem innocuous, the actual fundamentals of the 2024 contest and No Labels' own approach to it paint a different story.
A Biden-Trump rematch would represent a high-stakes presidential contest between a sitting president and a twice-indicted, twice-impeached, insurrectionist former president with a history of spreading spectacular lies about the 2020 election. Given the latter's double-digit lead in early polling of a crowded Republican primary, this appears to be a not-unlikely scenario. Moreover, given that third-party candidates have historically performed poorly in presidential contests, any No Labels candidate would have to significantly outperform every Independent candidate who has ever run for president and, in doing so, siphon votes from Biden, Trump, or both. In fact, No Labels' own mock-up of a path to 270 Electoral College votes shows a heavy reliance on winning states that Biden won in 2020.
That, along with No Labels' commitment to dropping out of the 2024 election if Donald Trump loses the Republican Party's nomination contest (even as other contenders like Florida Governor Ron DeSantis run to the right of an already far-right Trump), casts doubt on the organization's goal of combating extremist politics and underscores the risk of a 2024 Trump electoral victory.
We find that in addition to enabling a Trump victory, neither third-party candidate would be a viable contender, trailing either major candidate by nearly 30 points even in their best-case scenario.
All these facts help explain concerns by Democratic groups and Never-Trump Republicans that a candidate supported by No Labels would act as a nonviable spoiler candidate that would lead to the election of Trump.
In new polling on the 2024 election, Data for Progress finds that these concerns are substantiated. The poll finds that while Joe Biden is ahead of Trump in a hypothetical head-to-head contest, the introduction of a No Labels candidate siphons votes away from Biden, leading to a Trump victory. Specifically, the poll tested voter support for a realistic contender for a No Labels ticket, Larry Hogan, popular former governor of Maryland, as well as an unnamed moderate Independent candidate, a hypothetical candidate free from political baggage. We find that in addition to enabling a Trump victory, neither third-party candidate would be a viable contender, trailing either major candidate by nearly 30 points even in their best-case scenario.
First, voters were asked about their general opinion of the No Labels Party itself. Our poll finds that the No Labels Party is a largely unknown quantity among a vast majority of likely voters: Across party lines, 80% of voters have not heard enough about the organization to have an opinion. This trend is largely consistent by party, with 79% of Democrats, 81% of Independents, and 80% of Republicans not having heard about No Labels. In this way, we see that only a small fraction of highly engaged voters are even aware enough of them to have an opinion.
Worse still for No Labels, among those voters who do report having heard of them, few have a particularly high opinion of the organization. Across all likely voters, we find that the No Labels Party has a -4-point net unfavorable rating, with Democrats, Independents, and Republicans reporting having -3-point, -3-point, and -10-point net unfavorable ratings of the party, respectively. This alone calls into question the party's claim that it would be able to form a strong cross-party coalition of voters under its banner. Instead, any presidential hopeful thinking to run with this party's backing would be starting off their campaign fighting an uphill battle with public opinion.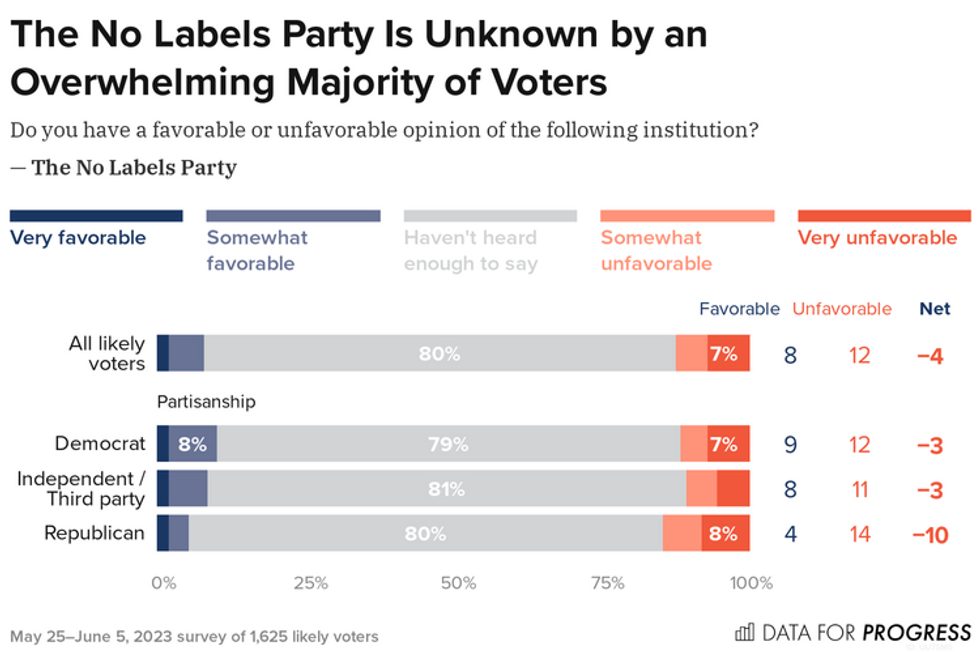 As things look right now, a hypothetical rematch between Biden and Trump would already be a relatively close race. In a two-way race between the candidates, we find that Biden beats Trump by a +2-point margin across all likely voters. Importantly, while both candidates expectedly win the lion's share of their own party's voters, Biden's victory in this head-to-head is largely driven by a +6-point advantage among Independent voters, where he beats out Trump 43% to 37%. Given the candidates' matching leads among their own voters, successfully appealing to Independent voters of all stripes becomes an even more critical deciding factor in this hypothetical race.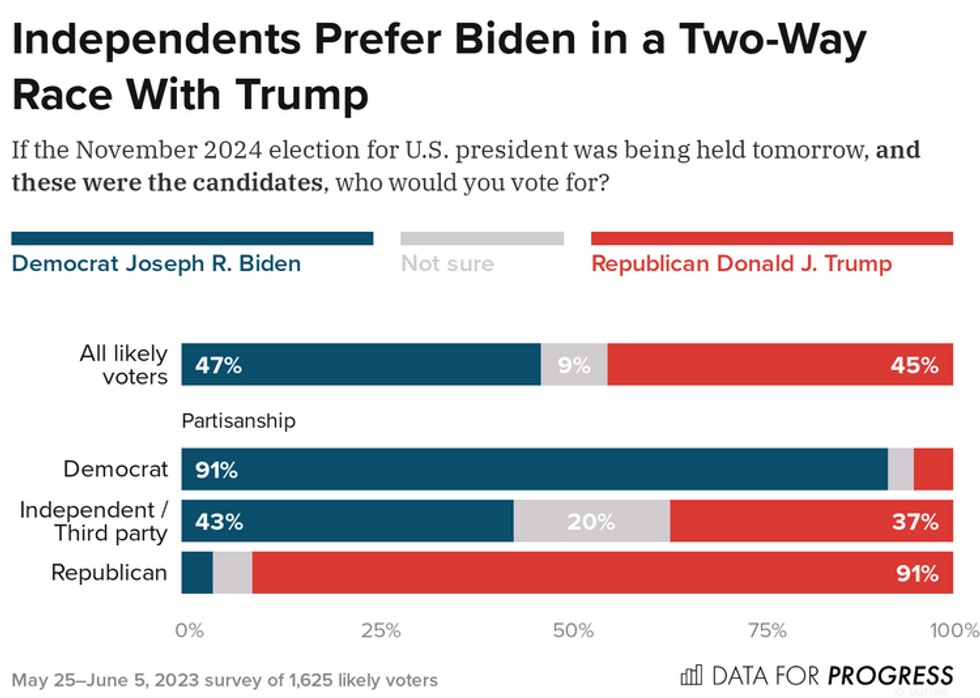 This fact only grows more apparent when introducing a No Labels candidate into the mix. When asked to select between Joe Biden, Donald Trump, and Larry Hogan, we find the race narrows to a tie between the two major parties' candidates. This outcome runs largely counter to the narrative that the No Labels Party seeks to push forward, in which a moderate centrist candidate representing "actual American voters" would form an overwhelming bipartisan coalition that would secure it the White House. Far from running away with the election, a Hogan candidacy only manages to garner 6% of the vote overall. However, we also find that 42% of these would-be Hogan voters would instead have voted for Biden in a Biden-Trump head-to-head, compared to only 14% of Hogan voters who would have supported Trump. Thus, despite providing no realistic competition for the presidency, we can already see how such a campaign would likely pull more voters away from Biden than from Trump and pose a serious risk of handing the election to right-wing extremists.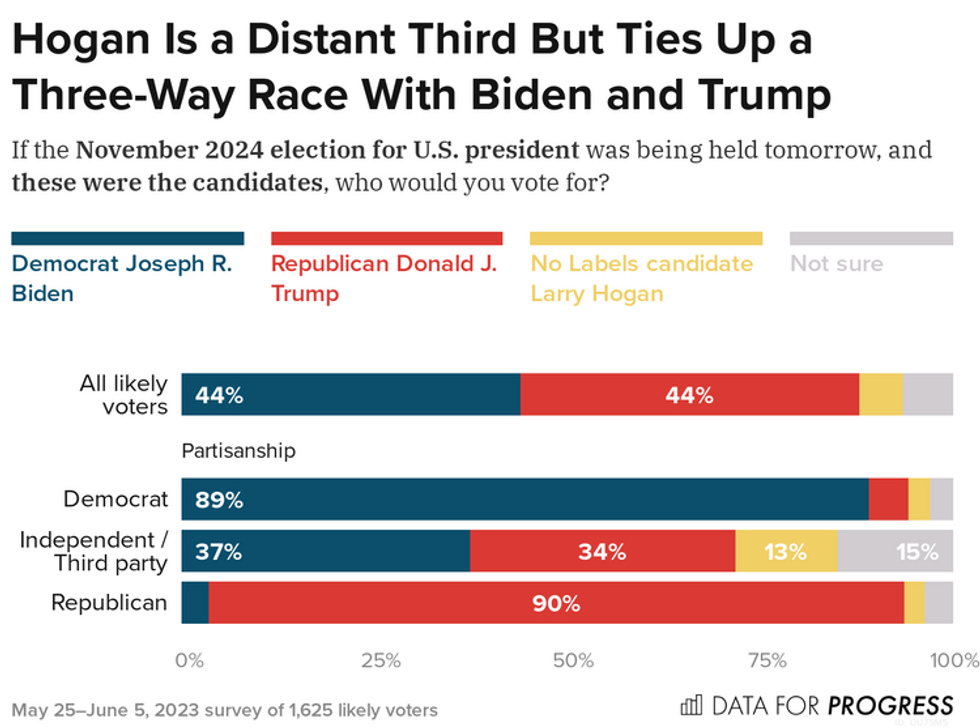 Furthermore, the poll finds that there is likely no plausible path to victory for any third-party moderate candidate. In our survey, we presented voters with a three-way election that included an unnamed moderate Independent candidate. With no additional information provided, such a candidate is free from the accountability faced by actual presidential candidates for things like their voting record or perceived partisan leanings, scrutiny of which would likely be doubly intense for candidates attempting to run as centrists. Instead, respondents were free to envision exactly the moderate candidate each would hope to vote for. In doing so, these horse-race numbers provide the most optimal, albeit unrealistic, hypothetical outcome for anyone hoping to run a No Labels-style moderate challenge, as the unnamed candidate can maximize their vote share among Independents by alienating none of them with actual policy stances that a real candidate would have to defend.
Even in such an unburdened environment, the unnamed moderate still trails the candidates from either major party by nearly 30 points, with Trump narrowly defeating Biden 42% to 41%, and the moderate candidate only receiving 13% of the vote. Despite soundly losing the election overall, we find that, similarly to a Hogan candidacy, the unnamed moderate disproportionately draws voters away from Biden, with 41% of voters supporting the unnamed moderate having previously supported Biden in the two-way race, compared to 24% who were previously in Trump's camp.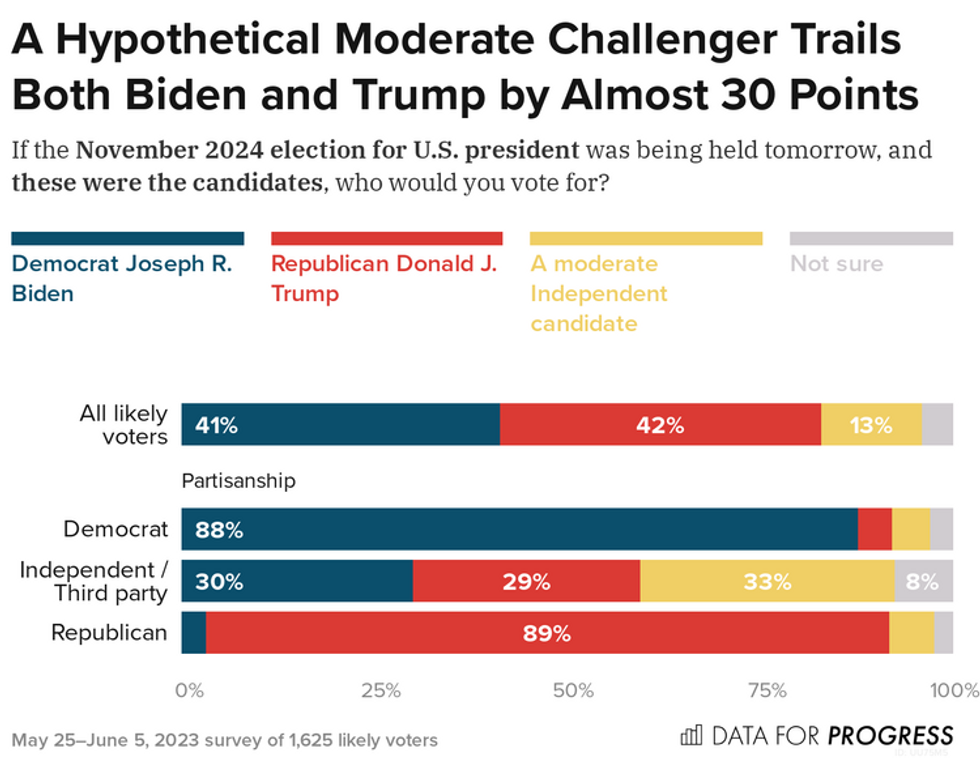 Given these numbers, it's evident that even under the best of conditions, a moderate third-party candidate is highly unlikely to secure the vote share needed to win the White House, further underlying the nonviability of a No Label candidacy. With no feasible path to victory, such a campaign would only serve to split Independent voters, undermine Biden's reelection campaign, and likely spoil the election in favor of Trump.
The 2024 presidential election is already shaping up to be one of extreme consequences. The leading Republican contender for president has a record of undermining democracy and pandering to the ultra-right-wing fringes of the Republican Party. This latest Data for Progress poll underscores the danger of a No Labels candidate who could not only help get Trump re-elected but would likely fail to secure even 15% of the vote for president.
While the goal of giving Americans more options to choose from on the ballot may seem well-intentioned, pursuing this strategy in the 2024 general election would have dire consequences for the future of democracy in America. If his previous term was any indication, a second Trump administration would not be an ally to the type of policy change or values No Labels professes to champion. Furthermore, beyond hindering its own ability to enact policy change, backing such a futile presidential challenge would run counter to No Labels' stated mission of electing non-extremist candidates. Allowing Trump to return to the White House would legitimize the former president's anti-democratic values and those of the violent few who attempted to overturn the will of the people on January 6, 2021.
Opinion