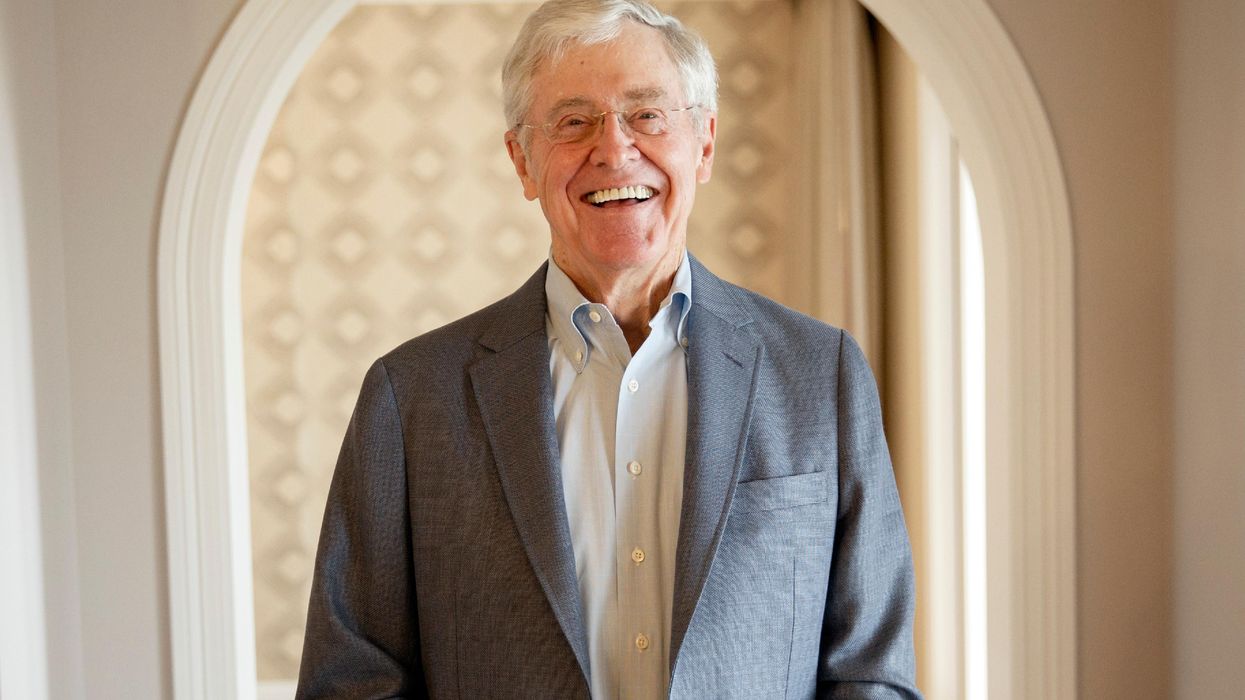 The right-wing billionaire's foundation pumped over $52 million into higher education last year to advance its libertarian agenda.
Charles Koch contributed $52.6 million in grants to colleges and universities through his Charles Koch Foundation in 2022, an analysis of the personal foundation's latest IRS filing obtained by the Center for Media and Democracy (CMD) found.
Last year's total is $29 million less than the Charles Koch Foundation spent on higher education in 2021, and a small fraction of what the Koch political network spends in one year. A CMD analysis found that a fleet of 27 organizations controlled by the Koch patriarch, his son Chase, and other Koch Industries executives spent a combined net total of $656.8 million on political and charitable causes in 2021.
Koch political network spending is likely to go up in 2022 with news of Charles Koch's gift of $4.3 billion of Koch Industries stock to the newly formed nonprofit Believe in People that Forbes reported on last month. Believe in People's 2022 IRS filing is not publicly available as of publishing.
The new filing shows that the Charles Koch Foundation now has $793.7 million in net assets after less than $300,000 was contributed, but investment income brought in $108.9 million.
CMD identified 126 higher education grants in the filing, with some schools receiving multiple donations. Again, George Mason University received the largest amount of Koch cash, raking in a total $8.2 million. $5.9 million of this was directed to the university's Institute for Humane Studies. Charles Koch currently sits on the Institute's board of directors as chairman emeritus along with the Koch Foundation's Ryan Stowers, who is the current chairman, and Stand Together's Brian Hooks.
Grant agreements posted on the Charles Koch Foundation website show that the remaining $2.9 million went to George Mason's law school, economics department, and its Center for the Study of Social Change, Institutions, and Policy.
The next largest recipient of Koch Foundation funds was Utah State University, which received $3.1 million. $625,000 was directed to the Center for Growth and Opportunity (CGO) at the school, and the grant agreement with Koch shows that the remaining $2.5 million is for the Huntsman Scholar Program at the School of Business.
CGO was founded in 2017 with a $50 million commitment from the Charles Koch Foundation and the Huntsman Foundation. Jon Huntsman was the founder of the Huntsman Corporation, a multinational chemical manufacturer.
Rounding out the top three higher education grantees was New York University with a $3 million contribution from Koch. According to the grant agreement, this Koch cash is to support The Center for Social Media and Politics to "study how information flows online."
While these grants were published by Koch, only a selection of grant agreements are listed to date in the section of the site dedicated to sharing information on annual grant agreements.
Almost 50 years ago, Charles Koch urged the Institute for Humane Studies Board of Directors to avoid giving money to universities unless they would help advance business interests:
[W]e have supported the very institutions from which the attack on free markets emanates. Although much of our support has been involuntary through taxes, we have also contributed voluntarily to colleges and universities on the erroneous assumption that this assistance benefits businesses and the free enterprise system, even though these institutions encourage extreme hostility to American business. We should cease financing our own destruction and follow the counsel of David Packard, former Deputy Secretary of Defense, by supporting only those programs, departments or schools that 'contribute in some way to our individual companies or to the general welfare of our free enterprise system.'

In addition to the higher education grants, the Koch Foundation sent $2.3 million to right-wing litigation, advocacy, and other tax-exempt groups. The lion's share of that funding, $1.9 million, went to the U.S. Chamber of Commerce Foundation.
Charles Koch is the CEO and chairman of Koch Industries and is worth $52.4 billion, according to Forbes.
Opinion