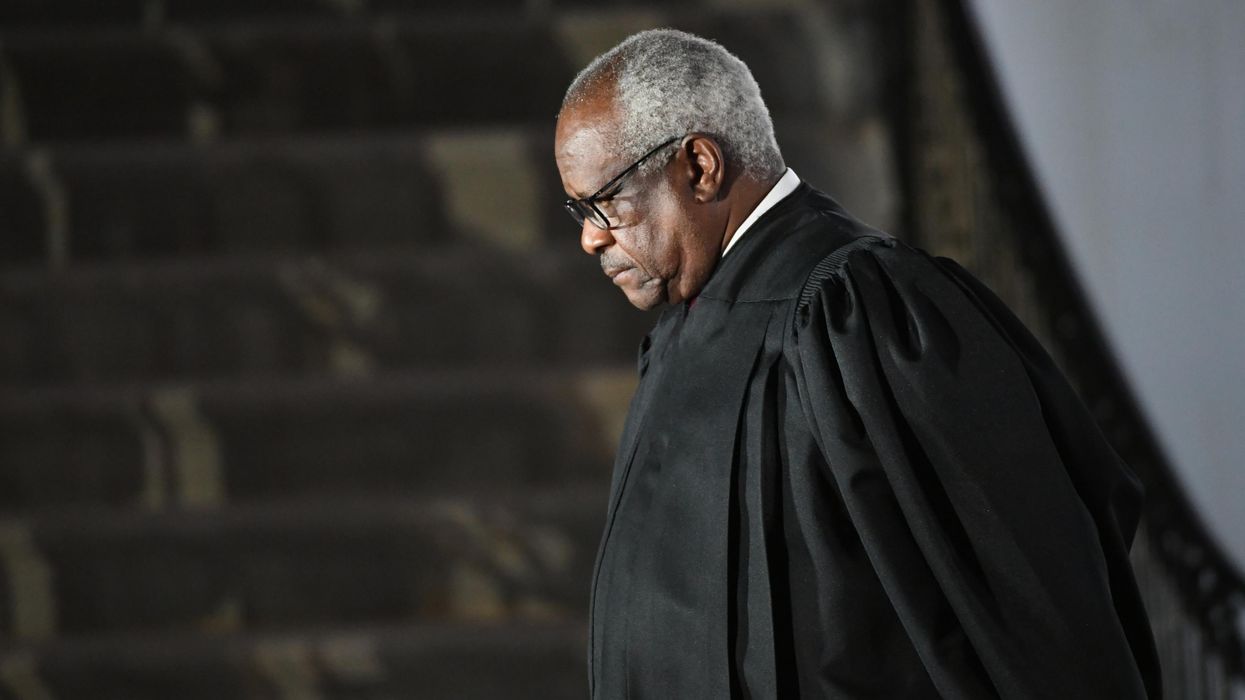 "Harlan Crow is not, as Thomas claims, his 'dearest friend' so much as his corrupt benefactor," said one critic. "Thomas is unfit to serve on any court, let alone our nation's highest court."
New revelations about U.S. Supreme Court Justice Clarence Thomas's business dealings with Texas Republican megadonor Harlan Crow on Thursday led to intensified calls for the right-wing justice's impeachment, as ProPublicareported on a previously undisclosed real estate transaction between the two men.
A week after the first report on Crow's funding of Thomas' travel was published, ProPublica revealed that Crow purchased two vacant lots and the home where Thomas' mother lived, all owned by Thomas and his family, in Savannah, Georgia in 2014.
The purchase, completed for $133,363, marked "the first known instance of money flowing from Crow to the Supreme Court justice," the news outlet reported.
Federal disclosure laws state that in most cases, Supreme Court justices and other government officials must disclose real estate transactions over $1,000.
"Thomas did not disclose the purchase as required by law. He must be impeached," said Democratic strategist Sawyer Hackett.
\u201cWoah. Billionaire Harlan Crow didn\u2019t just provide lavish travel and accommodations to Clarence Thomas\u2014according to @propublica, he also bought property from him.\n\nThomas did not disclose the purchase as required by law. He must be impeached. https://t.co/kiVkv2T1FL\u201d

— Sawyer Hackett (@Sawyer Hackett) 1681410648
Exceptions to the law include cases in which someone sells "property used solely as a personal residence of the reporting individual or the individual's spouse," but legal experts confirmed to ProPublica that the sale of the Savannah properties did not meet the criteria for any of the exemptions.

"He needed to report his interest in the sale," Virginia Canter, chief ethics counsel at watchdog group Citizens for Responsibility and Ethics in Washington (CREW), told ProPublica.
The news outlet's previous reporting on Crow and Thomas revealed that the billionaire paid for Thomas to travel on a Bombardier Global 5000 jet, to Crow's ranch in Texas, and to his private resort in the Adirondacks—all of which was left off federal disclosure forms.
"Given the role Crow has played in subsidizing the lifestyle of Thomas and his wife, you have to wonder if this was an effort to put cash in their pockets," Canter said of the real estate sale in Savannah.
Crow released a statement on Thursday saying he had purchased Thomas' family home—which he still owns and where the justice's mother continued living until at least 2020, according to public records—to "one day create a public museum at the Thomas home dedicated to telling the story of our nation's second black Supreme Court Justice."
"I approached the Thomas family about my desire to maintain this historic site so future generations could learn about the inspiring life of one of our greatest Americans," said Crow.
Critics suggested the statement raised more questions than it answered.
\u201chey look what\u2019s a totally not-at-all shady real estate deal between friends? haven\u2019t YOUR friends bought your childhood home for your benefit? https://t.co/Dim6Ol4kBe\u201d

— b-boy bouiebaisse (@b-boy bouiebaisse) 1681412441
"Clarence Thomas previously said that free flights on Harlan Crow's private jet counted as 'hospitality' and thus did not have to be disclosed," saidSlate journalist Mark Joseph Stern. "That made no sense, but this is even worse. How is a covert real estate deal that enriched Thomas 'hospitality'? This is pretty brazen."
Brett Edkins, managing director of policy and political affairs for Stand Up America, said the new reporting offers clear evidence that "Justice Thomas' vote on the Supreme Court is bought and paid for by right-wing billionaire Harlan Crow."
"Crow is not, as Thomas claims, his 'dearest friend' so much as his corrupt benefactor," said Edkins. "Thomas is unfit to serve on any court, let alone our nation's highest court. His failure to disclose his close financial dealings with a GOP billionaire has single-handedly destroyed what little credibility this MAGA Court had left."

"Failing to hold Justice Thomas accountable, hold hearings, and pass a Supreme Court code of ethics," he added, would be a dereliction of duty by federal lawmakers.
Demand Justice released polling data showing that 70% of Americans would back a federal investigation into alleged ethics violations of Supreme Court justices.
"This shady land deal amounts to a payoff of a sitting Supreme Court justice, plain and simple. Senate Democrats need to announce a thorough investigation into the details of Clarence Thomas' ties to Harlan Crow, including calling witnesses to get to the bottom of their financial relationship and Thomas' apparent lawbreaking," said Demand Justice executive director Brian Fallon.
"[Former Supreme Court Justice] Abe Fortas resigned under threat of impeachment for less," he noted, "and while impeachment may not be possible here with Republicans in control of the House, Thomas needs to face real accountability for his likely illegal behavior. Polls show that if Senate Democrats act, the public will strongly support them."
News