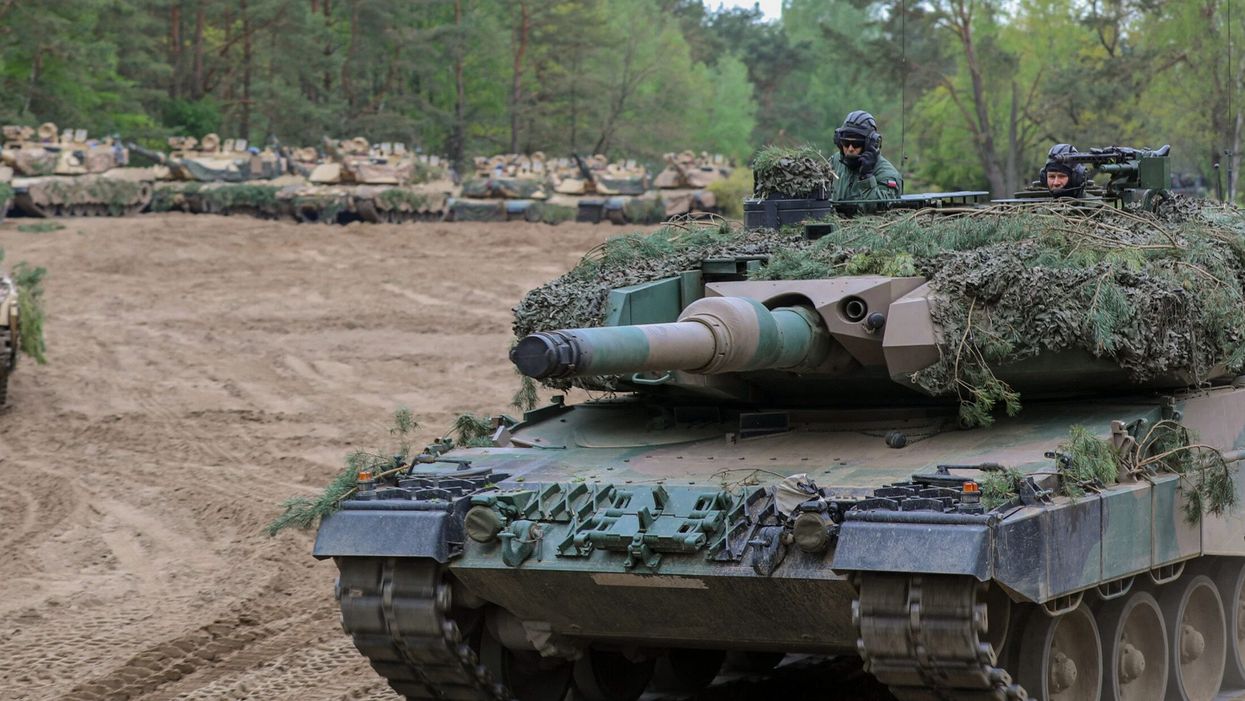 The United States, China, and Russia together accounted for 56% of the world's total military expenditures in 2022.
An annual analysis published Monday revealed that global military spending rose to an all-time high of over $2.2 trillion last year, driven largely by Russia's invasion of Ukraine and the Western response, as well as the steadily increasing Pentagon budget in the United States.
The Stockholm International Peace Research Institute's (SIPRI) annual report showed a 3.7% overall increase in worldwide military expenditures to $2.24 trillion in 2022, including a 13% rise in Europe—the continent's sharpest increase in three decades—amid Russia's war on Ukraine.
Ukrainian defense spending skyrocketed 640% last year to $44 billion, the biggest single-year increase ever recorded by SIPRI. Meanwhile, Russian military spending surged 9.2% to $86.4 billion.
\u201cTotal global #MilitarySpending increased by 3.7% in real terms in 2022, to reach a new high of $2240 billion\u2014the highest level ever recorded in SIPRI data. New SIPRI data out now.\n\nPress Release \u27a1\ufe0fhttps://t.co/CUMd384wvl\nExplore the interactive graphic \u27a1\ufe0fhttps://t.co/Idxdu8MNQ1\u201d

— SIPRI (@SIPRI) 1682292600
Among European nations, significant increases in military spending were observed in Finland (36%), Lithuania (27%), Sweden (12%), and Poland (11%).
"The invasion of Ukraine had an immediate impact on military spending decisions in Central and Western Europe," SIPRI senior researcher Diego Lopes da Silva said in a statement. "This included multiyear plans to boost spending from several governments."
"As a result, we can reasonably expect military expenditure in Central and Western Europe to keep rising in the years ahead," he added.
The United States remained by far the world's biggest military spender, with its $877 in expenditures accounting for 39% of the global total in 2022. The U.S.—which is also the world's biggest arms exporter—China, and Russia together accounted for 56% of the global total.
\u201cWho were the top 10 military spenders in 2022?\n\n1) USA\ud83c\uddfa\ud83c\uddf8\n2) China\ud83c\udde8\ud83c\uddf3\n3) Russia\ud83c\uddf7\ud83c\uddfa\n4) India\ud83c\uddee\ud83c\uddf3\n5) Saudi Arabia\ud83c\uddf8\ud83c\udde6\n6) UK\ud83c\uddec\ud83c\udde7\n7) Germany\ud83c\udde9\ud83c\uddea\n8) France\ud83c\uddeb\ud83c\uddf7\n9) South Korea\ud83c\uddf0\ud83c\uddf7\n10) Japan\ud83c\uddef\ud83c\uddf5\n\nTogether they spent $1682 billion, accounting for 75% of global military spending \u27a1\ufe0f https://t.co/qBe5MZuH4Q\u201d

— SIPRI (@SIPRI) 1682317800
"The increase in the USA's military spending in 2022 was largely accounted for by the unprecedented level of financial military aid it provided to Ukraine," said Nan Tian, another SIPRI senior researcher. "Given the scale of U.S. spending, even a minor increase in percentage terms has a significant impact on the level of global military expenditure."
In Asia, China—with its $292 billion military budget—remained the world's second-biggest spender, while Japanese defense expenditures rose 5.9% to $46 billion, and Indian military spending increased 6% to $81.4 billion.
Other countries with notable increases in 2022 military expenditures include Ethiopia (88%), Turkey (26%), and Saudi Arabia (16%).
"The continuous rise in global military expenditure in recent years is a sign that we are living in an increasingly insecure world," said Tian. "States are bolstering military strength in response to a deteriorating security environment, which they do not foresee improving in the near future."

News