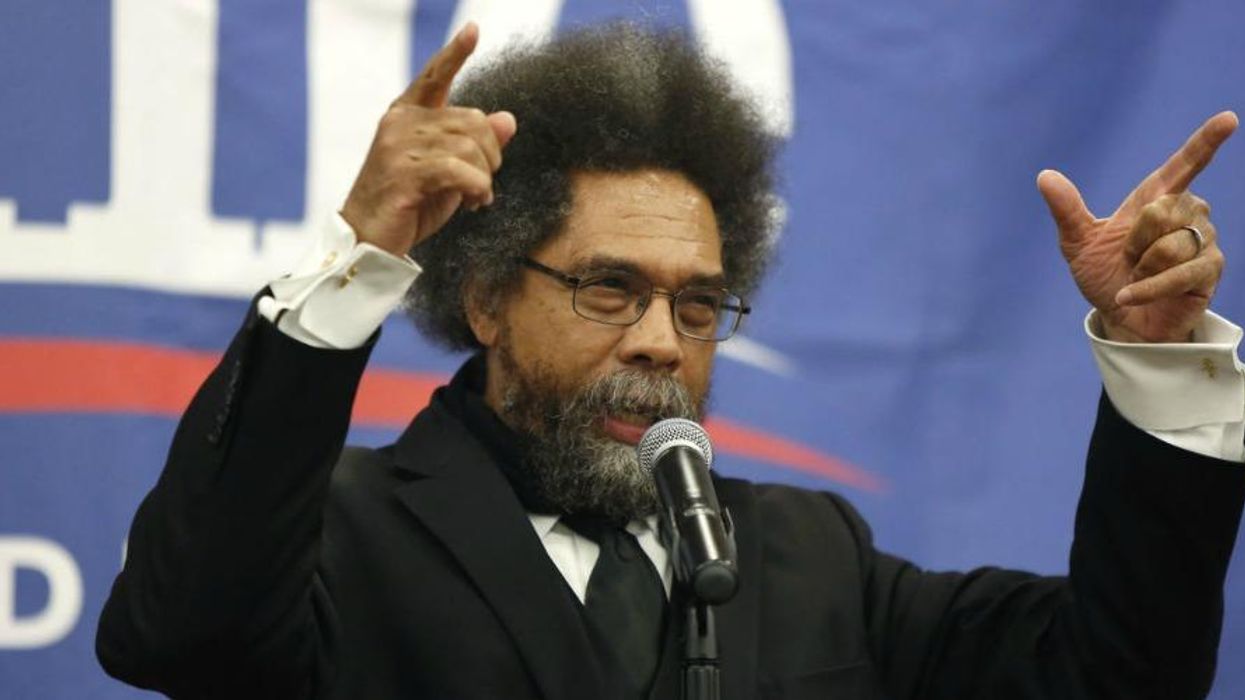 "Despite my deep political differences with brother Harlan Crow (who is an anti-Trump Republican), I've known him in a nonpolitical setting for some years and I pray for his precious family," said the presidential candidate.
Independent U.S. presidential candidate and progressive scholar Cornel West on Thursday responded to criticism he is facing for taking money from billionaire GOP megadonor Harlan Crow, known for lavishing right-wing U.S. Supreme Court Justice Clarence Thomas with gifts.
After reviewing Federal Election Commission filings, NBC News on Wednesday reported on Crow's August donation of $3,300, the maximum that an individual can directly give to a campaign.
"As an Independent candidate and a free Black man, I accept donations within the limits of no PACs or corporate interest groups that have strings attached," West wrote Thursday on X, formerly Twitter. "I am unbought and unbossed. Despite my deep political differences with brother Harlan Crow (who is an anti-Trump Republican), I've known him in a nonpolitical setting for some years and I pray for his precious family."
Former President Donald Trump is the Republican front-runner, based on polling, despite his multiple criminal indictments and arguments he is constitutionally disqualified from holding office again.

"I find it hypocritical for those who highlight his $3,300 donation to my campaign but can't say a mumbling word about the PAC-driven billion dollars to support the genocidal attack in Gaza sponsored by their candidate!" West added, pointing to Israel's ongoing assault of the strip. "I'm fighting for truth, justice, and love! Onward!"
West, a longtime professor and activist, launched his 2024 campaign as a People's Party candidate in June. Later that month, West revealed he would instead seek the Green Party nomination. He announced the Independent run earlier this month. His campaign platform centers justice on all issues, from education and the environment to health, immigration, LGBTQ+ rights, race, voting, and work.
"People are hungry for change," West said on X October 5. "They want good policies over partisan politics. We need to break the grip of the duopoly and give power to the people. I'm running as an Independent candidate for president of the United States to end the iron grip of the ruling class and ensure true democracy!"
ProPublica has released various reports this year detailing how Crow, a real estate developer, has treated Thomas to luxury vacations, bought the home of the Supreme Court justice's mother, and contributed to the private school tuition for a great-nephew he raised.
Amid mounting calls for new Supreme Court ethics rules, a U.S. Department of Justice probe, and Thomas' recusal from cases or even resignation, Crow in April gave a wide-ranging interview to The Wall Street Journal in which he described West as "a good friend."

Crow has also given to the presidential campaigns of Republicans, including ex-New Jersey Gov. Chris Christie, former U.S. Ambassador to the United Nations Nikki Haley, and Florida Gov. Ron DeSantis.
Throughout his campaign, West—like fellow candidate Robert F. Kennedy Jr., who recently switched from a Democrat to an Independent—has faced allegations that his candidacy could impact a close race between Democratic President Joe Biden, who is seeking reelection, and Trump.
In 2020, West endorsed U.S. Sen. Bernie Sanders (I-Vt.), who was seeking the Democratic nomination. In August, West suggested Sanders is supporting the president's reelection bid because "he's fearful of the neo-fascism of Trump" and accused Biden backers in general of being dishonest about the administration's economic achievements.
Asked about West's comments on CNN later that month, Sanders said that "where I disagree with my good friend of Cornel West is I think in these really, very difficult times, where there is a real question whether democracy is going to remain in the United States of America... I think we have got to bring the entire progressive community to defeat Trump or whoever the Republican nominee will be."
"Support Biden, but at the same time... demand that the Democratic Party, not just Biden, have the guts to take on corporate greed and the massive levels of income and wealth inequality that we see today," Sanders added, noting his own willingness to challenge the president and party with which he caucuses.

News