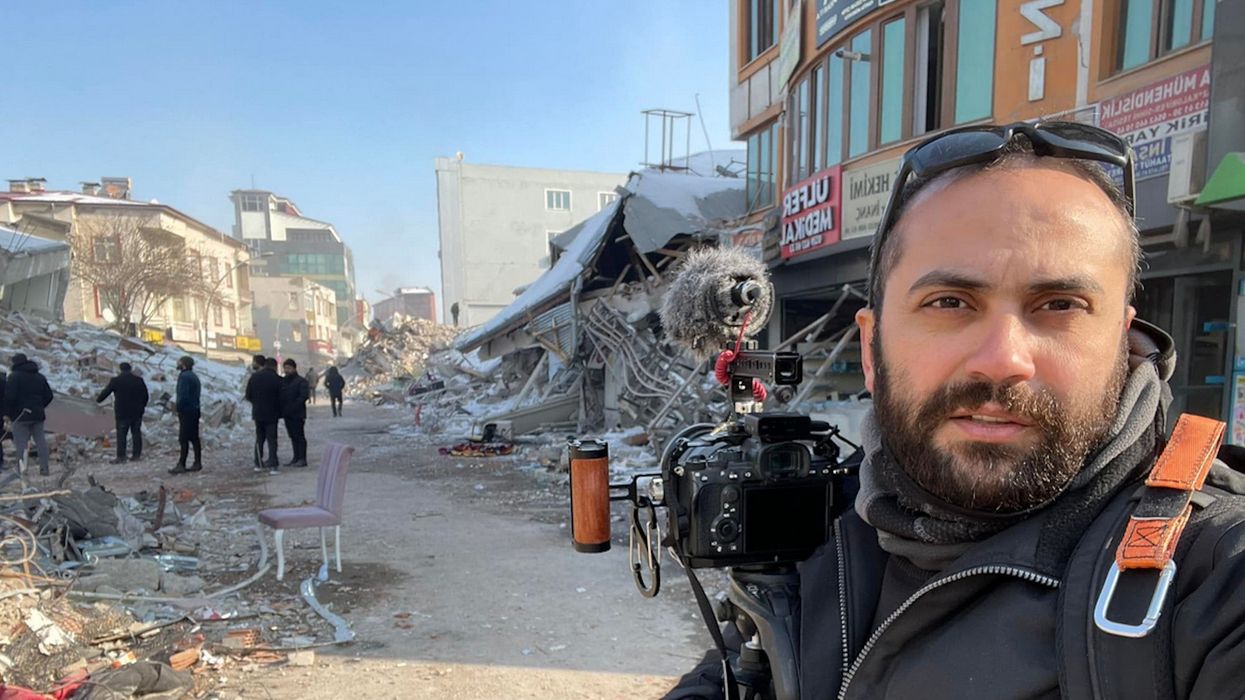 Amnesty International said that the October 13 Israeli tank strike that killed Issam Abdallah and blew the legs off Christina Assi was "likely a direct attack on civilians that must be investigated as a war crime."

Human Rights Watch and Amnesty International on Thursday called for an official investigation of a deadly Israeli attack on a group of journalists, which HRW called "apparently deliberate" and a likely "war crime."
HRW, Amnesty, Reuters, and Agence France-Presse on Thursday all published their own separate investigations into the October 13 Israel Defense Forces (IDF) attack that killed 37-year-old Lebanese Reuters videographer Issam Abdallah and wounded half a dozen other journalists who were covering cross-border clashes between Israeli and Hezbollah troops near the village of Alma al-Shaab in southern Lebanon.
"This is not the first time that Israeli forces have apparently deliberately attacked journalists, with deadly and devastating results."
Reutersdetermined that an Israeli tank crew "fired two shells in quick succession" at the journalists, who HRW said were "clearly identifiable as members of the media, and had been stationary for at least 75 minutes." HRW "found no evidence of a military target near the journalists' location."

"This is not the first time that Israeli forces have apparently deliberately attacked journalists, with deadly and devastating results," HRW Lebanon researcher Ramzi Kaiss said in a statement. "Those responsible need to be held to account, and it needs to be made clear that journalists and other civilians are not lawful targets."
Amnesty International, meanwhile, asserted that the IDF strike was "likely a direct attack on civilians that must be investigated as a war crime."
The organization said it "verified over 100 videos and photographs, analyzed weapons fragments from the site, and interviewed nine witnesses. The findings indicate that the group was visibly identifiable as journalists and that the Israeli military knew or should have known that they were civilians yet attacked them anyway in two separate strikes 37 seconds apart."
Aya Majzoub, Amnesty's deputy regional director for the Middle East and North Africa, noted that "direct attacks on civilians and indiscriminate attacks are absolutely prohibited by international humanitarian law and can amount to war crimes."
"Those responsible for Issam Abdallah's unlawful killing and the injuring of six other journalists must be held accountable," Majzoub added. "No journalist should ever be targeted or killed simply for carrying out their work. Israel must not be allowed to kill and attack journalists with impunity. There must be an independent and impartial investigation into this deadly attack."
According to HRW:
The journalists interviewed said that the first munition struck Reuters journalist Issam Abdallah and a short concrete wall, killing him instantly and badly injuring an Agence France-Presse photojournalist, Christina Assi. Thirty-seven seconds later, another attack destroyed the car belonging to Al Jazeera, igniting it in flames, and injuring six journalists, including Carmen Joukhadar and Elie Brakhya from Al Jazeera, Dylan Collins and Christina Assi from AFP, and Thaer al-Sudani and Maher Nazeh from Reuters.
Brakhya, an Al Jazeera cameraman, told Amnesty: "I was looking at Issam when we heard the [first] explosion. I saw Issam's body fly, with the glow and the heat behind his back… [I] ran up the hill, heard Christina shouting 'I can't feel my legs,' ran back to where she was, saw Dylan searching for the tourniquet."
Collins, an American deputy editor at Al Jazeera English, said that "as soon as I turned around, I heard Christina's voice saying, 'Oh my God!' I say, 'You're okay.' I ran to her directly and I see that her legs are blown off at the kneecap."
The second Israeli shell exploded as Collins tried to tie a tourniquet around Assi's legs.
"When the second blast hit, I was stunned and dizzy, but in my blurry memory, I remember Issam's leg falling in front of me, I remember looking up and seeing Carmen by the car, her face is black and she is walking like a zombie," he recalled. "Her entire back is covered in shrapnel."
The day after the attacks, IDF spokesperson Richard Hecht said that the Israeli military was "very sorry for the journalist's death."
Presented with Reuters' findings, Hecht later said that "we don't target journalists."
However, Kaiss argued that "the evidence strongly suggests that Israeli forces knew or should have known that the group that they were attacking were journalists."
"This was an unlawful and apparently deliberate attack on a very visible group of journalists," he added.
"They don't want us to see the truth. That's why they're taking out the journalists."
Numerous international observers accused Israeli forces of intentionally targeting journalists in an effort to prevent them from reporting the truth about what many critics call a genocidal war against Palestinians.
"I believe that it is in the military strategy of Israel to kill journalists so that they kill the truth," Lebanese Information Minister Ziad Makary told Reuters.
U.S. journalist Abby Martin toldMiddle East Eye Wednesday that Israel is "killing the truth."
"They don't want us to see the truth," she said. "That's why they're taking out the journalists."
The New York-based Committee to Protect Journalists (CPJ) responded to the rights groups' and media probes into the October 13 attacks by demanding an "immediate, independent, and transparent investigation that holds the perpetrators to account."
CPJ cited its May 2023 report, "which showed a pattern of lethal force by the Israel Defense Forces that left 20 journalists dead over the last 22 years. No one was ever held accountable."
According to the report, "The majority of the 20 journalists killed—at least 13—were clearly identified as members of the media or were inside vehicles with press insignia at the time of their deaths."
Since the IDF launched its war on Gaza following the October 7 Hamas-led attacks on Israel, CPJ has documented the killing of at least 63 media professionals, including 56 Palestinians, three Lebanese, and four Israelis.
"CPJ emphasizes that journalists are civilians doing important work during times of crisis and must not be targeted by warring parties," said Sherif Mansour, the group's Middle East and North Africa program coordinator.
Last month, after also concluding that the group in Lebanon was "deliberately targeted," the international press freedom group Reporters Without Borders called on the International Criminal Court to formally investigate the deaths of all journalists killed by Israeli troops and Hamas militants during the war.

"Journalists across the region are making great sacrifices to cover this heartbreaking conflict. Those in Gaza, in particular, have paid, and continue to pay, an unprecedented toll and face exponential threats," Mansour said. "Many have lost colleagues, families, and media facilities, and have fled seeking safety when there is no safe haven or exit."
Nazeh, a Reuters camera operator who survived the October 13 attack, demanded justice for his slain colleague Abdallah.
"We can't bring Issam back. Issam is gone," he said. "But he hears us, he sees us, and he's waiting for us to do something for him... to expose who hit him, who killed him, to the world."
News