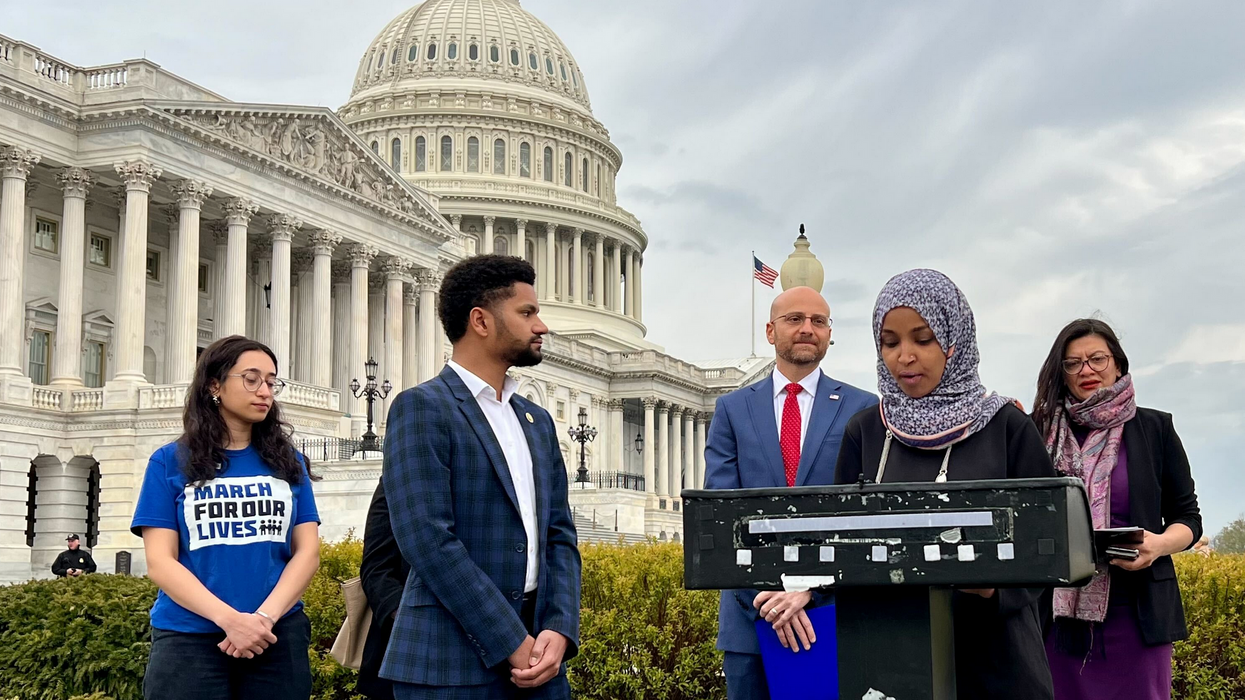 "In order to confront the evils of religious bigotry and hatred, we must come to understand that all our destinies are linked," said Omar, a former refugee from Somalia and one of two Muslim women in Congress.
Joined by Democratic House colleagues and activists outside the U.S. Capitol on Thursday—the first full day of Ramadan—Minnesota Congresswoman Ilhan Omar announced a new resolution condemning Islamophobia and commemorating the recent anniversary of the 2019 Christchurch, New Zealand mosque massacre.
Omar's office said the resolution—which is co-sponsored by more than 20 House Democrats—"comes after continued violence and threats made against religious minorities, particularly Muslims," while adding that the March 15, 2019 murder of 51 Muslim worshippers at the Al Noor Mosque in Christchurch by an Australian white supremacist "was a stated source of inspiration for mass shootings in the United States."
These include the deadly synagogue shooting in Poway, California; the massacre of 23 people, most of them of Mexican origin, at a Walmart in El Paso, Texas; and the murder of 10 people by a white supremacist in a Buffalo, New York grocery store.
Omar said:

As we begin the holy month of Ramadan, we must reaffirm that all people of faith should have the right to worship without fear. According to the Council on American-Islamic Relations, anti-Muslim hate crimes and attacks are at an all-time high. The attack in Christchurch, motivated by an extremist ideology of white supremacy, anti-Muslim hate, and the so-called replacement theory resonates deeply for Muslims in nearly every corner of the globe.

We also know that this increase in hate is not isolated to only Muslims. Church bombings, synagogue attacks, and racial hate crimes are also on the rise.
"In order to confront the evils of religious bigotry and hatred, we must come to understand that all our destinies are linked," Omar added. "That's why I'm proud to lead my colleagues in condemning the rise in Islamophobia and affirming the rights of religious minorities in the United States and around the world."
Robert McCaw, director of government relations at the Council on American-Islamic Relations, also spoke at Thursday's event, saying that "it is with a heavy heart that CAIR welcomes Omar's resolution," which "recognizes the threat posed by rising global Islamophobia to American Muslims and Muslims in other countries across the world, as well as the threat white supremacism poses to all people."
"It is incredibly important for Congress to lead the way in rejecting these hateful and dangerous ideologies, and CAIR calls on both sides of the aisle to co-sponsor and adopt this resolution," McCaw added. "As we remember the lives lost in Christchurch, we must continue to work towards a world where everyone is treated with humanity and dignity, regardless of their faith, ethnicity, or background."
In 2021, the Democratic-controlled House narrowly passed a resolution introduced by Omar aimed at combating Islamophobia after Rep. Lauren Boebert (R-Col.) referred to her and Rep. Rashida Tlaib (D-Mich.)—the only two Muslim women in Congress—as the "jihad squad."

The House GOP, which now narrowly controls the chamber, voted last month to remove Omar from the foreign affairs panel. Just before the vote, the congresswoman said that Republicans "are not OK with having a Muslim have a voice on that committee."
Omar's new federal resolution stood in stark contrast with Texas state Rep. Tony Tinderholt's (R-94) vote against a legislative resolution celebrating Ramadan.
"As a combat veteran, I served beside many local translators who were Muslims and good people," the Iraq War veteran explained. "I can also attest that Ramadan was routinely the most violent period during every deployment."
"Texas and America were founded on Christian principles and my faith as a Christian prevents me from celebrating Ramadan," Tinderholt added.
Responding to Tinderholt's statement, CAIR tweeted: "Every elected official has the right to express their own sincerely held religious beliefs—and we welcome that. But to insult another religion is uncalled for and harmful."

News