"You can't address poverty in a world of climate chaos," one advocacy group told Ajay Banga. "End fossil fuel finance now!"
Climate advocates on Friday held a demonstration outside the World Bank Group's headquarters in Washington, D.C., where they welcomed the bank's new president, Ajay Banga, and implored him to immediately begin pursuing a global just transition.
Campaigners from the Glasgow Actions Team, Global Citizen, Friends of the Earth, and Big Shift Global handed their "First 100 Days" demands to World Bank staffers as they entered the building, making the case on Banga's first day at the helm that he should prioritize four key goals over the next few months: end fossil fuel finance, ramp up clean energy funding, cancel debt for poor nations facing myriad crises, and align the bank's policies with the Paris agreement's goal of limiting global warming to 1.5°C.

"It's not often we feel hope in the climate movement, but today, with a new World Bank president having publicly committed to taking climate change seriously, we're feeling hopeful," Glasgow Actions Team director Andrew Nazdin said in a statement. "But President Banga doesn't have a moment to lose; the time is now to announce plans to move away from fossil fuels and help the globe transition to clean energy in a just and equitable manner."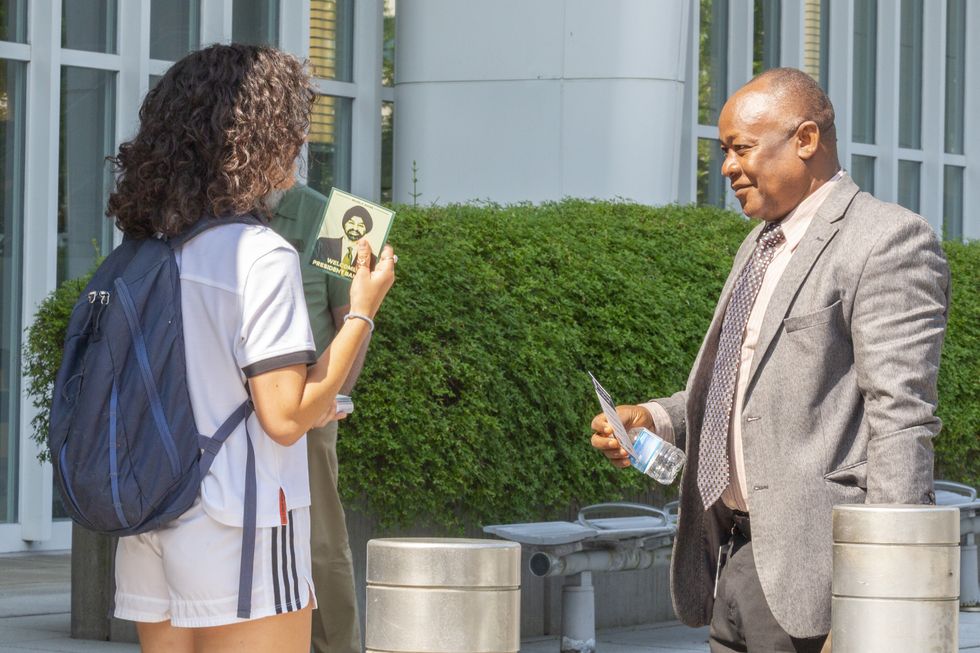 Activists hand their "First 100 Days" demands to World Bank staffers in Washington, D.C. on June 2, 2023.(Photo: Eric Kayne/AP Images for Glasgow Actions Team)
Climate advocates cheered in February when former World Bank President David Malpass, nominated to lead the bank by then-U.S. President Donald Trump in 2019, said that he would step down this spring, nearly a year ahead of schedule.
The early resignation announcement followed a sustained pressure campaign against Malpass, who was condemned as a "climate denier" after refusing to acknowledge that burning fossil fuels causes the planet-heating pollution underlying increasingly frequent and intense extreme weather disasters.
U.S. President Joe Biden's ensuing decision to tap Banga for the role angered progressives, who argued that the erstwhile private equity executive and former Mastercard CEO is likely to advance the powerful international financial institution's historically pro-corporate and pro-fossil fuel agenda. When the World Bank's board of governors ratified Banga's presidency in early May—appointing the Biden nominee to a five-year term with a June 2 start date—the bank's new leader suggested that a "climate change shift" was coming.
On the eve of Banga's first day in office, Big Shift Global acknowledged that his stated belief in climate science is an improvement over the status quo. But whether he leads the World Bank in "the right direction on climate" remains an open question, the international campaign noted, reiterating its demands for "a phaseout of fossil fuel finance and support for a just, clean energy transition."
Luisa Abbott Galvao, senior international policy campaigner at Friends of the Earth U.S., pointed out that "Ajay Banga has spent his career chasing profits for shareholders rather than working in the public interest."
"But he could still commit to a different legacy from his climate change-denying predecessor, David Malpass," said Galvao. "We call on Banga to pledge an end to World Bank financing for fossil fuels on his first day in office. When science says new fossil fuel developments are incompatible with the 1.5°C pathway, a failure to act is effectively climate denial."
\u201cWe gathered at @WorldBank with a message to the Bank's new president, Ajay Banga\ud83d\udce2\n\nIt's not too late to change your legacy from chasing profits to leading the Bank toward real climate action.\n\nDon't be like your climate-denying predecessor, David Malpass!\u201d

— Friends of the Earth (Action) (@Friends of the Earth (Action)) 1685727500
For its part, the Glasgow Actions Team tweeted, "While Ajay Banga is inside addressing his staff, we're outside showing him how easy it is to truly shift the World Bank to act on climate change!"
"You can't address poverty in a world of climate chaos," the group added. "End fossil fuel finance now!"
Big Shift Global showed in a recent report that the World Bank has directly financed at least $14.8 billion in fossil fuel production since the signing of the Paris agreement in 2015—reneging on its 2017 pledge to stop supporting oil and gas projects within two years.
The Intergovernmental Panel on Climate Change and the International Energy Agency have made clear that fossil fuel expansion will cause the climate emergency's consequences to grow even deadlier, especially for humanity's poorest members who have done the least to cause the crisis.
Global Citizen noted Friday that impoverished countries on the frontlines of mounting socio-ecological catastrophes "can't tackle climate change when they're drowning in debt" and urged Banga to implement a debt jubilee in addition to subsidizing a green overhaul of the global economy.
The group also took out a full-page ad in The Wall Street Journal, calling on Banga to begin transforming the World Bank into an instrument for genuinely sustainable development on his first day.
\u201c@GlblCtzn placed this in today\u2019s @WSJ to coincide with Ajay Banga\u2019s first day as the new head of the @WorldBank\u2b55\ufe0f\u201d

— Global Citizen Impact (@Global Citizen Impact) 1685721724
"As the new president, what will your legacy be?" the ad asks. "In the face of the triple climate, poverty, and hunger crises, the world's biggest development bank stands at a critical juncture."
"Under your guidance, the World Bank could serve as an invaluable partner for low-income countries and those vulnerable to climate change," it continues. "The solutions are on the table."
"Make your first steps bold," says the ad. "Working alongside other multilateral development banks, help mobilize $1 trillion more in financing to help the world's poorest and most vulnerable countries quicken their transition to clean energy, withstand disasters, and power our planet."
News