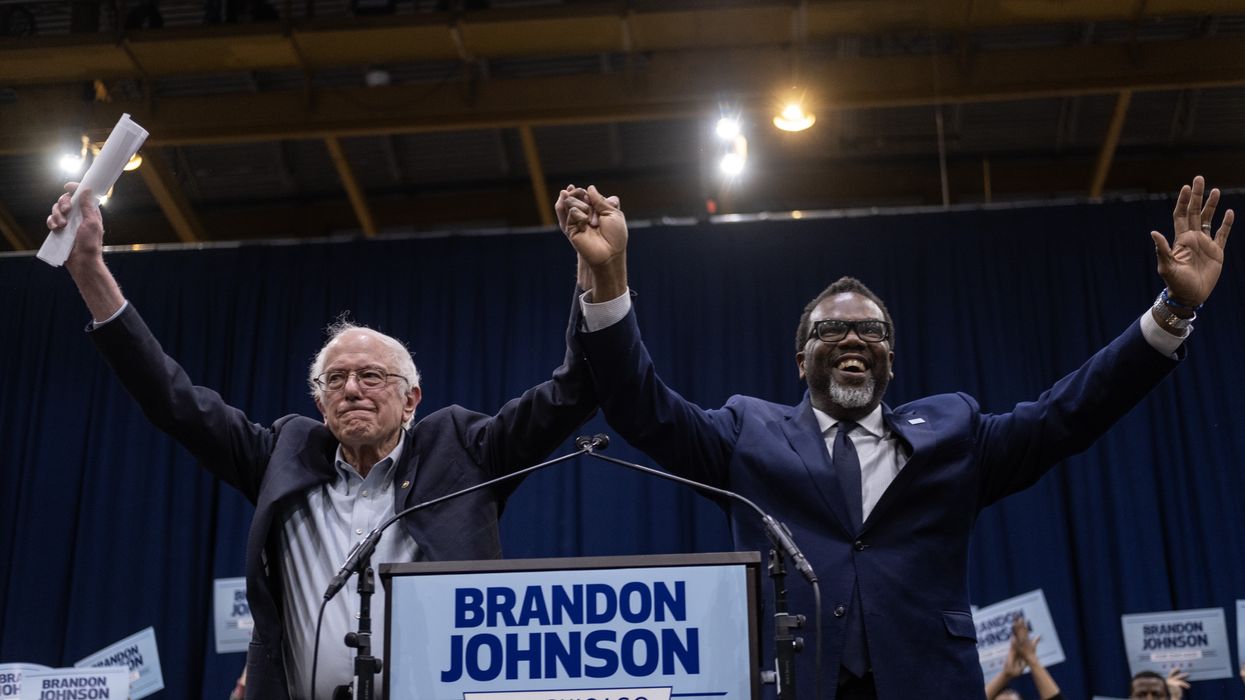 "Which side are you on?" Sanders asked at the packed rally. "Are you on the side of working people, or are you on the side of the speculators and billionaires? And I know which side Brandon is on."
U.S. Sen. Bernie Sanders stumped for progressive Chicago mayoral candidate Brandon Johnson late Thursday, imploring the city's voters to turn out in record numbers to overcome what he described as the powerful establishment forces backing conservative Democrat Paul Vallas.
"Our job on Tuesday is to make sure we have the largest voter turnout this city has ever seen," Sanders (I-Vt.) told the crowd gathered at the University of Illinois Chicago days ahead of the April 4 runoff. "This is going to be a close election, and the deciding factor will be voter turnout."

A Northwestern University poll released earlier this week showed the race is in a dead heat, with Johnson and Vallas each receiving 44% support and 12% of voters still undecided.
"Brandon's opponent and the other side—they have a lot of money," the Vermont senator said Thursday. "That's what always happens when you take on the establishment. They have the money. They've got a lot of power. But you know what we have? We have the people."

The rally came after new financial disclosures showed that a super PAC with close connections to former Education Secretary Betsy DeVos recently spent nearly $60,000 on digital media supporting Vallas, the former CEO of Chicago Public Schools who has worked to privatize education in his home city as well as New Orleans and Philadelphia.

"The fundamental issue, the deep down issue, is: Which side are you on?" Sanders said Thursday night. "Are you on the side of working people, or are you on the side of the speculators and billionaires? And I know which side Brandon is on."
While Sanders didn't explicitly mention the DeVos-tied super PAC's support for Vallas' campaign during Thursday's rally, American Federation of Teachers president Randi Weingarten did, saying it "tells you everything you need to know about" Vallas.
In a statement earlier Thursday, Weingarten said that "Paul Vallas' goal of defunding public schools and dividing parents against teachers makes him precisely the kind of candidate who would appeal to a fellow wrecker like Betsy DeVos—a person who's devoted her life to ending public education as we know it."
"From Chicago to Philadelphia to New Orleans," Weingarten added, "Vallas waged a craven campaign to voucherize and pauperize, just like DeVos tried—and failed—to do when she served as Donald Trump's education secretary."
Watch Thursday's rally:
Johnson, a longtime educator and organizer, also called attention to the Illinois Federation for Children PAC's spending on the race during a candidate forum late Thursday.
"Betsy DeVos has inserted herself and her resources into my opponent's coffers," Johnson said.
Vallas countered that he has "never had any conversations or contacts with Betsy DeVos."
"Our campaign has not received any money from her," Vallas said, citing the often vanishingly thin barrier separating so-called "independent expenditures" by super PACs and direct donations to political campaigns.

In addition to the DeVos-connected spending, Vallas has also received financial support from "conservative contributors and prominent Republicans," the Chicago Tribunereported earlier this month.
"Vallas' largest contributor was golf course developer Michael Keiser, who has given him $700,000," the Tribune noted. "Keiser previously contributed $11,200 to former President Donald Trump, a Republican. Vallas has taken money from John Canning, a Chicago private equity executive who has given to many politicians locally but also national Republicans, and Noel Moore, who has given to Trump and Texas Republican U.S. Sen. Ted Cruz."
Johnson's biggest contributors, by contrast, have been unions representing teachers and service workers.
"When you take dollars from Trump supporters and try to cast yourself as a part of the progressive movement, man—sit down," Johnson said at Thursday night's rally.
News