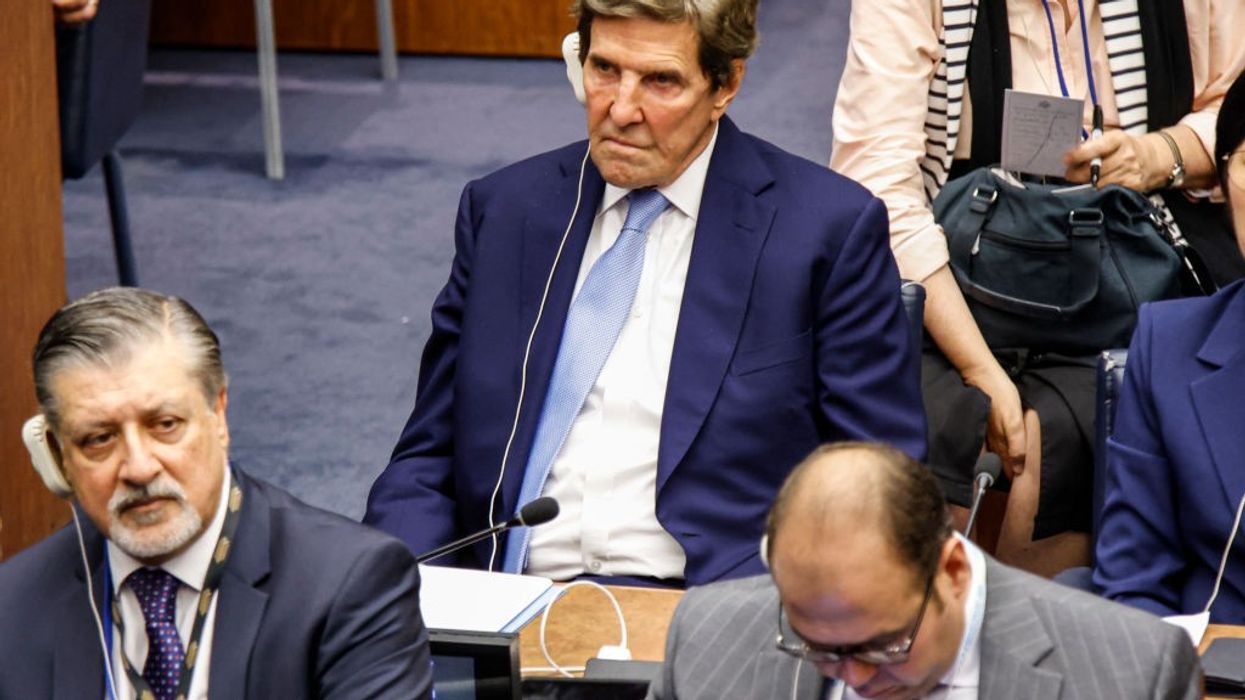 President Joe Biden still has a chance to correct course before COP28.
It was stunning to see U.S. Climate Envoy John Kerry stalking the sidelines of the United Nations' historic Climate Ambition Summit last week, firmly shut out from the opportunity to speak. The United States isn't used to being sidelined on the global stage. Indeed it may be the first time in U.N. history that the U.S. was barred from speaking at an international summit.

The U.S. got itself into the climate summit's "time-out corner" because of its wretched record on fossil fuels. And the stakes couldn't be higher for President Joe Biden to correct course.
In line with his "Roadmap for a Livable Planet," U.N. Secretary General AntónioGuterres set strict guidelines for those invited to speak at the summit. Chief among them: concrete plans to phase out fossil fuels.
President Biden can no longer hide his abysmal fossil fuel record behind renewable energy investments. The oil rig in the room has been exposed for all the world to see.
It was that demand that brought us and 75,000 others into the streets on the Sunday ahead of the summit for the "March to End Fossil Fuels."
After the hottest summer on record and its devastating consequences from Lahaina to Libya, people around the world are waking up to the urgency of ending the extraction and use of oil, gas, and coal, which cause 85% of climate-heating pollution.
That urgency was palpable in Guterres' opening remarks as he declared to leaders that "the future of humanity is in your hands."
Indeed, Biden has ample tools at hand to confront fossil fuels and protect humanity. But many of the president's actions have done more to boost the "foot-dragging, arm-twisting… naked greed of entrenched interests" that Guterres railed against.
Despite its climate rhetoric, the U.S. is the biggest oil and gas producer in the world and the number one exporter of gas.
At a time when the narrow path to a stable climate demands no new fossil fuel expansion, the United States is also the world's largest expander of oil and gas. The U.S. alone accounts for a full third of planned oil and gas expansion from now through 2050, according to the groundbreaking "Planet Wreckers" report from Oil Change International.
Another new study from Jeremy Symons finds that greenhouse gas emissions from U.S. fossil fuel exports are expected to undermine emissions reductions from the Inflation Reduction Act.
After New York's historic summit and march, President Biden can no longer hide his abysmal fossil fuel record behind renewable energy investments. The oil rig in the room has been exposed for all the world to see.
It's telling that while Kerry sat on the sidelines, the only U.S. leader invited to speak was California Gov. Gavin Newsom, whose administration has ramped down oil and gas permitting and just launched a landmark lawsuit against Big Oil. The typically staid U.N. hall erupted in applause when Newsom declared, "This climate crisis is a fossil fuel crisis."
All this is testament to the incredible strides we've made as an advocacy community on fossil fuels. The U.N. Secretary-General holding this summit with its laser focus on fossil fuels is a response to years of vocal clamoring by low-lying nation-states like Tuvalu and Vanuatu, climate scientists, advocacy groups, frontline leaders, and mass mobilizations that have relentlessly pushed the focus from vague 'climate action' onto ending oil, gas, and coal.
We have top-down pressure from the U.N. chief, and bottom-up pressure from people around the world who mobilized in 700 actions from the Philippines to Germany, Nepal to the North Pole—all culminating in 75,000 marchers joyfully and resolutely pounding the pavement in New York.
Biden is clearly feeling the pressure. The same day as the summit, the president announced the creation of the American Climate Corps.
Our friend and fellow march organizer, 18-year-old Keanu Arpels-Josiah, astutely pointed out that while it doesn't address fossil fuels, the move shows "Biden clearly knows he can use his executive powers to take bolder steps on climate."
In the two months between now and the COP28 climate summit in Dubai, Biden needs to use those powers to make up for drastic missteps and lost time.
The president doesn't control everything, but he can do much more to protect people and our planet—all without Congress. Essential actions for Biden to take now include:
Stop approving new fossil fuel projects like the massive CP2 liquified natural gas export terminal slated for the Gulf Coast. Such projects lock in fossil fuel dependence for decades—and push us far past our climate breaking point.
Phase out oil and gas production on public lands and revoke permits for the Willow Project and Alaska LNG, a massive liquefied gas export facility 10 times more climate polluting than Willow.
Issue the upcoming offshore oil leasing "Five Year Plan" with no new leases.
Declare a national climate emergency to reinstate the crude oil export ban and halt hundreds of billions in private taxpayer dollars funding fossil fuel projects abroad.
Direct the Environmental Protection Agency to establish national limits for greenhouse gases under the Clean Air Act.
Direct the Justice Department to prosecute polluters and utilities for the damages they cause under nuisance and fraud suits, as Gov. Newsom has just done in California, and bring antitrust violation suits against entities that obstruct the transition to clean energy.
Biden must also come to COP28 in December with commitments to an updated Nationally Determined Contribution that includes a commitment to stopping all new fossil fuel expansion and phasing out existing production. It should also include a recognition of the greenhouse gas pollution emitted by U.S. fossil fuel exports—a hefty line item that gets put on other countries' climate balance sheets while evading the U.S.' emission totals.
Not only will these actions make bold leaps toward a livable future for all, they'll be hugely beneficial to the economy. The International Energy Agency's latest report finds that staying below 1.5°C of warming will save $12 trillion worldwide and create more jobs than are lost.
So what is President Biden waiting for to become the global climate leader the world desperately needs?
Taking urgent actions to end fossil fuels can help Biden save face on the world stage and secure his legacy, but he should take them to save people and wildlife from climate catastrophe.
Opinion