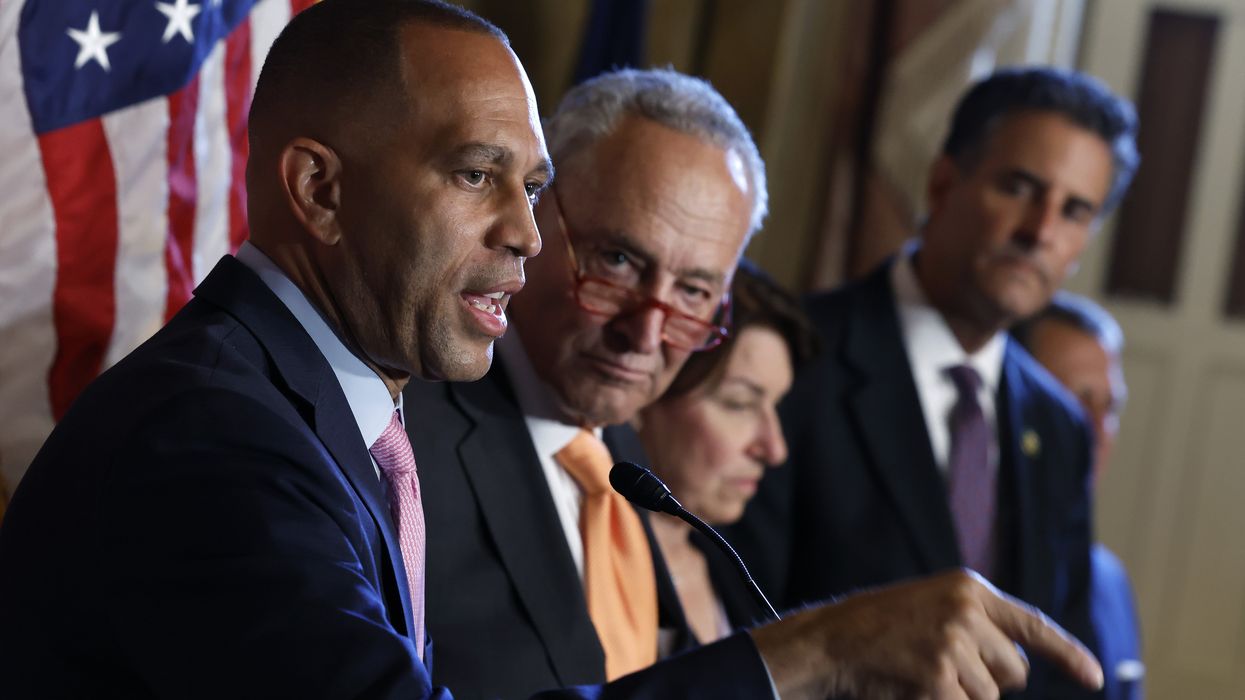 "We are in dangerous territory," warned one activist. "We must enshrine our democratic freedoms in federal legislation that would blunt the multipronged attacks on our democracy."
Democracy defenders on Tuesday applauded as Democratic leaders from both chambers of Congress came together to reintroduce the Freedom to Vote Act, which aims to improve voter access and electoral administration, boost election integrity, and increase civic participation and empowerment.
"Today's introduction of the Freedom to Vote Act is the first step to injecting a renewed commitment to democratic principles," said Christine Wood and Allison Pulliam, co-directors of the Declaration for American Democracy coalition. "We believe every eligible voter should have their vote counted, every candidate should be able to run without caving in to big influence and big money, and every elected official should be beholden to constituents first."
Senate Majority Leader Chuck Schumer (D-N.Y.) and House Minority Leader Hakeem Jeffries (D-N.Y.) joined the bill's sponsors—Sen. Amy Klobuchar (D-Minn.) and Rep. John Sarbanes (D-Md.)—and other Democrats for a Tuesday press conference, during which they condemned MAGA Republicans' attacks on U.S. democracy.
"These attacks demand a federal response," said Klobuchar. "The Freedom to Vote Act will set basic national standards to make sure all Americans can cast their ballots in the way that works best for them, regardless of what ZIP code they live in. This bill will ensure Americans can request a mail-in ballot and have access to drop boxes, have at least two weeks of early voting, and can register to vote on Election Day."
"It's past time for Congress to act and protect Americans' freedom to vote."
While the bill is unlikely to reach the desk of President Joe Biden—who is running for reelection—during this term, given the GOP-controlled House and divided Senate hamstrung by the filibuster, campaigners echoed Democrats' assertions of the need for the bill's reforms.
"It has been 10 years since the U.S. Supreme Court gutted voting rights, and two years since a president attempted to overturn the will of voters to remain in power," noted Public Citizen executive vice president Lisa Gilbert—calling out former President Donald Trump, who is seeking the GOP's 2024 nomination despite inciting the January 6, 2021 insurrection.
"Between the Shelby v. Holder decision and extremists in Congress and state houses—supported by wealthy interests who don't want democracy—we are in dangerous territory," Gilbert warned. "We must enshrine our democratic freedoms in federal legislation that would blunt the multipronged attacks on our democracy."
Stand Up America founder and president Sean Eldridge agreed, declaring that "it's past time for Congress to act and protect Americans' freedom to vote. As MAGA Republicans continue to erect barriers to the ballot box, particularly for communities of color, we need national standards to ensure voting access for every American, no matter where they live."
Cliff Albright, co-founder and executive director of Black Voters Matter, said that "the reintroduction of the Freedom to Vote Act is essential to overcoming the obstacles of new voter suppression laws we see taking shape every day in states like Mississippi, Alabama, Florida, and Georgia. In addition to the wave of voter suppression laws seen in 2021 and 2022, this year has seen hundreds of additional voter suppression bills attempted, and at least 11 states have passed such restrictions."
"Just yesterday, lawmakers in Alabama voted to advance a new congressional map that does not include a second majority-Black district, completely ignoring the U.S. Supreme Court's recent ruling that mandates the state's maps must include this majority-Black district," he pointed out. "The fight for our rights is playing out on the state level and continues to permeate our daily lives in the South. That is why national legislation that is pro-voter and anti-corruption is absolutely necessary at this moment in history."
A coalition of climate and environmental groups—Clean Water Action, Climate Hawks Vote, Earthjustice, Endangered Species Coalition, Greenpeace USA, Interfaith Power & Light, League of Conservation Voters, National Wildlife Federation, Natural Resources Defense Council, Sierra Club, Union of Concerned Scientists, and WE ACT for Environmental Justice—also celebrated the bill's reintroduction.
"While we recognize that our democracy has never truly worked for all Americans, the Freedom to Vote Act will help move us closer to the mountaintop, where every American has equitable access to the ballot, and a brighter light will shine on the fossil fuel billionaires and corporations who pour big money into anti-environmental politicians and misleading ads hampering our ability to combat the climate crisis," the coalition said.
Trevor Potter, president of Campaign Legal Center and a Republican former chairman of the Federal Election Commission, highlighted that "the aims of the Freedom to Vote Act—prohibiting partisan gerrymandering, protecting the freedom to vote, and increasing the transparency of money spent in federal elections—are supported by a significant majority of Americans, regardless of party."
While opposition to the Freedom to Vote Act has mostly come from GOP lawmakers, some Democrats have helped block it. Early last year, Democratic right-wing Sen. Joe Manchin (W.Va.), who is suspected of considering a 2024 presidential run, and Sen. Kyrsten Sinema (Ariz.), who switched from Democrat to Independent in December, teamed up with Republicans to kill a proposed change to the Senate filibuster that would have cleared the way for passing a voting rights package.
At the time, lawmakers were fighting to pass a megabill that included not only the Freedom to Vote Act but also the John R. Lewis Voting Rights Advancement Act, legislation named for a late Democratic congressman and civil rights icon. Some campaigners also emphasized the importance of the latter on Tuesday.
"Along with the John R. Lewis Voting Rights Advancement Act's protections against racial discrimination, the Freedom to Vote Act has the best solutions available to strengthen our democracy for all,"
asserted
Michael Waldman, president and CEO of the Brennan Center for Justice at New York University School of Law. "Congress must advance the Freedom to Vote Act. Our democracy demands it."
Leslie Proll, senior director of the voting rights program at the Leadership Conference on Civil and Human Rights, similarly stressed the importance of both bills.
"We urge both chambers of Congress to pass the Freedom to Vote Act so we can build a multiracial democracy that works for all of us," said Proll. "We also look forward to Congress reintroducing and passing the John R. Lewis Voting Rights Advancement Act to restore and strengthen the Voting Rights Act."
Common Cause interim co-president Marilyn Carpinteyro on Tuesday sent a letter to all members of Congress on behalf of her group and its more than 1.5 million members and supporters "in strong support of the Freedom to Vote Act and in strong opposition to the 'American Confidence in Elections' (ACE) Act," which was introduced by House Republicans earlier this month.
"The ACE Act is a giant step backward and would silence the voices of everyday Americans by putting up barriers to voting and by allowing millions of dollars more in secret money to infiltrate our political system," Carpinteyro wrote. "To strengthen free and fair elections and help get big, secret money out of politics, Congress must instead pass the Freedom to Vote Act."
News