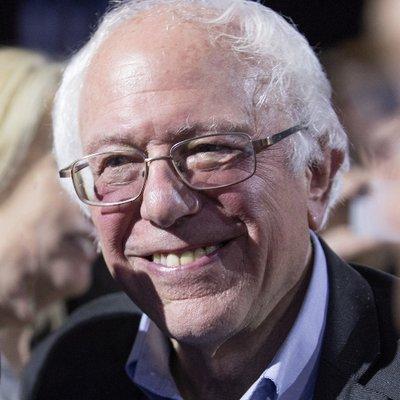 Prepared Remarks: Chairman Sanders' Opening Statement at Budget Committee Hearing on President Biden's fy2023 Budget
Sen. Bernie Sanders (I-Vt.), chairman of the Senate Budget Committee, Wednesday delivered an opening statement at the committee's hearing on President Joe Biden's FY2023 budget proposal.
WASHINGTON
Sen. Bernie Sanders (I-Vt.), chairman of the Senate Budget Committee, Wednesday delivered an opening statement at the committee's hearing on President Joe Biden's FY2023 budget proposal.
The hearing will be livestreamed on the Budget Committee's website and Sanders' social media pages.
Sanders' remarks, as prepared for delivery, are below:
I call this hearing to order.
Let me thank all of you for being here this morning and Senators who are in attendance virtually.
Let me thank Senator Graham our Ranking Member for the work he is doing.
And let me welcome Shalanda Young, the OMB Director who will be testifying shortly.
Let us be very clear. A Federal budget is much more than just a huge spreadsheet of numbers.
A Federal budget speaks to who we are as a nation and where we want to be in the future. It speaks to whether or not we can go beyond the lobbyists and the wealthy campaign contributors who have so much influence as to what goes on here and whether or not we can address the needs of the millions of middle class working families and low-income people who are struggling today.
So let me take a moment to describe what I believe to be some of the major crises in America today and how the President's budget responds to those crises.
Today in America, while the very rich are getting richer, over half of our people are living paycheck to paycheck. Millions of workers are trying to get by on $8, $9, or $10 bucks an hour, which, in my view, is a starvation wage.
In his State of the Union speech, President Biden called on Congress to increase the federal minimum wage to $15 an hour. That is a step forward. I would go further.
The federal minimum wage has been stuck at $7.25 an hour for 13 years.
If the minimum wage had increased at the rate of productivity since 1968 it would not be $7.25 an hour. It would be $23 an hour. All across the country many states, cities, towns and counties are raising the minimum wage. The time is long overdue for Congress to do the same.
Today in America, income and wealth inequality is at its highest level in over 100 years. The two richest men in America now own more wealth than the bottom 42 percent - over 130 million Americans.
During this terrible pandemic, when thousands of essential workers died doing their jobs, over 700 billionaires in America became nearly $2 trillion richer.
While we hear a lot of talk about the need to take on the oligarchs in Russia - something I strongly support - anyone who thinks we don't have an oligarchy right here in our country is sorely mistaken.
Today in America, multi-billionaires like Elon Musk, Jeff Bezos and Richard Branson are off taking joy rides on rocket ships to outer space, buying $500 million super-yachts and living in mansions with 25 bathrooms.
In his budget, the President has proposed a 20% minimum tax on those who are worth at least $100 million. That is a step forward. I would go further.
In 2020, I introduced a 60% tax on the obscene wealth gains billionaires made during the pandemic - legislation I will soon be re-introducing and which is enormously popular. The American people know that there is something fundamentally wrong with our economy when so few have so much and so many have so little.
Now, I understand that some of my colleagues believe this is a terrible idea because it would redistribute wealth. But the reality is that over the last 45 years there has been a massive redistribution of wealth in America. The problem is that it has gone in the wrong direction.
According to the RAND Institute, since 1975, $50 trillion in wealth has been redistributed from the bottom 90% to the top 1% - primarily because corporate profits and CEO compensation has grown much faster than the wages of average workers.
But it's not just income and wealth inequality. It is economic and political power. As we discussed at a hearing in this committee last month, 3 Wall Street firms control assets of over $21 trillion which is basically the GDP of the United States, the largest economy on Earth. 3 Wall Street firms.
In terms of health care, over 72 million Americans today are either uninsured or under-insured while more than 60,000 Americans die each and every year because they cannot afford to go to a doctor when they need to.
We remain the only major country on Earth not to guarantee health care to all people, and yet we pay the highest prices in the world for health care.
In his budget, the President has proposed substantial investments in mental healthcare, pandemic preparedness, the Indian Health Service and research into finding a cure for cancer and other life-threatening diseases. This is an important step forward. I would go much further.
An overwhelming number of Americans want us to expand Medicare to include dental, vision and hearing benefits. That is exactly what we should do.
Today, in the wealthiest nation on earth, many millions of seniors are unable to afford to go to a dentist, or buy the hearing aids and eye glasses they need. Older Americans should not have teeth rotting in their mouths. That is unacceptable.
Further, as a nation, we should understand what every other major country on earth understands. Healthcare is a human right, not a privilege. The function of a rational and humane healthcare system is to guarantee healthcare to every man, woman and child in a cost-effective manner. A rational system is not one designed to provide huge profits to the private insurance companies and the pharmaceutical industry.
I'm happy to inform the members of the Budget Committee that we will be holding a hearing on Medicare for All bill during the first week in May.
According to the Congressional Budget Office, Medicare for All would save the American people and our entire healthcare system $650 billion each and every year, improve the economy and eliminate all out-of-pocket healthcare costs.
But healthcare reform must not only address the private health insurance companies but the greed of the pharmaceutical industry.
Last year alone, while nearly one out of four Americans could not afford to fill the prescriptions their doctors wrote, three of the largest pharmaceutical companies made over $54 billion in profits and the 8 highest-paid executives in the industry made over $350 million in compensation in 2020.
In order to preserve this corrupt and greedy pricing system, the drug companies are spending hundreds of millions of dollars and they have hired over 1,500 lobbyists, including former leaders of the Republican and Democratic parties, to represent their interests.
In his State of the Union address, the President called on Congress to require Medicare to negotiate with the pharmaceutical industry to lower prices. That is a step in the right direction. That is what we must do.
If Medicare paid the same price for prescription drugs as the VA - which has been negotiating with the pharmaceutical industry for more than 30 years - we would cut the price of prescription drugs under Medicare in half. And poll after poll shows that is precisely what the American people want us to do.
And then there is the existential threat of climate change. With the planet becoming warmer and warmer, with unprecedented forest fires, drought, floods and extreme weather disturbances, and when scientists tell us that we only have a few years to avoid irreparable damage to our country and planet, we must cut carbon emissions and transform our energy systems away from fossil fuel and into energy efficiency and sustainable energy. And when we do all of these things, and more, we create millions of good paying jobs and offer a brighter future for our young people.
Now, I understand that my Republican colleagues want to blame inflation on President Biden and the enormously successful American Rescue Plan, but let's be clear. The problem is not that a low-income worker got a 50 cent raise last week and a $1,400 check from the federal government over a year ago.
To a significant degree, pathetically, large corporations are using the war in Ukraine and the pandemic as an excuse to raise prices significantly to make record-breaking profits. This is taking place at the gas pump, at the grocery store and virtually every other sector of the economy.
This is why we need a windfall profits tax and why this Committee will be holding a hearing on Tuesday of next week on the unprecedented level of corporate greed that is taking place in America today.
This is clearly a very difficult moment in modern American history. The question before us is whether we will stand with the working families of this country and protect their interests or whether we stand with the billionaire class, the large multi-national corporations, the wealthy campaign contributors and the lobbyists to protect the 1%.
Now that the President has done his job and submitted his budget to us, it is now up to Congress to review it, pass the proposals that make sense and improve upon it.
As the Chairman of the Senate Budget Committee, I will be doing everything I can to pass a strong and robust budget reconciliation bill that works for working families, not the top 1 percent.
Let me now recognize Ranking Member Graham for his opening statement.
LATEST NEWS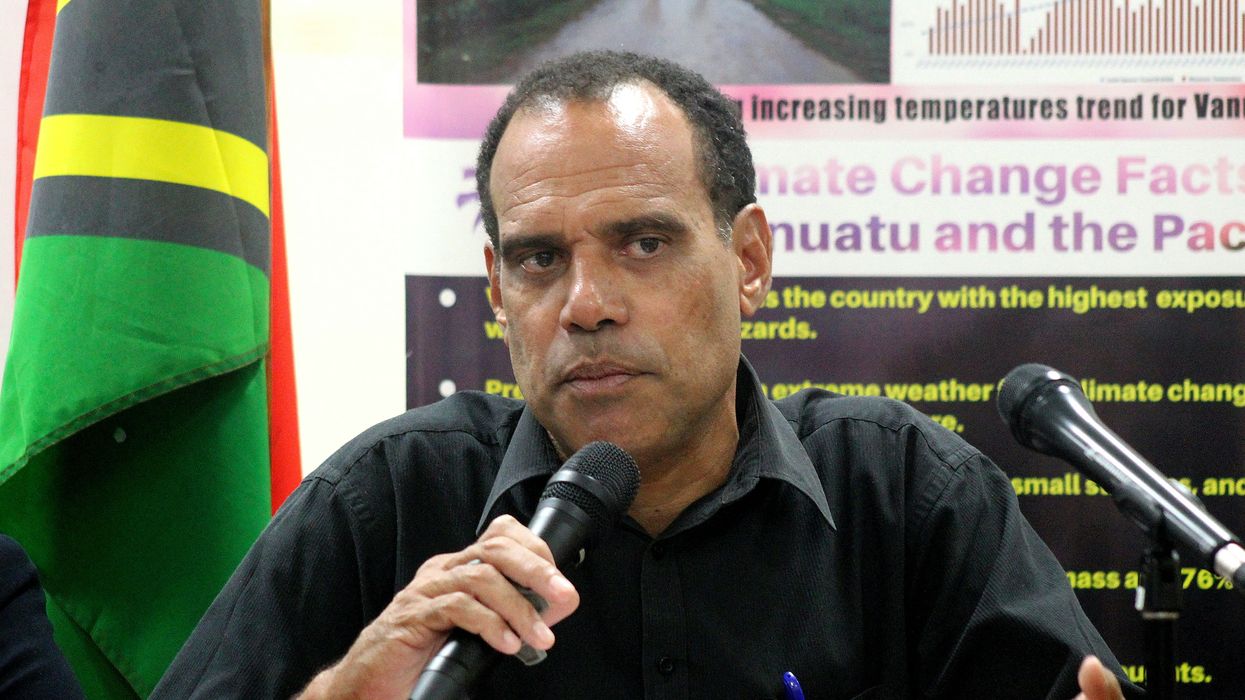 "As Pacific leaders shoulder the burden of climate leadership," this call "is a reminder that despite the doom and gloom, another world is possible, a fossil fuel-free world that is just, equitable, and sustainable."
Climate justice advocates celebrated Friday after a half-dozen island nations committed to building a "fossil fuel-free Pacific" and urged all governments to join them in bringing about an equitable phaseout of coal, oil, and gas.
From Wednesday to Friday, Vanuatu and Tuvalu co-hosted the 2nd Pacific Ministerial Dialogue on Pathways for the Global Just Transition from Fossil Fuels in Port Vila, Vanuatu. The summit came amid an ongoing state of emergency in Vanuatu, which was hammered earlier this month by a pair of Category 4 cyclones. Participants described the current devastation as "just the most recent example of the extensive and ongoing fossil fuel-induced loss and damage suffered by" Pacific Islanders.
At the conclusion of the three-day meeting, ministers and officials from six countries—Vanuatu, Tuvalu, Tonga, Fiji, Niue, and the Solomon Islands—agreed on the Port Vila Call for a Just Transition to a Fossil Fuel-Free Pacific.
The resolution—issued "on behalf of present and future generations, communities on the frontlines, and all of humanity"—calls for immediate international action to accelerate a just transition from dirty to clean energy in accordance with what experts have shown is necessary to avert the worst consequences of the climate crisis.
"The science is clear that fossil fuels are to blame for the climate emergency," says the document. "This is a crisis driven by the greed of an exploitative industry and its enablers. It is not acceptable that countries and companies are still planning on producing more than double the amount of fossil fuels by 2030 than the world can burn to limit warming to 1.5°C."
"Every second wasted on climate inaction and clinging to fossil fuels puts lives, homes, livelihoods, cultures, and ecosystems in jeopardy."
Among other things, the resolution implores policymakers in the Pacific and around the world to join the Beyond Oil and Gas Alliance (BOGA) and negotiate a fossil fuel nonproliferation treaty (FFNPT) to end the expansion of coal, oil, and gas extraction and to expedite a fair global shift to renewables. It also cautions lawmakers to avoid phrases like "unabated" or "inefficient," warning that such terminology "creates loopholes for fossil fuel producers."
In a statement, Oil Change International global policy lead Romain Ioualalen said, "Faced with devastating climate impacts resulting from the world's continued addiction to fossil fuels, Pacific governments have once again demonstrated what true leadership looks like."
"The contrast between the U.S. and other rich countries approving new oil and gas fields in clear defiance of science, and the commitment to build a prosperous and resilient fossil fuel-free Pacific could not be more obvious and highlights the complete disregard the fossil fuel industry and its enablers have for people and communities most affected by the climate crisis," said Ioualalen. "Countries must urgently heed the call for an immediate end to fossil fuel expansion that is emanating from the Pacific. We look forward to Pacific countries continuing to be vocal champions for a just and equitable phaseout of fossil fuels on the global stage, including at COP28 later this year."
Samoan climate justice activist Brianna Fruean said that "this dialogue of Pacific ministers is stepping outside of the box and acknowledging that we must try new ways to save ourselves—and that is going to require a fossil fuel nonproliferation treaty."
"While the guilty continue to reap profit off the expansion of fossil fuels behind our backs," said Fruean, "the meeting is bringing renewed energy to Pacific leadership that will not just echo across our islands but drive action with our allies globally."
Despite bearing almost no historical responsibility for the climate crisis, Pacific Islanders are acutely vulnerable to rising sea levels and increasingly frequent and severe extreme weather. Policymakers from the region have long been leaders in demanding ambitious efforts to slash greenhouse gas pollution at speed and scale, including by putting the idea of a FFNPT on the table in 2016. Just last year, Vanuatu and Tuvalu became the first national governments to endorse such a measure, while Tuvalu also recently joined the BOGA as a core member.
"Every second wasted on climate inaction and clinging to fossil fuels puts lives, homes, livelihoods, cultures, and ecosystems in jeopardy," said Lavetanalagi Seru, regional policy coordinator at Pacific Islands Climate Action Network. "As Pacific leaders shoulder the burden of climate leadership, the Port Vila Call for a Just Transition to a Fossil Fuel-Free Pacific is a reminder that despite the doom and gloom, another world is possible, a fossil fuel-free world that is just, equitable, and sustainable."
The region's new resolution states that "we have the power and responsibility to lead, and we will. Pacific leaders called for the Paris agreement to limit warming to 1.5°C, and have demanded an end to the development and expansion of fossil fuel-extracting industries, starting with new coal mines. Pacific civil society has challenged the world to step up the fight for urgent fossil fuel phaseout and effective climate action."
In recent weeks, Vanuatu has been leading an ongoing push for an advisory opinion from the International Court of Justice (ICJ) on "how existing international laws can be applied to strengthen action on climate change, protect people and the environment, and save the Paris agreement."
The document unveiled Friday calls for "redoubled efforts to reaffirm, strengthen, and codify legal obligations with respect to the global phaseout of fossil fuels," including by supporting the adoption of the Vanuatu-led ICJ resolution at the meeting of the U.N. General Assembly at the end of this month.
"The contrast between the U.S. and other rich countries approving new oil and gas fields in clear defiance of science, and the commitment to build a prosperous and resilient fossil fuel-free Pacific could not be more obvious."
According to Seru, "The phaseout of fossil fuels is not only a challenge, but an opportunity to promote economic development and innovation in the Pacific region."
To that end, the Port Vila document calls for "new Pacific-tailored development pathways based on 100% renewable energy."
350.org Pacific managing director Joseph Sikulu welcomed this week's developments, saying in a statement that "our people need global leaders to follow the innovation of Pacific representatives at the Pacific Ministerial Dialogue, it is a matter of survival."
"Our people also need energy to power their homes, their fishing boats, and their schools, which is where we are ready to work with governments in their commitment to progress the development and implementation of fossil-free development pathways at the grassroots level," he added.
In order to make that a reality, the document calls for increasing "public and private finance for the just transition from fossil fuels to renewable energy at the scale required, with innovative, simplified mechanisms and reforms of existing financial institutions."
Cansin Leylim, 350.org associate director of global campaigns, applauded Pacific Island nations for "once again showing immense leadership in the fight against the climate crisis, a crisis they had no part in creating."
"Pacific leaders have told us time and again—in order to stay below 1.5°C, the historically responsible countries need to immediately commit to a fossil fuel-free future without loopholes," said Leylim. "This means ensuring adequate and grant-based climate finance is swiftly mobilized to both adapt to the crisis and limit the heating to survival limits, ensuring energy independence and resource resilience with renewable energy."
Tzeporah Berman, chair of the Fossil Fuel Non-Proliferation Treaty Initiative, predicted that this week's "historic meeting" will "have far-reaching consequences."
News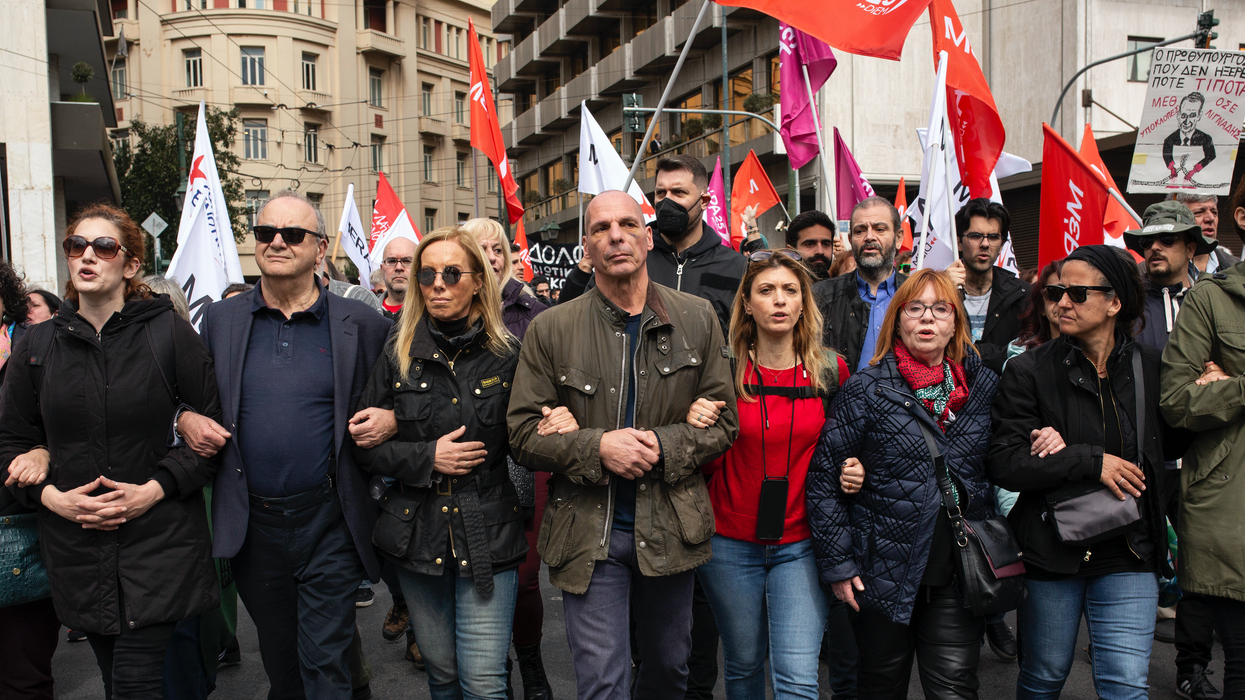 "It is the debt of every worker, every youth, to continue to demand the obvious: This crime must not be covered up!"
At least tens of thousands of demonstrators took to the streets of cities and towns across Greece Thursday to protest the government's handling of last month's Tempi railway disaster and the capitalist system that puts profits before people.
The general strike—which was called by the General Confederation of Greek Workers and public sector workers umbrella organization ADEDY—crippled transportation on land, in the air, and at sea. In the capital Athens, metro services and the tram network were shut down. Many flights were canceled due to a work stoppage by air traffic controllers, and many ferries remained docked.
In addition to Athens, demonstrations took place in Thessaloniki, Patras, and elsewhere—including in Tempi, site of the February 28 head-on collision between a freight train and a high-speed inter-city passenger train carrying 350 people. Fifty-seven people died and 85 others were injured in the crash.
"Had this been a serious country, everybody at the transport ministry would be in handcuffs."
Much of the Greek left blames the disaster on railway staffing cuts, outdated technology, and infrastructure neglect and degradation caused by years of severe fiscal austerity measures.
Rallying under the slogan "this crime will not be forgotten; we will be the voice of all the dead," demonstrators shouted "murderers" and "the tears have dried up and turned into rage" as they marched in central Athens.
"This was mass murder," Pavlos Aslanidis, the father of one of the passengers killed in the crash, toldAlphaTV. "Had this been a serious country, everybody at the transport ministry would be in handcuffs."
According toWorld Socialist Web Site:
Demonstrations were replete with anti-government slogans and chants rejecting the initial claims of New Democracy Prime Minister Kyriakos Mitsotakis that the disaster was the result of the errors of a single station master in Larissa—the passenger train's last stop before the crash. Some banners in Syntagma Square outside Parliament read, "It was no human error, it was a crime" and "Our dead, your profits."
"Two weeks have passed since the crime in Tempi, Larissa and the country is shaking with anger and daily struggle," the All-Workers Militant Front (PAME), which backed the strike, said in a statement. "It is the debt of every worker, every youth, to continue to demand the obvious: This crime must not be covered up!"

PAME accused the government of trying "to block people's participation to the strike by... spreading fake news about the legality of the strike in the public sector and on the day of the strike, ordering the closing of Athens central Metro stations, so as to block people from reaching Athens center and participating in the rallies."
"At the same time, a series of photos and videos on social media and news sites show unprovoked police violence and also persons with civilian clothes, black hoods, and covered faces sitting side by side with the riot police forces," the leftist confederation added.
Video footage posted on social media showed what appeared to be unprovoked attacks by police on demonstrators. Other footage showed people throwing Molotov cocktails and projectiles at police.
Among those participating in Thursday's demonstrations was Yanis Varoufakis, the leftist lawmaker and former finance minister who is recovering from a brutal assault last Friday.
"The masterminds of the austerity and dogmatic privatization that led us to disaster were international institutions: the IMF, the European Central Bank, and the European Commission—the so-called Troika," the Varoufakis-led MeRA25 party said in a statement before Thursday's strike, referring to the International Monetary Fund.
"Their reach is global, and the victims of their inane policies are spread from Argentina to Greece and beyond," the leftist party added. "The fight against them is something that must unite all progressive forces."
News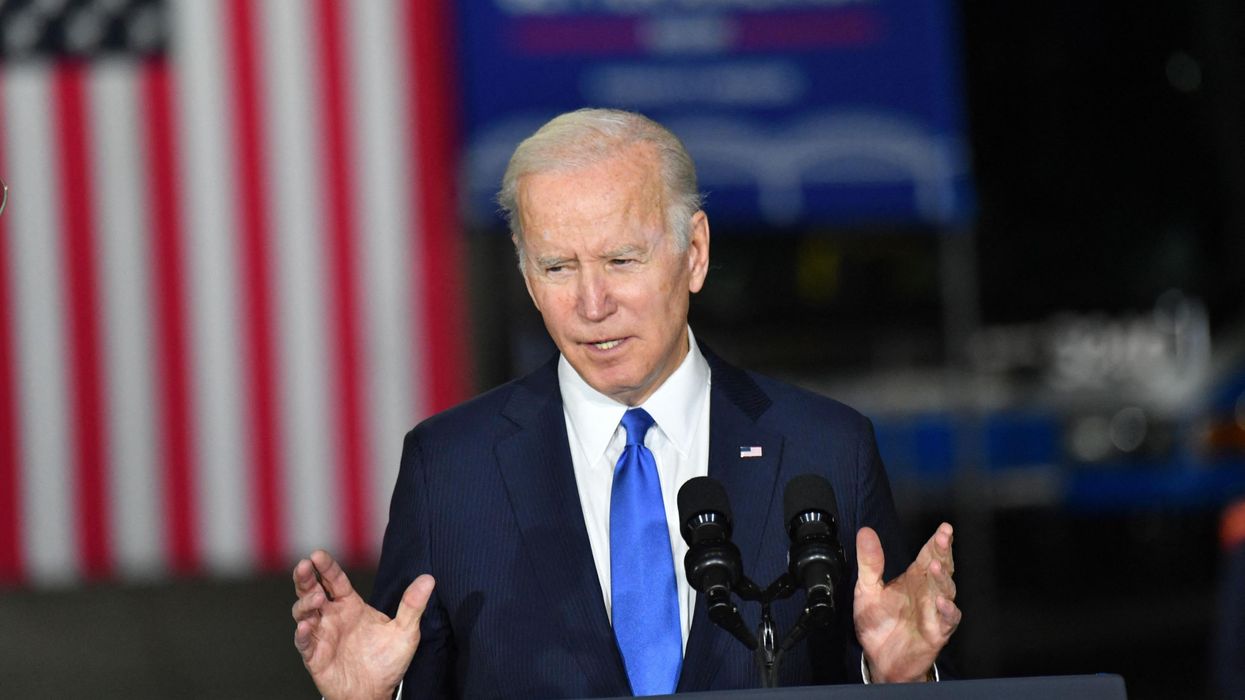 The president is "rightfully fighting to hold bank executives accountable for their failures," said Sen. Elizabeth Warren.
Days after U.S. Sen. Elizabeth Warren expressed outrage over the bonuses that Silicon Valley Bank executives were handing out hours before the bank failed, President Joe Biden on Friday called on Congress to strengthen regulatory powers to hold officials at failed banks accountable.
The president said in a statement that the White House's authority to hold SVB executives directly responsible for the failure is limited, but said Congress can and should pass legislation granting the Federal Deposit Insurance Corporation (FDIC) broader powers to take action against former SVB CEO Greg Becker and other executives.
He called on lawmakers to allow the FDIC to claw back compensation from executives, impose civil penalties, and bar executives from working in the financial services industry if their banks failed "due to mismanagement and excessive risk taking."
"I'm firmly committed to accountability for those responsible for this mess," said Biden. "No one is above the law—and strengthening accountability is an important deterrent to prevent mismanagement in the future. Congress must act to impose tougher penalties for senior bank executives whose mismanagement contributed to their institutions failing."
SVB and Becker himself raked in significant profits by largely serving wealthy tech companies, and took a risk by holding an "abnormally large ratio of uninsured deposits," as Warren said earlier this week. They also invested a large share of the funds into long-term Treasury bonds whose value plummeted as interest rates rose, causing the bank's clients to withdraw their money only to find SVB did not have sufficient funds on hand.
In addition to giving out bonuses hours before SVB collapsed, Becker sold roughly $3 million worth of shares of the bank in the weeks before the failure.

Currently
the FDIC can claw back compensation of executives of the nation's largest banks if they fail and can only impose other penalties if executives act with "recklessness" or "willful or continuing disregard."
Biden called for Congress to allow the regulatory agency to penalize executives for "negligent" conduct as well.
Warren applauded Biden's call, saying the president is "rightfully fighting to hold bank executives accountable for their failures."
"We need to claw back every penny of their unjust pay and bonuses, impose real penalties, and ensure these executives never work in the banking industry again," said the Massachusetts Democrat. "Congress must step up."

News
SUPPORT OUR WORK.
We are independent, non-profit, advertising-free and 100%
reader supported.