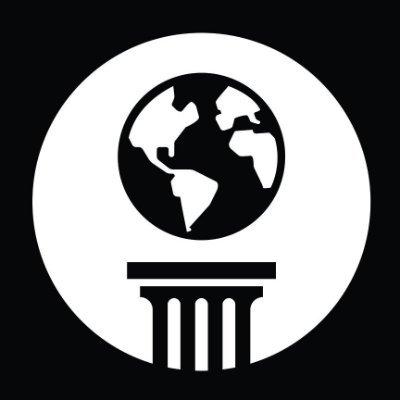 For Immediate Release
Contact:
Erin Fitzgerald, 415-283-2323
EPA to Ban Chlorpyrifos, Finally
Children and farmworkers secure long-awaited protections.
WASHINGTON
Today, the Environmental Protection Agency (EPA) issued a final rule banning all food uses of nerve-agent pesticide chlorpyrifos. According to the new regulation signed by the EPA today, all food uses of chlorpyrifos would be revoked six months from the final rule's publication in the Federal Register, which will likely happen in the coming weeks. Additionally, non-food uses of pesticide, such as mosquito control and nurseries, would be subject to review later in 2022. The agency will be posting their new final rule later today. In April, the 9th Circuit Court of Appeals ordered the EPA to ban all food uses of chlorpyrifos or retain only those uses it can find safe for children, as a result of a lawsuit filed by health and labor organizations represented by Earthjustice.
"It took far too long, but children will no longer be eating food tainted with a pesticide that causes intellectual learning disabilities. Chlorpyrifos will finally be out of our fruits and vegetables," said Earthjustice attorney Patti Goldman. "But chlorpyrifos is just one of dozens of organophosphate pesticides in our fields that can harm children's development. EPA must ban all organophosphates from food."
Earlier this month, Earthjustice released a report showing the wide-spread use of chlorpyrifos in the United States and how the country is exposed to this pesticide through drinking water, food, and air. This report documents the location and amount of chlorpyrifos usage in the United States, as well as the dangerous health effects associated with exposure. The data Earthjustice analyzed, which includes information on 16 other organophosphates, is available for the public to extract and explore in a searchable database at earthjustice.org/organophosphates.
Studies from Columbia University, University of California Berkeley, and other renowned institutions show that chlorpyrifos can damage the developing brains of children, causing reduced IQ, loss of working memory, and attention deficit disorders. Chlorpyrifos is just one among an entire class of chemicals known as organophosphate pesticides (OP), including sarin nerve gas. First developed by the Nazis for chemical warfare, OPs were later repurposed for agricultural uses. Dozens of organophosphates are used in fruits and vegetables in the United States.
Quotes from our clients:
"Today, we celebrate this huge victory alongside the men and women who harvest our food, who have waited too long for a ban on this pesticide," said Teresa Romero, president of United Farm Workers. "We are relieved that farmworkers and their families will no longer have to worry about the myriad of ways this pesticide could impact their lives."
"Today the EPA has released a plan that aligns with what scientists have known for decades: chlorpyrifos is much too dangerous to be using, and its continued use has put children, farmworkers and rural communities at risk," says Kristin Schafer, Executive Director at Pesticide Action Network (PAN).
"Scientific studies overwhelmingly show that prenatal and early childhood exposures to chlorpyrifos, even at low levels, disrupt children's brain development and can result in lower IQ, behavior and attention issues, and learning and developmental disabilities," said Tracy Gregoire with the Learning Disabilities Association of America. "Finally, we will protect future generations by stopping this acutely toxic pesticide from being sprayed into the air we breathe, the water we drink and the fruits and vegetables we eat."
"We are relieved that the EPA has finally put an end to the use of chlorpyrifos. Years of backtracking put the health of countless children and farmworkers at risk by negligently and intentionally overlooking the harms of a terrible pesticide," said Anne Katten, Pesticide and Work Safety Project director at the CRLA Foundation. "Finally, our fields are made safer for farmworkers and our fruits and vegetables are safer for our children."
"We are pleased that the EPA finally put a robust plan to ban chlorpyrifos in motion. This pesticide was banned for residential use some 20 years ago, because of its known impacts on children living in urban areas," said Jeannie Economos from the Farmworker Association of Florida. "Farmworker children in rural areas are just as valuable as children anywhere in the world, and it is unconscionable that it has taken so long to provide equal protection to these beautiful, yet vulnerable children in our agricultural communities."
"We are gratified that the EPA has released a chlorpyrifos plan that prioritizes science and truth over politics," said Miriam Rotkin-Ellman, Senior Scientist at Natural Resources Defense Council (NRDC). "The Trump Administration stalled regulations that would have prevented chlorpyrifos from further damaging human health. The EPA is now prioritizing scientific evidence and protect families from being poisoned by this very toxic pesticide, as it should have done long ago."
Earthjustice is a non-profit public interest law firm dedicated to protecting the magnificent places, natural resources, and wildlife of this earth, and to defending the right of all people to a healthy environment. We bring about far-reaching change by enforcing and strengthening environmental laws on behalf of hundreds of organizations, coalitions and communities.
800-584-6460
LATEST NEWS
"We are not voting in any way that will help Republicans," said Rep. Pramila Jayapal.
House Democrats made clear Tuesday that they will not help GOP Speaker Kevin McCarthy save his leadership job as the chamber prepares to vote shortly on far-right Rep. Matt Gaetz's motion to take the gavel from the California Republican.

"We are not voting in any way that will help Republicans," Rep. Pramila Jayapal (D-Wash.), the chair of the Congressional Progressive Caucus, told reporters at the U.S. Capitol, pointing to McCarthy's actions in the wake of the January 6 insurrection and his continued support for former President Donald Trump, as well as his refusal to honor the bipartisan debt ceiling deal, which nearly sparked a government shutdown.
"There is reason after reason to just let Republicans deal with their own problems," said Jayapal. "Let them wallow in their pigsty of incompetence and inability to govern."
Confident in his ability to survive the Gaetz-led revolt, McCarthy is expected to call a vote Tuesday on the Florida Republican's motion to vacate. A majority of the House lawmakers present for the vote is required for the motion to succeed.

At least six House Republicans have said they will vote yes on the motion, which would be enough to oust McCarthy if all Democrats also vote yes—though absences could impact the threshold. If the motion succeeds, a temporary speaker will take McCarthy's spot—and it's not yet clear when a new election will be held.
In addition to Gaetz, the five other Republicans who have indicated they will vote to vacate are Reps. Eli Crane and Andy Biggs of Arizona, Bob Good of Virginia, Tim Burchett of Tennessee, and Matt Rosendale of Montana.
A vote is expected later Tuesday afternoon.

In a "Dear Colleague" letter on Tuesday, House Minority Leader Hakeem Jeffries (D-N.Y.) signaled that Democrats are unified and "will vote yes on the pending Republican motion to vacate the chair."
"House Democrats remain willing to find common ground on an enlightened path forward," Jeffries wrote. "Unfortunately, our extreme Republican colleagues have shown no willingness to do the same. It is now the responsibility of the GOP members to end the House Republican Civil War."
Rank-and-file Democrats have thus far provided no indication that they will break from their leadership to rescue McCarthy, who agreed earlier this year to allow any single House member to bring a motion to vacate as part of his deal with far-right Republicans to secure the speakership.
Rep. Summer Lee (D-Pa.) said in a statement Tuesday that "McCarthy voted to sell out our democracy to a mob of armed white supremacists to become speaker."
"He then sold his speakership to help MAGA extremists criminalize abortion, cut Social Security and Medicare, ban Black history, gut workers' rights and voting rights, and sell out our children's safety to the gun lobby and corporate polluters," Lee added. "If we didn't stop him, he would have sold out the entire country to keep his little gig as speaker of the chaos caucus. Why would I—or any Democrat—vote for a Republican speaker who supports Donald Trump and white supremacists? It's a NO from me."
News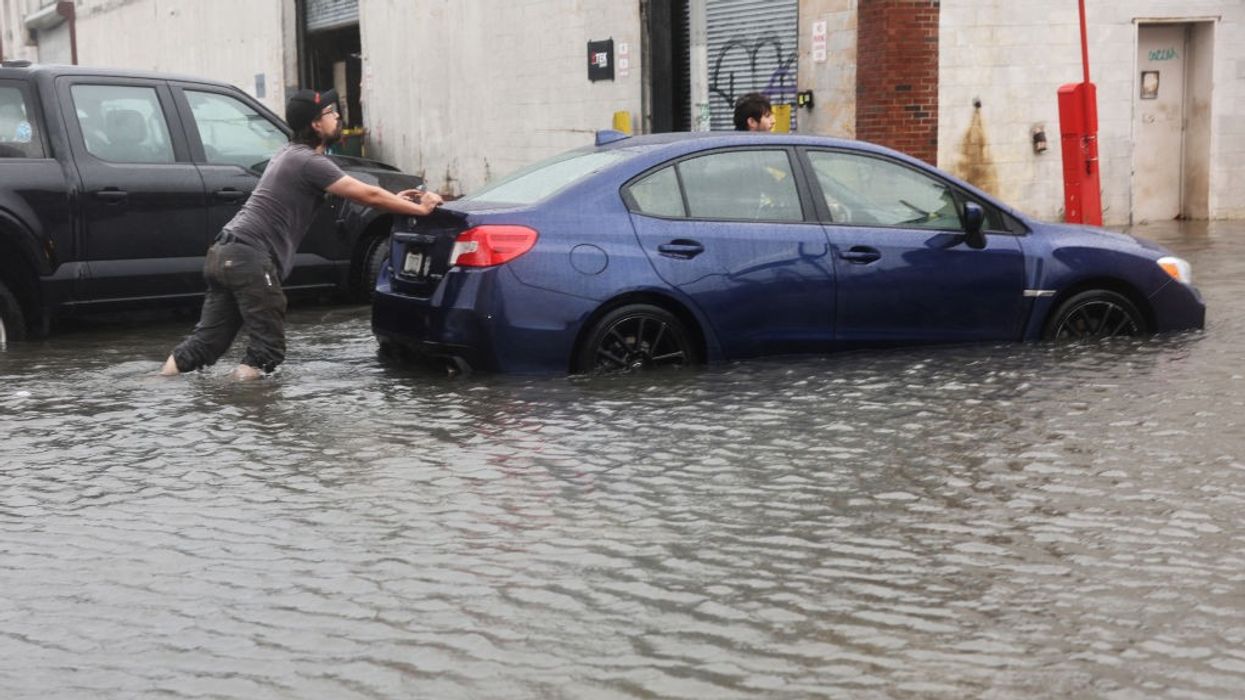 "Human-driven climate change is the primary driver, underscoring the urgent need for climate mitigation and adaptation efforts," one scientist said.
The climate crisis made the record-breaking storm that flooded the streets of New York City on Friday as much as 20% wetter than it would have been without the burning of fossil fuels, a new study has found.
The rapid attribution study from European group ClimaMeter published Monday concluded that Friday's extreme precipitation was "mostly strengthened" by global heating.
"Human-driven climate change plays a dual role, both intensifying these storms and warming the atmosphere," study coauthor Davide Faranda of the Institut Pierre-Simon Laplace in France toldThe Guardian. "Deeper storms yield more intense phenomena, while a warmer atmosphere can accommodate a greater amount of rain."
New York City on Friday certainly saw a "great amount of rain" as around eight inches fell on JFK airport, the most in a single day since record-keeping began in 1948, the study authors observed. The deluge flooded streets with nearly five feet of water, disrupting both underground and above-ground train service and prompting Democratic Gov. Kathy Hochul to declare a state of emergency.
"While no fatalities have been reported, scenes of chaos emerged as residents waded through knee-deep water in search for higher ground and drivers abandoned their vehicles on overwhelmed highways," the study authors wrote.
The immediate cause of Friday's storm was the meeting of cold air from Canada and warm air from the Gulf of Mexico, the study authors explained. While these types of events are part of regular weather patterns, the researchers used a peer-reviewed methodology to compare Friday's system to similar events between 1979 and 2000 and 2000 and 2022 in order to asses the influence of the climate crisis. In this case, they concluded that such low-pressure systems were not more intense, but are now producing more precipitation in the region and occurring later in the year.
Overall, they found that such storms now dump three to 15 millimeters of rain more per day than they did in the past, making them 10% to 20% wetter, according to The Guardian.
"Human-driven climate change is the primary driver, underscoring the urgent need for climate mitigation and adaptation efforts," study coauthor Tommaso Alberti of Italy's Istituto Nazionale di Geofisica e Vulcanologia told The Guardian.
Climate scientist Michael Mann, who was not involved with the research, told The Guardian that rapid attribution studies could leave out some factors involved with major storms but also concluded the climate crisis was responsible for the severity of the New York floods.
"New York is experiencing a very clear increase in these extreme—more than two inches per hour—rainfall events, and that's clearly tied to a warming atmosphere," he said.
Friday's floods have led to calls from New Yorkers for improved infrastructure and emergency communications, as well as broader calls for climate action.
New York's sewers are only capable of managing 1.75 inches of water per hour, according to The City. But some parts of the city saw as much as 2.5 inches an hour Friday, CNBCreported. A Federal Emergency Management Agency report published this summer warned that most of the nation's urban drainage systems were not up to the increased rainfall brought by a warmer atmosphere, as Mother Jones pointed out.
"The sad reality is our changing climate is changing faster than our infrastructure can respond," city Chief Climate Officer Rit Aggarwala told The City.
News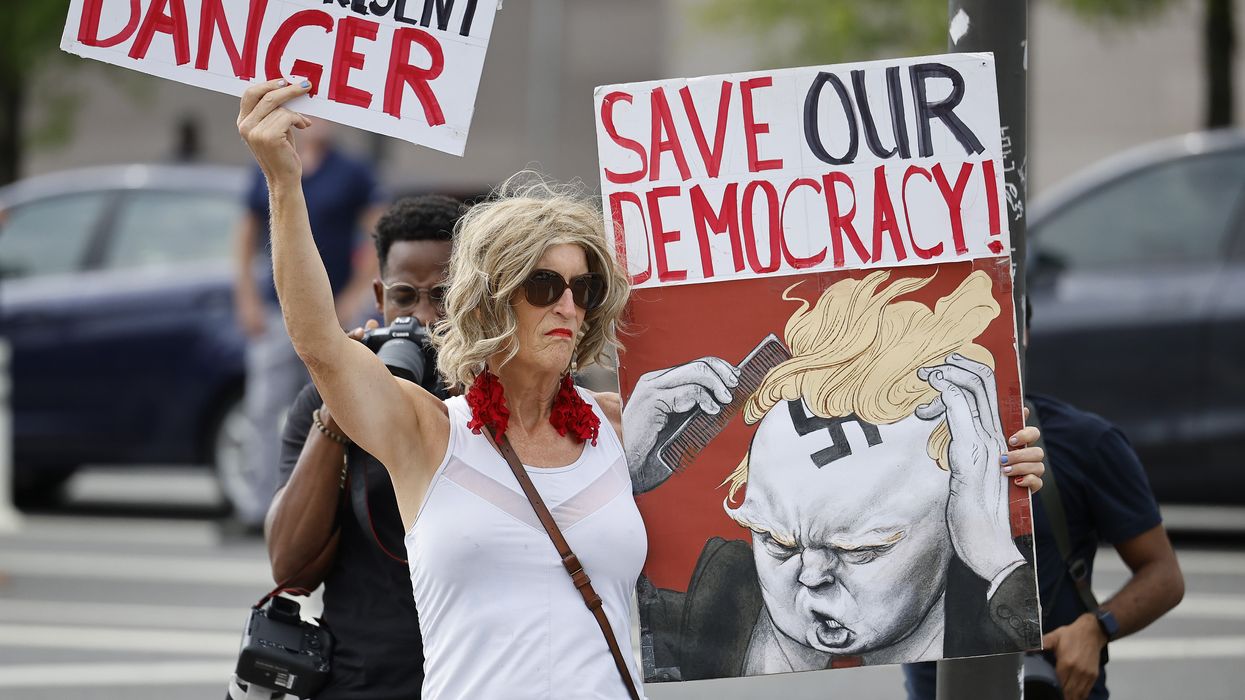 Republican Party politicians are so far "silent" about the lie, said MSNBC anchor Chris Hayes, "even though every last one knows how dangerous all this is."
With more than a year to go until the 2024 presidential election, top advisers to former U.S. President Donald Trump's campaign on Monday night claimed without evidence that the Democratic Party is trying to "steal" the election, echoing the lies spread before the 2020 election that fueled the violent January 6, 2021 insurrection at the U.S. Capitol.
Trump campaign officials called on the Republican National Committee (RNC) to "immediately cancel" the third GOP debate, which is scheduled to take place in Miami on November 8 and which Trump has indicated he will not attend, just as he skipped the first two primary debates.
Senior advisers Susie Wiles and Chris LaCivita called on the RNC to essentially terminate the primary election and "end all future debates in order to refocus its manpower and money on preventing Democrats' efforts to steal the 2024 election."
Long before voters went to the polls in the 2020 election, Trump repeatedly claimed that the Democratic Party was trying to "steal" or "rig" the vote by expanding mail-in voting—which the former Republican president himself had long utilized and which was expanded to help people vote safely amid the coronavirus pandemic—and made false claims about "fake polls" and absentee ballots.
Few in the Republican Party spoke out against Trump's pre-election lies in 2020, and MSNBC anchor Chris Hayes said Monday that the party is again signaling that it will "stay silent" about the former president's baseless accusations—"even though every last one knows how dangerous all this is."
Wiles and LaCivita claimed the RNC's continuation of primary debates amounted to "an admission to the grassroots that their concerns about voter integrity are not taken seriously" and that Republicans will not work to ensure "a safe and secure election."
Liberal commentator Ryan Shead said the latest ramp-up of election disinformation from Trump is a consequence of the former president's acquittal by Republicans in the U.S. Congress when he was impeached for inciting the January 6 insurrection.
As Vanity Fair correspondent Molly Jong-Fast wrote in May, Trump's lies about "stolen" elections are a central part of his 2024 strategy.
"Trump's supporters, by ignoring the 'fake news' and simply taking his word—or that of his propagandists—are left in post-truth reality," wrote Jong-Fast. "Even Trump seems to acknowledge how essential the subject of 2020 'fraud' is in the 2024 primary, tellingThe Messenger this week how if he didn't talk about it, 'I would actually be rebuked by a large portion of the Republican Party.'"

Trump is currently polling far ahead of his opponents in the Republican primary race, beating Florida Gov. Ron DeSantis by 48 points in the latest Morning Consult poll. The national survey showed Trump is currently tied with Biden.
News
Independent, nonprofit journalism needs your help.
Please Pitch In
Today!