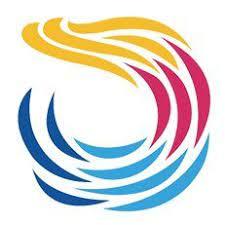 For Immediate Release
Contact:
Olivia Alperstein, Media Manager Institute for Policy Studies, olivia@ips-dc.org
Report: "Billionaire Wealth vs. Community Health" Finds Essential Workers Continue to Suffer as US Billionaires Gain Almost $1 Trillion Under Pandemic
A "delinquent dozen" pandemic profiteers, including owners of walmart, and ceos of amazon and target, failed essential workers and forced them to risk their health, while still profiting immensely.
WASHINGTON
Essential workers went underpaid, unsupported and forced to risk their health at corporations owned or operated by billionaires, even as the total wealth of America's billionaires rose by more than $1 trillion under the COVID-19 pandemic, according to a new report by the Institute for Policy Studies (IPS), United for Respect, and Bargaining for the Common Good Network. An analysis of billionaire wealth by IPS found that 647 U.S. billionaires gained $960 billion, almost $1 trillion in wealth between March 18, 2020 and November 17, 2020. There are 33 new billionaires since mid-March.
According to the report, during the pandemic, a "Delinquent Dozen" companies have vastly increased fortunes for their owners and CEOs but provided inadequate protection for their workers. The report authors portray these companies as emblematic of corporate greed that has grown rampant over the last 40 years. The corporations scrutinized in the report include: Walmart, Amazon, Instacart, Tyson Foods, and Target. The report also studied private equity and investment firms, including Blackrock, Blackstone, KKR, Cerberus Capital, BC Partners and Leonard Green Partners.
Ten of the billionaire owners of seven of these Delinquent Dozen Companies have a combined wealth of $433 billion. Since March 18, 2020, their combined personal wealth has increased $127.5 billion, an increase of 42 percent. These ten billionaires are Jeff Bezos (Amazon), Alice, Rob and Jim Walton (Walmart), Apoorva Mehta (Instacart), John Tyson (Tyson Foods), Steve Schwarzman (Blackstone), Henry Kravis and George Roberts (KKR), and Steve Feinberg (Cerberus).
Kenya Slaughter, an employee of Dollar General, owned in part by BlackRock, said, "I close the register many nights, so I know my store's revenue has practically doubled since the coronavirus hit. But we workers haven't gotten any extra money, even though we're risking our health, and our families' health, to keep the stores running."
"While Amazon's Jeff Bezos is on track to become the world's first trillionaire, the frontline workers like me who've built his fortune are treated like we're disposable," said Courtenay Brown, an Amazon Fresh warehouse worker in New Jersey and leader with United for Respect. "As the virus spikes, we get more and more orders, and Amazon expects us to work at inhumane rates. The pace is blistering and people get injured on the job a lot, people get sick, people are scared of catching COVID, and Amazon is not doing enough to protect our lives. It's time for Amazon's workers to get some actual compensation for the essential work we're doing -- we don't need feel-good TV commercials thanking us for being heroes, we need $5 an hour in hazard pay, paid sick leave, and workplace protections from this dangerous virus."
"Our communities are suffering. We've lost jobs, homes, loved ones and nearly 250,000 people in this country. This pandemic has underscored how our inequitable, racist system works," said Stephen Lerner, Senior Fellow, Kalmanovitz Initiative for Labor and the Working Poor, Georgetown University, and focused on Bargaining for the Common Good Network. "Essential workers keep going to work because they don't have any other choice. The executives of these companies, who are multi-millionaires and billionaires already, enrich themselves and their companies, profiting enormously while their workers suffer and die. It's time to protect workers and our communities and end a system that lets workers die while the billionaires get richer," he said.
"I have gone from making a reasonable income to questioning my ability to put food on the table, all while Instacart rolls out more and more public statements to fool consumers," said Shenaya Birkel, an Instacart employee. "While our economy is at risk due to quarantine, Instacart is cashing in more than ever. They had a huge opportunity to prove they care about the essential workers who do what their corporate employees would never do: shop in stores with COVID-19 floating around everywhere. Instead, they refused to offer hazard pay, over-hired, and actually decreased pay. It's time we get treated according to the risk we are facing every day," she said.
"These billionaire owners are like military generals sitting in protected bubbles sending their workers into the viral line of fire with insufficient shields," said Chuck Collins from the Institute for Policy Studies and co-author of the report along with an earlier IPS report, Billionaire Bonanza 2020. "It is sordid and unseemly for some to reap such rewards when millions risk their lives, their long-term health, and their livelihoods."
Charlene Haley, an employee of Safeway, which is owned by Cerberus Capital, said, "I go to work every day wondering if I am going to become infected, and my co-workers and I will continue to be at risk until a vaccine is widely available. We should receive hazard pay for as long as the hazard exists."According to the report:
The wealth of Amazon's Jeff Bezos has increased $70.7 billion since mid-March while an estimated 20,000 workers have been infected.
John H. Tyson, the billionaire owner of Tyson Foods, has seen his personal wealth increase over $635 million since the beginning of the pandemic as an estimated 11,000 Tyson workers have been infected.
Three owners of Walmart, Rob, Jim and Alice Walton, have seen their combined personal wealth increase over $48 billion since the beginning of the pandemic, about 30 percent increase. In 2018, Walmart's CEO Doug McMillion made 1,118 times the pay of Walmart's median worker. Yet Walmart refuses to provide hazard pay to its workers.
Instacart's profits have surged during the pandemic thanks to its essential workers on the frontlines of retail shopping for secluding customers. CEO founder Apoorva Mehta became an instant billionaire in June and is now worth $1.6 billion. He will see his wealth multiply when the company goes public in early 2021. Its current valuation is $30 billion, yet Instacart has over-hired 300,000 new workers and failed to provide sufficient protections.
Target CEO Brian Cornell is paid 821 times the median worker and his company has enjoyed a protected status as its competition was shut down during the pandemic as nonessential. The company enacted an already promised $2 increase in its starting wage but also cut the pay of its Target-owned Shipt delivery workers. Target could do more to protect its frontline employees.
The report also studied private equity and investment firms Blackrock, Blackstone, KKR, Cerberus Capital, BC Partners and Leonard Green Partners. The report found that the owners of these firms have seen their fortunes surge. The report also points out that private equity has moved into essential services such as health care, grocery provision and pet supply. And the report authors say that the business model of extreme cost cutting and debt loading in order to squeeze profits out of already profitable companies is fundamentally incompatible with the needs of protecting workers and communities during a pandemic. The report found that:
Leonard Green Partners acquired Prospect Medical Holdings, a major owner of hospitals. Investigations of Prospect Medical have found poor infection control and maintenance at its facilities. Workers at Prospect have been pressing for better infection protections, hazard pay, and safer working conditions. Over the last several years, Leonard Green saddled Prospect Medical with debt while paying dividends to shareholders and drawing scrutiny from Congress.
Private equity giant Blackstone owns TeamHealth, a company that early in the pandemic demoted a whistleblower doctor who went public about the company's lack of Covid-19 safety precautions and aggressive cost-cutting. Blackstone has saddled TeamHealth with debt and cost-cutting during the pandemic, resulting in a major downgrade of the company's bond rating. Blackstone founder and CEO Steve Schwartzman has seen his personal wealth increase $4.1 billion since the beginning of the pandemic.
Cerberus Capital owns a number of companies with frontline essential workers including Albertsons and Safeway supermarkets and the recently sold Steward Health Care. Steve Feinberg, the billionaire cofounder of the private equity firm has seen his personal wealth increase $276 million since the beginning of the pandemic. In June, Cerberus sold its primary stake in Steward Health to its doctors. But prior to the sale, they drew fire early in the pandemic by shutting down intensive care units in rural Massachusetts and failing to provide insufficient PPE equipment. Safeway markets had initial hazard pay that ended in June. Since then, Covid infections have increased 161 percent in Safeway stores.
The Dollar Stores, including Dollar General and Dollar Tree (owner of Family Dollar), have seen enormous profits during the pandemic. The investment services giant BlackRock has a large ownership stake in both companies. Dollar Tree CEO Gary Philbin is paid 690 times his median paid worker. Dollar General CEO Todd Vasos is paid 824 times their median paid worker. Understaffed stores and skimpy security pose one of many risks to workers during the pandemic, with an increase in assaults and even death when Dollar Store workers were attacked for asking a customer to wear a mask.
The two biggest pet supply retailers are both owned by private equity firms. PetSmart, owned by the UK-based BC Partners, and PetCo, owned by CVC Capital Partners, benefitted from the designations as essential businesses early in the pandemic, resulting in surging sales. That didn't stop PetSmart from furloughing and then permanently terminating workers across the U.S., causing them to lose health insurance and incomes. BC Capital leveraged PetSmart with debt, bought Chewy, and is now in the process of re-separating the companies to extract additional wealth. CVC Partners just announced it is looking to take PetCo public with a valuation of $6 billion, even with worker reports of serious health and safety issues.
To address pandemic profiteering, the report proposes three sets of recommendations:1) for companies employing essential workers, 2) for lawmakers to protect essential workers, and 3) for lawmakers to reduce the concentration of wealth and power of billionaires and the corporations they own. Key recommendations include:
Corporations employing essential workers should:
Immediately implement hazard pay of at least $5 per hour
Provide substantial paid sick leave benefits for workers to stay home when ill, quarantine when exposed, and care for sick loved ones, as well as paid bereavement leave for those who have had family members die from COVID-19
Provide, regularly replace, and upgrade high quality personal protective equipment (PPE) at no cost to all their essential workers
Establish workplace health councils to enable workers to actively participate in monitoring workplace conditions
Public policies needed to protect essential workers:
Establish a Presidential Commission on Essential Workers with on-the-ground, diverse worker representation.
Pass Essential Workers' Bills of Rights developed in collaboration with workers' organizations at local, state and federal levels.
Legislate the creation of workplace health councils so workers can monitor and participate in the enforcement of compliance with health and safety regulations and guidance.
Policies needed to target the pandemic profiteering of millionaires, billionaires and exploitative businesses such as private equity firms, include:
Levy an Emergency Pandemic Wealth Tax on billionaires to raise $450 billion and fund protections for essential workers.
Establish a Pandemic Profiteering Oversight Committee that goes beyond oversight of stimulus funds.
Institute conditions on corporations receiving federal pandemic financial support, including the requirement to retain workers, preserve workers rights, and institute policies and procedures to protect workers from exposure to the virus.
Pass the Stop Wall Street Looting Act (SWSLA) including elimination of the "carried interest" loophole that enables private equity and hedge fund billionaires to pay lower tax rates.
IPS published additional recommendations to reduce extreme wealth and power in its April report, Billionaire Bonanza 2020: Wealth Windfalls, Tumbling Taxes and Pandemic Profiteers.
Institute for Policy Studies turns Ideas into Action for Peace, Justice and the Environment. We strengthen social movements with independent research, visionary thinking, and links to the grassroots, scholars and elected officials. I.F. Stone once called IPS "the think tank for the rest of us." Since 1963, we have empowered people to build healthy and democratic societies in communities, the US, and the world. Click here to learn more, or read the latest below.
LATEST NEWS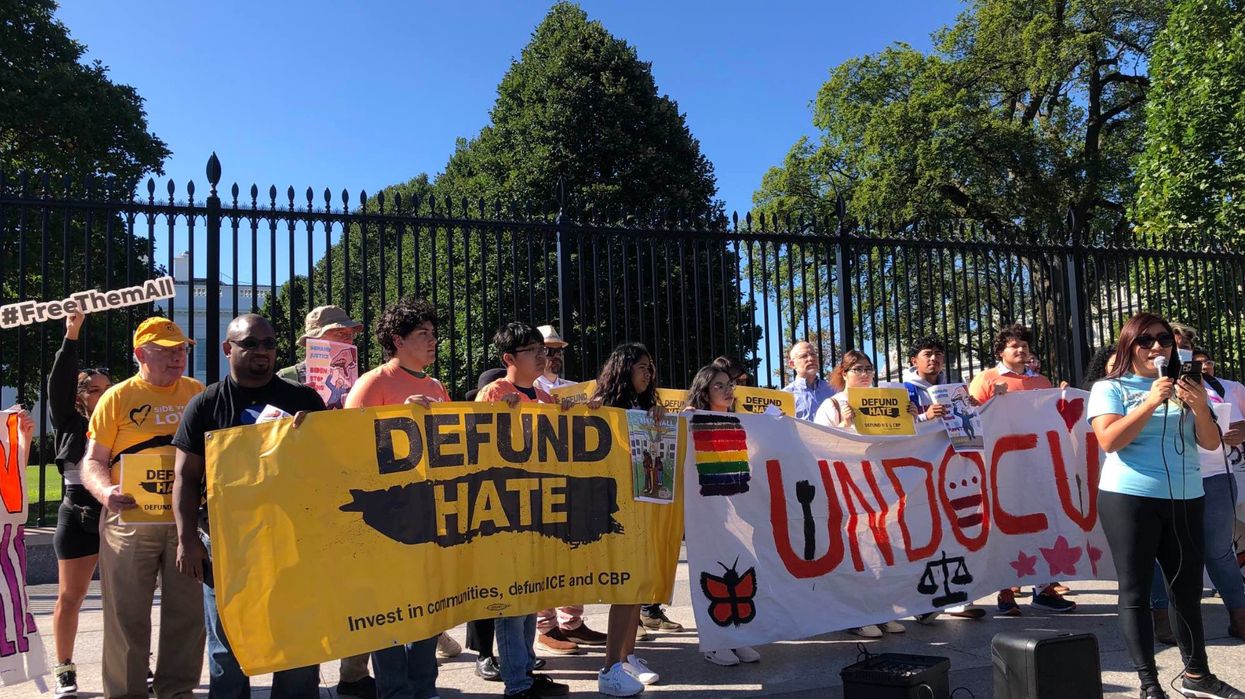 "Our tax dollars need to be used to strengthen our families and communities and uphold our human rights, not for the militarization of our beloved borderlands," said one activist.
A coalition of over 80 advocacy groups on Friday co-sponsored demonstrations in eight U.S. states and Washington, D.C. as part of a national day of action demanding the Biden administration close all federal immigration detention centers, release all migrants in custody, and end deportations.
Throughout his campaign, President Joe Biden "pledged to create an immigration system that is just and humane, including ending for-profit immigration detention," the coalition—which is organizing under the Defund Hate and Communities Not Cages banners—said in a statement.
"Our community is enraged and ready to push the Biden administration to fulfill his broken promises."
"However, after taking office, enforcement, detention, and surveillance have only increased and in July 2023, over 90% of detained immigrants are incarcerated in facilities owned and operated by private prison corporations that rake in billions of dollars in revenue," the groups continued.
Noting that at least 11 people have died during U.S. Immigration and Customs Enforcement (ICE) and Customs and Border Protection (CBP) detention during Biden's tenure, the coalition said that "the negligent death of 8-year-old Anadith Tanay Reyes Álvarez in CBP custody further highlights an immigration enforcement system beyond compassion and beyond repair."
"Our community is enraged and ready to push the Biden administration to fulfill his broken promises," the campaign added.
The activists are urging the Biden administration to:
Shut down federal immigration detention centers;
Defund ICE and CBP by cutting their funding in Biden's fiscal year 2025 budget request; and
Freeing everyone detained in federal immigration custody.
"We join our colleagues here in D.C. and around the country to demand the Biden administration to move away from the cruel imprisonment of immigrants, release those in ICE custody, end immigration detention, and halt all deportations immediately," Guerline Jozef, co-founder and executive director of the Haitian Bridge Alliance, said in a statement.
Protecting the civil liberties of those seeking a better life in the United States is a core tenant of our nation's democracy," Jozef added. "Throwing vulnerable people into prisons is deplorable—and often deadly."
Jovanny Hernandez, co-chair of the Southern Border Communities Coalition and an organizer for the New Mexico Dream Team,asserted that "it is our constitutional and human right for everyone to live free of inhumane treatment. Yet while the United States presents itself as a beacon of these human rights on the global stage, we continue to witness the violation of our rights at the southern border."
"Our tax dollars need to be used to strengthen our families and communities and uphold our human rights, not for the militarization of our beloved borderlands and the targeting, detention, and deportation of our families, neighbors, and newcomers seeking protection," Hernandez added.

Luba Cortes, immigrant defense coordinator at Make the Road New York, said: "ICE has a horrifying track record of mistreating immigrants—denying them access to legal counsel, denying them freedom, and severing them from their families. Despite this, our government continues to funnel billions of dollars into these detention centers."
"People should be able to navigate their immigration cases with dignity and respect and in the comfort of their homes, not from behind bars in a jail cell," Cortes argued. "It is time to hold this administration accountable. President Biden and Congress must stop wasting public money by unnecessarily punishing immigrants in these horrid facilities and instead focus on reinvesting resources into our communities."
News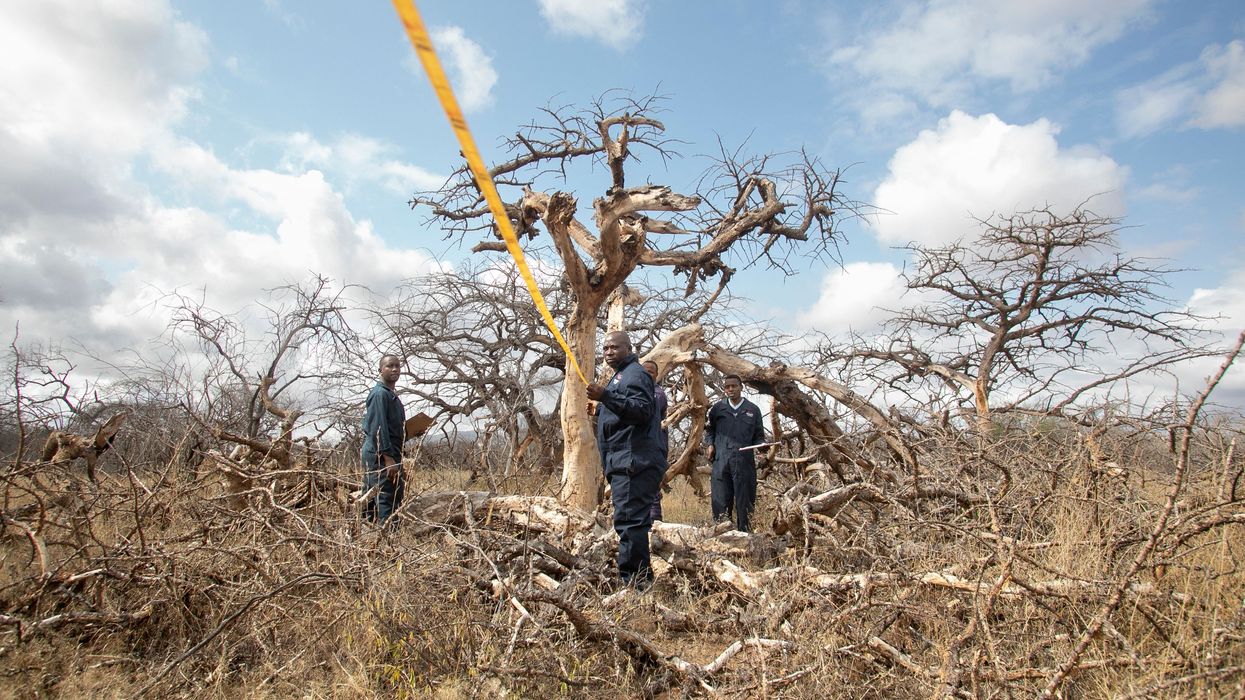 "Biodiversity, the climate, and Indigenous people or local communities are losing out on what should have been a system to drive meaningful financial flows to the forest conservation projects that so desperately need it," said one expert.
Echoing previous warnings from climate advocates and studies, an environmental watchdog on Friday released research from experts at the University of California which shows that trying to offset fossil fuel emissions with popular forest carbon credit projects "is a pipe dream."
As the new Berkeley Carbon Trading Project assessment—funded by Carbon Market Watch (CMW)—explains, "The voluntary carbon market generates credits, each nominally equivalent to one metric ton of carbon dioxide reduced or removed from the atmosphere, from a wide range of projects around the globe."
Critics have long argued that carbon credit schemes are "false solutions" that harm poor communities where such projects are based and enable companies worldwide to greenwash their polluting activity rather than implementing reforms or investing in action to actually combat deforestation and the climate emergency.
"Reducing Emissions from Deforestation and Forest Degradation (REDD+) is the project type that has the most credits on the voluntary carbon market—about a quarter of all credits to date," the assessment details. "These projects pay governments, organizations, communities, and individuals in forest landscapes (primarily tropical ones in the Global South) for activities that preserve forests and avoid forest-related greenhouse gas (GHG) emissions."
Over the past two decades, more than $3 billion has been poured into REDD+ and nearly half a billion carbon credits have been awarded, yet "deforestation is still continuing at an alarming rate," the report notes. Berkeley researchers' analysis of four methodologies that have generated almost all REDD+ credits—under Verra, the largest voluntary carbon market registry—revealed that estimated GHG emissions reductions were dramatically exaggerated.
"We found significant over-crediting from all of the factors we reviewed, the core causes of which are a combination of incentives and uncertainty," said Barbara Haya, who led the research. "Everyone involved in the voluntary carbon market, from the buyers and sellers of credits, to the registries who write the rules and the auditors who enforce them, all benefit from more credits."
"Large uncertainty in climate benefit calculations creates many opportunities for market participants to choose assumptions that inflate credits issued," Haya added. "Drawing on all evidence, we conclude that REDD+ is ill-suited for carbon offsetting."
As a CMW briefing published with the assessment summarizes:
Project baselines are significantly overestimated, the research found, leading to the creation of carbon credits that represent imaginary emission reductions.
Similarly, leakage is systematically underestimated by projects, which make use of flexibilities provided to them by the methodologies to downplay the risk of deforestation moving to areas outside of their project.
The creation of low-quality carbon credits is further fueled by exaggerated estimates of the quantity of carbon stored within the trees that are protected by projects.
The risk that the trees protected by REDD+ projects will die in the future is also drastically underestimated by projects, which again use methodological flexibility to misrepresent the real deforestation threat that forests will face in the future.
Finally, the safeguards implemented by Verra are weak, do not protect communities from harm, and are not properly upheld by the validation and verification bodies.
Verra
released
a lengthy response to the new assessment, which welcomed "the insight of the broader scientific and environmental community into our work on nature-based solutions," but also said that "it is important to note that the vast majority of findings and recommendations from this research align with extensive and systematic work to update the Verified Carbon Standard (VCS) Program that Verra has carried out over the last two years."
Inigo Wyburd, a CMW policy expert on global carbon markets, said that "we welcome Verra's willingness to engage with our research and hope that it will take on board our findings and implement all of our recommendations."
"Businesses are offsetting their emissions on the cheap by buying low-quality carbon credits connected to forest protection projects in the Global South," the expert added. "When only 1 in every 13 carbon credits represents a real emissions reduction, their action is lost in the forest."
Meanwhile, as Gilles Dufrasne, CMW's policy lead on global carbon markets, highlighted, "biodiversity, the climate, and Indigenous people or local communities are losing out on what should have been a system to drive meaningful financial flows to the forest conservation projects that so desperately need it."
"Offsetting should be axed," he argued. "It cannot work in its current form, and carbon markets must evolve into something different. The focus should be on getting money to the right place, rather than getting as many credits as possible."
As Patrick Galey, senior fossil fuels investigator at Global Witness, pointed out on social media Friday, the new research was released as the African nation Liberia is preparing to sign an offsetting agreement conceding 10% of its territory to Blue Carbon, a private company in the United Arab Emirates led by a member of an Emirati royal family.
Middle East Eyereported late that month that the deal for "control of one of the most densely forested territories" on the continent "would violate a number of Liberian laws, including the 2019 land rights law." Additionally, as CMW policy expert Jonathan Crook told the outlet, "there's no clarity as to what will be done to calculate what emission reductions have taken place."

News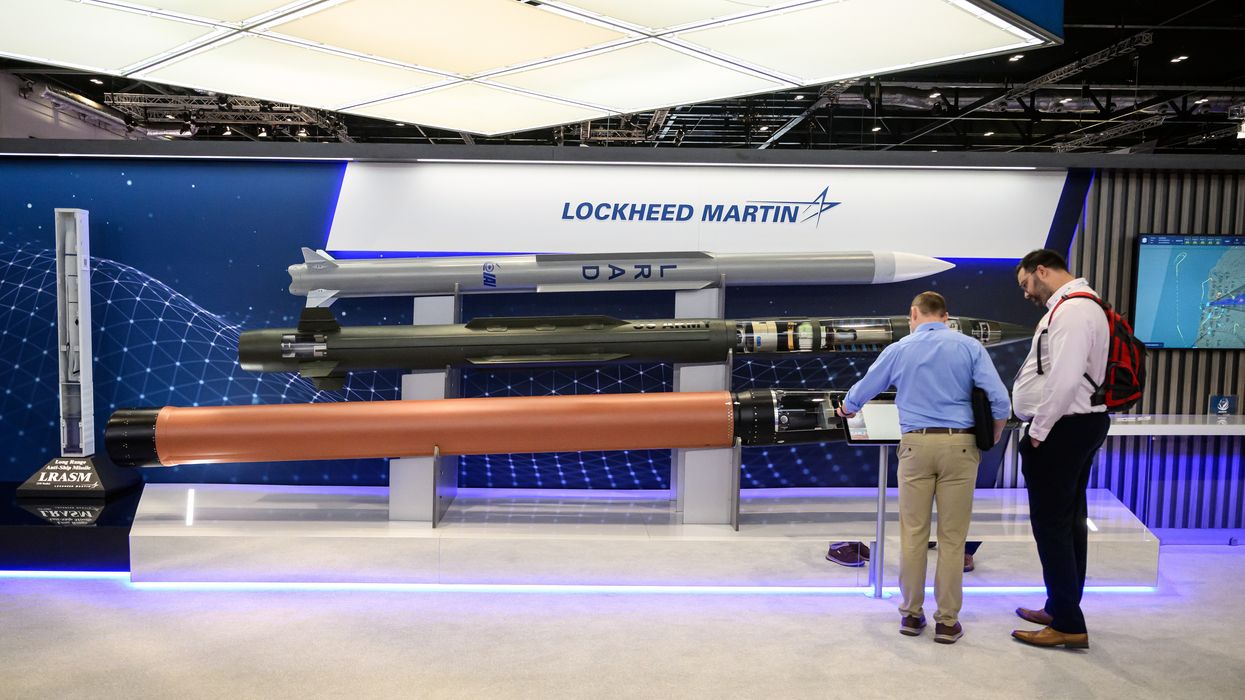 "Deals done at DSEI will cause misery across the world, causing global instability, and devastate people's lives," one peace activist lamented.

Military-industrial complex players big and small gathered in London this week, hawking everything from long-range missiles to gold-plated pistols to arms fair attendees—including representatives of horrific human rights violators—as weapon-makers and other merchants of the machinery of death reap record profits.
"War is good for business," one defense executive attending the biennial Defense and Security Equipment International (DSEI) conference at ExCel London flat-out toldReuters. "We are extremely busy," Michael Elmore, head of sales at the U.K.-based armored steelmaker MTL Advanced, told the media agency.
Russia's ongoing invasion of Ukraine and the West's scramble to arm Ukrainian homeland defenders have been a bonanza for arms-makers.
"Ukraine is a very interesting combination of First and Second World War technologies and very modern technology," Kuldar Vaarsi, CEO of the Estonian unmanned ground vehicle firm MILREM, told Reuters.
Saber-rattling and fearmongering by government, media, and business figures amid rising tensions between the U.S. and its allies on one side, and a fast-rising China on the other, have also spurred military spending, including Japan's $320 billion buildup announced last December.
"We think this is a longer-term essentially 'sea change' in national defense strategy for the U.S. and for our Western allies," Jim Taiclet, CEO of U.S. arms giant Lockheed Martin, told investors during a call earlier this summer announcing higher-than-expected sales and profit outlooks.
According to the Stockholm International Peace Research Institute, the United States, Russia, France, China, and Germany were the world's top arms exporters from 2018-22, with the five nations accounting for 76% of all weapons exports during that period. The U.S. accounted for nearly 40% of such exports during those five years, while increasing its dominance in the arms trade. The U.S. also remains by far the world's biggest military spender.
In addition to major corporations, middlemen like Marc Morales have also been profiting handsomely from wars in countries including Ukraine. Morales happened to have a warehouse full of ammunition in Bulgaria that the Pentagon originally intended for Afghanistan when Russia invaded its neighbor, and he has been richly rewarded as the U.S. spends tens of billions of dollars arming Ukrainian forces. He named his new $10 million yacht Trigger Happy.
Outside the sprawling ExCel convention center in London's Docklands, anti-war protesters rallied against the global arms trade and the death and destruction it fuels. The Guardianreported that at least a dozen demonstrators were arrested during the course of the conference, including nine on Thursday for blocking a road outside the venue.
Sam Perlo-Freeman, a researcher at the Campaign Against Arms Trade (CAAT), told The Guardian that "a lot of countries that are being talked about as new arms export markets are ones we would be concerned about."
"Egypt is a repressive regime and Vietnam an absolute dictatorship," Perlo-Freeman added. "Indonesia is involved in brutality in West Papua."
Emily Apple, also of CAAT, toldPeople's World that "the companies exhibiting read as a who's-who of the world's worst arms dealers."
"Israel is an apartheid state, and it is disgusting that the U.K. is not only selling weapons to Israel but encouraging Israeli arms companies to sell their weapons in London," she continued. "Representatives from regimes such as Saudi Arabia, who have used U.K.-made weapons to commit war crimes in Yemen, will be wined and dined and encouraged to buy yet more arms."
"Deals done at DSEI will cause misery across the world, causing global instability, and devastate people's lives," Apple added.
Inside ExCel, it was business as usual. Pressed by Declassified U.K. chief reporter Phil Miller on why Britain's right-wing government supports "selling arms to the Saudi dictatorship that sentences someone to death for tweeting," Minister of State for the Armed Forces James Heappey deflected.
Private sector leaders, however, have been more forthcoming. As Raytheon CEO Greg Hayes opined during a 2021 investor call touting the company's "solid" growth: "Peace is not going to break out in the Middle East anytime soon."

News
Independent, nonprofit journalism needs your help.
Please Pitch In
Today!