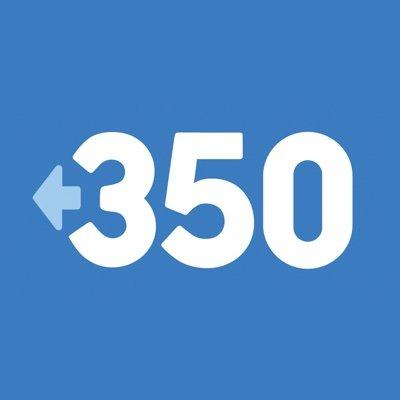 For Immediate Release
Contact:
Lindsay Meiman,Senior U.S. Communications Specialist,lindsay@350.org,us-comms@350.org,+1 347 460 9082,New York, USA
Facing downturn in U.S. and global markets, Big Oil targets Africa to dump plastics
NAIROBI, Kenya
American oil companies are keen to export more plastics to Africa through Kenya. According to the New York Times, a lobby group representing Big Oil and chemical companies, including Shell, Exxon and Total, has been pushing the US government to use a US-Kenya trade deal to dump petro-chemicals and plastics across Africa, to prop up Big Oil's dwindling profits amidst a global pandemic and an oil crash.
Letters from the lobby group, identified by Unearthed, also call for the lifting of limits on the plastics waste trade, a move which experts say amounts to an attempt to legally circumvent existing law in Kenya banning plastics which could have a domino effect in many other countries across Africa that have banned the single-use of plastics.
In reaction to these developments, Landry Ninteretse, Africa Team Leader at 350.orgsaid:
"It's not surprising that oil companies are feeling the heat, with science consistently demonstrating the link between fossil fuels and climate change. Big oil's time is up; the world is moving away from oil and gas. This proposal by oil companies to use their oversupply of oil to manufacture plastics and dump them in Africa is completely unacceptable.

For decades, Big Oil has used its power and influence to deny climate change and exacerbate social injustices and inequalities. But its treacherous actions are now being exposed. Africa is not their garbage dump. Instead of bringing more pollution here, they must pay for years of damage already done. Africans are more vigilant than ever, and we will not accept any more destructive activities to take place across the continent - be it in Kenya, or any other country.

We strongly condemn the actions of the American Chemistry Council and the big oil companies behind this lobby group and call upon the Kenya and US governments to throw out this proposal. The same energy and resistance demonstrated against the proliferation of fossil fuels on the continent will be deployed to combat this unfortunate adventure of a declining industry."
On February 6, President Trump and President Uhuru Kenyatta of Kenya announced their intent to begin free trade agreement (FTA) negotiations. If successful, it would be the first U.S. FTA with a country in sub-Saharan Africa, but it is now being hijacked by Big Oil.
350 is building a future that's just, prosperous, equitable and safe from the effects of the climate crisis. We're an international movement of ordinary people working to end the age of fossil fuels and build a world of community-led renewable energy for all.
LATEST NEWS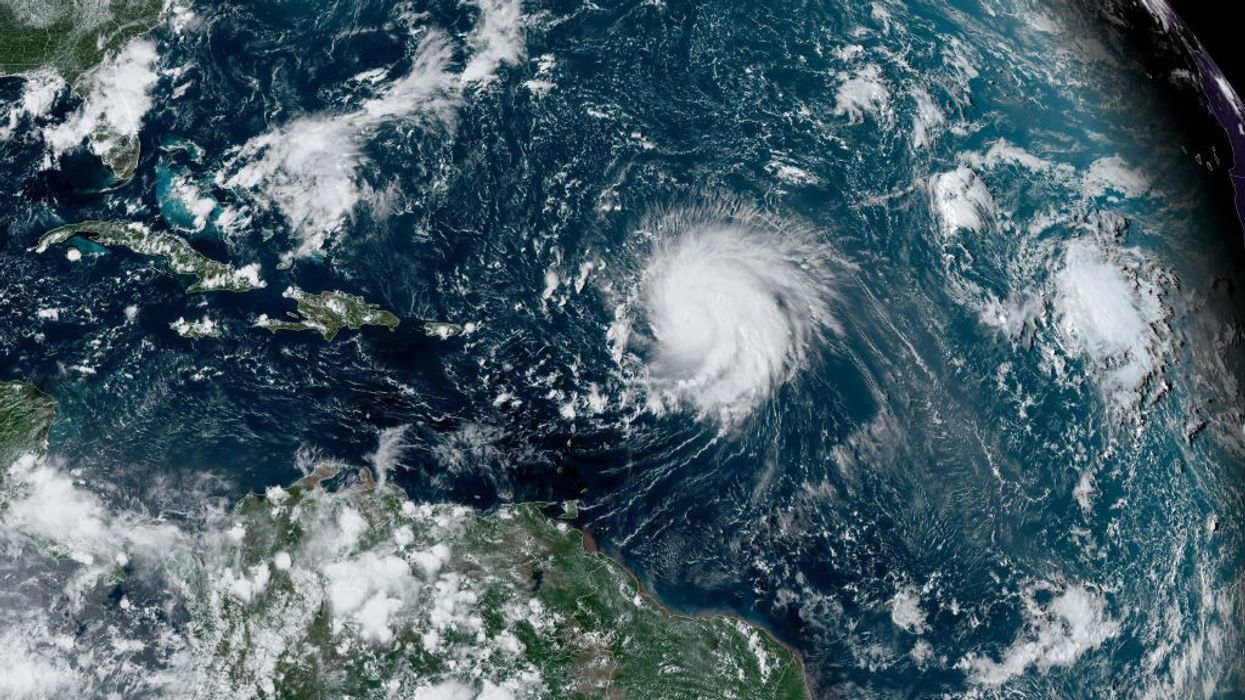 "This is your hurricane on fossil fueled climate change."
Hurricane Lee, which became a monster Category 5 before weakening over the weekend and which may or may not ever make landfall, is being treated as a warning by meteorologists and climate experts who say the storm's behavior over recent days could have dire future implications.
The National Hurricane Center said Saturday that Lee would move well north of Puerto Rico and the Virgin Islands but that dangerous beach conditions may be seen along the Atlantic coastline of the United States. On Thursday, the hurricane jumped from a Category 3 storm to a Category 5 in less than 24 hours at a pace faster than what is called "rapid intensification"—when sustained winds increase by 35 mph over the course of a day.
Marshall Shepherd, director of the University of Georgia's atmospheric sciences program and a past president of the American Meteorological Society, explained to the Associated Press how Hurricane Lee intensified at more than double that rate, moving it into a category he called hyperintensification.
"This one increased by 80 mph (129 kph)," Shepherd said. "I can't emphasize this enough. We used to have this metric of 35 mph, and here's a storm that did twice that amount, and we're seeing that happen more frequently." If future storms, fueled by increasingly hotter ocean temperatures, continue with this trend it will have disastrous consequences for regions that rarely, if ever, experience such powerful storms.
As Lee became reached Category 5 status on Thursday, meteorologist Jeff Berardelli pointed out the increasing frequency of storms reaching that threshold:
Responding to the same trend and data, climate movement organizer Jamie Henn said: "This is your hurricane on fossil fueled climate change."

And it's a global phenomenon, not just for hurricanes forming in the Atlantic. For the first time since records began, Category 5 storms (or the equivalent) have been recorded in each of the world's designated cyclone basins.
"Hurricanes are getting stronger at higher latitudes," warned Shepherd in his assessment. "If that trend continues, that brings into play places like Washington, D.C., New York and Boston."
As science and environment journalist Matt Simon wrote for Wired on Saturday:
Rapid intensification makes hurricanes extra dangerous because they change so quickly and dramatically as they approach the coastline. It's a bit like watching a driver who's cruising along at 25 miles per hour and then guns it right before hitting an obstruction. Residents might be expecting a storm they can ride out, but are instead faced with a full-scale hurricane that's quickly grown monstrous.
Exploring the science and talking with experts of rapid intensification, Simon explained why Lee is being treated as "a warning" and that people and communities should "get ready for more of this phenomenon as the planet warms."

News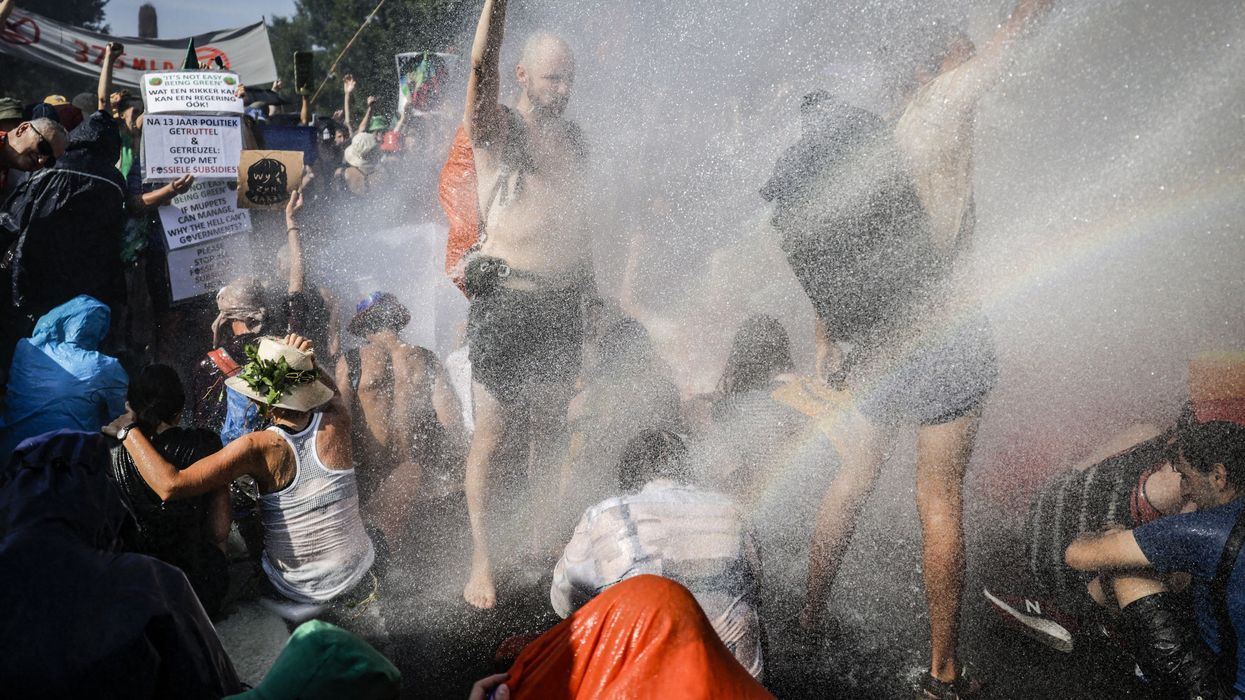 "While the world is going up in flames, the government continues to add fuel to the fire by propping up the biggest source of the climate crisis, fossil fuels, with billions in subsidies."
Climate campaigners calling for an end to fossil fuel subsidies were fired upon with water cannons and physically abused Saturday near The Hague in the Netherlands as the global movement demanding an end to the dominance of the coal, oil, and gas industry continues to call on world leaders to act.
Members of Extinction Rebellion spearheaded the direct action on the A12 Utrechtsebaan highway near the center of the Dutch government. With an estimated 10,000 participants overall, the jovial protesters sat down in the road, bringing traffic to a standstill as they chanted, "The seas are rising and so are we!" even as police vehicles sprayed them with water at high velocity.
The Associated Press reported that the protesters vowed to stay until the Netherlands ends public subsidies for the fossil fuel industry or, if removed by police, to return each day until the financial support is suspended.
"This is much larger than any one of us," one participant, Yolanda de Jager, told the AP. "This concerns the whole world."
Dutch police carted some protesters off in carts while others were beaten with batons or dragged off the roadway:
Earlier this week, a new report detailed how the Dutch government spends nearly $38 billion in taxpayer funds each year to support fossil fuels. The authors of the peer-reviewed report—a joint research effort by SOMO, Oil Change International, and Milieudefensie—argued that such subsidies should be eliminated by 2025 in order to help the nation meet its emission reductions goals and also help fund the necessary transition to renewable energy.
"Phasing out fossil subsidies kills two birds with one stone: it reduces fossil fuel emissions and raises additional revenue needed to accelerate a social and equitable transition," said Audrey Gaughran, director of SOMO, also known as the Centre for Research on Multinational Corporations.
OCI director Elizabeth Bast said, "The Netherlands has taken the international stage to promise an end to fossil fuel subsidies multiple times already, but it is failing to live up to its promise."
"While the world is going up in flames, the government continues to add fuel to the fire by propping up the biggest source of the climate crisis, fossil fuels, with billions in subsidies," she added. "With an urgent and fair phase-out plan the Netherlands can deliver on longstanding promises and take the lead within the EU and internationally to ensure other countries follow through."

News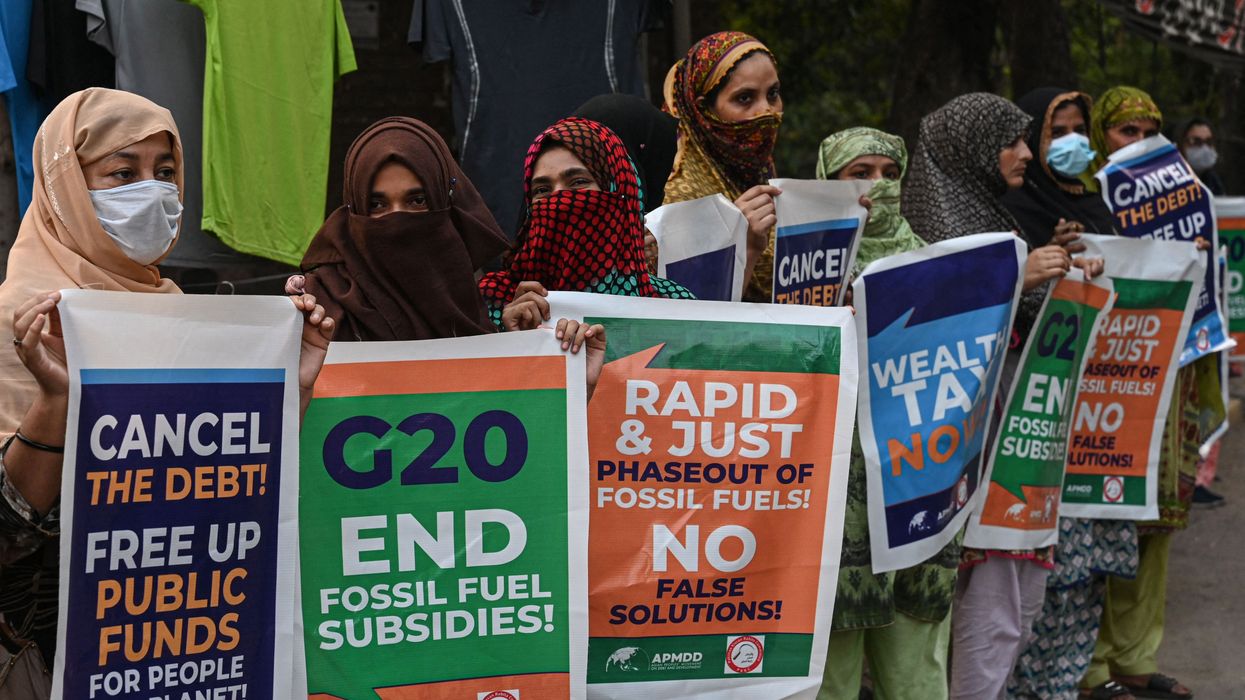 "Fossil fuels are killing us, and the G20's reckless failure to act will be measured in further lives and livelihoods lost," said one campaigner who noted the refusal by rich nations to pledge a phaseout of oil, coal, and gas.
Climate groups cried foul Saturday after an agreement generated at the G20 summit in New Delhi, India failed to see the world's wealthiest bloc of nations make anywhere near the kind of climate commitments—namely an agreement to phase out fossil fuels—required to address the planetary emergency fueled by greenhouse gas emissions.

Greenpeace described the lackluster pledge, which came in the form of a joint G20 communique, as an "incomprehensible failure" in the face of a runaway climate crisis that continues to wreak havoc, death, grave injustice, and economic disaster for working people across the globe.
"Despite record-shattering temperatures, raging wildfires, drought, floods and other climate disasters over recent months impacting tens of millions of people, G20 leaders have collectively failed to deliver anything meaningful on climate change this year," said Tracy Carty, a global climate politics expert for Greenpeace International.
"Fossil fuels are killing us, and the G20's reckless failure to act will be measured in further lives and livelihoods lost," Carty added. "Leaders failed to reach agreement on the phaseout of coal, oil and gas. They also made a timid commitment to triple renewables, but only through 'existing targets and policies.'"
Alex Rafalowicz, director of the Fossil Fuel Non-Proliferation Treaty initiative, also expressed dismay with the lack of ambition shown by the G20 leaders.
"World leaders, particularly rich countries, need to rise to the occasion and fulfill their fair share of responsibilities in the fight against the climate crisis. Anything less would be an affront to both humanity and our planet."
"Continued dependence on fossil fuels remains a primary driver of climate change, carrying dire and irrevocable consequences for ecosystems, communities, and the global economy," Rafalowicz said in a statement on Saturday.
The failure by the richest nations in the world "to come up with anything substantial on fossil fuel phaseout is unacceptable," he said. "World leaders, particularly rich countries, need to rise to the occasion and fulfill their fair share of responsibilities in the fight against the climate crisis. Anything less would be an affront to both humanity and our planet."
The G20 summit in India comes ahead of one-day United Nations climate summit that kicks off in New York City next week and a meeting of the UN General Assembly. While a major protest march by hundreds of climate-focused groups is planned for Sept. 17, the global movement calling for a just energy transition has seen few signs of hope as increasingly severe extreme weather events and dire warnings from the scientific community continue in the face of rising emissions.
UN Secretary General António Guterres, who is hosting what he's dubbed the "Climate Ambition Summit" in New York, suggested his disappointment with the G20's limited statement.
"Half-measures will not prevent full climate breakdown," Guterres said Saturday afternoon. "Today I urged the G20 to demonstrate far more ambition on reducing emissions and supporting climate justice. We have one planet. Let's save it."
While some applauded the G20 for the vow to ramp up renewables by the end of the decade, critical experts said an increase in green energy is simply not enough if fossil fuel companies are allowed to continue to extract and burn oil, gas, and coal.
"The G20's commitment to triple renewable energy is a historic step—a glimmer of hope in our battle against climate chaos," said Andreas Sieber, associate director of global policy at 350.org, but added that it was still not time to celebrate.
"We must hold them accountable, demand they phase out fossil fuels, and lead with urgency," Sieber added. "In particular, rich nations who bear the most responsibility for climate change must provide the finance required to achieve a tripling of renewable energy capacity globally by 2030."

Avinash Chanchal, campaign manager at Greenpeace India, said the lack of concrete financing commitments from the rich nations makes such lofty goals around renewables hard to stomach, especially as these top polluting countries remain responsible for 80% of global emissions.
According to Chanchal, "G20 developed countries have utterly failed to take concrete steps to increase international financial support for climate action. Existing promises such as providing USD100BN per year until 2025 in climate finance remain unfulfilled, and merely reiterating these promises in the G20 declaration is useless and will not lead to tangible change."

News
Independent, nonprofit journalism needs your help.
Please Pitch In
Today!