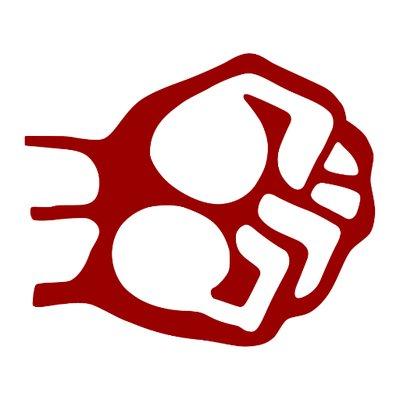 Grassroots Coalition Launches Campaign Calling on 2020 Presidential Candidates to Break Up Amazon, Facebook, Google and Other Big Technology Monopolies
WASHINGTON
A grassroots coalition has launched a petition calling on all 2020 presidential candidates to commit to breaking up big technology monopolies like Amazon, Facebook, and Google. The coalition includes Demand Progress, MPower Action Fund, Action Center on Race and the Economy (ACRE), Daily Kos, Presente Action, Progress America, RootsAction.org, and The Other 98%.
The launch of the petition coincides with an anti-monopoly day of action led by Athena, which is a coalition of almost 50 organizations focused on stopping Amazon's corporate takeover of democracy, society, and the economy.
The following can attributed to Salma Mirza, Senior Campaigner at Demand Progress:
"Big technology monopolies like Amazon, Google, and Facebook provide useful services, but their immense power and control have damaged democracy and the global economy. Everyone should be able to enjoy the benefits of digital technology and online commerce without having to sacrifice the wellbeing of our communities and democracy itself. But billionaire CEOs and tech monopolies rig the rules so they can build corporate empires that mistreat their workers, help the government cage children and deport immigrants, crush small businesses and innovation, and support the rise of racist surveillance technology.
"Amazon, Facebook, and Google are too big to be managed responsibly and need to be fundamentally transformed. That's why we're calling on all 2020 candidates to commit to breaking up big tech monopolies if elected President. The future of our democracy shouldn't be left to the whims of a few reckless billionaire CEOs and their dangerous corporate empires."
The full text of the petition reads: "We believe the empire-building of big tech monopolies like Amazon, Facebook, and Google, is a threat to our democracy and economy. We urge you to commit to use existing anti-monopoly laws to break up big tech monopolies if elected President, including by appointing Federal Trade Commissioners and Department of Justice officials who will make breaking up big tech a priority."
The petition and more background information can be found online at https://actionnetwork.org/petitions/tell-2020-presidential-candidates-to-breakupbigtech?source=media
For more information on Athena, see the NYT article on the public launch: https://www.nytimes.com/2019/11/26/technology/amazon-grass-roots-activists.html and Athena's website: https://athenaforall.org/
Demand Progress amplifies the voice of the people -- and wields it to make government accountable and contest concentrated corporate power. Our mission is to protect the democratic character of the internet -- and wield it to contest concentrated corporate power and hold government accountable.
LATEST NEWS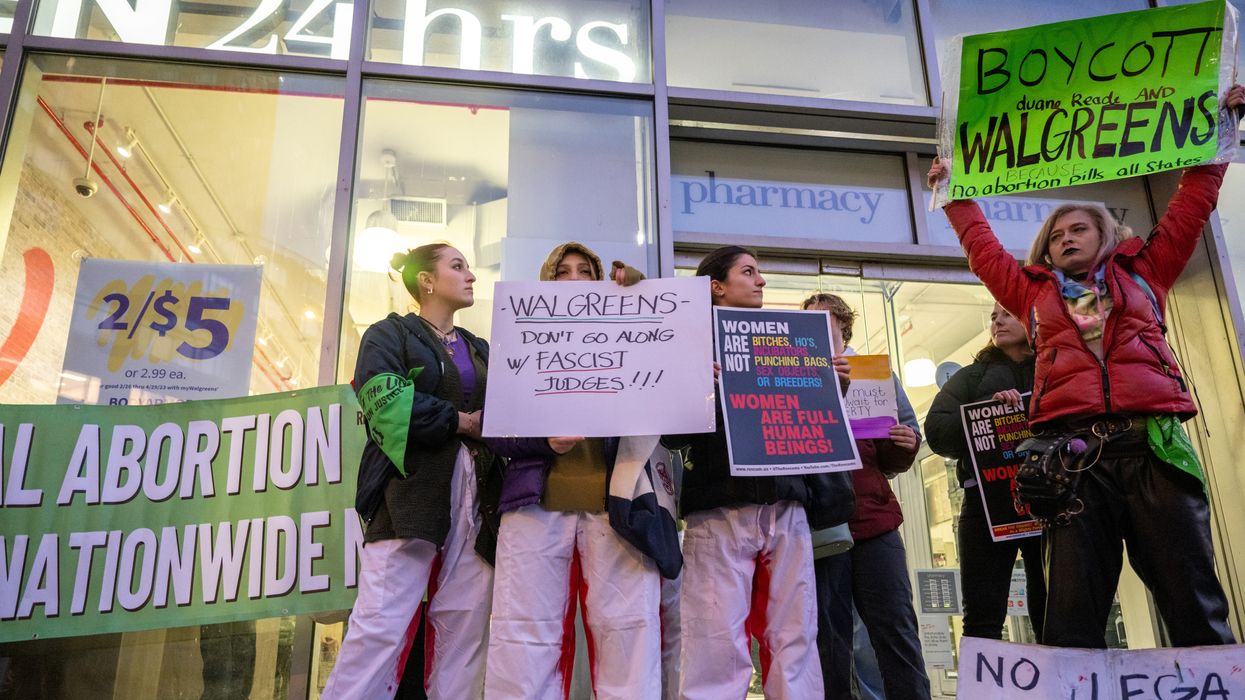 "As companies that dispense critical, lifesaving medications, we urge that your decisions continue to be guided by well-established science and medical evidence and a commitment to the health and well-being of patients—not politics or litigation threats," wrote 14 governors.
With Walgreens under fire for its new abortion pill policy, 14 Democratic U.S. governors on Tuesday asked the corporate leaders of seven other major pharmacies to clarify their plans to lawfully distribute abortion medication like mifepristone.
The Food and Drug Administration (FDA) in January announced a regulatory change to allow retail pharmacies to dispense mifepristone, one of two medications commonly taken in tandem to induce abortion. The move came after the U.S. Supreme Court last summer reversedRoe v. Wade with its 6-3 ruling in Dobbs v. Jackson Women's Health Organization.

In the wake of the high court decision, patients have had to contend with trigger laws, new efforts to enact abortion bans, and other attempts by right-wing political leaders to cut off access to healthcare, including 20 GOP state attorneys general who last month threatened legal action against Walgreens and CVS if they dispense abortion medication by mail.

While shortly after the FDA announcement both pharmacy giants confirmed they planned to seek certification to distribute mifepristone, Walgreens later clarified it won't offer the drug in states where Republican AGs have threatened legal action—prompting California Gov. Gavin Newsom last week to not renew his state's $54 million contract with Walgreens.

Newsom is spearheading the Reproductive Freedom Alliance and on Tuesday joined the Democratic governors of Illinois, Maine, Maryland, Massachusetts, Michigan, Minnesota, North Carolina, New Jersey, New Mexico, New York, Oregon, Washington, and Wisconsin in sending letters to the leaders of Costco, CVS, Health Mart, Kroger, Rite Aid, Safeway, and Walmart.

As the governors wrote:

We are deeply committed to protecting and expanding reproductive freedom and the health and well-being of all of our residents. As governors of 14 states, we not only represent over 141 million residents with a combined economy of over $11 trillion, but we are also direct customers who have partnered with many of your companies for years on a variety of issues and initiatives. We understand you are carefully reviewing the new mifepristone certification process. We look forward to receiving your plans for dispensing mifepristone in states where such care is legal, as well as any other actions you plan to take to safeguard access to reproductive healthcare.

"As companies that dispense critical, lifesaving medications, we urge that your decisions continue to be guided by well-established science and medical evidence and a commitment to the health and well-being of patients—not politics or litigation threats," the governors added.

Meanwhile, Sens. Patty Murray (D-Wash. ) and Debbie Stabenow (D-Mich.) revealed a series of letters—backed by several Senate Democrats—sent to various pharmacy leaders in recent days. They wrote to Walgreens' chief executive officer "with grave concerns about the misunderstanding and confusion your company has created with regard to patients' access to mifepristone from retail pharmacies."

Walgreens' response to Republican attorney generals' pressure "was unacceptable and appeared to yield to these threats—ignoring the critical need to ensure patients can get this essential healthcare wherever possible," the senators continued. "As you work through the FDA certification process, we urge you to fully assess the laws in each state and ensure your policies provide the strongest possible legal access to this critical patient care."
Stabenow told NBC News, which first reported on the senators' letters Tuesday, that "in no way, shape, or form should businesses deny legal healthcare to women who have the right to access this vital medication. All businesses should follow the FDA certification process and fully comply with applicable state and federal law."
The Senate Democrats wrote to the CEOs of Albertsons, Costco, Kroger, and Walmart "with great frustration" that none of them has publicly indicated whether they plan to allow customers to access mifepristone through their pharmacies across the country.

After expressing concern that GOP intimidation tactics could "lead companies like yours to continue to sit on the sidelines and undermine critical care for your customers," the senators urged those four pharmacy chains "to pursue policies that provide the strongest possible access to the full range of essential healthcare they need, including mifepristone, and to communicate clearly to your customers about how they can access this care."

"We look forward to hearing back from you by March 21, 2023 about your intentions to ensure access to this critical FDA-approved product," the lawmakers added.
In letters to CVS and Rite Aid leadership, the Senate Democrats expressed appreciation for both chains' ongoing efforts to become distributors of mifepristone while also stressing that "at a time of great confusion about abortion access, it is imperative that no company adds to it."

The senators asked both companies' leaders to respond to three questions by March 21:

If certified, how do you plan to notify current customers about access to mifepristone in any given state, where restrictions do and do not exist?
If a new state law to restrict access to medication abortion is proposed, at what stage will you clarify to your customers whether they still have access to mifepristone?
Will your company conduct any community outreach to ensure customers are aware of the full range of legal health services available to them?
"Medication abortion is how most women across our country get abortion care," Murray told NBC, "and it's absolutely critical patients can access this safe, FDA-approved drug without being forced to jump through medically unnecessary hoops or drain their bank accounts to travel hundreds of miles."
The questions and concerns about accessing mifepristone at retail pharmacies come as patients and providers nationwide prepare for a secretive Wednesday hearing before right-wing U.S. District Court Judge Matthew Kacsmaryk regarding an anti-choice group's effort to limit abortion access by arguing that the FDA never should have approved the drug over two decades ago.

News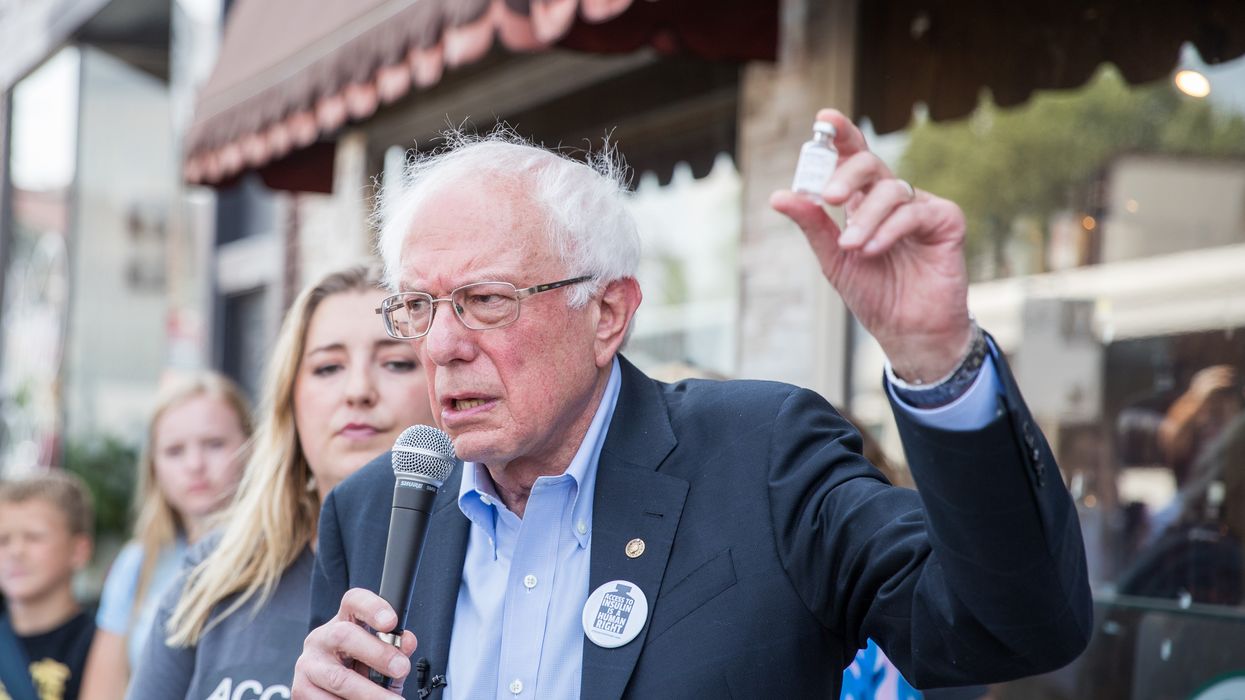 The senator introduced legislation last week to cap insulin prices at $20 per vial.
Crediting advocacy groups with pressuring two out of the three pharmaceutical companies that supply insulin to patients with diabetes in the United States to drastically lower their prices, Sen. Bernie Sanders on Tuesday called on the last of the trio, Sanofi, to do the same while arguing price caps should be mandatory—not a choice.
Novo Nordisk on Tuesday announced that it will cut prices by up to 75% for some of its insulin products starting next year, less than two weeks after one of its rival companies, Eli Lilly, said it plans to slash prices for its most widely used insulin products by 70%.
A vial of one of Novo's products, NovoLog, will drop from more than $289 to just over $72, and the insulin product FlexPen will cost $139, down from more than $500, starting January 1, 2024.
The price changes come after the price of insulin for patients has more than tripled in recent decades, with deadly consequences for some of the eight million Americans who rely on synthetic insulin to convert food into energy. A study based on the 2021 National Health Interview Survey last November found that 1.3 million people in the U.S. rationed their insulin supply in 2021 due to the drug's prohibitive cost.
Sanders (I-Vt.) noted that "grassroots pressure" forced Eli Lilly and Novo this month to announce major price cuts, but said that as chairman of the Senate Health, Education, Labor, and Pensions (HELP) Committee he "will soon hold a hearing on the need to guarantee insulin at an affordable price to everyone who needs it," suggesting that voluntary price cuts by companies are not sufficient.
Public pressure by groups including Patients for Affordable Drugs and Lower Drug Prices Now has resulted in some recent insulin price reforms, including a provision that took effect in January capping insulin copayments at $35 per month for Medicare recipients.

As Common Dreams reported last week, days after Eli Lilly announced its voluntary price cuts, Sanders, a longtime advocate of affordable insulin, joined Rep. Cori Bush(D-Mo.) in introducing legislation that would prohibit pharmaceutical companies from charging more than $20 for a vial of insulin. President Joe Biden has called for the product to be capped at $35 per vial for all patients—a proposal that Senate Republicans voted down last year.
Novo's announcement, said Biden, "builds on the important progress we made last year when I signed a law to cap insulin at $35 for seniors. I urge all other manufacturers to follow suit and Republicans in Congress to join us and cap insulin at $35 for all Americans."
Advocacy groups also called on Sanofi, the third insulin manufacturer for American patients, to follow its rival companies' lead and introduce price cuts.
"Let's keep fighting," said Lower Drug Prices Now, "so that patients can afford any medicine they need."

News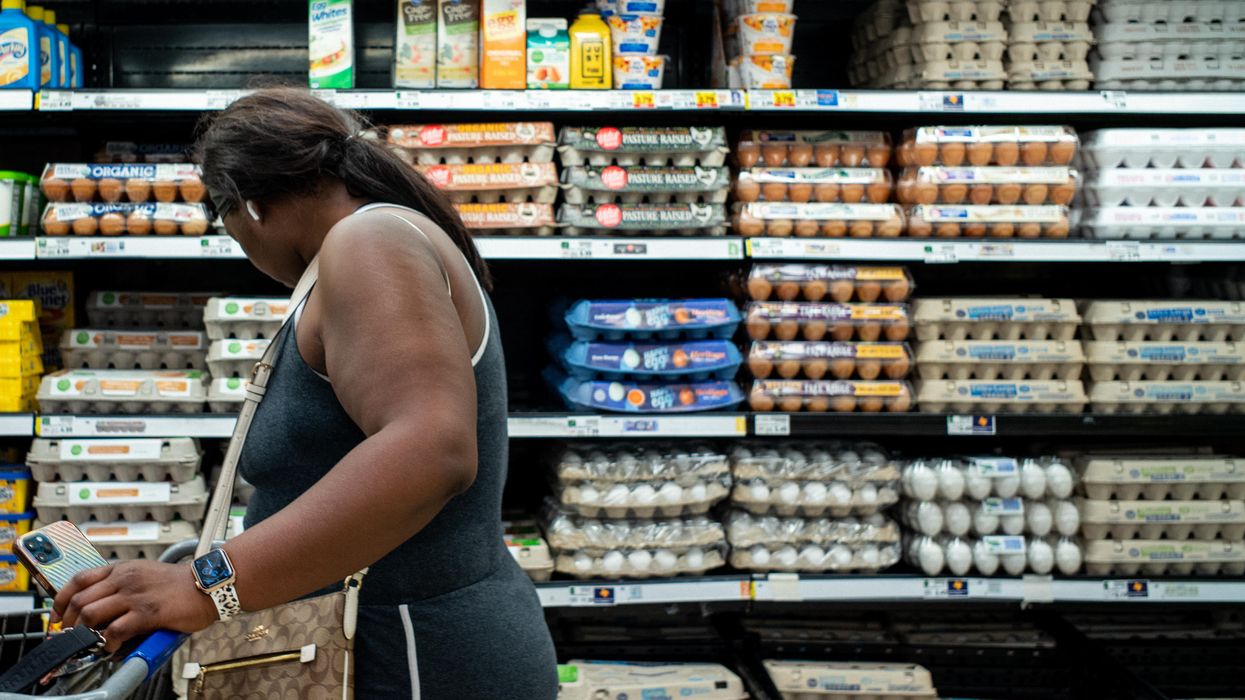 "This deal is an antitrust travesty and it must be stopped," says a letter urging the FTC to block the proposed $25 billion merger between two of the nation's largest grocery chains.
A progressive coalition of more than 100 unions and consumer advocacy groups from across the United States has come together to build the "Stop the Merger" campaign, a national and state-level effort to prevent Kroger from acquiring Albertsons and establishing the country's most powerful grocery cartel.
On Tuesday, the coalition announced the launch of NoGroceryMerger.com, which includes information about the negative impacts of the proposed $25 billion merger between two of the nation's largest grocery chains, testimony from unionized grocery workers and elected officials, and tools for people to express their opposition to the potential deal.
Individuals and organizations can sign the coalition's letter to the Federal Trade Commission (FTC), which is currently reviewing the grocery giants' proposal and has the regulatory authority to reject it.
If approved, the merger would likely "lead to store closures, worsen food deserts, increase prices for consumers, and destroy thousands of unionized grocery jobs," the letter warns. "This deal is an antitrust travesty and it must be stopped."
Since the Covid-19 pandemic and Russia's invasion of Ukraine disrupted international supply chains—rendered fragile by decades of neoliberal globalization—Kroger, Albertsons, and other mega-grocers have capitalized on these crises as well as the bird flu outbreak, citing them to justify price hikes that far outpace the increased costs of doing business.
Such price gouging has been exacerbated by preceding rounds of supermarket consolidation, and the coalition warns that if the proposed merger between Kroger and Albertsons goes through, it "will no doubt create a monopoly in the grocery industry."
Less competition, says the coalition, would result in even higher food prices and hundreds of shuttered stores—intensifying unequal access to healthy food. It also threatens to destroy thousands of jobs and hurt the ability of farmers and other suppliers to sell their products.
"It's simple: This merger will be bad for workers, bad for customers, and bad for our communities."
Cincinnati-based Kroger trails only Walmart in grocery sales, while Boise-based Albertsons is the fourth largest grocery chain in the U.S., behind Costco. Together, Kroger and Albertsons, including their numerous subsidiaries, employ more than 700,000 workers at roughly 5,000 retail stores and more than 50 manufacturing facilities across 48 states plus Washington, D.C.
According to the campaign's fact sheet, "If this merger goes through, the resulting company will become the largest supermarket by revenue in the United States with a current national market share of 36% and a combined annual sales of more than $200 billion."
As Michelle Freitas, a United Food and Commercial Workers (UFCW) Local 7 member who works at a Safeway in Gunnison, Colorado, noted: "My town only has two standalone grocery stores. If one closes and we only have one option, it will be a monopoly which means this new grocery company could raise food prices to exorbitant amounts."
"If the prices for essential goods go up, how are people who are lower-income or middle-income going to be able to survive?" she asked. "Many people who work at my store live paycheck to paycheck, including parents with small children and single moms."
Lawanna Archer, a UFCW Local 770 member who works at a Vons in Gardena, California, described the devastation that accompanied a merger between Albertsons and Haggen eight years ago.
"The deal between Albertsons and Haggen in 2015 was really bad for workers," said Archer. "I saw massive layoffs, cars being repossessed, foreclosures, and loss of benefits. I am a single mother and I provide for my daughter and myself. The Kroger and Albertsons merger could possibly impact us in the most harmful way ever."
Christina Robinett, another UFCW Local 770 member who endured that merger and now works at a Vons in Ojai, California, said, "After Haggen went bankrupt and shut down my store, I applied for work at four different stores."
"I wasn't able to get a job for three months and I had to take side jobs as a seamstress and cleaning houses to make ends meet," she said. "That merger caused me a lot of anxiety. No worker should go through this kind of hardship again."
The campaign's website features several videos, including one in which Robert Reich, a professor at the University of California, Berkeley and former U.S. labor secretary, explains how the proposed merger "could send skyrocketing food prices through the stratosphere unless government sees the deal for what it is: a rotten egg."
Soon after the proposed deal was announced in October, Sens. Bernie Sanders (I-Vt.) and Elizabeth Warren (D-Mass.) implored the FTC to block it.
Although consolidation in the grocery sector has, according to the American Economic Liberties Project, "previously been mismanaged by antitrust enforcers," approval of Kroger's buyout of Albertsons—the largest supermarket deal since Supervalu, CVS, and a group of investment firms bought Albertsons for $9.7 billion in 2006—is far from guaranteed.
Federal officials, including FTC Chair Lina Khan and Jonathan Kanter, assistant attorney general of the U.S. Department of Justice's Antitrust Division, have both taken a more hard-nosed approach to mergers following decades of lax enforcement.
The decision before regulators should be easy, the coalition argues.
Its members have "written numerous letters to the FTC and state attorneys general, held meetings with federal and state elected officials and regulators, held press conferences and virtual town halls, attended public events on the merger hosted by government officials, and participated in various local community activities opposing the merger," the coalition said in a statement. "All this activity has helped reveal growing evidence that shows the real motives for the proposed merger: corporate greed at the hands of C-suite executives and the private equity firms that are significant owners of their stock."
"It's simple: This merger will be bad for workers, bad for customers, and bad for our communities," reads the campaign website. "Union grocery workers, consumers, elected officials, and community members are standing together to fight for access to nutritious food, safe shopping experiences, and investment in good jobs in our communities."
News
SUPPORT OUR WORK.
We are independent, non-profit, advertising-free and 100%
reader supported.