Most Senators Oppose War with Iran Without Congressional Approval
WASHINGTON
In response to a majority of the Senate voting for an amendment to the National Defense Authorization Act (NDAA) to block funding for military action against Iran without congressional approval, Paul Kawika Martin, Senior Director for Policy and Political Affairs at Peace Action, released the following statement:
"Because of the Trump administration's policy of maximum provocation towards Iran, our nation stands on the precipice of another blunderous war of choice in the Middle East. Thankfully, the Senate just reiterated what the Constitution already states in no uncertain terms--that the president cannot start a war without congressional approval. Senate Majority Leader Mitch McConnell tried to block this bipartisan vote and debate at every turn. Ultimately, he succumbed to pressure led by Senators Tom Udall (D-NM), Rand Paul (R-KY), Tim Kaine (D-VA) and Mike Lee (R-UT), but required a 60-vote threshold that blocked the amendment's passage.
"In these turbulent times, it's worth remembering how the Trump administration's policies created this crisis. President Trump says he wants to ensure that Iran never gets nuclear weapons, but he unilaterally withdrew from the nuclear agreement that keeps Iran's nuclear program in check. He says he wants to negotiate a better deal, but he's imposed crippling sanctions on Iran that have shut the door on any near-term hopes for diplomacy. He says he doesn't want a war, but he came within ten minutes of starting one.
"Congress stepping up to assert its constitutional authority over war is a welcome development, but with this administration's history of sidestepping congressional authority, Congress must use every tool at its disposal to block the president's path to war with Iran. Congress must repeal the overly broad 2001 war authorization, which the administration has suggested might apply to a war with Iran. Congress should also push for a return to U.S. compliance with the Iran nuclear agreement, and for other diplomatic efforts to reduce tensions and walk us back from the brink."
Peace Action is the United States' largest peace and disarmament organization with over 100,000 members and nearly 100 chapters in 34 states, works to achieve the abolition of nuclear weapons, promote government spending priorities that support human needs and encourage real security through international cooperation and human rights.
LATEST NEWS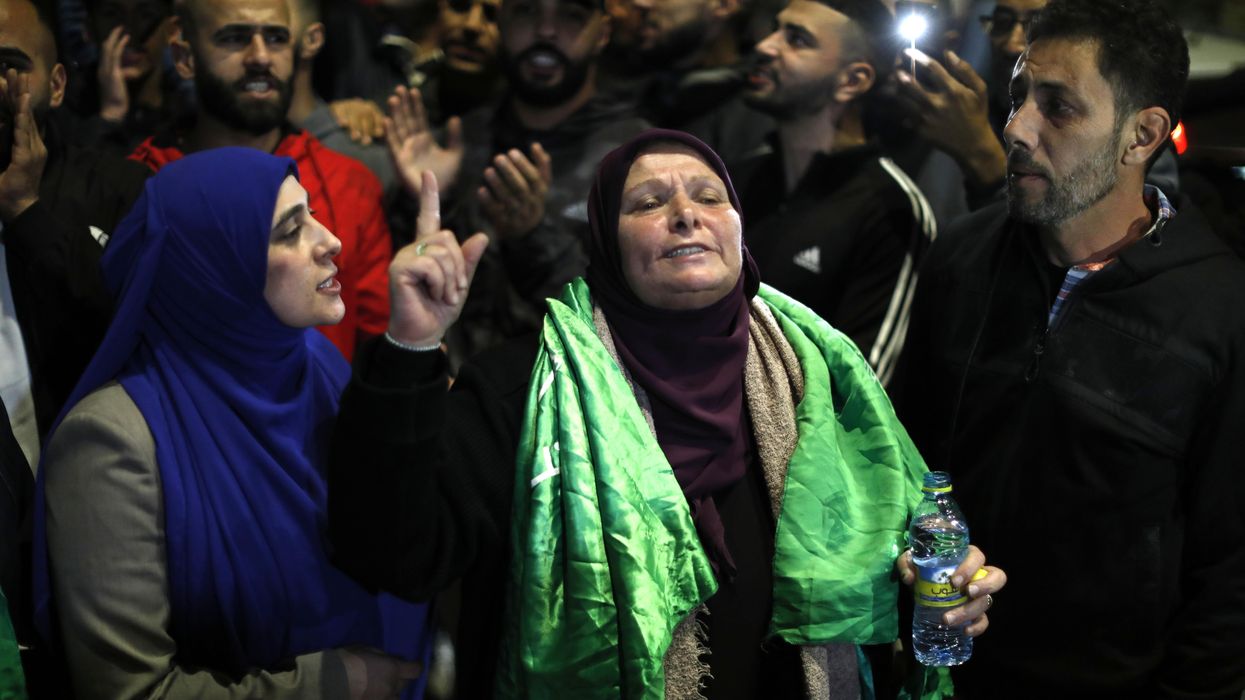 The exchange came on the first day of a Qatari-brokered four-day cease-fire that is slated to see at least 50 Israeli hostages exchanged for at least 150 Palestinian women and children held in Israel.
The first 24 Israeli hostages held by Hamas in Gaza were released Friday evening in exchange for 39 Palestinian women and children held in Israeli prisons.
The exchange came on the first day of a Qatari-brokered four-day cease-fire that is slated to see at least 50 Israeli hostages exchanged for at least 150 Palestinian women and children held in Israel. The office of Israeli Prime Minister Benjamin Netanyahu has said that the pause would be extended a day for every additional 10 hostages released.
"It's a sign of hope for Palestinians and Israelis that the cease-fire will continue and the killing will stop," Mohammed Khatib, who watched the release of the first Palestinian prisoners Friday, toldBBC News.
"I'm very happy of course, but I feel devastated by how that deal was reached… at the cost of our brothers' and sisters' lives in Gaza."
The pause in the fighting has also allowed much needed aid trucks to enter Gaza. The United Nations Office for the Coordination of Humanitarian Affairs (OCHA) said that 200 aid trucks were sent from Israel Friday, of which 137 were unloaded by the U.N. Relief and Works Agency for Palestinian Refugees in the Near East, U.N. Newsreported. It's the largest convey of aid to enter Gaza since Israel's bombardment began October 7.
"Hundreds of thousands of people were assisted with food, water, medical supplies and other essential humanitarian items," OCHA said.
Four trucks full of gas and 129,000 liters of fuel also arrived in Gaza Friday.
However, Hamas has reportedly delayed the release of more hostages Saturday because it says Israel is not allowing aid to enter northern Gaza, Al Jazeera reported. The group said Israel had also violated the terms of the cease-fire by shooting tear gas and live ammunition at people who attempted to return to their homes in northern Gaza and by flying surveillance drones high over Gaza Saturday.
Hamas took around 240 hostages—both Israelis and foreign nationals—into Gaza during its October 7 attack on Israel that also killed around 1,200 people. On Friday, the group released 13 Israelis, including an 85-year-old woman and children as young as 2, as well as 10 Thai nationals and one person from the Philippines, The Guardian reported.
"Each of them is an entire world," Netanyahu said in response to the first release. "But I emphasize… we are committed to returning all the hostages. This is one of the aims of the war and we are committed to achieving all the aims of the war."
The families of the Thai hostages celebrated their return.
"We are all very happy. Everybody is crying," Rungarun Wichangern, the brother of 33-year-old Vetoon Phoome who was released Friday, toldThe Guardian.
Phoome, who was working on a potato and pomegranate farm near Gaza when he was captured, was one of 30,000 Thai nationals working in the agricultural sector in Israel before the war, and one of around 5,000 employed at farms near Gaza. The Thai government said that 20 more Thai nationals were still being held in Gaza.
The one Philippines hostage released was 33-year-old Gelienor "Jimmy" Pacheco, who had been working as a carer in Gaza. Philippine President Ferdinand Marcos said on social media that he was "overjoyed" by Pacheco's release, and that he was safely at the Thai embassy in Israel.
"I salute the work of the Philippine Foreign Service in securing his release, and once again thank the State of Qatar for their invaluable assistance in making Jimmy's release possible," Marcos said.
Another Philippine woman, Noralyn Babadilla, remains missing.
Meanwhile, jubilant crowds turned out in the West Bank to welcome the first Palestinian prisoners released from Israeli custody, according to BBC News. The group included 24 women and 15 teenage boys. They had been arrested for offenses ranging from stone throwing to attempted murder. While some had been convicted, others were awaiting trial. Of a total of 300 Palestinian women and children marked by Israel for potential release, less than 25% have been convicted.
Israel holds around 8,000 Palestinians in its prisons, 3,000 of whom were detained since the October 7 attacks, Al Jazeera reported. Nearly every family in the West Bank has had a relative detained at one point, according to BBC News.
The NGO Palestinian Prisoners' Club said that Israel had told the families of released prisoners that they could be fined around 70,000 shekels ($18,740) for sharing sweets to celebrate their loved ones' return, speaking to reporters, or having guests over.
One of the Palestinian prisoners released was 24-year-old Marah Bakeer, who was 16 when she was arrested for allegedly attempting to stab an Israeli soldier, something she and her family deny. Israeli forces shot her in the arm and hand 12 times before her arrest.
"I'm very happy of course, but I feel devastated by how that deal was reached… at the cost of our brothers' and sisters' lives in Gaza," Bakeer said.
The Israeli attack on Gaza has killed more than 14,800 people, around 10,000 of them women and children. This means Israel has killed women and children at a rate that outstrips the deadliest conflicts of the 21st century, The New York Times reported Saturday. More than double the number of women and children have been killed in Gaza in nearly two months of fighting than have been reported killed in Ukraine in two years. Using women and children as a conservative stand-in for overall civilian deaths would mean more civilians have died during these two months than were killed by U.S. forces in the first year of the Iraq War, and nearly as many as the 12,400 estimated killed by the U.S. and its allies during nearly two decades of war in Afghanistan.
"It's beyond anything that I've seen in my career," Marc Garlasco, a former Pentagon senior intelligence analyst who now advises the Dutch organization PAX, told the Times, adding that, for a comparison, one may "have to go back to Vietnam, or the Second World War."
The bombardment has also destroyed or damaged more than 60,000 buildings, and some Gazans used the pause in the fighting to return to their homes and survey the damage.
"Our home is destroyed, nothing remains standing. And most of the ducks and chickens were eaten by hungry street dogs," one older woman toldAl Jazeera. "This is not a war; it is a genocide."
News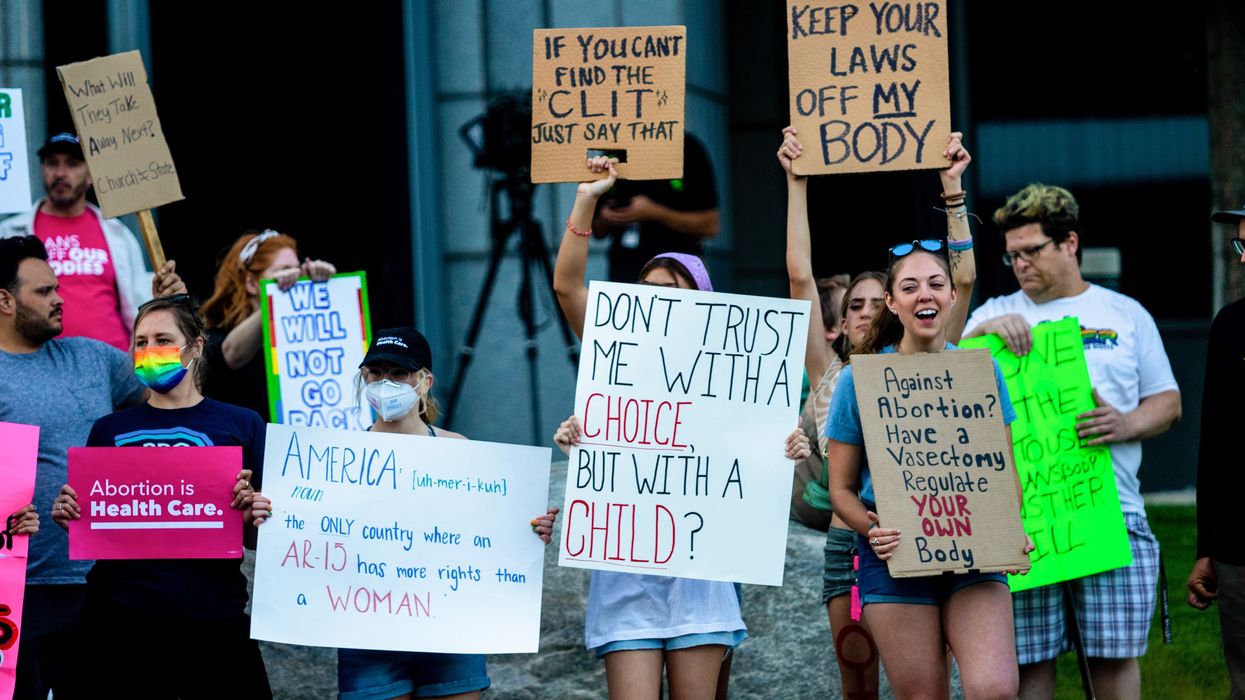 "Nevadans overwhelmingly support putting reproductive rights into our state constitution," said one abortion rights campaigner.
Abortion rights advocates said this week that they would appeal a decision by a Nevada judge to reject a 2024 ballot initiative to enshrine reproductive rights in the state constitution.
Carson City District Court Judge James Russell sided Tuesday with the Coalition for Parents and Children PAC, which last month filed a lawsuit claiming the ballot measure—which would guarantee the "fundamental right to reproductive freedom"—violates Nevada law by covering more than one subject. The petition mentions abortion, birth control, prenatal care, and post-partum care, which advocates note all fall under the umbrella of "reproductive freedom."
However, Russell said that "it is clear to me this is probably the clearest case I have seen that I think there is a violation of the single-subject rule."
"We are optimistic about the ballot initiative as a whole, and you know, we plan to appeal this."
Nevadans for Reproductive Freedom—a coalition including Planned Parenthood, NARAL Pro-Choice Nevada, and Indivisible Northern Nevada that filed the petition in September—disagreed with Russell's ruling and vowed to appeal to the Nevada Supreme Court.
"We are optimistic about the ballot initiative as a whole, and you know, we plan to appeal this," said Lindsey Harmon with Nevadans for Reproductive Freedom. "And we know that in fact, these are all a single subject."
"Nevadans overwhelmingly support putting reproductive rights into our state constitution, and voters should be aware that anti-abortion advocates still have plenty of state government allies who are willing to help them undermine reproductive freedom," Harmon asserted, adding that the coalition would not "let one judge's misguided ruling deter us."
Voters in seven states—most recently Ohio—have passed ballot measures protecting reproductive rights in the wake of the U.S. Supreme Court's cancellation of half a century of federal abortion rights in last year's Dobbs v. Jackson Women's Health Organization decision.
News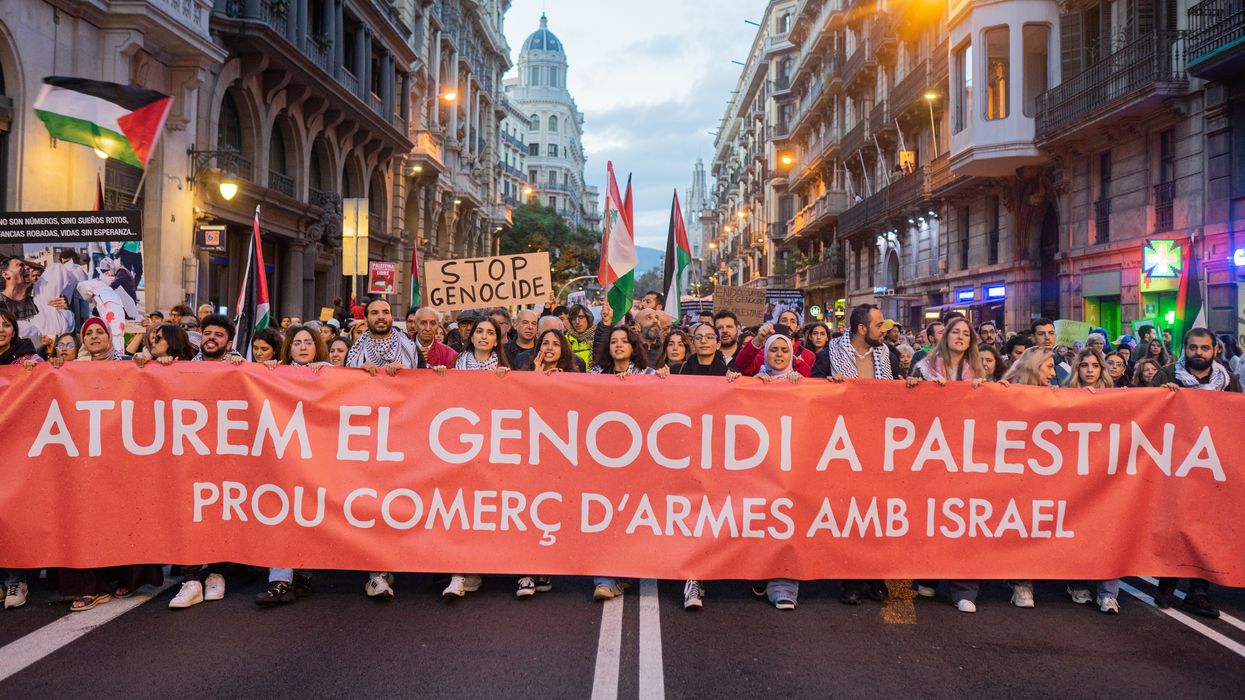 "It's not a war, it's a genocide," said Councilmember Ada Colau. "We not only need to denounce it, we must act and not stay on the sidelines."
The city council of Barcelona, Spain's second-largest city, voted Friday to suspend relations with Israel's far-right government over what the party behind the move called the "genocide" in Gaza.
Introduced by the leftist Barcelona en Comú party—which asserted that "no government can turn a blind eye to a genocide"—the resolution demands the municipal government discontinue "institutional relations with the current government of Israel until there is a definitive cease-fire, and respect for the basic rights of the Palestinian people and compliance with United Nations resolutions are guaranteed."
The resolution also calls for requiring public contracts to ensure that "no operator belongs to or carries out" activities "that go against international humanitarian law" and "rejects and condemns attacks against the population civilian, both Israeli and Palestinian, as well as any action constituting collective punishment, such as the forced displacement of population, the systematic destruction of homes and civilian infrastructure, or the blocking of the supply of energy, water, food, medical supplies and medicines to the population of the Gaza Strip."
Barcelona en Comú Councilmember Ada Colau said in a statement that "it's not a war, it's a genocide, and as [Spanish] President Pedro Sánchez has stated, it is unbearable, and if it is unbearable, we not only need to denounce it, we must act and not stay on the sidelines."
"Every 10 minutes, a child dies in the Gaza Strip under the bombs of one of the most powerful armies in the world," she added.
Colau, whose eight-year tenure as Barcelona's mayor ended in June, earlier this year announced her city was cutting ties with Israel and ending its symbolic 25-year-old "twin cities" relationship with Tel Aviv due to the Israeli government's "crime of apartheid against the Palestinian people."

Barcelona's current mayor, Jaume Collboni of the Socialists' Party of Catalonia, reversed Colau's move in September.
Earlier this month, Barcelona dockworkers also showed solidarity with Palestinians by refusing to load or unload military materials onto any ship bound for Israel or any conflict zone where they could be used against civilians.
The new Barcelona resolution urges Israel and Hamas to make permanent the temporary four-day ceasefire that began Friday morning, as well as an end to Israeli violence against Palestinian civilians in the illegally occupied West Bank and the unconditional and safe release of all hostages taken by Hamas.
On Friday, Hamas freed 24 captives—13 Israeli women and children, 10 Thai nationals, and one Filipino—as part of the cease-fire agreement. Israel released 39 Palestinian women and minors from behind bars to fulfill its end of the deal. Hamas has agreed to free 50 of its hostages in exchange for the release of 150 Palestinians imprisoned by Israel.
Israeli forces have arrested thousands of Palestinians on what critics claim are often dubious grounds meant to give Israel leverage and bargaining chips.
According to the Gaza Health Ministry, nearly 15,000 Palestinians, including more than 4,000 women and over 6,000 children, have been killed by Israeli bombs and bullets since the Hamas-led attacks on southern Israel that left around 1,200 people dead and 240 others kidnapped. The international humanitarian group Oxfam said Thursday that newborn babies are dying from preventable causes in Gaza's hospitals due to the Israeli siege.

More than 36,000 Palestinians have been wounded by Israeli attacks on Gaza, while around 7,000 others—including over 4,700 children—are missing and presumed dead. More than 1.7 million Gazans have been forcibly displaced and around half the homes in the besieged strip have been damaged or destroyed, according to United Nations agencies.
At least 255 Palestinians have also been killed by Israeli soldiers and settlers in the occupied West Bank and East Jerusalem.
In addition to the Barcelona councilmembers who voted Friday for the resolution, other Spanish officials have also called for cutting ties with Israel's government over its Gaza onslaught.
Last month, outgoing Social Rights Minister Ione Belarra, who also leads the leftist Podemos party, urged her country's coalition government to petition the International Criminal Court to open a war crimes investigation of Israeli Prime Minister Benjamin Netanyahu for Israel's indiscriminate bombardment of Gaza and for cutting off food, fuel, and electricity from the besieged strip's 2.3 million residents.
On Thursday, Belarra criticized Sánchez—a member of the Spanish Socialist Workers' Party—for visiting Israel this week, arguing that his trip "only serves to whitewash Netanyahu and to equate the state of Israel, an occupying power that perpetrates a genocide, with the victims of the Palestinian people."

"Such inaction," she added, "is absolutely unbearable."
News