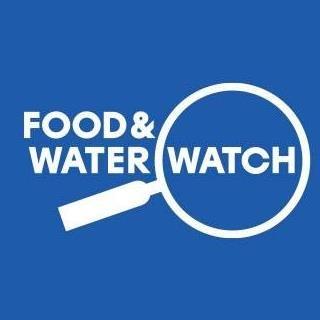 For Immediate Release
April, 30 2019, 12:00am EDT
On Eve of EU-US Energy Forum, 200 Groups on Both Sides of the Atlantic Unite in Opposition To Climate-hostile LNG Trade
WASHINGTON/BRUSSELS
Today, 200 groups from both sides of the Atlantic released an open letter to EU Commissioner Miguel Arias Canete and U.S. Energy Secretary Rick Perry, calling on the EU and U.S. administrations to immediately stop the transatlantic trade in fracked hydrocarbons.
Yesterday, the Department of Energy announced that Secretary Perry would be attending the EU-US Energy Council High-Level Forum in Brussels on May 2 - paving the way for a new Trans-Atlantic Trade Agreement with imports and exports of U.S. fracked gas at the heart of the deal. According to data released in early March, EU imports of liquefied natural gas (LNG) from the U.S. have increased by 181% since July 2018.
The letter highlights that the continued use and import/export of fracked LNG torpedoes critical climate targets and violates basic human rights. In 2012, the UN Environment Programme (UNEP) issued a "Global Alert" on fracking, concluding that fracking may have environmental impacts even if done properly.
"The LNG trade is paving the way for prolonged use of fossil fuels and plastics, creating a twin environmental and human rights emergency," said Wenonah Hauter, Executive Director of Food & Water Watch and Food & Water Europe. "Governments on both sides of the Atlantic are failing to do what it takes to stand up to fracked gas interests and prevent looming climate chaos."
The signatories state that new gas infrastructure has a significant economic lifespan (usually between 30 and 50 years) that goes beyond the point when we must fully decarbonize our energy systems. Ongoing use of fossil fuels like gas would also have devastating economic impacts on both sides of the Atlantic.
The letter also refers to what activist call the #Fracking4Plastics link, highlighting that the plastics industry has reaped under-the-radar benefits from the environmentally destructive fracking boom and an oversupply of cheap ethane. This surge has been a boon for the plastics industry, which relies on petrochemical manufacturing to turn ethane, a hydrocarbon present in natural gas, into plastics.
Beginning in 2012, chemical companies started aggressively investing in petrochemical plants and export facilities focused on tapping the ethane glut, creating further negative implications for human and environmental rights.
"The EU is importing U.S. fracked gas to create plastics," says Andy Gheorghiu, policy advisor at Food & Water Europe. "Europe is throwing away a stable climate for a throw-away society."
Signatories include Food & Water Watch, Food & Water Europe, Friends of the Earth U.S. and EU, Greenpeace, Break Free From Plastic, European Environmental Bureau, Oil Change International, Rainforest Action Network, Talk Fracking, Health and Environment Justice Support International, Earthworks, 350, Corporate Europe Observatory, Rethink Plastic, Ocean Conservation Research, Frack Free United, Berks Gas Truth, SEE Change Network and Safety Before LNG.
Food & Water Watch mobilizes regular people to build political power to move bold and uncompromised solutions to the most pressing food, water, and climate problems of our time. We work to protect people's health, communities, and democracy from the growing destructive power of the most powerful economic interests.
(202) 683-2500
LATEST NEWS
"Only Medicare is Medicare," said Rep. Mark Pocan. "These non-Medicare plans run by private insurers undermine traditional Medicare."
In an effort to crack down on the misleading practices of Medicare Advantage providers, Democratic Reps. Mark Pocan, Ro Khanna, and Jan Schakowsky reintroduced legislation Tuesday that would ban private insurers from using the "Medicare" label in the names of their health plans.
The legislation, titled the Save Medicare Act, would formally change the name of the Medicare Advantage program to the Alternative Private Health Plan, an attempt to make clear to seniors that the plans are run by private entities such as Anthem, Humana, Cigna, and UnitedHealthcare.

"Only Medicare is Medicare," Pocan (D-Wis.) said in a statement. "It is one of the most popular and important services the government provides. These non-Medicare plans run by private insurers undermine traditional Medicare. They often leave patients without the benefits they need while overcharging the federal government for corporate profit."
Khanna (D-Calif.) declared that "it's time to call out 'Medicare Advantage' for what it is: private insurance that profits by denying coverage and the name is being used to trick seniors into enrolling."
"That's not right," he added. "This bill will end the scam by preventing private insurers from profiting off the Medicare brand. Our focus should be on strengthening and expanding real Medicare."
The bill, which faces long odds in the Republican-controlled House, was introduced as GOP lawmakers push for cuts to traditional Medicare as part of their broader austerity campaign.
It also comes as the Biden administration is moving ahead with a Medicare privatization scheme known as ACO REACH, a pilot program that critics warn could fully engulf traditional Medicare in a matter of years.
The Democratic trio's legislation does not specifically address ACO REACH, opting to zero in on Medicare Advantage plans that are notorious for denying necessary care to vulnerable seniors and overbilling the federal government.
The measure would impose a $100,000 penalty each time a private insurer uses the Medicare name in the title of one of their plans.

"So-called Medicare Advantage is neither Medicare nor an advantage. It is simply another scheme by the insurance companies to line their pockets."
Earlier this week, the Biden administration proposed a new rule that would strengthen audits of Medicare Advantage plans, which are paid an annual per-person rate by the federal government. Recent investigations have exposed how Medicare Advantage plans frequently overcharge the government by making patients appear sicker than they are, resulting in a higher payment.
The federal government currently expects to pay Medicare Advantage providers more than $6 trillion over the next eight years.
"Medicare reimburses Medicare Advantage plans using a complex formula called a risk score that computes higher rates for sicker patients and lower ones for healthier people," Kaiser Health Newsreported in December. "But federal officials rarely demand documentation to verify that patients have these conditions, or that they are as serious as claimed. Only about 5% of Medicare Advantage plans are audited yearly."
Medicare Advantage has grown rapidly over the past decade, with more than 28 million people in the U.S. enrolled in such plans as of 2022. MA plans often provide coverage for hearing, vision, and dental—benefits not offered by traditional Medicare, despite the efforts of progressive lawmakers to expand the program.
Some Democratic lawmakers have warned that part of the massive growth rate of Medicare Advantage plans could be due to their deceptive advertising practices.
In November, Senate Finance Committee Chair Ron Wyden (D-Ore.) released an investigative report laying out evidence of a range of "predatory actions" by private insurance companies that offer Medicare Advantage plans.

"Agents were found to sign up beneficiaries for plans under false pretenses, such as telling a beneficiary that coverage networks include preferred providers even when they do not," the investigation found. "Of particular concern to the committee were reports across states of agents changing vulnerable seniors' and people with disabilities' health plans without their consent."
Wendell Potter, president of the Center for Health and Democracy, said Tuesday that "so-called Medicare Advantage is neither Medicare nor an advantage."
"It is simply another scheme by the insurance companies to line their pockets at the expense of consumers," said Potter, a former health insurance executive with first-hand experience of the industry's misleading practices. "I applaud Congressman Pocan and Congressman Khanna for introducing this vital legislation. The healthcare market is confusing for consumers and misleading branding like so-called Medicare Advantage just makes it worse."
News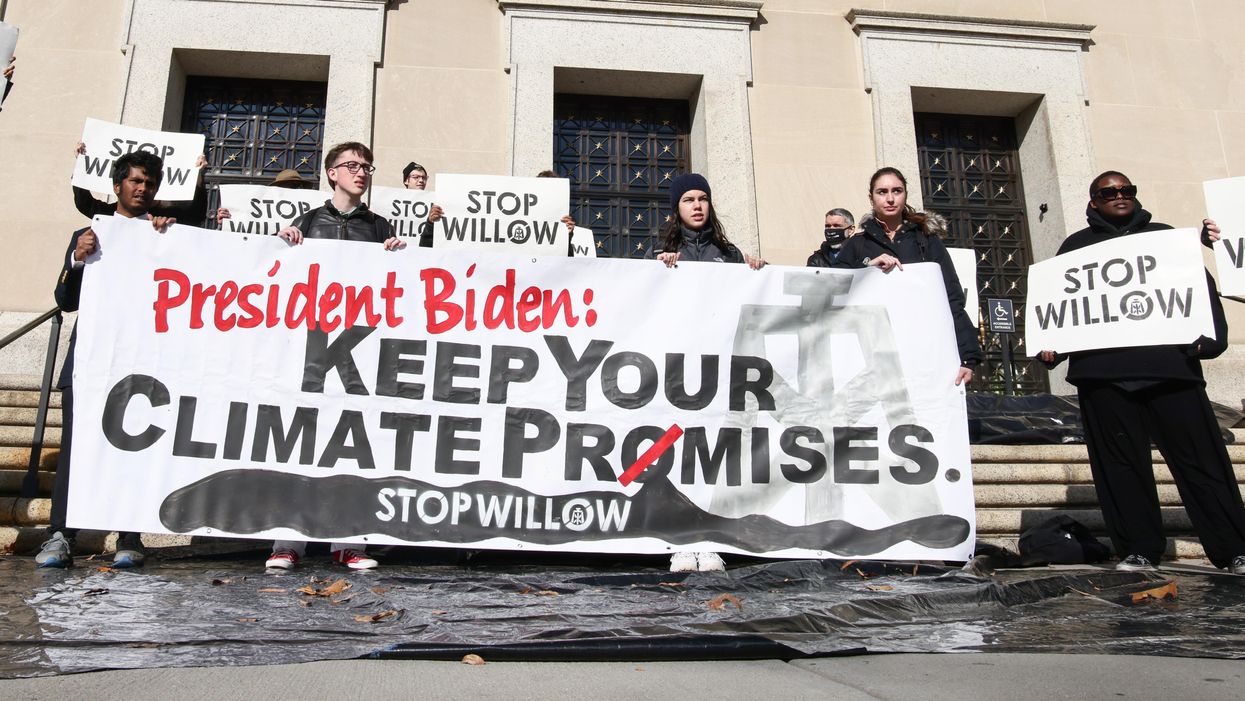 One climate writer said letting the Willow Project proceed in Alaska would be "morally abhorrent, and bad politics, to boot."
The Biden administration is reportedly expected in the coming days to release an environmental analysis that will endorse partial approval of a massive oil drilling initiative on the North Slope of Alaska, alarming climate advocates who say the so-called Willow Project poses a dire threat to the environment, local communities, and wildlife.
The Washington Post reported Wednesday that the legally required environmental assessment, which is set for publication this week, "will trigger a final decision from the Interior Department in a years-long showdown between the federal government and ConocoPhillips about its legal right to drill one of the largest oil and gas developments on federal territory."
According to the Post, which cited unnamed sources briefed on the process, the report "is being drafted to lay out a preferred alternative that allows three well pads, down from the originally requested five."
The New York Times also cited anonymous sources familiar with White House plans to report that the Biden administration is "expected to propose a scaled-down version" of Willow, a project that "has the potential to eventually unlock 600 million barrels of crude oil."
Green groups have warned that the drilling project—which is seen as a key climate litmus test for the Biden administration—could unleash hundreds of millions of metric tons of greenhouse gas pollution, emitting the equivalent of dozens of new coal-fired power plants and worsening the climate emergency.
Last month, environmentalists rallied outside the White House to pressure the Biden administration to block the project, which they characterized as a "climate bomb."
"The best way to describe the Willow Project is a climate disaster in waiting," CAP Energy Policy tweeted earlier this week.
Climate writer Alex Steffen tweeted late Tuesday that letting the project proceed would be "morally abhorrent, and bad politics, to boot."
"It is unconscionable to green-light the single largest proposed oil and gas project on American public lands and open up the western Arctic to further destruction."
Once the Bureau of Land Management's environmental assessment of the project and recommendations are made public, U.S. Interior Secretary Deb Haaland—who vocally opposed Willow as a member of Congress—will be tasked with granting final approval or rejecting the drilling plan.
The Post noted that "Haaland has wide discretion, including the right to choose from other options or to mix and match options from the assessment. Those possibilities also include blocking one pad and deferring decisions on up to three more."
"ConocoPhillips needs approval to start the project within weeks, while Arctic weather is still cold enough for the company to make the ice roads and ice platforms they build on to drill through tundra. Missing that window would put drilling off until the deep freeze returns next winter, opening the chance for court fights or other delays that may block Willow entirely," the Post observed. "Company leaders have also threatened to abandon the project if Haaland's choice is too restrictive. A green light for any less than three pads would prevent Willow from being profitable enough to justify the company's investment."
Progressive Democratic lawmakers have joined climate advocacy groups in urging the Biden administration to reject the drilling project, pointing to rapidly warming temperatures in the Arctic.
"The Arctic is warming four times faster than the rest of the world," Sen. Ed Markey (D-Mass.) tweeted earlier this month. "It is unconscionable to green-light the single largest proposed oil and gas project on American public lands and open up the western Arctic to further destruction."
News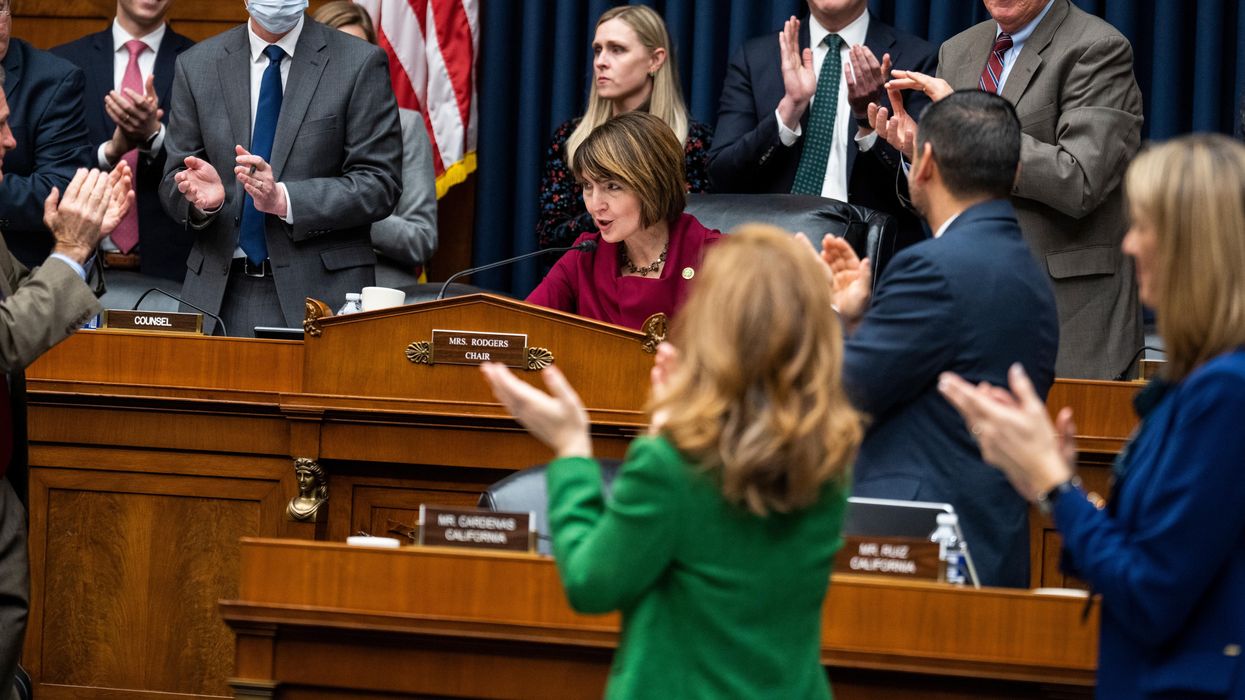 "If today was a sign of what's to come, future House Energy and Commerce Committee hearings will be reduced to GOP members regurgitating Big Oil's false talking points."
On the same day that the largest oil company in the United States reported record profits for 2022, Republicans used the first House Energy and Commerce Committee hearing of the new year to promote the further expansion of climate-wrecking fossil fuel production and attack efforts to build out renewable energy infrastructure.
The energy panel is chaired by Rep. Cathy McMorris Rodgers (R-Wash.), the top recipient of oil and gas PAC money in the last election cycle and a longtime advocate of opening U.S. public lands and waters to fossil fuel drilling.
In keeping with her record, Rodgers kicked off Tuesday's hearing by touting the House's passage of legislation that would require the federal government to lease a certain percentage of public lands and waters for fossil fuel extraction for every non-emergency drawdown of the U.S. Strategic Petroleum Reserve.
Rodgers touted last week's vote as "bipartisan," but just one House Democrat—Rep. Jared Golden of Maine—joined Republicans in passing the bill, which is unlikely to become law. Climate advocates have warned that, if enacted, the measure "could lock in at least a century of oil drilling."
"We need to be doing more to secure and unleash American energy," Rodgers said Tuesday, attacking so-called "rush-to-green" policies and falsely blaming Europe's energy crisis on renewables.

Rep. Jeff Duncan (R-S.C.), chair of the panel's subcommittee on energy, climate, and grid security, toed a similar line during his opening remarks at Tuesday's hearing, decrying "the Democrats' 'rush-to-green policies'" and condemning science-backed calls to phase out fossil fuels.
Duncan also praised surging oil exports, which experts say have driven up costs for U.S. consumers while padding the profits of fossil fuel giants and contributing to the rise of global carbon emissions.
Jordan Schreiber, the director of energy and environment with the progressive watchdog group Accountable.US, said in a statement Tuesday that "if today was a sign of what's to come, future House Energy and Commerce Committee hearings will be reduced to GOP members regurgitating Big Oil's false talking points while openly advocating for energy policies that favor wealthy executives and shareholders over their own constituents."
The hearing began hours after ExxonMobil reported a record-shattering $56 billion in profits for the full year of 2022.
The corporation, whose scientists accurately predicted global warming decades ago as the company publicly lied about climate change, said it distributed nearly $30 billion to shareholders last year as U.S. households struggled to pay their energy bills.
Days before Exxon's earnings release, Chevron—the second-largest oil company in the U.S. by market cap—reported $35.5 billion in 2022 profits, an all-time high for the company.
"Even on a day when three of the country's largest oil companies posted a whopping $82.5 billion in profits for 2022, thanks to the unrelenting price gouging of American consumers, the MAGA majority can not stop themselves from doing the industry's bidding," said Schreiber, referring to the combined profits of Exxon, Marathon Petroleum, and Phillips 66.
During Tuesday's hearing, Democrats on the House Energy and Commerce Committee slammed their Republican colleagues for prioritizing the interests of the ultra-profitable fossil fuel industry over U.S. consumers and the environment.
"We've all heard the slogans: 'Drill baby, drill,' 'energy dominance,' and now 'energy expansion,'" said Rep. Diana DeGette (D-Colo.). "But don't be fooled. These policies will not expand our potential for new renewable energy sources such as wind and solar, and will only increase our dependence on oil and gas."
"They're nothing more than a giveaway to the oil industry," DeGette said of the House GOP's fossil fuel-centered energy agenda.
Rep. Frank Pallone (D-N.J.), the top Democrat on the committee, pushed back on the GOP narrative that energy prices are high because the Biden administration is hindering the oil and gas industry's ability to drill—something that climate groups have pressured the administration to do, with little success.
"Republicans have pushed this idea that somehow Big Oil wanted to pump more but couldn't," said Pallone. "In reality, they wanted to keep the price artificially high."
News
SUPPORT OUR WORK.
We are independent, non-profit, advertising-free and 100%
reader supported.